As Port premieres exclusive images from Harry Stedman's SS15 lookbook, David Hellqvist and designer Amy Greenland trace the life of the Liverpudlian man that inspired the brand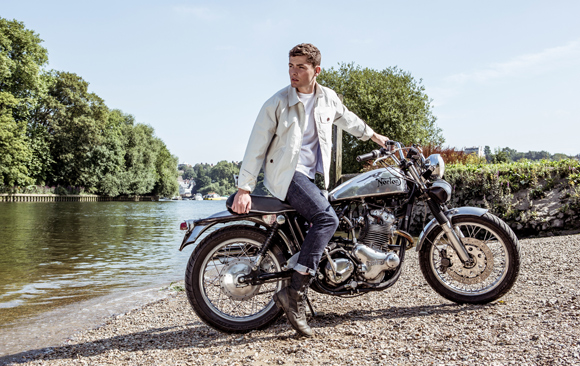 In menswear, as in life, it's crucial to balance the influence of 'heart versus brain'. As a menswear designer, both have to be respected. If not, you'll end up with a pitch-perfect craftsmanship that's amazing in quality but lacking in soul and honesty.
Harry Stedman, a British men's brand based in east London, has found the perfect balance. The brand was founded in 2011 by Stedman's son and grandson, Phil and Rick, and is inspired by his sailing adventures in 1950s as well as a five-year-stint in Africa. As such, the brand is a "love letter to Harry and his utilitarianism, adventure and eye for style."
As a sailor in the Merchant Navy, Stedman needed a sturdy and functional wardrobe. This kind of 'workwear' is essentially a uniform for the working classes, that is built to last. Today, the Harry Stedman brand looks to mix the sartorial qualities of that era with the life and memories of this particular man. Thanks to the rigorous quality control employed by designer Amy Greenland the clothes are durable and full of 'heart', as each collection tells a different chapter from Harry Stedman's eventful life.
Stedman's life as a globetrotter allows Greenland to take inspiration from all over the world, but it's the beating heart of Liverpool's music and fashion scenes in the 50s, mixed with the preppy and classic varsity culture of the US east coast, that continues to inform the brand. As Harry Stedman prepares to launch its Spring Summer 2015 collection, we spoke to Greenland about the label's DNA and what key pieces to look out for.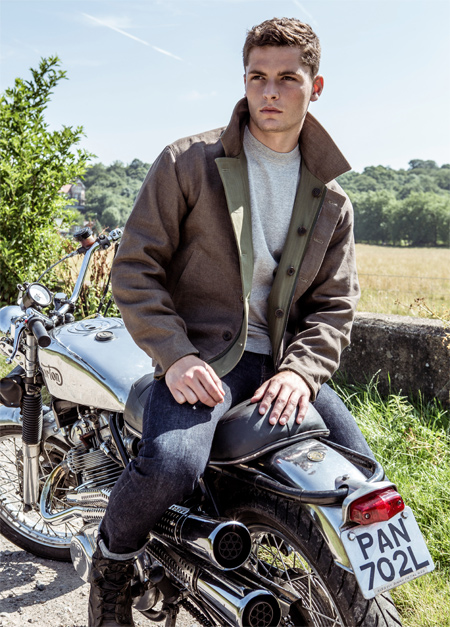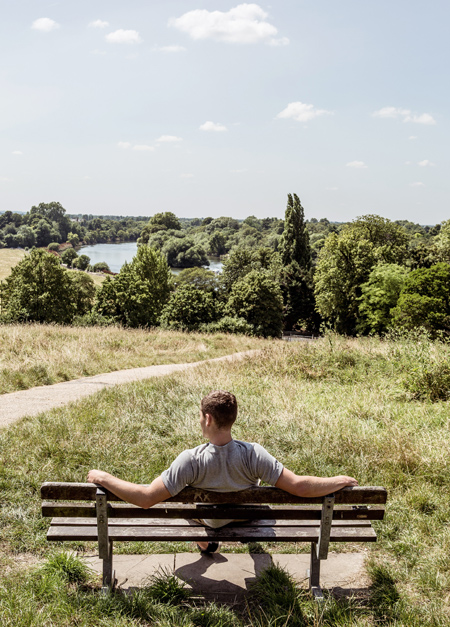 What can you tell us about Harry Stedman?
Harry is an ordinary man who has led an extraordinary life. He is an archetypal scouser full of determination, passion, grit and quick wit. We look back on his adventures, his working life, the everyday clothes – which he would regularly alter and modify – and his Sunday best. Absorbing everything about his past, how he lived and how he worked informs our creation of garments for the Harry Stedman men of today.
How would you define his style?
Clothes had to have a purpose in Harry's life as they were his tools for survival. He was obsessed with the small details of menswear: the softness of a natural shouldered jacket, the roll of a Brooks Brothers collar… People used to stop him on the streets in Liverpool over that one. However, Harry was no Madison Avenue advertising executive; he worked in hard physical conditions. His suits were smart but he was always more comfortable in his a white t-shirt, leather jacket and chinos – a mix of American workwear picked up from New York dockers and cool casuals that formed his weekend wardrobe when off duty in North Africa.
"Harry is an ordinary man who has led an extraordinary life. He is an archetypal scouser full of determination, passion, grit and quick wit"
There is an equal focus on clothes and culture from the USA and Britain in your SS15 collection. What elements have you taken from each country?
During his time as a sailor Harry soaked up local culture wherever he travelled, particularly from New York. During the 50s and 60s, New York broke new ground in every walk of life – especially in clothing, most of which hadn't been seen in Liverpool before. The city exposed Harry to sartorial discoveries such as workwear, fine Brooks Brothers shirting and the American collegiate Ivy League aesthetic. Our varsity jacket, 50s button-down shirts, 16.5oz White Oak Cone Mills denim jeans and solid classic cotton t-shirts reflect these styles, all of which are made in the USA.
To pay homage to Harry's roots we also look at UK trends from the same era, mainly around solid workwear worn by Liverpool's dockworkers who would switch to smarter clobber at the weekend known as 'your Sunday best'. The three-button 50s workman jacket, peacoat and gansey knit all illustrate our British inspiration. They're made in the UK using British fabrics, celebrating the craftsmanship and quality of manufacturing over here.
There's a slight nostalgic, 50s feel to the collection. Would you still describe it as a modern brand?
Yes, it's a modern brand. We respectfully look to the past to inform our designs, with a particular – but not exclusive – focus on the 1950s and 60s. There were some really strong menswear looks that were born in the 50s and they've stood the test of time. We've analysed these styles, allowing them to shape the bedrock of the Harry Stedman brand you see today. Blending old with new, with the inclusion of contemporary fabrics and clever design helps to achieve a modern style that resonates with today's discerning gent.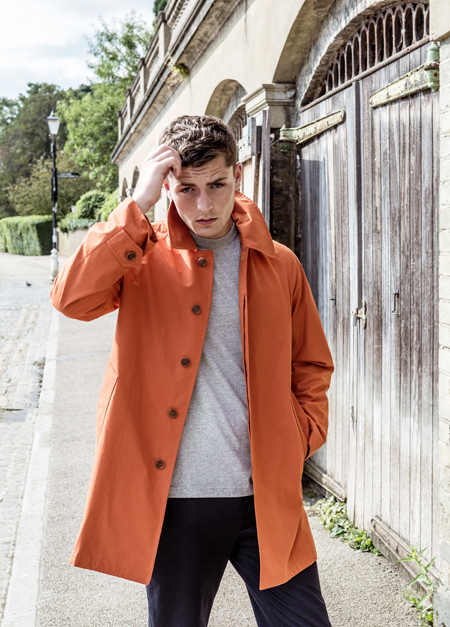 "Clothes had to have a purpose in Harry's life as they were his tools for survival"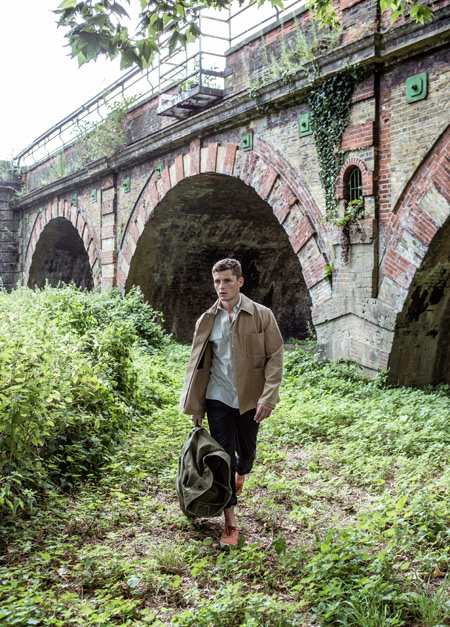 What was the idea behind SS15 and what was the main inspiration?
For each collection we design we try and move one chapter on in terms of Harry's story, as each season Harry grows a little older… For SS15, we focused the collection around Harry returning home to sunshine and good times after another one of his long trips out at sea. The mood of the season is more laid back and chilled than AW14, allowing us to explore Harry's more playful side. It provides a nod to the off-duty Harry – smart and easy garments perfect for the changeable spring/summer months, with an emphasis on quality not quantity.
What are the key pieces from SS15?
The Drizzler jacket remains a key piece, available in lighter weight cloths that stand against the ever-changing British weather. We have also introduced a new 'Made in the UK' striped classic t-shirt, adding a strong monochrome look amongst lighter textures and colour palettes in the range. The more casual navy zip slicker and sand coloured workwear jacket bolster the collection and insert the stylish yet utilitarian elements that are a constant thread throughout all our collections.
Any new styles, shapes or fabrics this season?
The orange mac is a completely new style this season. The shape reflects the A-line style of the 50s and 60s with functional details like the hidden trouser entrance pocket. The outer material is a Ventile cotton fabric that gives fantastic protection against wind and showers while remaining lightweight. Soft terry toweling features on our raglan beach t-shirts and lighter shirting has also been introduced. The three-button 50s workman jacket with a relaxed shoulder is the latest addition to the collection in a linen/wool twill, and features barre striped lining with horn buttons.
More info on the SS15 collection is available here
Text by David Hellqvist
Photos by Damien Van Der Vlist