Saif Bakir and Emma Hedlund collaborate with the LA-based hat brand on a bird camouflage cap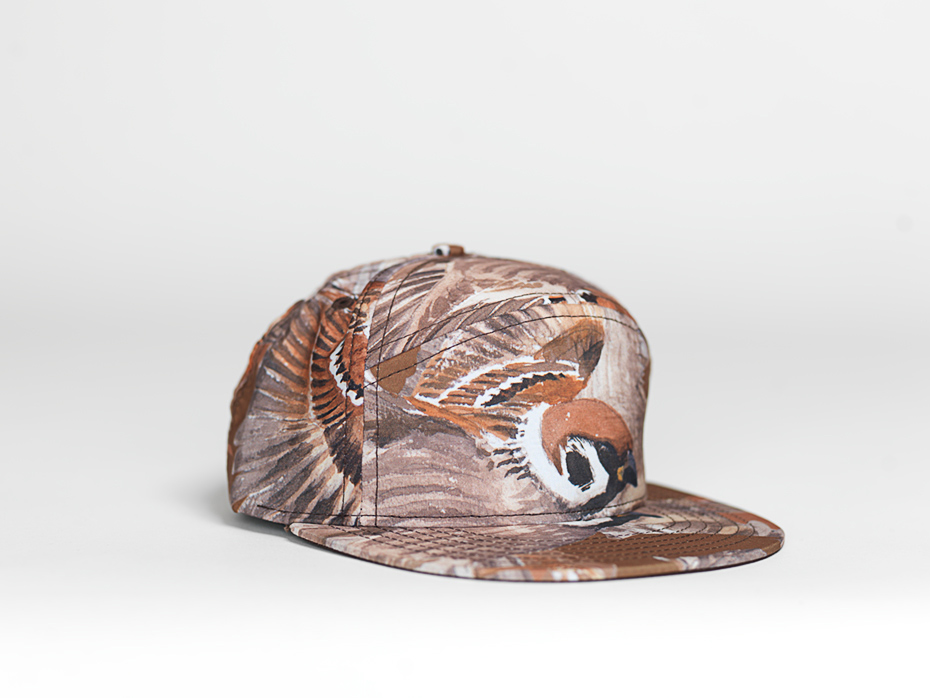 Swedish design duo Common, the brainchild of Saif Bakir and Emma Hedlund, has just seen their debut collection, House of Sparrow, hit the shops. Meanwhile the, Malmö-based designers have been busy developing new collections, always looking for new artists and illustrators to collaborate with on their eye-catching prints. The Hubert cap we've chosen to focus on from their Autumn Winter 2012 collection features a bird camouflage print; developed using illustrator Lars Jonsson's original artwork. Simultaneously, Common decided to work with Quintin on the cap, a wise decision as the LA-based hat makers perfectly matches Common's intrinsic sense of style with a dose of street attitude: "We jumped at opportunity to work with Common as we are big fans of working on projects with brands that don't necessarily align per say. We're a hat and clothing brand based in action sports with an appreciation for art, fashion and music," Quintin explains.
David: How did you come across them and What is with Quintin that you like?
Emma: I came across Quintin and their work during my time in L.A when I was working with Kanye West. The philosophy of Quintin and their creative vision inspired us and although the Quintin brand has now grown into a worldwide company, the principles that originally founded the brand remain intact. Thriving from the heritage of L.A. culture, as well as a profound love for fashion, we felt that a collab with Quintin would give our hat just that extra bit of flavour.
David: Tell me about the design – the cap's got an extra front panel…
Emma: Quintin's way of paying strict attention to the details makes their 6-panel snapback hat a perfect fit. The hat's got a stiffer front panel that enables the hat to hold its structure best when completed. We felt that it distinguishes itself and sits well with the rest of our collection.
"As both a field guide author and artistic interpreter of birds and nature
holds a unique position in Sweden and internationally"
David: Who's Hubert?
Saif: He will be our future Grand Danois studio dog and mascot one day. A great dog requires a great name so we named it after Count Hubert de Givenchy, an aristocrat who founded the House of Givenchy.
David: How does the cap fit in with the collection, what role does it play?
Emma: It adds a bit of attitude and gives the collection an edge as a contract to our more sartorial pieces. We like the combination of contrasting elements.
David: Tell me about the print, what is it inspired by?
Saif: The idea was to take something common and use it in an uncommon way. Taken by the colours of our most common bird
 House sparrow and the way it camouflages itself within its surrounding, we took the fragile and innocent garden bird and as a contrast we created a camouflage print, which is synonymous with something, tough and masculine. Again, it's a play on contrasting elements.
David: Who's the artist you collaborated with?
Saif: We collaborated with Lars Jonsson, regarded one of the greatest artists in his field. His artistry is characterised by a passion for birds and their habitats. As both a field guide author and artistic interpreter of birds and nature he holds a unique position in Sweden and internationally. We came across his work during our search for inspiration in field books.
Photography Nikolas Ventourakis
For more info, go to Common Affairs. The Hubert cap can be bought at the Trés Bien shop and Storm