The menswear designer goes back to AW12 and the track that marked a turning point in the aesthetic of her label
Through a very dear, dear friend, I was introduced to the lovely Jim Stanton, one part of the marvellous Horse Meat Disco. Being a bit of a brazen lass, not long after I met Jim I took it upon myself to ask if he'd be interested in putting the music together for the Lou Dalton AW12 show. Lucky for me he said yes, and Jim has been the musical force behind every show since.
There have been many highlights over the last few years, however one track in particular sticks out a mile, and in away symbolises what I feel to be the turning point in what I was trying to achieve aesthetically for Lou Dalton.
The AW12 collection was inspired by a young American GI, who chose love over war and decided to go absent without leave whilst serving his time here in the UK. There were lengthy chats between Jim and myself about the music and the concept for the AW12 show. However I was adamant that Jim was to lead, and to push what he felt to be the right musical direction for the show. A little while later, during an afternoon in the studio spent sitting behind the sewing machine, I made my way through the long list of tracks Jim had suggested for the AW12 show, with the stereo at full volume. Q Lazzarus's 'Goodbye Horses' came blasting out.
I was familiar with the song as it had been used on the soundtrack of the Silence of the Lambs some time before, but unlike the sinister connotations of said film, sitting alone there in the studio listening to the lyrics and letting my imagination run wild with my GI boy in mind, goose bumps were had and my emotions took over.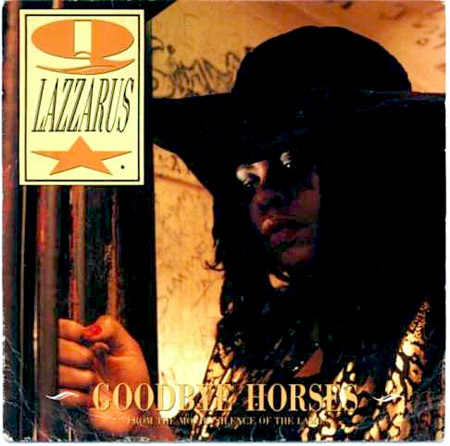 Music can draw you in, free your mind, elate you and more.'Goodbye Horses' does just that. The soundtrack of my years.. This particular track not only holds fond memories of working with Jim on something so emotionally challenging, but also the realisation that I may have finally been onto something with Lou Dalton… For that alone I will forever be indebted to the marvel that is Jim Stanton.