Jamie Waters investigates the global launch of Prada's versatile fibre range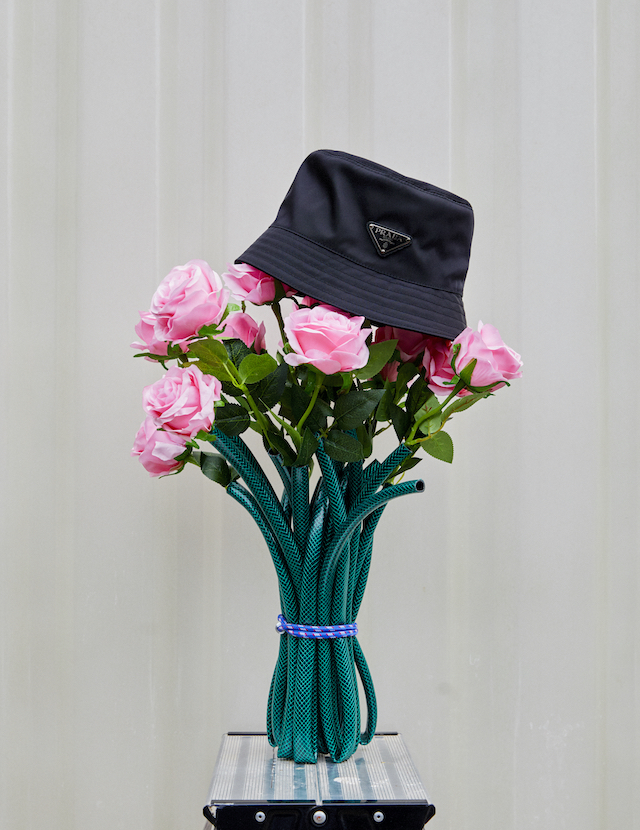 Nylon owes a great deal to Prada. Back in 1984 Miuccia Prada, the brand's creative director and co-chief executive, unveiled the Vela, an unfussy black-nylon backpack that instantly changed consumer perceptions of the synthetic material from cheap to covetable. It challenged long-held ideas of what a luxury item looked like and inspired a new era of minimalist, practical dressing. It was also Prada's first 'It' bag, catapulting the family-run brand to new heights of fame and desirability. The textile has remained a linchpin of Prada collections ever since.
So it makes sense that, more than three decades on, the Milanese house has made clear its intentions to reduce waste and tackle sustainability by zeroing in on nylon. Re-Nylon, launched in 2019, is a line of classic Prada pieces redone in a special type of recycled nylon. It started out with six bag styles for men and women, yet the plan is to go big: Lorenzo Bertelli, Prada Group head of marketing, has said the company is aiming to replace all of its virgin nylon with recycled nylon by the end of 2021. For a company that uses 700,000 metres of nylon annually, it's a massive aim.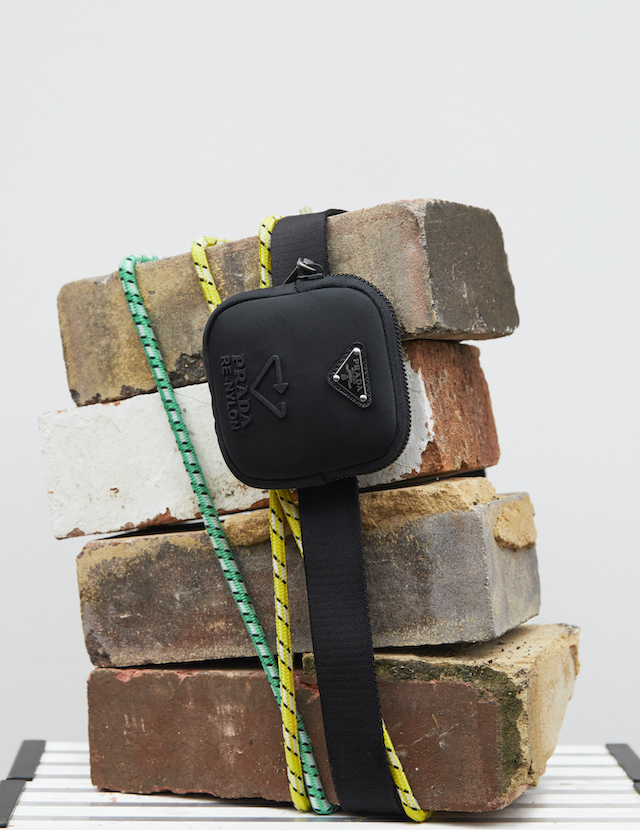 The latest step in Prada's Re-Nylon venture was a collection first unveiled in September at Selfridges. Part of Project Earth, a new sustainability initiative by the Oxford Street department store, the Prada pop-up featured accessories like bucket hats, cross-body bags, totes, belts and hightop trainers – plus ready-to-wear collections for men and women. In this ground-floor space, agenda-setting Londoners could be found poring over clean-lined jackets with studded buttons, slim-cut trousers, Bermuda shorts and puffer jackets. Rendered in a strict palette of black or white, these eco-friendly garbs look much like Prada's beloved mainline pieces – which is precisely the point. The monochromatic medley was presented against a backdrop of short films produced by National Geographic that spotlight sustainability pioneers, including a Chinese factory specialising in upcycling garments, a fishing-net-recycling enterprise in Cameroon and a factory in Arizona transforming old carpets into high-end materials.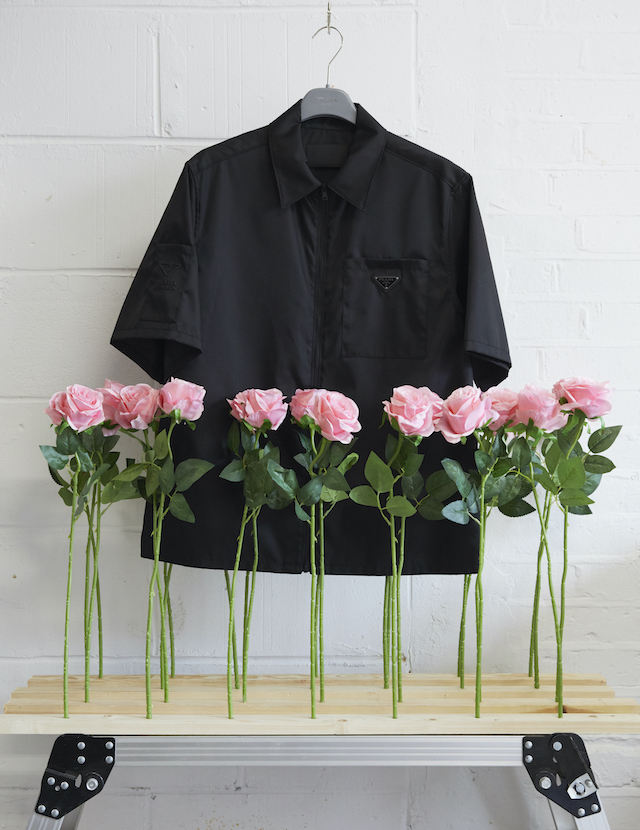 All Prada's Re-Nylon designs are made from Econyl, a trademarked 'regenerated nylon' created via a complex process of recycling fishing nets and bits of carpet, rope and other synthetic cast-offs. Aquafil, a family-run Italian textile firm, is behind the material; after years of producing virgin nylon, it worked with scientists to figure out how to break down synthetic waste to its core chemical elements and rebuild it into a greener substance. Spun at a factory in Slovenia's Vipava Valley, the resulting yarn is basically the same as virgin nylon – in how it looks and feels – but is a chemically different material. Crucially, unlike regular nylon, Econyl's manufacturing process doesn't produce enormous nitrous oxide emissions; plus, the fibre can be endlessly recycled without its quality diminishing. It's a noteworthy – albeit more expensive – alternative.
In recent years, as sustainability concerns have skyrocketed, Econyl has become a darling of the fashion industry. The fibre is now featured in the collections of luxury and sportswear brands alike, who appreciate its light footprint and striking likeness to regular nylon. Rather unusually for a textile, Econyl has become a powerful brand in its own right. Designers advertise its use in their collections and, according to the hype-tracker Lyst, in 2019, internet searches for 'Econyl' were up 102 per cent on the previous year.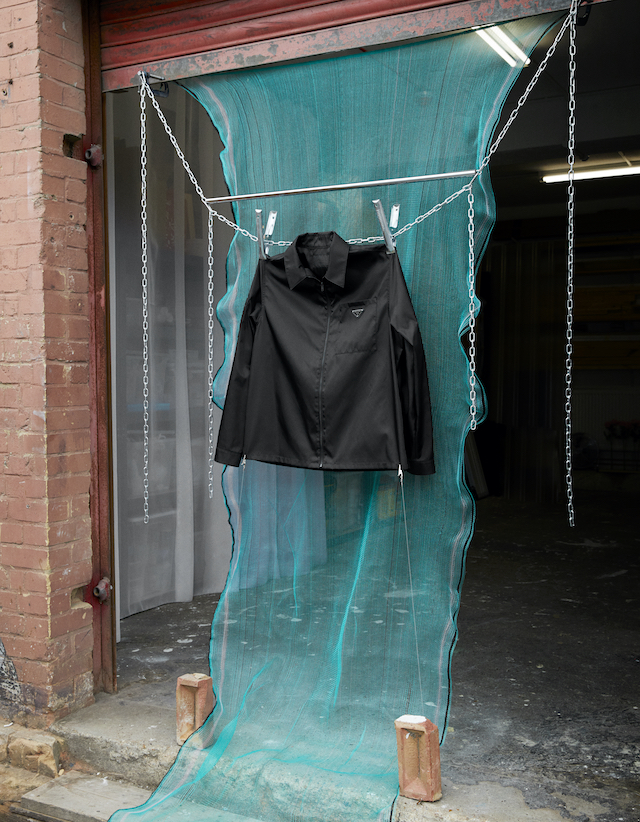 Nonetheless, Prada's Re-Nylon project is surely the most high-profile embrace of Econyl seen to date, and it promises to springboard the fibre into a new level of public consciousness. The initiative fits into a broader effort by Prada. Last year the house made its green intentions clear, publishing a sustainability strategy that's guided by the UN's Sustainable Development Goals, and covers environmental policies (including the footprint of stores and clothing production), as well as social issues such as diversity in hiring and promoting art and culture.
Furthermore, in a first for a luxury brand, it inked a €50 million sustainability-linked loan with Crédit Agricole Group, meaning the interest rates will change if it hits certain eco targets. It also joined the environmentally focused G7 fashion pact initiated by French president Emmanuel Macron and banned fur from its collections. More recently, Prada launched Sea Beyond, an educational programme created in partnership with UNESCO's Intergovernmental Oceanographic Commission, and funded by Re-Nylon proceeds, which involves presenting webinars about ocean waste to high-school teachers and students from cities including Berlin, Johannesburg and Shanghai.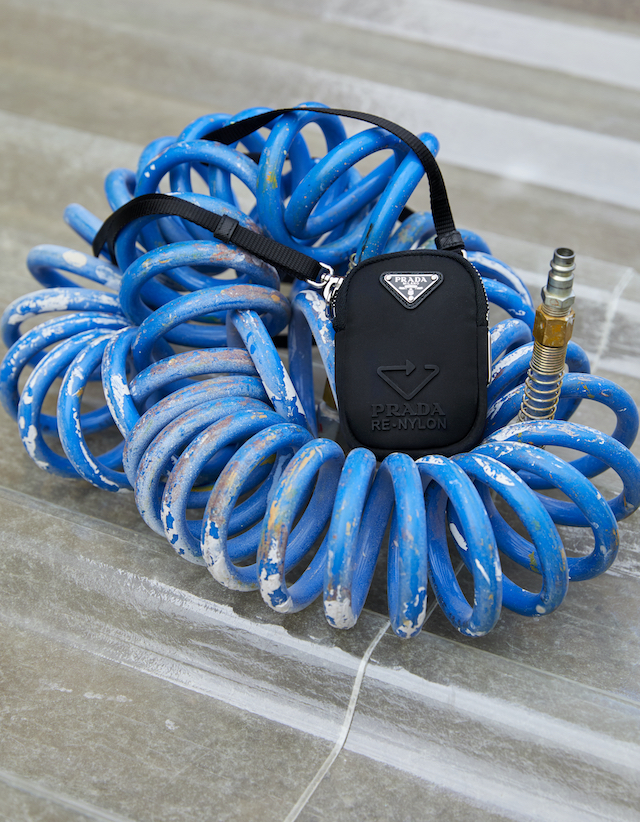 Viewed together, this phalanx of projects signifies Prada's intentions looking forwards. Green is the goal – and Re-Nylon is the most emphatic emblem of this commitment to change. By swapping the brand's signature material for an eco-friendly alternative, it's showing that it is determined to shift its mindset from the inside out, one thread at a time.
Photography Jesse Laitinen
Set design Paulina Piipponen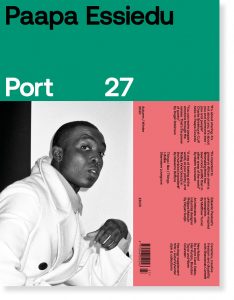 This article is taken from issue 27. To buy the issue or subscribe, click here