Richard Pike, singer in the Australian band, explains the origin, influences and pop-tastic atmosphere of their third album release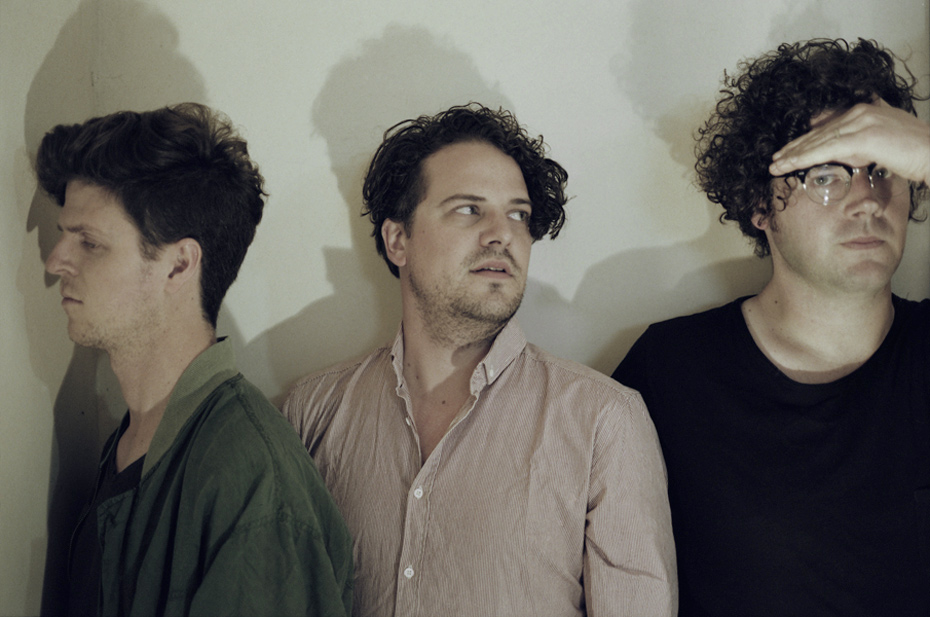 Words Felix L. Petty
Band Photography McLean Stephenson
All other images courtesy of PVT
"I was on holiday in Rome, the cradle of civilisation, I saw the words 'Homo Sapiens' advertising an exhibition at a museum, it seemed perfect." Richard Pike, singer and guitarist of PVT, begins, explaining how they came up with the title for their new record.
PVT's early work was defined by towers of crashing guitars, accompanied by rhythmic, processed beats, hinting at the motorik endlessness of krautrock and British outsider pop of the 1980s. Along with his brother, Laurence, and Dave Miller, long, improvisational jams would then painstakingly be re-assembled in the studio into songs. Their new album, Homosapien, though, is alive with the thrill of reaching a new stage of their careers. They've always explored the symbiotic relationship between organic and man-made, but as the title suggests, it's their most human record as of yet.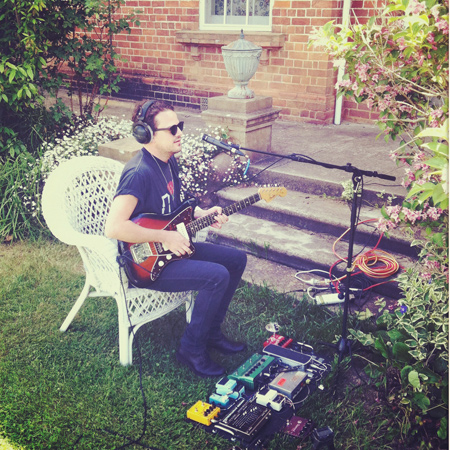 Above: Richard Pike
"I'd been inspired by a documentary by Adam Curtis called All Watched Over By Machines Of Loving Grace" Richard explains, "it's ostensibly about the Internet, but also about the way we've developed as humans and how there is a constant ebb and flow of influence between generations, and also concepts and ideas that have become pervasive amongst all humanity, which didn't exist before. The record was trying to capture an idea that has a huge scope, but through the lens of the personal. Homosapien is a good word for this, because it's at once personal, scientific and genderless. It means we're all the same, male or female."
The musical change in direction on the record was brought about by the fact that the band demo-ed their tracks for the first time, taking 20 ideas for songs to the studio to work with. "We went to a place called Yass," he says, "a small town outside of Canberra, and rented a strange old three storey sheep station, and recorded there for a month. It was just us three and our sound engineer, Ivan. It was a great way to do it. We were surrounded by bushland and not much else."
Homosapien brings out Richard's talents as front man, too. The record is their most lyrical so far; Richard crafted the words in the Barbican Library. "I wanted a theme" he says. "I didn't know what that was at first, but the more you write the more you find threads. You find a path to walk down and you follow it until it makes something. There's never an answer, or an end point. You just keep walking until there's some sort of picture occurring. The idea of evolution, and the interconnectedness of humans, was an early idea that started the first song."
The idea of evolution might've been a starting point for the record but it's also reflected in the growth of the band, into making, relatively speaking, a pop record. Homosapien is comfortable with big melodies, though it's firmly got it's base in the tradition of odd, outsider pop music; it touches on the work of Gary Numan and Depeche Mode, as well on more modern trends for alternative and experimental R'n'B, but it's pop reconstructed through the prism of the band's skill as explorative electronic weirdos.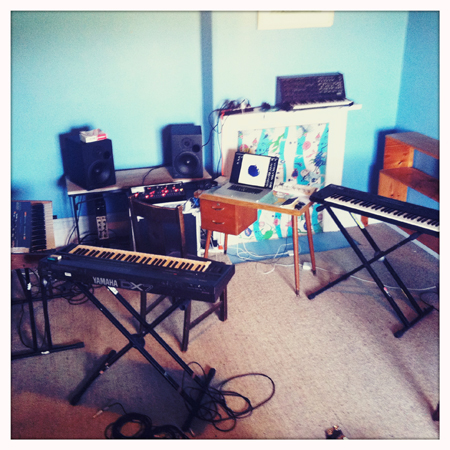 Above: a snap of the band's "control room"
Nothing exemplifies this quite like the track Love & Defeat, which mixes minor keys with major key sentiment, it sounds almost too straightforward, defined by a series of dark crescendos, yet when you scratch beneath the surface of the song it reveals, as Richard says, "a prominent verse, a build, a release, and an opening and ending refrain. I would argue it's not a very conventional structure though. It actually has only one verse. That's a weird thing to do. But maybe it's just the tension and release of it, and the ever changing melody, and the harmonic surprises that makes it pop. Or maybe for those exact same reasons it's experimental. I don't know."
"I think our earliest non-vocal stuff is pop-influenced too" he continues, "but the word 'pop' by definition means 'popular', and usually refers to something that has mainstream appeal. We've never had a radio hit, so how can we be put in that category? On one level I don't mind being called 'pop' – we've always wanted to make music for everyone, we never wanted to be exclusive. On the other hand I get uncomfortable with it. Ask me this again if we get a worldwide hit, I might have a different answer."
Read more on PVT here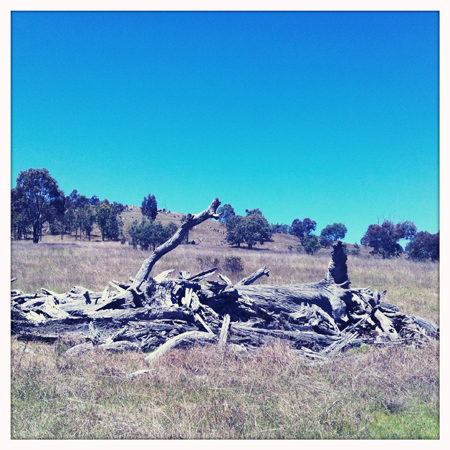 Right: Bushland around Yass where the band holed themselves up to record their new album