PORT's fashion features editor, David Hellqvist, examines the Florentine tradeshow's successful line-up of Raf Simons, Gosha Rubchinskiy and Visvim, and explains why it perfectly sums up fashion in 2016
It's tough times for fashion, and menswear is very much at the centre of the storm. With more and more brands dropping their men's shows in favour of a combined presentation during the womenswear schedule, the smaller fashion weeks, like London and New York, risk losing momentum. Who knows, they might not even be around in a few seasons; even the bigger ones, Paris and Milan, are loosing major brands. It's a real problem, but it's the only sensible way forward, from the brand's point of view at least.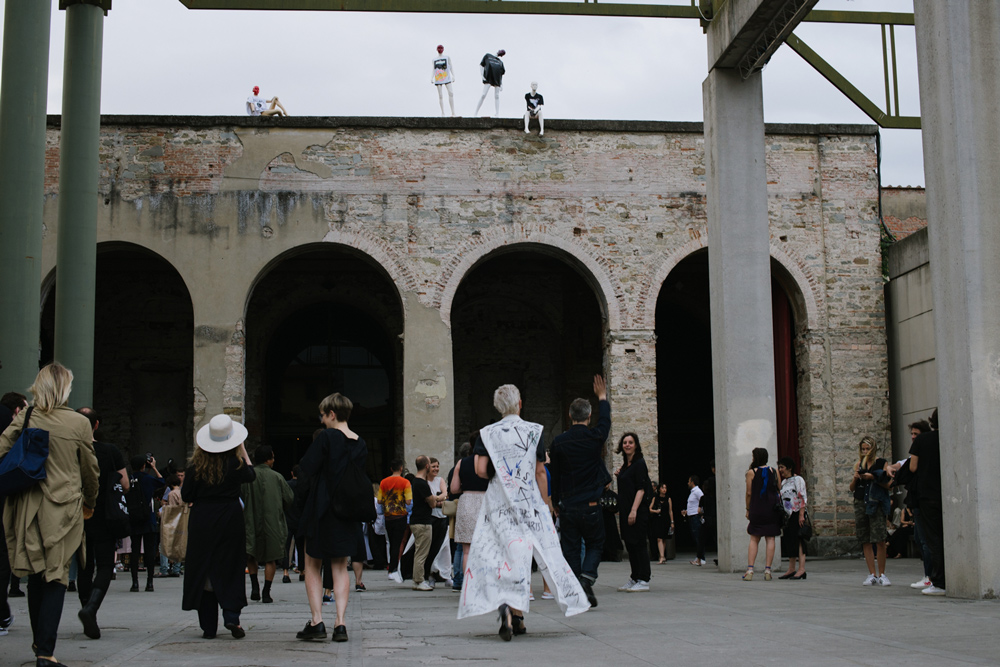 But it's not all bad news. Brands will always need some sort of outlet to show their collections, and the men's buying calendar runs separately from women's. Cue tradeshows with the power and reach to invite brands for exclusive presentations and global fashion shows. I say 'tradeshows' but, really, it should be singular and not plural. There's only one show at the moment that's big enough to pull in both buyers and press from all over the world: Pitti Uomo in Florence.
They achieve this by inviting designers to show their AW and SS collections in Florence, or to create and present an exclusive project or capsule collection. Having run for many years, Pitti has – quite naturally – had its ups and downs. Exhibiting brands come and go (though they're likely to go up in numbers now that Bread & Butter no longer exists) and the quality of visiting designers have fluctuated. For SS17, though, the Pitti organisers hit the jackpot. They managed to fill the show space again – helped by the fact that the sweltering June edition is quite an attractive proposal compared to the cold January version. More importantly, though, they invited three zeitgeist brands to be part of Pitti.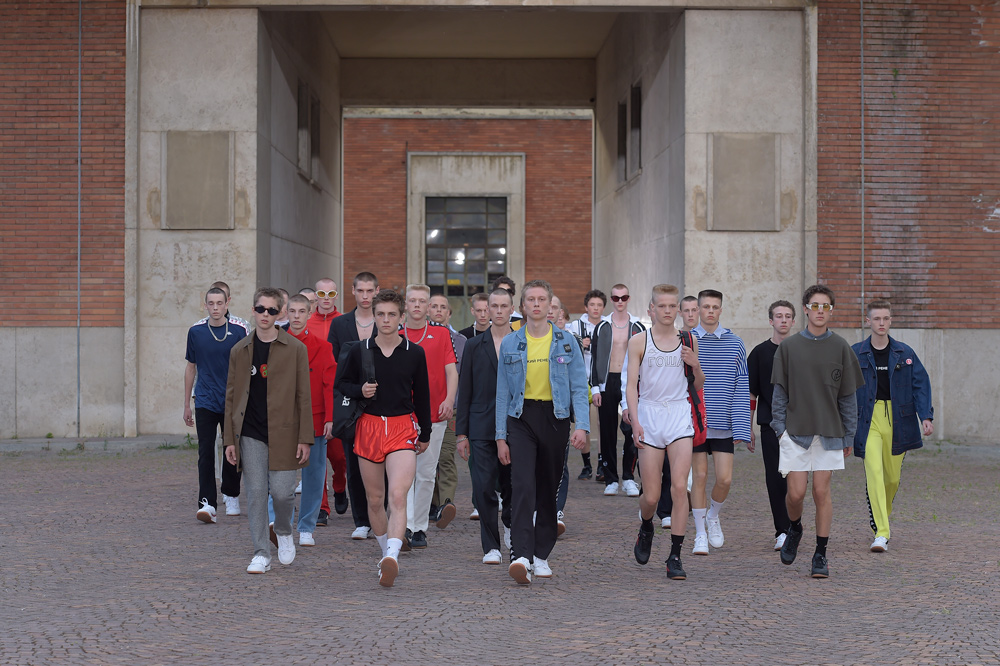 Fashion runs on hype, it's what oils the machinery… and sells products. Over the last few days that hype peaked in Florence. Russian designer Gosha Rubchinskiy, Japanese brand Visvim and Belgian designer Raf Simons all invaded Pitti to show their respective SS17 collections. Gosha and Raf showed here instead of in Paris, and Hiroki Nakamura, of Visvim, used Florence as his catwalk debut. All three have a loyal following, and all three have had a major impact on fashion in their own way. And this is why Pitti matters for SS17. After a lacklustre LCM, without brands like Burberry, Alexander McQueen, Dunhill and Gieves & Hawkes, it was down to Pitti to kick start the menswear season.
Gosha was up first. You might argue that the collection relied too heavy on sportswear collaborations (we saw garments and footwear in partnership with Fila, Kappa, Sergio Tacchini, amongst others), but there's no denying the success of the brand, and Gosha as a multi-disciplinary creative. He also managed to release a new photo book this week. His clothes constantly sell out, a combination of his on-trend 90s designs, packaged in a post-Soviet Communist aesthetic. The price points are relatively low, and he's partly owned by Comme des Garcons. The hype press loves him; at the moment there's nothing Gosha can do wrong.
Gosha mixes high and low: he's both 'street' and fashion. Pitti managed to top that by inviting brands that are, arguably, on each side of Gosha. Visvim certainly isn't 'low' streetwear. It's very high end, and its dedication to craftsmanship puts many classic luxury brands from Paris and Milan to shame. But, it comes at 'fashion' from a more practical point of view. Fashion is all about concepts and ideas. Visvim is all about garments. Hiroki Nakamura is obsessed with products. He spends his time coming up with new and innovative ways to make clothes in an 'ancient way'.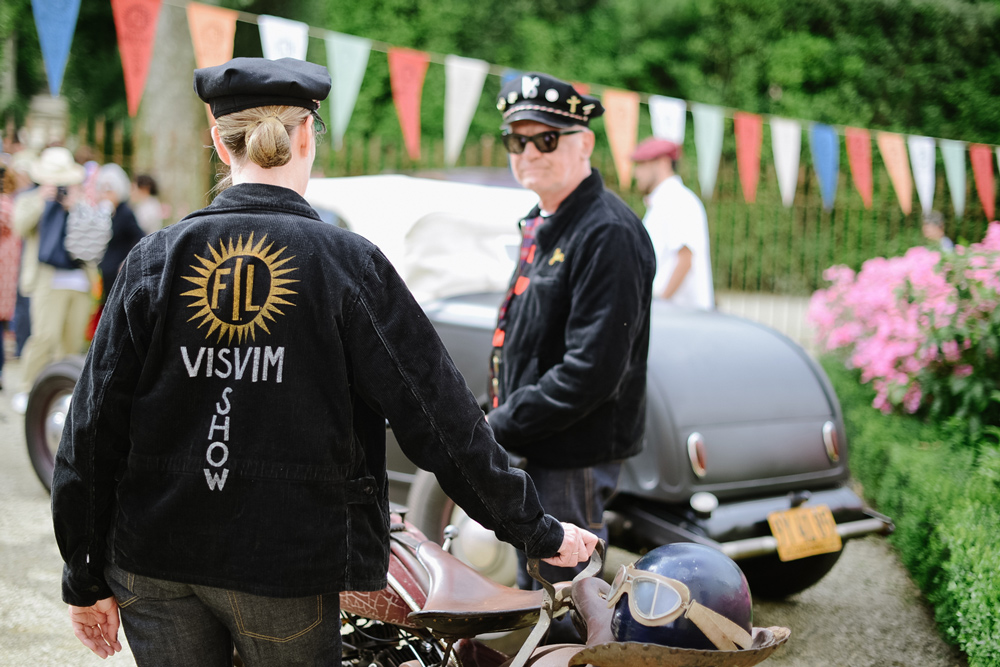 And then we have the other side of the spectre: Raf Simons. The former Dior designer is currently in a rare position, he can actually focus on his own brand 100 per cent for a bit before he, if the rumour is true, starts at Calvin Klein. And he appears to have spent that time wisely. In collaboration with the Robert Mapplethorpe Estate, Raf presented a collection that looked forward while still paying respect to both Mapplethorpe and his own archives. The show space was littered with mannequins in vintage Raf Simons pieces, much to everyone's delight. But the SS17 collection also showed traces of his old punk-inspired energy and attitude.
The sun shone, England didn't loose the game and, with Aperol Spritz on tap, this was a good Pitti. A vintage year, if you like. The problem with such a line-up is, of course, that they will have to beat that next time around. But let's worry about that in January, and just enjoy this Pitti moment for now.