Introducing the new limited edition zine and lockdown collection from creative director Francesco Ragazzi, Isabella Burley dreams of cultural fantasies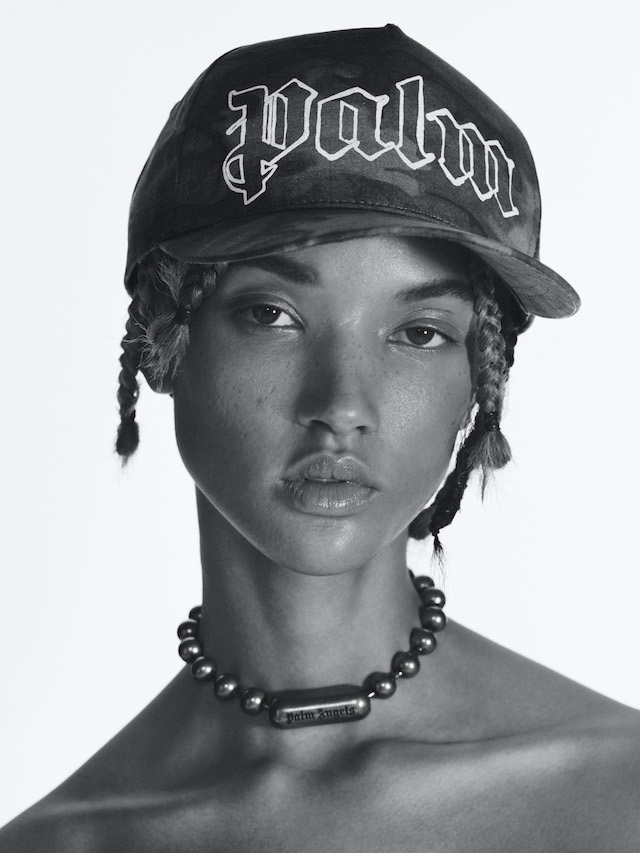 I've spent the last year fantasising. These days, I get my fix from strange Japanese websites buying obscure magazines from the 1970s, blasting the soundtrack of Steve McQueen's Lovers Rock (set at a house party in the 1980s) pretending I'm there, and attempting to recreate meals from Dimes, my favourite NY restaurant on the Lower East Side from their perfectly titled cookbook, Emotional Eating. As the year has progressed with unexpected new turns, I've sought out these fantasies more and more. So much so, that I've come to accept – I'm a hardcore cultural fantasist.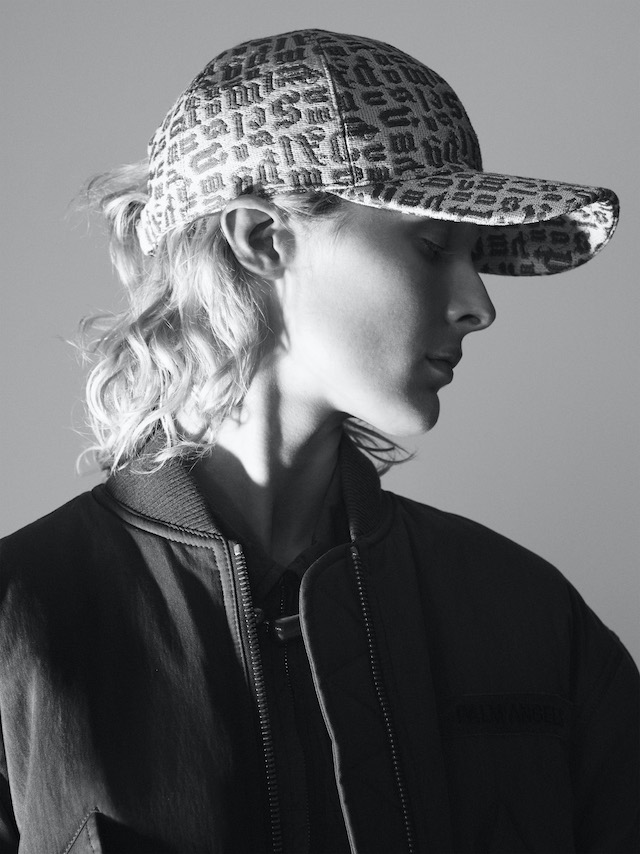 Francesco Ragazzi is a cultural fantasist too. This season, reacting to the surreal times we find ourselves in, the Palm Angels SS21 collection doesn't come to you as a fashion show, but as printed matter. No spectacle, no spotlights. Instead, the anarchic spirit of a zine is reinterpreted – its pages reverberating with cultural curiosities and elevated through the lens of some of today's most experimental visual artists, published by Rizzoli.
Curating a truly electric juxtaposition of creatives from many different disciplines – and different generations – David Sims, Rosie Marks, Lea Colombo, Enzo Ragazzini, Friedrich Kunath, Javier Jaén, Javier Calleja and Thrush Holmes all unite for this special project. A wild mash-up that could only be conjured in the mind of Ragazzi, it's a free creative approach that captures what Palm Angels has been about since its incarnation – breaking all the rules. And it's full of fantasy.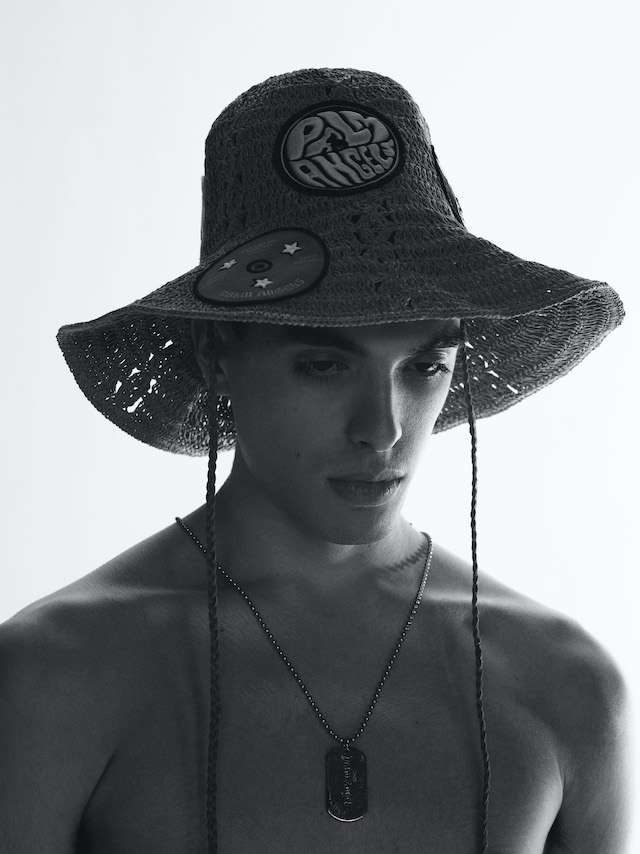 "This collection was made during lockdown, so there was a constant longing for escapism," explains Ragazzi. "I was interested, of course, in exploring different fantasy elements – my own fantasies and cultural fantasies. What would I do if I could do anything? Would I go to Jamaica? Would I go to Tokyo? Would I be outdoors? It was inspired by me being somewhere else. I wanted pure escape from reality." These feelings of escapism manifested themselves into three very different chapters: Exodus, Fishing Club and Military.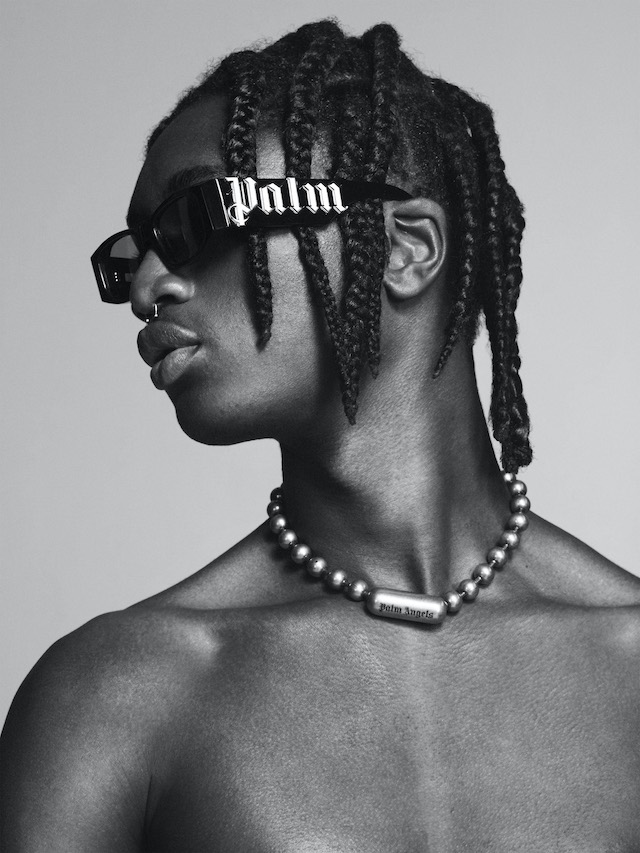 Exploring his love of Jamaican reggae culture – the furthest thing from Milan – you can see the colours and attitude throughout the collection in wild graphics, relaxed tailoring and of course, in the vibrant Jamaican flag which appears as accessories. Elsewhere, military codes are disrupted – classic bombers cropped, old workwear jackets tye-dyed and military berets subverted.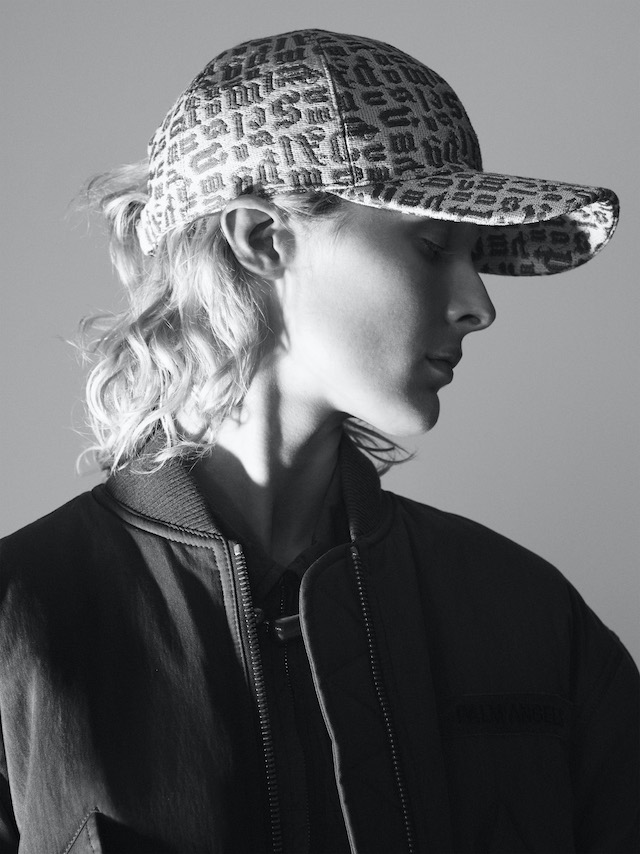 One of the most exciting collaborations you'll find in these pages is with new generation photographer Rosie Marks, who was invited to Milan to shoot a low-fi reportage story of the Palm Angels team. "My team is my family and it hasn't been easy for them this year, so it was important for me to really document them as part of the book," adds Ragazzi.
London-based photographer and director Lea Colombo, who was raised in Cape town, has interpreted the vibrant tropical hues and colours of the collection, shooting at her home studio. Ragazzi calls it, "Kingston meets London with all of the vivid energy and spirit of the Caribbean."
Then there's 86 year old Enzo Ragazzini, whose work is a mixture of psychedelic graphic design rooted in the now. Experimenting with different image-making techniques in his darkroom, his contribution is a mind-bending trip into another dimension.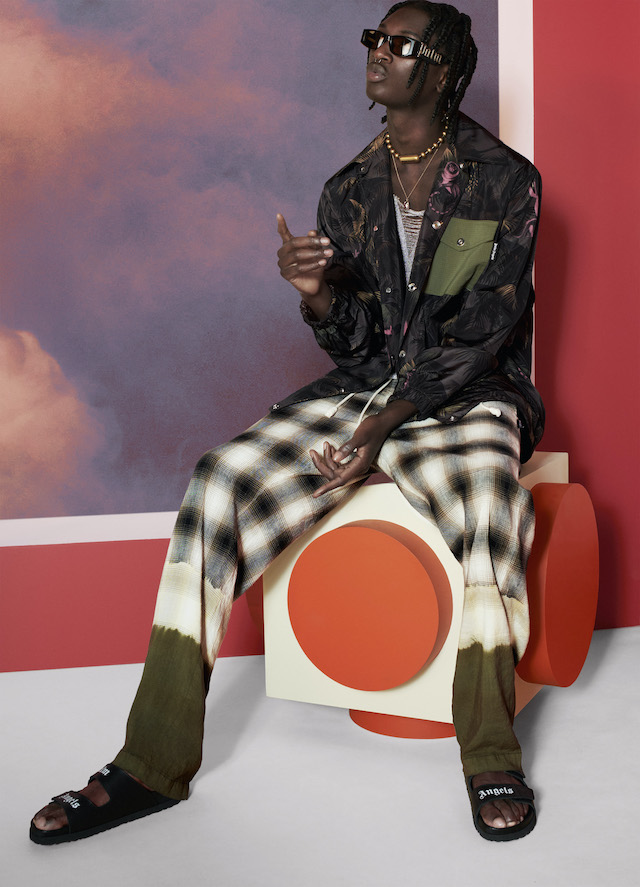 David Sims and Karl Templer have also collaborated with Palm Angels on a campaign for the first time. "I always like that the most special talents, who are often the most established, are always so humble. David was definitely humble. I still see Palm Angels as a newborn, so to have someone like him shoot the campaign and have a genuine creative conversation is very unique. Someone who listens. It's a fresh approach," says Ragazzi.
Javier Jaén, a graphic designer who was responsible for one of Palm Angels' strongest graphic designs, the headless bear, is also included in the book. "I really fell in love with his work and I think the guy is a true genius. He goes from working with us to designing covers of magazines like Newsweek," describes Ragazzi.
Spanish visual artist Javier Calleja features too, showcasing unseen archive material for the book. Ragazzi discovered Calleja's work whilst in Tokyo, intrigued by the Japanese spirit of his approach.
The surrealist vibe behind the book's inspiration is also enriched by the dreamlike, poetic compositions of abstract painters Friedrich Kunath and Thrush Holmes.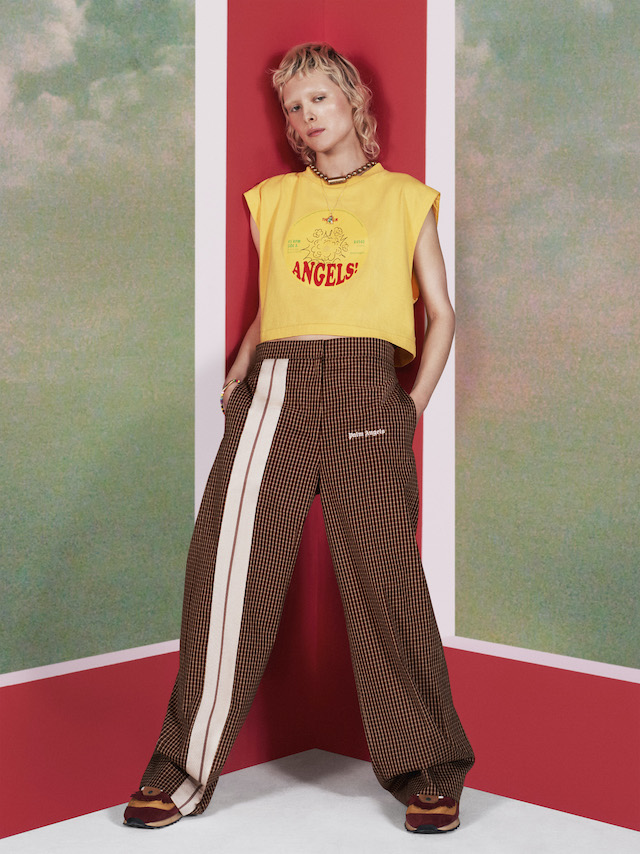 Palm Angels started with a photography book and Ragazzi began his career as an image maker, so in a sense, this is part of their own DNA. And Palm Angels is a brand that stays true to its roots. The pandemic was an opportunity for us, and brands to slow down, but it's done the opposite. We've moved into a cultural space that has completely changed, and ignited a culture that's more disposable than ever before. This zine is a reaction to that; it's a small form of protest.
It also crafts a multiverse like no other, and these pages are also a celebration of the tactile, something you can treasure and keep forever. It's also disruptive in spirit and layered in fantasy – the curation of names and approaches echoing the anarchic and dynamic Palm Angels universe. "I think I've always been drawn to creative chaos," explains Ragazzi. "Every season when I work on a new collection, I approach it like I'm making a movie, where many different stories and narratives come together. So for this book, I love this idea of passing through David Sims to many other crazy artists that people are less familiar with, or are more emerging names. Palm Angels has always been about discovering new talent whilst also working with established names. It's that contrast that generates an interesting dialogue – it creates creative tension and sparks things that are unexpected."