The British heritage designer, obsessed with army uniforms and workwear, talks to David Hellqvist about opening up a London store, the Filson collaboration and his love of ping pong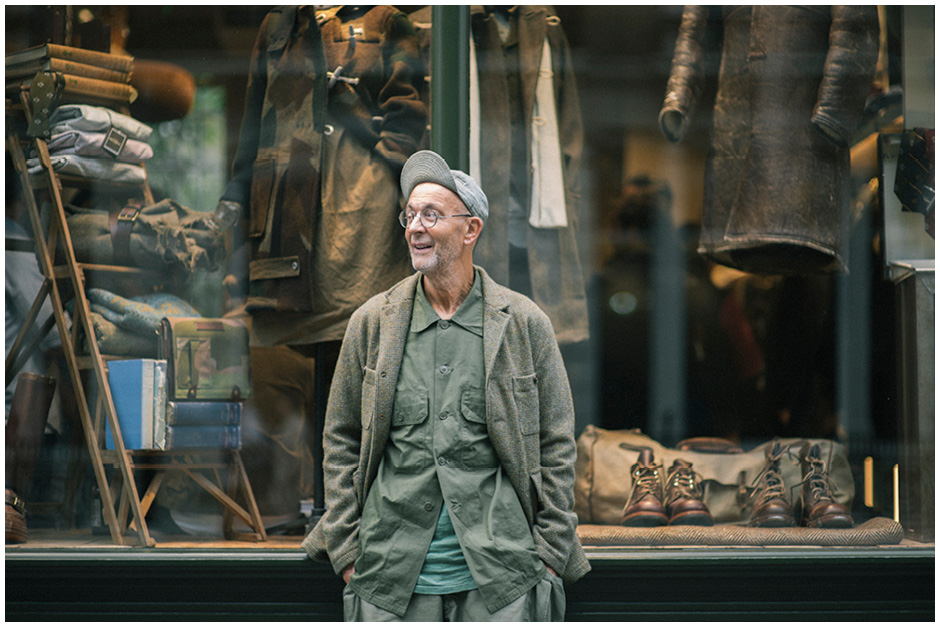 Henrietta Street runs in a straight line, cutting through the hustle and bustle of the West End and, indirectly, connects the Strand with Covent Garden's market and shops. Here, among countless long-running musicals and small family-owned Italian cafes, you'll find the new Nigel Cabourn store. It's the first store of his in the UK, adding to the six Army Gyms already up and running in Japan, his biggest market by far.
Sitting in the basement of his store, with a noisy launch party in full commotion above us, Nigel is wearing baggy shorts, an oversized army surplus shirt and a three-button tweed jacket. On his head, he's sporting a green cap with the peak turned up, making it look a bit like a cycling hat. Thick-soled desert boots from Viberg, with an arrowpointing forward on the toe cap, sit on his feet. The whole outfit is khaki green, the traditional army uniform colour. Finally he's wearing a pair of round glasses, modern in their make but reminiscent of the 1950s in their style. The look, arguably, does not only sum up the man but also the brand, Nigel Cabourn. Since relaunching his label in 2003, the Newcastle upon Tyne-based designer has crafted a niche, focused and coherent aesthetic made up of equal parts military uniforms, sport clothing and workwear. But Cabourn has his own take on the brand: "It's a combination of storytelling and quality production," he says looking around the store. "I can tell you stories about most things in this place."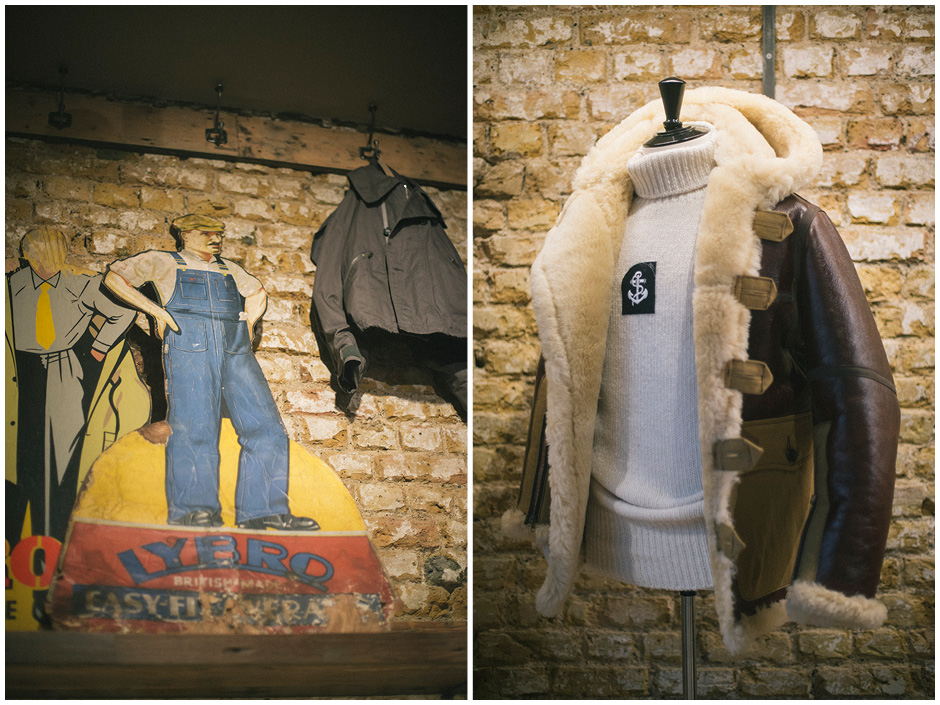 For lazy sartorial commentators, Nigel Cabourn can easily be bundled in with a group of designers making clothes based on British heritage, and it's true that Cabourn's fabric and production is 'Made in Britain' where possible. But the brand DNA goes deeper than that, mostly because Nigel Cabourn doesn't actually have a heritage of its own to lean back on – it's all borrowed from the vaults of history. "Everything has a story because it comes from vintage piece with history. I've probably invested a couple of million pounds in vintage clothing over 40 years which has resulted in my 4,000 piece archive. I don't have a warehouse or anything – I keep it all in deep wardrobes, folded like shirts on top of each other." And it isn't just clothes Nigel buys; the store is full of trinkets and pieces picked up all over the world. "I travel four months of the year," Nigel explains. "I've had ten trips in ten weeks, and wherever I go – whether it's Hong Kong, New York or Seattle – I spend at least 25 percent of my time seeing vintage dealers." But there's also good quality vintage to be had here, in the UK. "Yes, there's Doug from Vintage Showroom here in London, I buy a lot from him."Though this is the first Army Gym in the UK, Nigel used to have a store here back in the 90s, before he relaunched the brand. "We used to have a London shop that the architect John Pawson designed for me. It did OK but not so great towards the end. But our style was a lot more commercial at the time. Back then, our contemporaries were brands like Fred Perry and Lacoste, though they were also different brands then compared to now… a lot has changed. But no-one's come with me, I'm completely on my own as a one-off." Twelve years ago, Nigel's perspective on how and why he designed clothes changed: "I felt I was fed up with the commerciality [of the business] and decided to re-face Cabourn. In 2003 we launched a new, limited edition collection all based on the 50th anniversary of Edmund Hillary reaching the top of Mount Everest. That re-launched the brand to what it is today, a niche brand. I decided to base the brand on British heritage, things that really happened." And though he uses the word 'heritage', it's the 's' word Nigel keeps coming back to. "I wasn't so much a storyteller back then, but that's what I've become."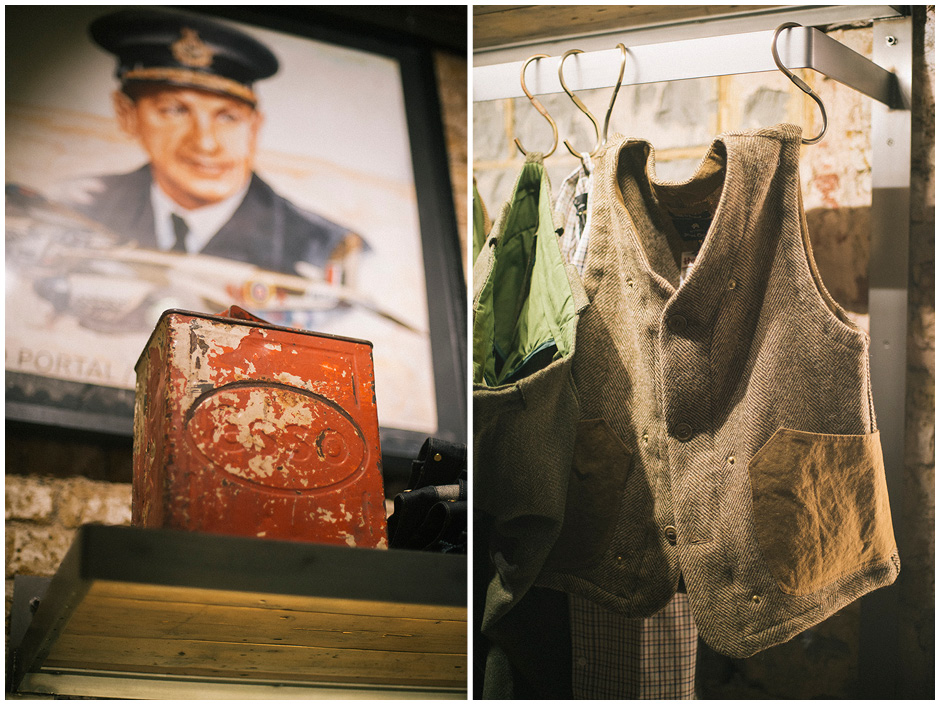 A lot of Nigel's sartorial storytelling comes in the shape of small scale capsule collections that celebrate a particular person and his or hers achievements. "Since the relaunch I've done three limited editions: the Edmund Hillary collection, one on what my dad wore as he fought in Burma during the Second World War, and the one on the 100th anniversary of Captain Scott's Antarctica crossing." Nigel is very precise in his sources of inspiration: "I know all about history but only history that's relevant to me; World War I and II, Antarctica and the 1950s." The reason for his fascination with this particular period is evident. "I was born in 1949 so the 50s is a special time for me. Generally speaking, I start my research at 1910," he says, counting the historical figureheads and events that have come to shape his personal and professional life: "Sir Ernest Shackleton, Scott… mountaineer George Mallory… the two world wars… then Hillary.
"I play ping pong between 6am and 7am, five days a week – I even got an international coach"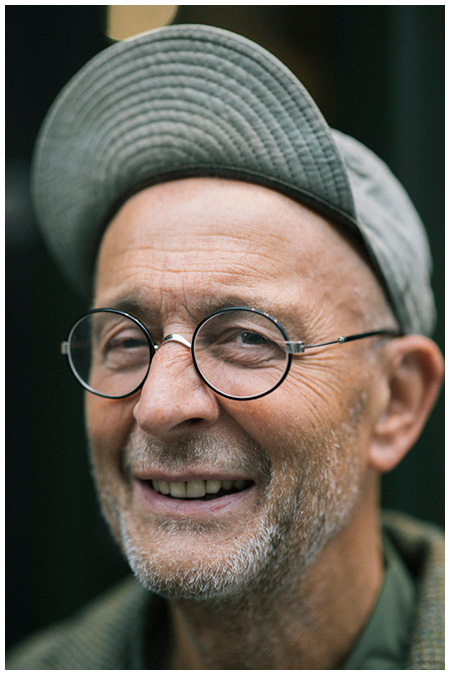 "I'm not interested in the 1960s onwards – though I'm doing a project on rucksacks with Karrimor about climbers in the 60s, which is unusual for me." As such, Nigel touches on a subject that's not only relevant for him and his brand, but for lots of other contemporary menswear brands; the concept of collaboration.
Of late, Nigel has been (or will be) collaborating with Filson, Aigle and Fred Perry. Recently he also worked with Converse on a series of trainers. The list goes on. The collaborations stand out from the rest of the Nigel Cabourn brand as the design process, for obvious reasons, is completely different. "Yes, the collaborations are the only that isn't vintage-based. So for the Filson collab, for example, we looked at Filson styles from 1915 to 30… with a little bit of Cabourn added and some fishing and hunting references. I zoom in on their history and 'Cabourn-ise' it– it's maybe 50:50 between me and the brand I work with. I add fabric, colour, play around with details," he explains. Often the collaborations are based on a mutual respect between the brands: "I like Filson, but I love Barbour even more. There's a good few of us working around these brands, like Haversack and Daiki from Engineered Garments. We share a point of view but we're all very different at the same time; Daiki is more workwear-influenced and he makes it all in New York whereas Haversack is slightly more sophisticated I'd say."
The Fred Perry hook up is a good example of how Nigel isn't just collaborating for the sake of generating column inches on blogs, but to actually further his brand and to develop his own, personal interests. The capsule collection isn't based on outwear, which is arguably what his brand is known for. No, Nigel demanded it'd be inspired by table tennis. "In 1929, Fred Perry won the table tennis world championship before moving on to tennis. When they phoned me I said I wasn't interested in doing an outerwear collab, let's do a ping pong collection instead. And they said yes." Nigel is a fan himself. "I play ping pong between 6am and 7am, five days a week – I even got an international coach. I'm playing Ray Kelvin from Ted Baker tomorrow… he's good but he's gonna get beaten!"
Though the Nigel Cabourn aesthetic is firmly based in the past, it's vital for the designer to stay relevant in terms of contemporary culture. He mentions Ben Fogle, the adventurer, as both a friend and a loyal customer. Fogle was part of Cabourn's recent Scott campaign and wore Cabourn pieces as they re-traced Scott's Polar adventure. "I'm contemporary for sure, you can't take a vintage piece and make it like another vintage piece, it's got to meet modern demands by using contemporary technology," he agrees. It's important for Nigel to find the right balance between yesterday and tomorrow so that it fits with 'today'. "Although I sometimes use fabric that's 70 years old… for me, old technology is better than new, I don't like Gore-Tex for example. Instead, I took Second World War Ventile fabric and seam-sealed it. Sometimes we use Mackintosh fabric but, really, that's not a new fabric, it's not a modern technology." He isn't afraid of running out of vintage inspiration, neither is he scared of basing his entire brand on the conquests of the past: Nigel knows that, in order to foresee the future, we must understand and appreciate history first.
Text David Hellqvist
Photography Jonnie Craig