BOSS teams up with Russell Athletic to release new capsule collection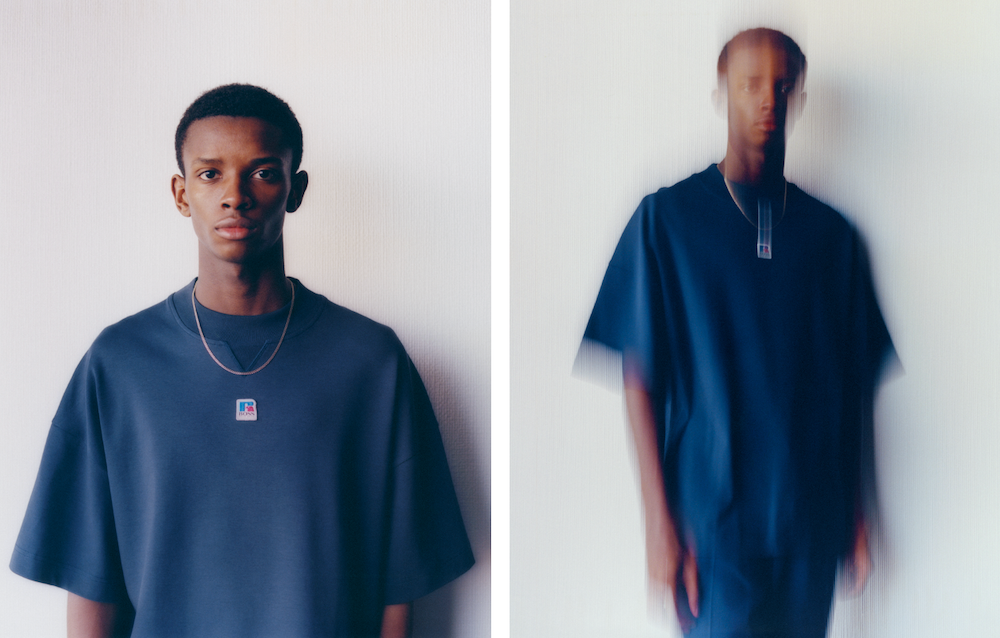 Who remembers sports? We're not talking tepid football with the ghostly sound of non-existent fans layered over, but real, full-throated call and response to live action. With the Tokyo Olympics cancelled and all manner of courts worldwide still locked up, the past year has been terrible for sports on a local, national and international level. But, in anticipation of when we can kick, throw, catch, bat and freely stretch our limbs, BOSS have partnered with Russell Athletic to create a capsule of casualwear that marries careful tailoring with relaxed, sport silhouettes.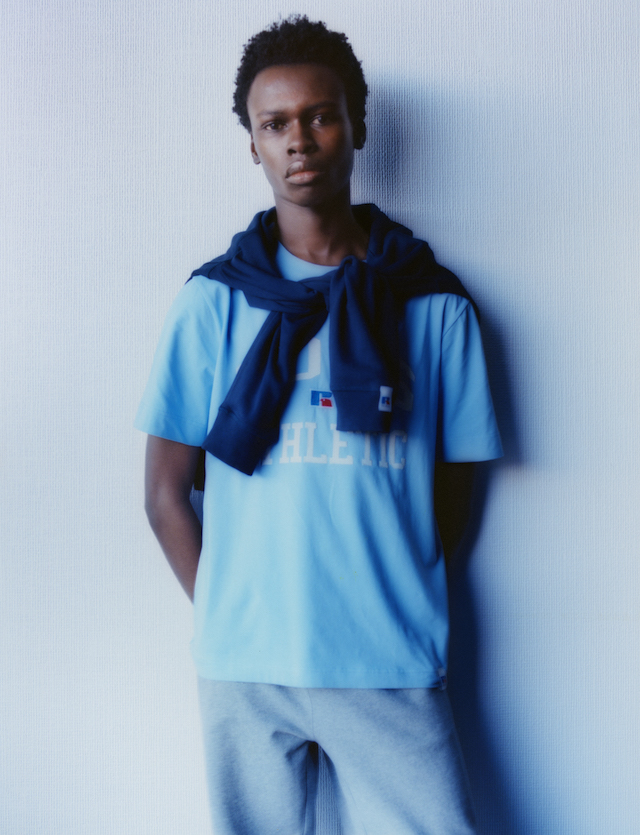 Russell Athletic's commitment to the second half of its moniker stretches back to 1902, when founder and then 26-year-old Benjamin Russell helped rebuild his home of Alexander City, Alabama, after a devastating fire. Establishing a hospital, grocery store and bakery, much of the local community in turn joined his modest factory, first creating a women and children's knit shirt, before making team uniforms and apparel for professional athletes and leagues throughout North America. After a brief halt to its team uniform offering a couple of years ago, these days, it can be found principally turning out sleek casual and performance wear.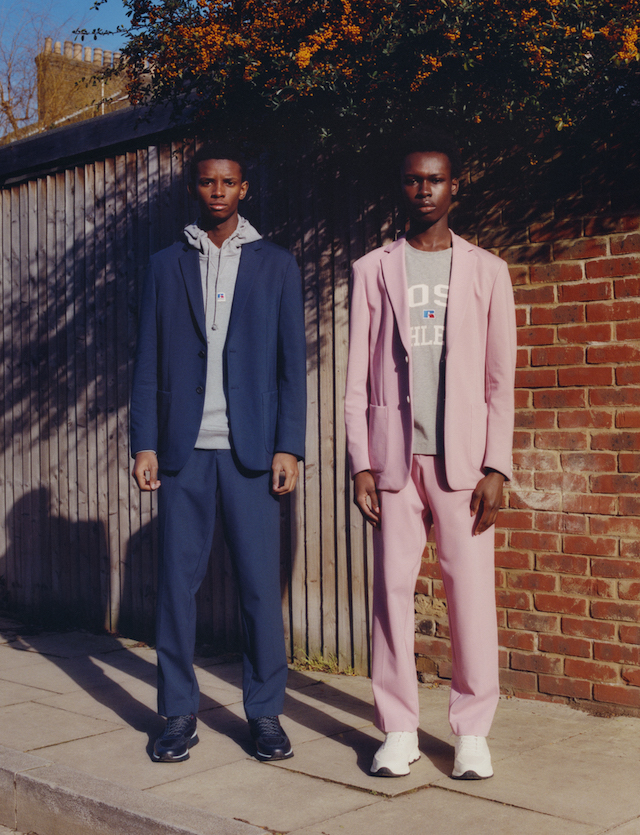 BOSS meanwhile, has frequently flirted with sportswear (most notably golf and F1) despite its storied suit and uniform heritage. Recent – and successful – high profile partnerships with the likes of heavyweight boxing champion Anthony Joshua illustrate that the luxury house is more than committed to casual items with a refined sports aesthetic, which seems like a sensible and considered direction of travel given the amount of people still working from home and eager to play.
Both drawing on their extensive archives, colours, prints and construction techniques are combined to produce a fluid, unisex collection. Knitwear, tracksuits, jerseys, hats, shorts and trousers are all finished in complimentary schemes of pink, white, powder blue and chocolate. Traditionally formal elements such as blazers and shirts have a loose, 90s inspired cut, while clean lines – wide diagonal stripes run throughout tops and outerwear, and classic side stripes can be found on trousers, shorts and tracksuits – call back to racing tracks. Encouraging active experimentation pieces can be mixed and matched, or easily coalesced with wardrobe essentials. Altogether, the range deftly and joyfully balances both brand's strengths of structured tailoring and practicality.
Port caught up with BOSS chief brand officer, Ingo Wilts, to discuss the collection, as well as heritage, creative wear and the pandemic's irreversible effect on our wardrobe.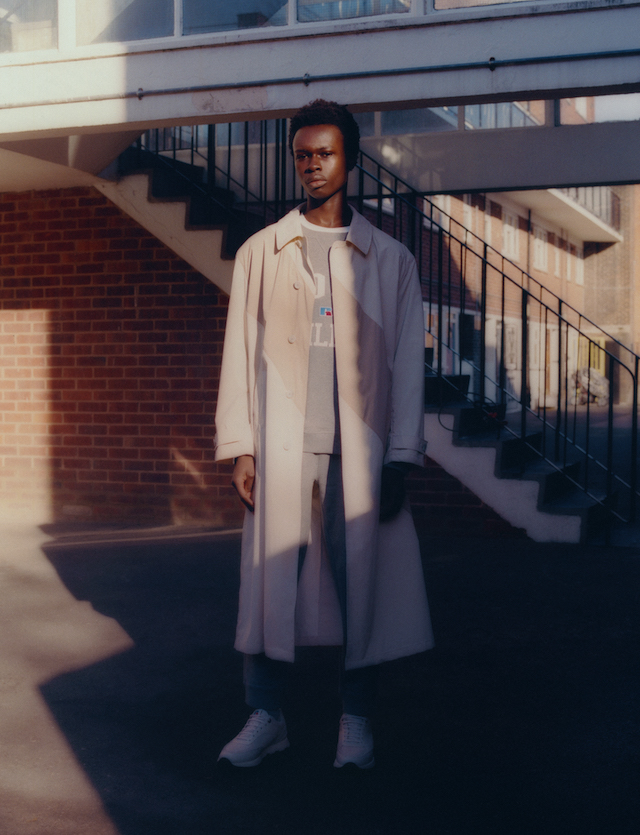 Although a similar age, BOSS and Russell Athletic are two very different brands. Why the collaboration, and how did you compliment each other's differences? 
It's funny, it seems like such a great fit now in part because of the pandemic – everything is expected to be a little bit more sportswear, more relaxed. But I actually approached the team at Russell Athletic back at the beginning of 2020, when neither of us could have expected what would unfold. I was looking for a heritage brand which is totally different from what we are. We will always stand for the suit, so it was refreshing to work with their history, their materials, matching our respective heritage. I believe we got a beautiful collaboration out of this.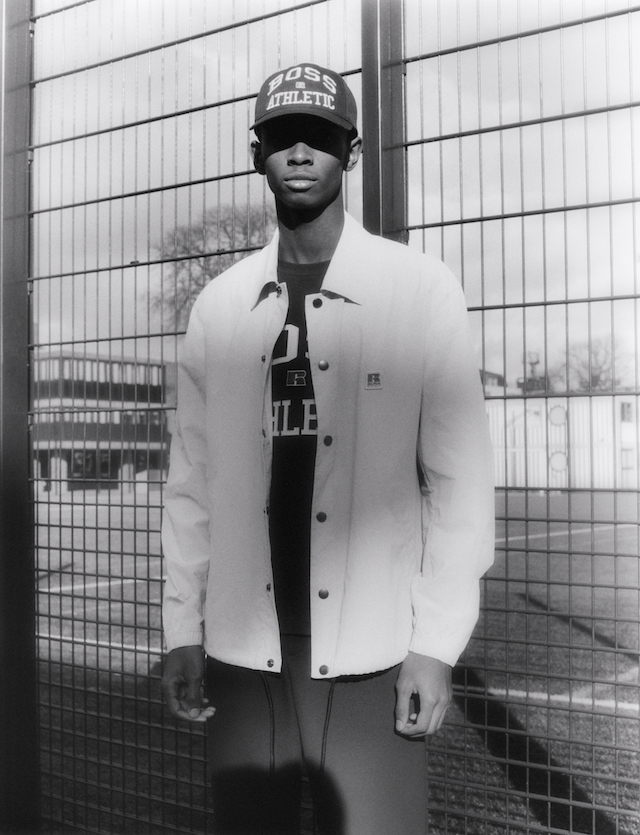 How do you refresh archive designs, make them relevant for the modern world?
What is the younger generation wearing and how do you attract them? You need a good eye to comb an archive and bring it into being, bring it forward to today. We took cues from the world of sports – basketball in particular – and paid close attention to fit, colour, details like embroidery and packaging, to make it relevant for today.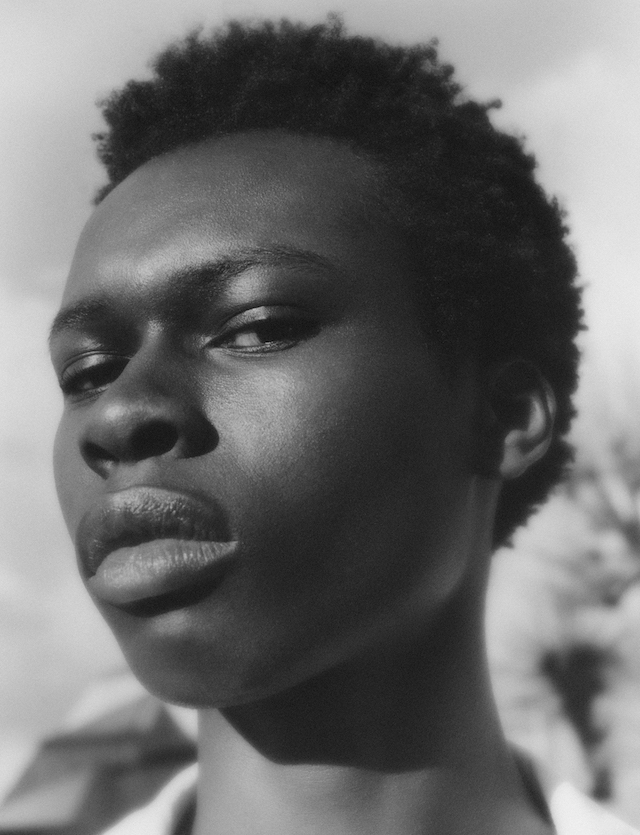 How do the items support creative wear? 
At the moment, I am often moving from one extreme to another – suits in the weekday and sweat pants and hoodies at the weekend. But, I've also found myself mixing things in like coats, turtlenecks and wool draw string trousers because of my new daily rhythms. The collection is very positive and wants you to experiment like this, swap things in and out, showing that you can have a sportswear approach and still remain very nicely dressed.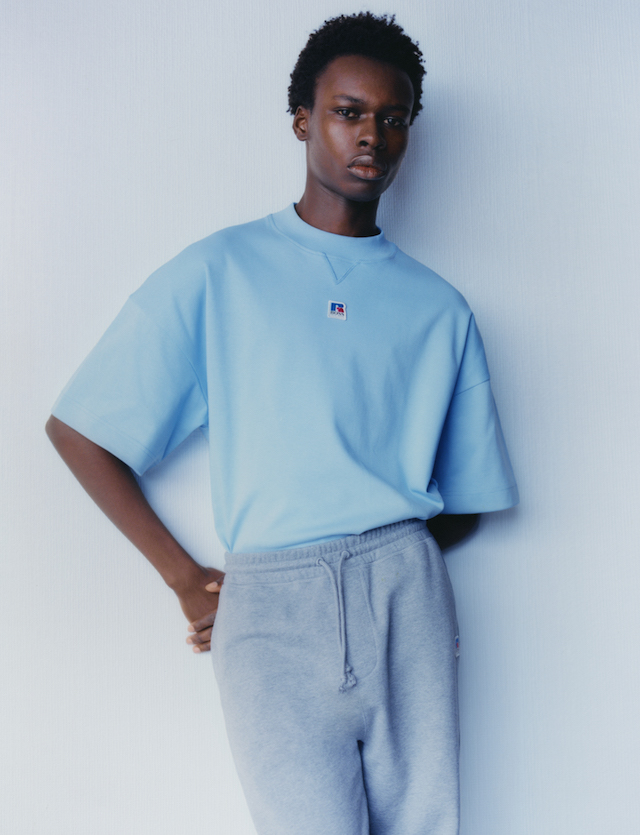 Was the overall palette of the collection inspired by anything in particular?
We wanted the palette to compliment what we have in store already and drew on Russell Athletic's extensive archive, focusing most on the 70s. We found some lovely faded, muted tones, but also a vibrant sporty mix of bright orange, rich navy.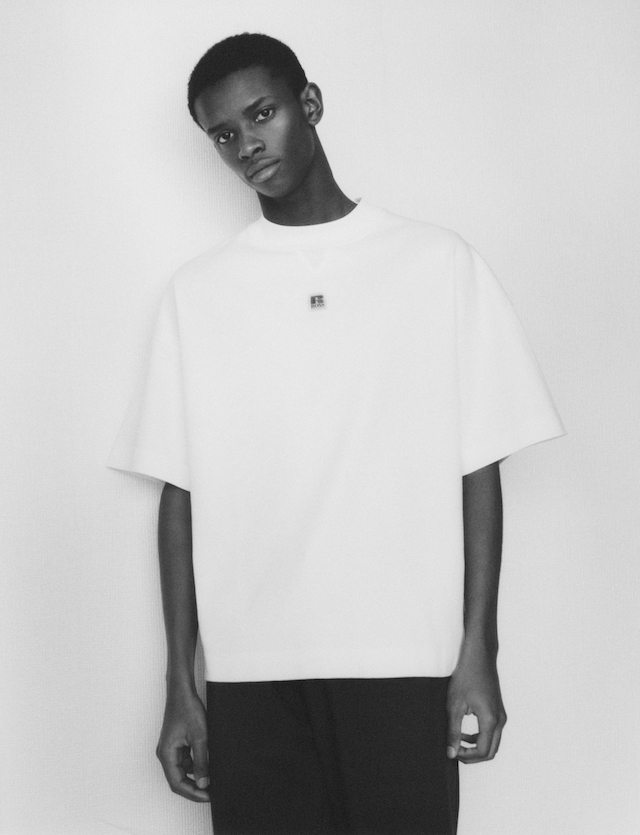 BOSS has had recent collaborations with the likes of Anthony Joshua, is athletics and more casual-wear an area the house wants to explore more deeply and regularly?  
With partnerships like Anthony and also the NBA, we want to show a different side of BOSS. All these collaborations with a sports attitude allow us to talk to different markets, different customers, with authority.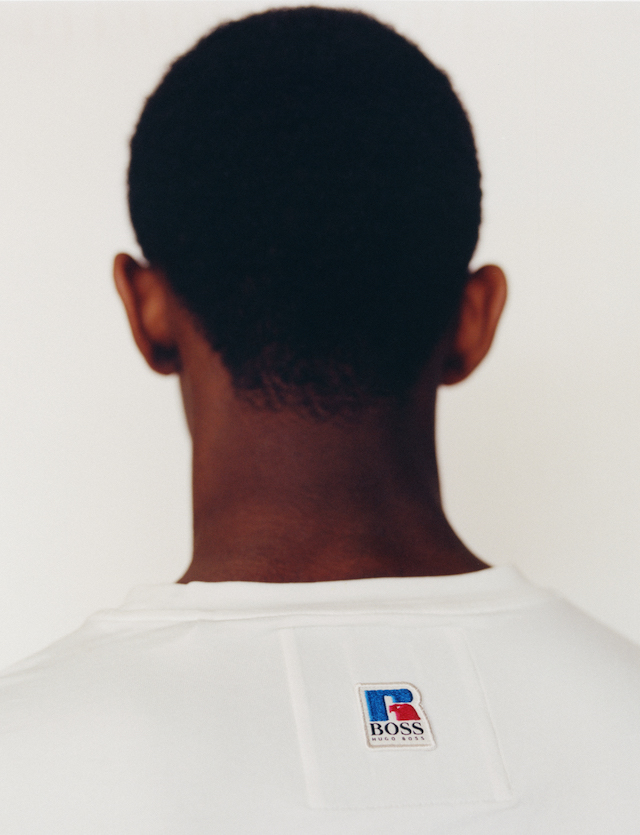 Are there any sports that you are really missing?
To be honest – it's going to the gym!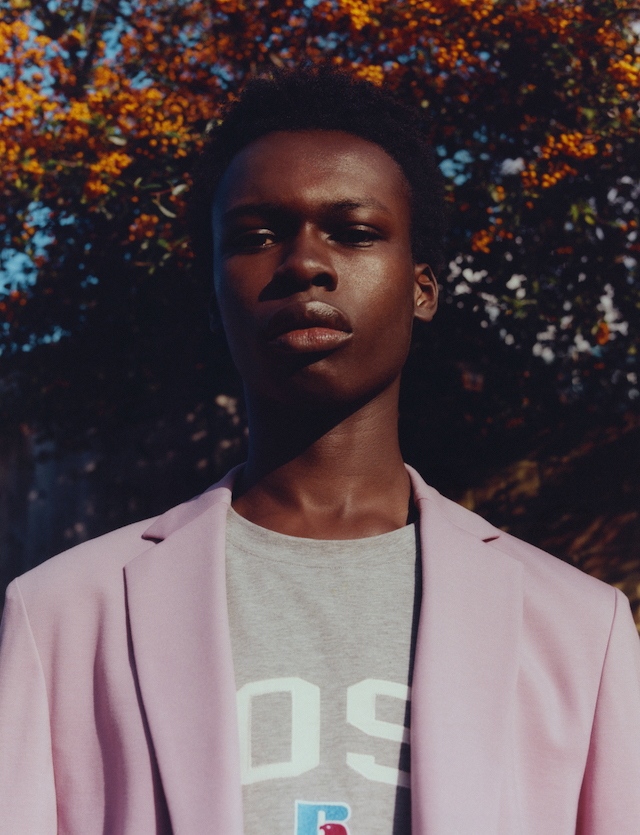 To what extent do you think the pandemic has encouraged, looser, more casual, relaxed silhouettes? Will it have a lasting effect?

In the future, we will see everything on a much more casual level and dress with a wholly different approach. I believe sportswear will inevitably influence our regular wardrobe, shapes and items like bomber jackets and tracksuits will become more commonplace. That's not to say businesswear or suits are going anywhere – but they will change alongside this influence.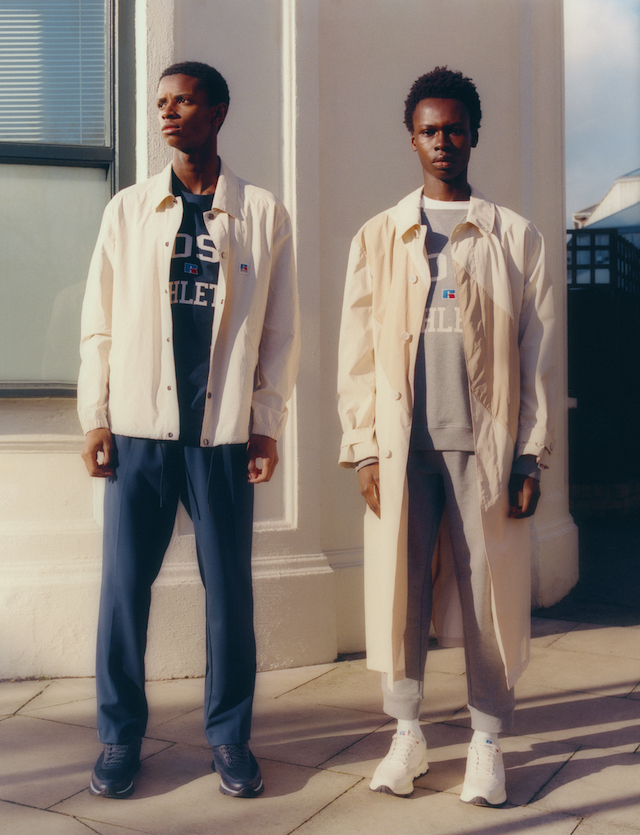 Photography is taken from Port Magazine issue 28

Photographer Lee Whittaker
Stylist Warren Leech
Grooming Mark Francome Painter
Set design Josh Stovell
Casting Monika Domarke
Photography assistance Kier Laird
Styling assistance Tiziano Viticchie
Set design assistance Luke Price
Models Emmanuel Adjaye at Next and Tosan Pierau at Elite
Special thanks to Waddington Studios