The magazine publisher and retailer expands into Manhattan, selling Needles, Margaret Howell, Sassafras, The Real McCoy's and Orslow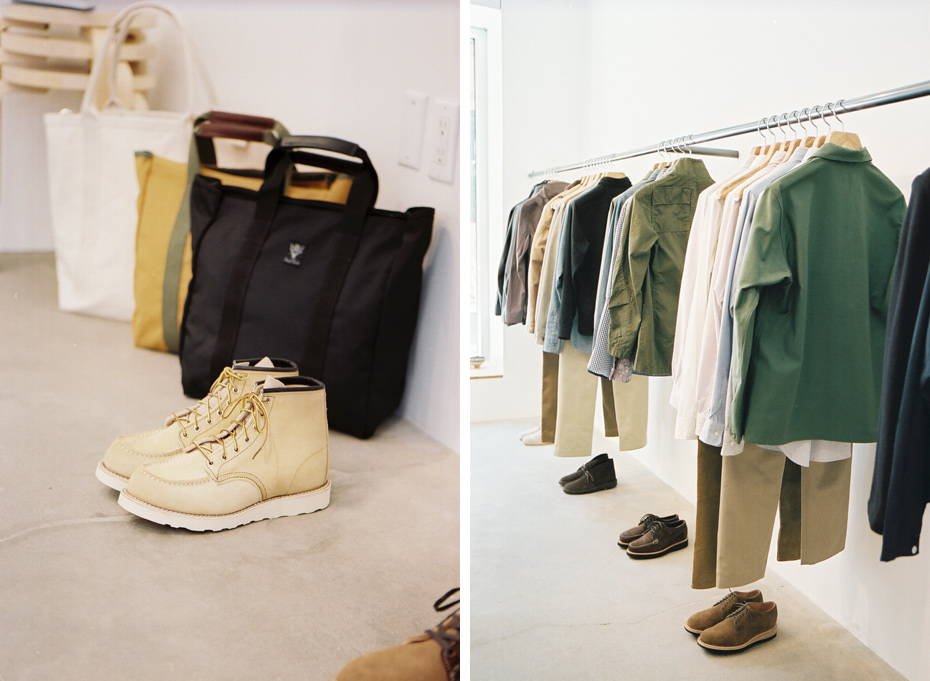 Fashion retail is like any other aspect of society; different people want different things. Some are after a quick fix, cheap clothes suitable for living in the moment. Others are looking for expensive, qualitative and luxurious threads from big brands and acclaimed designers. But there's a third factor in the retail equation. The actual shop. Where you buy your clothing, the brand combination on offer, the staff and their service – it all matters when you are spending your hard-earned cash. Because of this, there's a new breed of shops dedicated to curating a shopping experience that goes beyond the clothes. These shops offer a small but focused collection of specialised brands. They realise that they are niche and won't necessarily cater to the mainstream masses – but that was never the point. One such shop is the new Inventory store in New York.
Inventory, originally founded as a magazine in Vancouver, Canada, has taken its knife sharp print concept and applied it to fashion retail. I use 'fashion' in a broad sense. Inventory doesn't sell fast food fashion, they don't subscribe to trends. Founders Ryan Willms, Owen Parrott and Simon Roe launched Inventory in 2009 as a way of accessing the brands and designers they loved and respected: "Inventory was set up to explore our aesthetic and cultural interests," the website states. Since then, Inventory has grown from an online platform to a much loved biannual magazine, hellbent on introducing new brands, the often hidden taste makers behind classic brands or a new angle on a well-known designer. The three lead words for Inventory are design, craftsmanship and culture.
Earlier this year, Inventory opened up a shop in New York. Already selling clothes through a bricks and mortar store in Vancouver and concessions at both London's and Tokyo's Dover Street Market, the US store was a natural progression – so much so that Inventory has been pursuing the Manhattan location for years: "In many ways it's our ideal space: a small, somewhat hidden, blank canvas. We wanted it about two years ago, but someone else had put an offer in before us and they ended up getting it. Then, last summer, our friend Koji who has the shop next door emailed us and said that it was on the market again. We put in another offer and eventually got it," says Simon Roe, Inventory's Editor and Creative Director.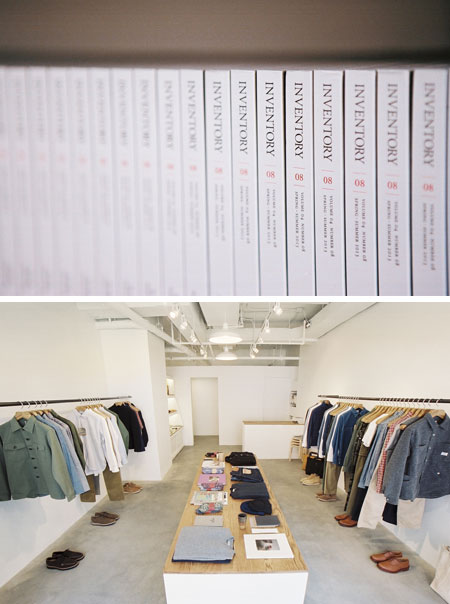 Text David Hellqvist
Photography Aaron Wojack
On the racks in the NYC store, you'll find a selection of goods from, among others, Arc'teryx Veilance, Engineered Garments Workaday, Margaret Howell, Needles, Sassafras, The Real McCoy's, Orslow and Workers. The buy is not all-encompassing, Inventory isn't about stocking the entire collection, rather the company is based on a curatorial approach to publishing and retail. "From a personal perspective, it's always been about having a connection to the product, so that naturally informs the buying policy of the store. It's a very particular set of priorities, not based on an assumed right or wrong, but rather a deeper, genuine appreciation of something. This stems from the feeling you get from it and the things that surround it: the identity of the brand in your own mind. Those responses eventually become intuitive and very difficult to distill, but I think they usually come from having developed a clear sense of what you like, and more importantly why," says Roe.
There's a few equally appealing and well-curated stores around the world today, but what makes Inventory interesting is the relationship between their publishing house and the retail arm of the company. Simon Roe explains the symbiosis: "For us they co-exist based on the same principles, with the magazine allowing us to explore areas of interest beyond the defined focus of our stores. They interact at a retail level because we sell the magazine, but they do not serve one another, nor do they need to. Both are fulfilling and healthy enterprises in their own right that allow us to be creative in different ways under the same umbrella." Look them up next time you're in New York, or browse their cyber shop, but whatever you do, remember to take pleasure in knowing that someone has put a lot of effort into your shopping experience.
Inventory Store, 12 Extra Place, New York, NY, USA