Stefano Canali on modern masculinity and inner beauty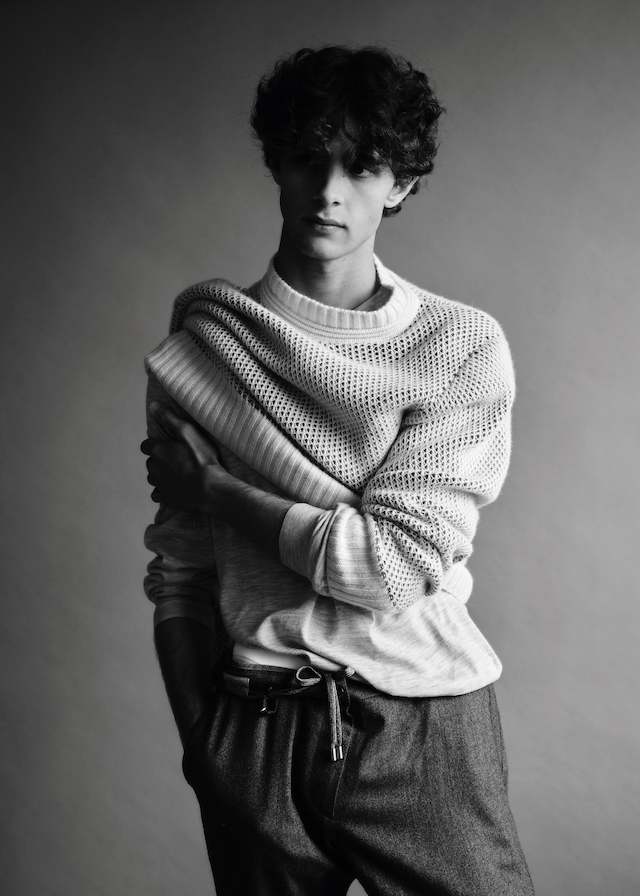 "Though we travel the world over to find the beautiful," wrote Ralph Waldo Emerson, "we must carry it with us, or we find it not." Found in one of the American poet's many essays on art, this line touches on an aphorism that although may sound mawkish to the jaded cynic, rings true. Namely, that inner beauty illuminates the individual from within, leading them to encounter so much more of life. This concept lies at the heart of Canali's AW22, a modern take on masculinity that celebrates beauty in the broadest sense of the term, both its "intrinsic and extrinsic values." With this collection, the storied Italian house is dressing the gentleman of today; one who is kind, confident and composed, choosing dialogue over monologue. An accompanying campaign titled 'Through His Eyes' has selected talent expanding on these values – acting as ambassadors for Canali's vision – and begins with CEO Stefano Canali. To mark the editorial series, Port spoke to the head of the family-run business about the hidden treasures of Torino and his hopes for the next generation. 
How do you think social media, with its proliferation of images, has impacted ideas of beauty, inner or otherwise?
This is a controversial topic. Social media is an extremely powerful medium. The accessibility of information has spread the concept of 'inner beauty' by generating greater awareness, activism, and participation on the part of new generations on very important issues that promote inclusivity. However, we cannot deny that it can also create and spread unrealistic aesthetic ideals.
How does AW22 inform and interpret the new phase of modern masculinity we're in?
The AW22 collection, with its new, more relaxed approach to sartorial sensibility, introduces innovative items into the male wardrobe such the cuff jacket with knitted details, which combines the softness of knitwear and the cleanness of tailored shapes. Or the new sahariana safari jacket in cashmere – that paired with matching trousers creates one of the many 'smartorial' suits. I feel it is this casualness, this deconstruction, that runs through the collection and conveys both softness and character that can be considered the sartorial expression of the new masculinity. Where suiting no longer needs to be armour.
What are some non-fashion causes close to your heart?
Anything related to environmental sustainability. My personal curiosity and sensitivity lead me to take an interest in technological innovations involving experimental alternative energy sources, from deep geothermal to nuclear fusion to recycling plants.
Who are some of the ambassadors for this project?
For our 'Through His Eyes' project we have selected those who devote part of their lives to beauty in the broader sense. They describe how in their business or in their personal lives they promote beauty, positivity, kindness, care and respect. These include, among others, Thomas Ermacora, a regeneration architect and tech-for-good entrepreneur focused on urban sustainability and community resilience. Having worked with key iconoclasts in urban futures such as Frank Gehry, Jan Gehl, and John Norquist, he stands as one of the new strategic leaders helping transition cities towards more socially inclusive and resource intelligent designs – paving the way for increasingly distributed and open-source societies. Giampaolo Grossi is another, the General Manager of Starbucks Italy and co-founder of 'Lusso Gentile', an editorial project that has "care, respect and love" as its mantra and which aims to inspire – young and old – through the words and works of visionaries who have shown great talent in their professional and personal spheres. Our photographer for the campaign, Oddur Thorisson, is also part of the series. Oddur is best known for his work with Condé Nast Traveler and he lives with his wife, their eight children, and nine dogs in Piemonte, Italy. His life is devoted to beauty in his photographs and to his family, above all.
Has anyone close to you – family or friends – expanded your understanding of inner beauty?
I was fortunate enough to have parents and friends who taught me through daily examples what really counts in life, the real source of happiness: gestures of love, solidarity and respect that give meaning to our work and relationships with others, far beyond success and financial well-being.
Why was Torino chosen as the backdrop for AW22's campaign?
What better backdrop for a campaign revolving around the concept of inner beauty than Torino, the city of hidden treasures. Only a city like Torino, that manages to hold so many jewels in its bosom and make such a discreet and gracious gift of them to its citizens every day, can call itself rich. But rich in rare treasures coloured by all the nuances of the human soul: from spiritual ones, like the Holy Shroud, to aesthetic and cultural ones, such as Guarini's architecture. There are even treasures that delight the senses, the Turin inventions of gianduia and bicerin.
What do you think reveals a person's inner beauty?
I think two things above all others: care and respect. In everything we do. For other people, for the planet. In business and in one's personal life. There cannot be inner beauty without these.
How has your understanding of masculinity changed over the years?
I believe that masculinity has gradually softened, is less authoritarian and more authoritative in its assertion. Less bound to clichés of the past, of a phantomatic alpha male. More open to considering kindness as a strength, instead of a weakness.
At the moment, ideas around beauty and masculinity can be warped and weaponised. What gives you hope for the future, and the next generation?
Precisely the next generation is what gives me hope. Our children, despite the countless sources of disturbance, are also in contact with many positive stimuli; from a very young age they are confronted with the whole world, with cultures and disciplines different from their own. And this helps them to develop greater understanding, discernment, and awareness much earlier. This is then reflected in better capacity of taking responsibility when it comes to issues that affect our lives, such as ecology, gender equality, body positivity, minority rights – to name but a few. Obviously, it is up to us to ensure that our young refine their analytical capacities and sensitivity, but my hopes are high.
Photography Scott Gallagher
Styling Georgia Thompson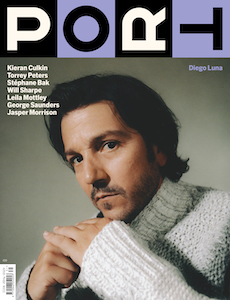 This article is taken from Port issue 31. To continue reading, buy the issue or subscribe here