C.P. Company founder Massimo Osti built the Italian brand on innovative fabric technology. Today, creative director Paul Harvey and Massimo's son, Lorenzo Osti, continue to safeguard his legacy while also developing new high tech materials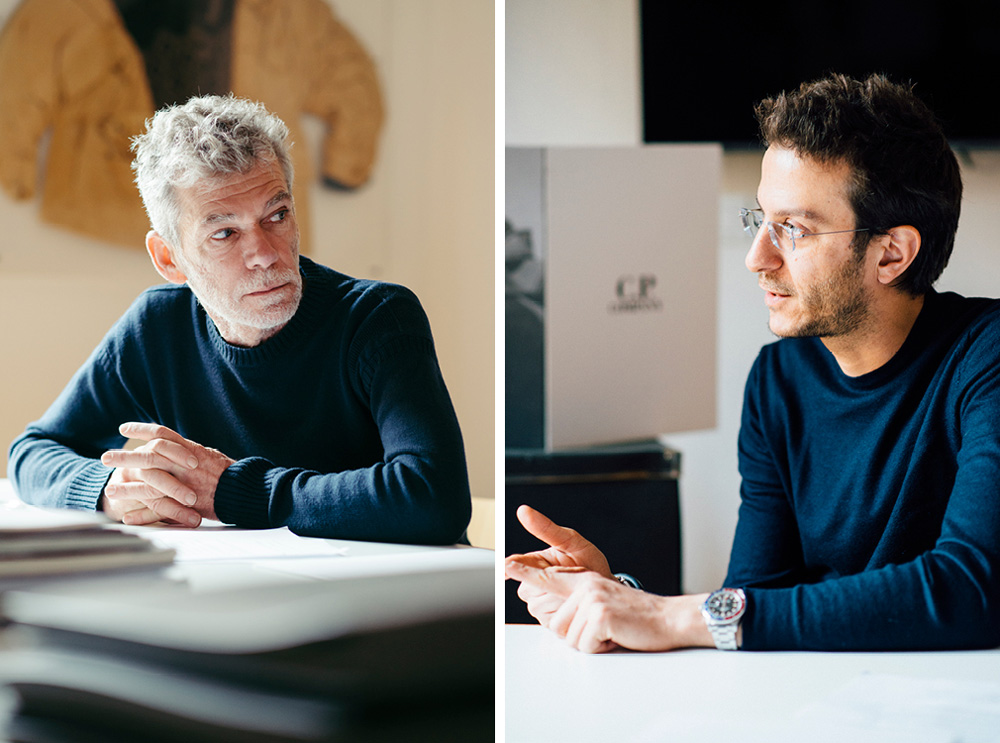 C.P. Company's history stretches back over four decades. Originally known as Chester Perry, in this time the legendary Italian brand has produced in excess of 40,000 garments, a figure that transforms from impressive to remarkable when the research and detail behind each piece is taken into account.
Founder Massimo Osti's fierce commitment to innovation ensured the brand's almost instant success but also, more importantly, its longevity. While experimentation and technical advancement were the driving force behind the label, Massimo understood that science was nothing without style. A determination to fuse and elevate both, to create menswear that consistently functions while quietly promoting good fit and a clean silhouette, was a winning formula.
Today's C.P. Company keeps to this same blueprint, still pushing forward on the technical front, cuts remain refined, understated and sharply contemporary. Alongside designer Alessandro Pungetti, at the helm, two figures, marketing manager and Massimo's son, Lorenzo Osti, and creative director Paul Harvey, an icon in his own right responsible for landmark designs at both Stone Island and Ten C. Working from one of the most complete archives in the industry whilst moving forward in a crowded, tech-obsessed menswear market, their task is tricky one: balancing old world with new. We sat down with Lorenzo and Paul to discuss C.P. – past, present and future…
What was Massimo's original aim for the brand?
Lorenzo: Originally, Massimo wanted to create something that was different from what the market was offering because, back then, fabrics and cuts were a lot more rigid and stiff. The idea and concept of sportswear and casualwear was only just beginning. He wanted to create garments that were both beautiful and functional, garments that made the consumer feel confident and at ease because he'd say, "being elegant starts from feeling at ease in your clothes."
What were the original sources of inspiration?
Lorenzo: In the early years, his inspiration came from his background in graphic design, pattern printing and silkscreen printing were widely used and characterised in the first C.P. collections. Then his interest moved into military and workwear, he'd say "in military and working garments, every element is there for a reason." There is no room to play with aesthetics without thinking of functionality.
Paul: There is a tendency to think of American field jackets and parkas, but I think that was much later. I believe the first pieces were all T-shirts, then later some reworking of classic, original, 1950s casual American models like the Catalina blouson or the Baracuta jacket. I think applying the process of garment dyeing of new fibres and fabrics to these models was possibly the spark that led to C.P. Company. I imagine a lot of trial and error was involved at first, coupled with immense curiosity.
Lorenzo, how would you describe your father's method as a designer?
Lorenzo: He had his own working method that he fine-tuned year after year. His assumption was that a lot of innovations came from mistakes. But this is an industry where you have to think of innovations every year or every season, so he couldn't rely only on errors. He set up a process to facilitate the "errors" when producing an innovation. For example, working with garment dyeing, every fabric sampled for each season was dyed in every possible way, including the wrong one in order to see what the effect would be. We still have thousands of these dyeing tests in the archive.
Are there certain C.P. Company codes that run through each and every design?
Paul: I can't speak for Massimo but I think we have at least one thing in common and that is "don't decorate it." If you stick closely to this very simple rule then you make the design process much more difficult but often the results, at least in menswear, are more interesting. Another code or rule would possibly be "If someone else has already done it, don't do it". That is one of mine but looking at Massimo Osti's work I think he employed it too.
Lorenzo, how do you find working with a brand you have such a personal attachment to? Does it make it harder or easier that C.P. is a 'family' company?
Lorenzo: On the one hand it's definitely harder. With such a personal attachment, it's very difficult for me to accept compromises or choices that I feel are not completely coherent with the brand identity. But from another perspective, the passion and the energy I have for this project is something special.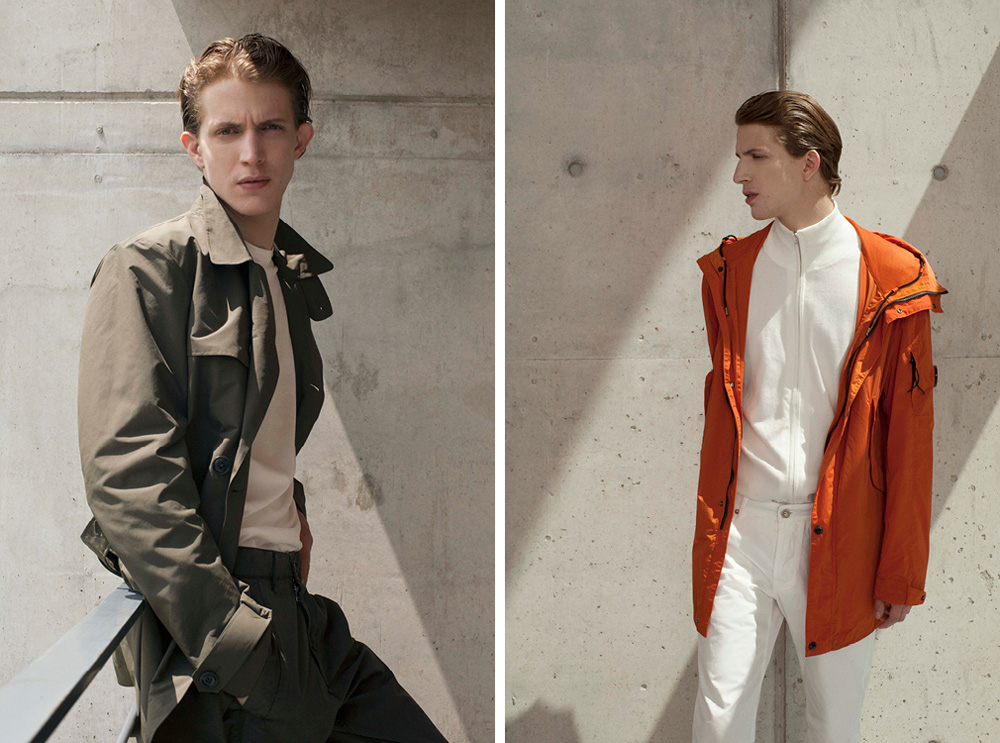 How do you balance the past and the future, protecting Massimo's legacy whilst pushing forward and innovating?
Lorenzo: The tension between heritage and innovation is deeply rooted in C.P. Company's DNA. From a marketing point of view, we are creating a story that mixes both the brand heritage and innovation, showing that the spirit of the original C.P. Company is still the same today. Now we work with different ingredients that were not available at that time.
Paul: It's a tremendous challenge and a tremendous amount of pleasure. A bit like the guy who is going to take Nico Rosberg's seat. Something you have always dreamed about but at the same time there are no excuses. The car is great, the team perfect. Show us what you can do.
Do you have an all time favourite piece from C.P. Company?
Lorenzo: Not really. I sincerely love today's items designed by Paul and Alessandro as much as I loved the ones designed by my father 30 years ago. Actually, My father used to wear the same clothing and his outerwear piece would always be the C.P. Sahariana jacket.
Paul: No, not really but I love the whole package around the original Mille Miglia, now the Goggle Jacket, and I think we have developed that package in a correct and contemporary way.
The brand has been around for over 40 years, how would you describe C.P. in 2017?
Lorenzo: Unfortunately, C.P. Company has gone through years without a clear direction, changing identity several times. The first thing I worked on when we acquired the brand was to rebuild the original brand identity. The point is not to replicate the original C.P. Company, but how to recreate the same spirit and vision in a contemporary scenario and how to make C.P. Company great again now and in the future.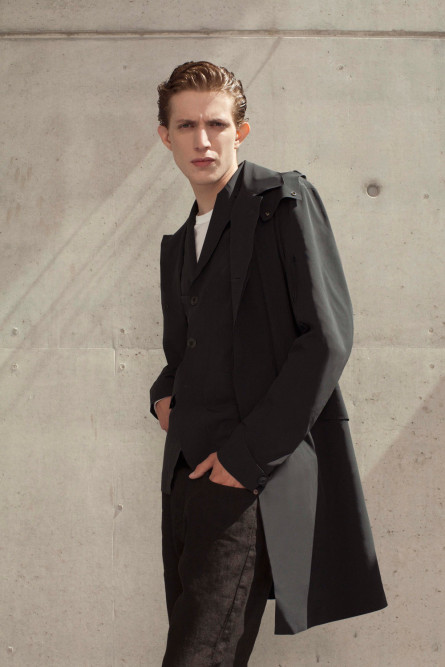 What would Massimo think about the boom in technical outerwear over the past few years?
Lorenzo: I'm sure he would appreciate it but he would also try to enhance this trend, allowing the consumer to benefit from technical fabrics whilst looking elegant and confident. Pretty much what we're doing at C.P. Company now.
Paul: I can only imagine he would love it and hate it. Love because functionality, now performance, has always been in the DNA of C.P. Company. Hate it because garment dyeing, the cornerstone on which C.P. Company was built, does not sit well with waterproof membranes, taped seams and ultra-sonic welding.
Paul, how does your approach to design at C.P. Company differ from your time at Stone Island? Are the challenges the same?
Paul: My personal approach to design has not changed from my time with Stone Island, or Sabotage before that, but the challenges are now totally different, there are so many new factors. I think that the rise in quality of goods made in Asia, which has put pressure on price points and at the same time led to a certain standardisation, coupled with the frightening importance of the Internet and the non-truths it tends to create, has tended to take importance away from the product itself and place more importance on communication and stories. The Internet is also radically changing the way and speed at which retail works and this must be considered.
What does the future hold for CP Company?
Paul: Further growth I hope! The future is immensely challenging, perhaps more so than in any other moment of C.P. Company's long history. In the next year we will open the first new flagship stores but they must be right. The idea of what a flagship store has to deliver has changed and we must recognise and work with this. We believe we have an extremely interesting product, a very, very important legacy and still many new roads to explore. But all this must be communicated in every way possible be it through product, retail, press or any other means available.