The optician and OP co-founder on the brand turning 25, metal versus plastic and the old Hollywood
Word David Hellqvist
Photography Robin Sinha
In this day and age, when all major fashion brands have to branch out into every possible corner of the lifestyle sector, it's highly refreshing to encounter brands that do one thing and one thing only. They've settled on a product and decided to focus their time and energy on making that it world leading, whether it's shoes, bags, shirts or sunglasses. Oliver Peoples did that 25 years ago and, thanks to a never-ending commitment to timeless style, the LA-based brand is today bigger and better than ever. Optician Larry Leight started Oliver Peoples with his brother and since then their frame empire has gone viral in the optical sense of the word. To commemorate this milestone, Oliver Peoples late last year released two frames based on drawings made in 1989. The unearthed sketches perfectly bridge Oliver Peoples' classic approach to design with their hi tech take on technology.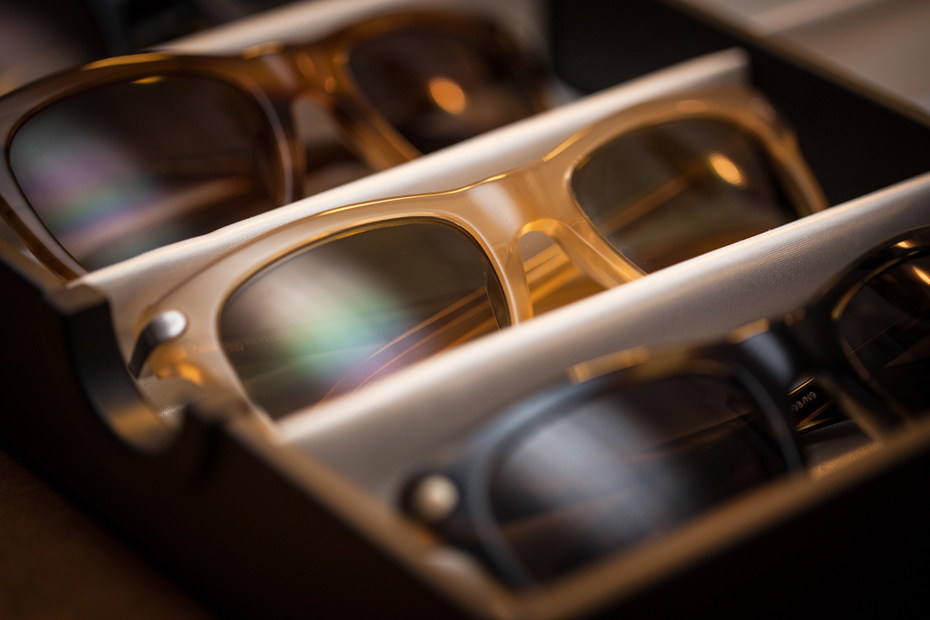 David: How did you settle on the frames for the 25th anniversary collection?
Larry: We were looking through our archives and I was thinking of what we haven't seen in a while, and we came across these sketches. I thought it would be cool to make these because we never produced them when we drew them 20 years ago. It's not a new trend but they have a nice detail that we thought would be a cool and nice mix with what we already have going on. The frames have a little filigree and a little plaque, like an art deco panel, and that's what you see on both sides of the frame.
David: Is that characteristic of the brand, these two styles?
Larry: Yeah, very – you can definitely see that we had the same thought process when we did those drawings back 20 years ago, and you can see that they fit in with the collection and that they're not a trend and that they are yeah, timeless.
David: How important is the Hollywood connection, how come you decided to open up where you did?
Larry: It all started with a dream me and my brother had. We just wanted to open up a retail store on Sunset Boulevard in West Hollywood. Back then it was the area where Elvis Presley and Sammy Davis would hang out and where the President's wife would come to get her nails done. Marilyn Monroe used to go to this one restaurant up there for power lunches with artists and directors, the likes of Woody Allen and all the film writers, producers, directors kind of very much hung out there in the 50s and 60s.
There's a lot of great stories from around there. And there was a restaurant called La Dome and it was a famous place where they would all go. It wasn't a private club or anything. They would all go eat there for lunch and talk business and sign contacts and they would all take their lunch and walk down the street and come to our store and be very much attracted to these first original vintage, frames we sold. Originally, they loved the vintage of it and then just after we opened we designed our own frames inspired by that and they couldn't tell what was new and old.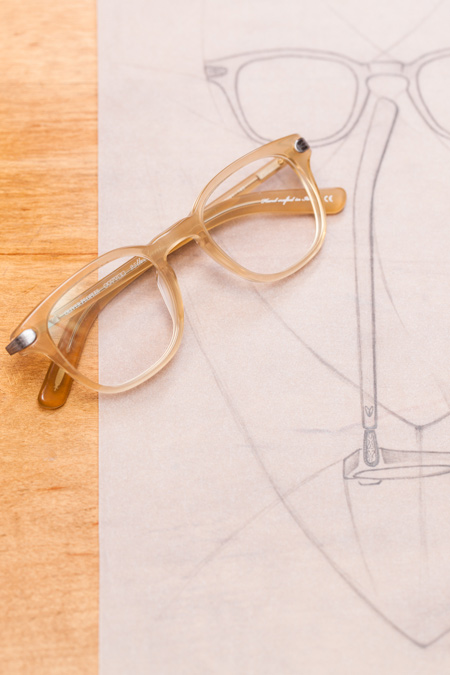 David: Where did the name come from?
Larry: It came from a purchase we made from a distributor called Oliver Peoples in Connecticut. We bought of a whole room full of vintage glasses. There was lots of frames, clip-ons, catalogues, brochures, machinery and so on and all kinds of things that educate us and turned us on. And it had this British sort of ring to it – Oliver People – and so it felt every global and the glasses were very intellectual, so it all came together without a lot of effort.
David: Is there a difference between doing the optical ones and the sunglasses?
Larry: Well yes, there always is a big difference. Often the sunglasses are not good for optical stores because they are more fashion and people buy them quicker and faster and they change much more often so they are a little bit more trend and colour driven. For optical frames, we take the approach of finding ones that look really good, cool and stylish and do seem like they could be classic and timeless and do seem like they could last forever.
David: Do you prefer metal or plastic frames, what are the pros and cons?
Larry: Metal is lighter and easier and more comfortable but it doesn't look young on a lot of people. But if think it will change because now there's too many plastic frames around, people get bored. But in both categories there is room for unique design. I like metal for sunglasses because I like the way they feel and stay on my nose. But I do have some really cool character sunglass with good lenses that are plastic, as well!