The Italian fashion CEO and David Hellqvist discuss Japanese micro fibres made out of garment-dyed polyester and the iconic goggle jacket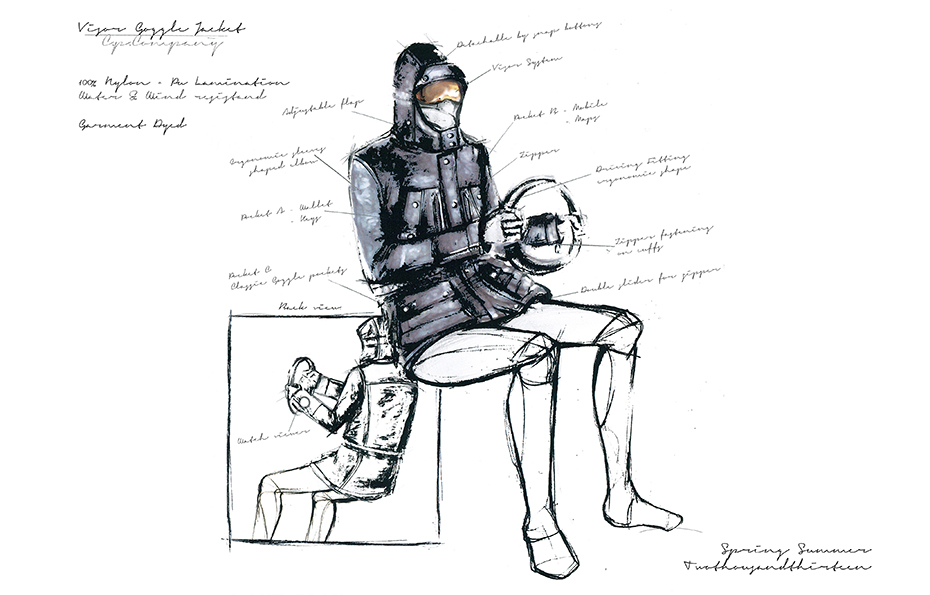 Words David Hellqvist
It's a well-known fact that the actual design process is only one aspect of fashion. Shapes and silhouettes are defined by the fabric; the best sketches can be ruined by the wrong choice of material. This knowledge is of course not lost on designers who spend time, energy and money on finding the best possible fabrics. But some brands refuse to play this game and to be dictated to by others around them. Instead, they develop their own materials. For Italy's CP Company and its current owner, Enzo Fusco, this has been a sartorial reality since the brand's inception in 1975.
The brilliance of CP Company is heavily cemented in this devotion to fabric innovation. During the 80s and 90s, CP invented a range of hi-tech materials that broke the mould and furthered fashion's quest into fabric research. "For us, the iconic fabrics from our archives are the so-called '50 threads' – cotton and nylon weave, garment-dyed military twill, rubber wool and rubber flax," Fusco says. But CP isn't resting on its laurels: "Our most recent fabric innovations include the over-dyed and bonded natural performance materials, a Japanese micro fibre made out of garment-dyed polyester, and bonded Lycra fabrics". These materials prove that CP Company is still at the forefront of fashion, 37 years since it all began.
The revolutionary materials were all developed in CP's sartorial laboratory, outside Bologna. Some of them have ended up on catwalks around the world, respectfully reinterpreted by designers who are themselves unable to create such innovative materials. And most of them wound up on the streets, in their natural habitat, worn by people looking for style with substance. What's next for Fusco and CP is naturally a secret, it's not wise to disclose too much about future plans: "The Holy Grail cannot yet be revealed, for now it remains our Top Secret!"
Fashion isn't brain surgery, sometimes it doesn't have to be that difficult. Realise who you are, what you do best and stick to that. That's exactly what Fusco has done: "We're a historical brand made in Italy for an elite sportswear consumer. It's a mix between military aesthetic and British and American styles." The natural inspiration source for a brand like CP Company are the army uniforms the military use. They offer an important mixture of attitude and details that give CP pieces an utilitarian edge. "The best qualities of uniforms are their functionality, the elegance and the sense of belonging to a group they bring. And then there's the importance of the detailing; everything on a uniform is significant and there for a reason."
But when it comes to high performance sportswear, Italy often gets left out. Famed for fine cashmere and soft merino wool, the Italians are more about luxurious elegance than selvage denim, multiple pockets and taped seams. In workwear terms, the holy grail is Americana; no-one makes chore jackets and heavy duty boots better than the Yanks. Well, except for the Japanese of course, who have perfected the art of taking American staples and adding their own details. Then there's the Brits; with their Northampton-made shoes, Scottish knitwear and Savile Row tailoring, they have cornered the dapper cad market. But brands like Stone Island, Woolrich Woolen Mills and CP Company have altered that perception. These three brands have raised the bar for Italian contemporary and urban fashion in the last 30 years and, to this day, they operate at the forefront of forward-thinking and smart sartorial technology. A lot of that is down to one man.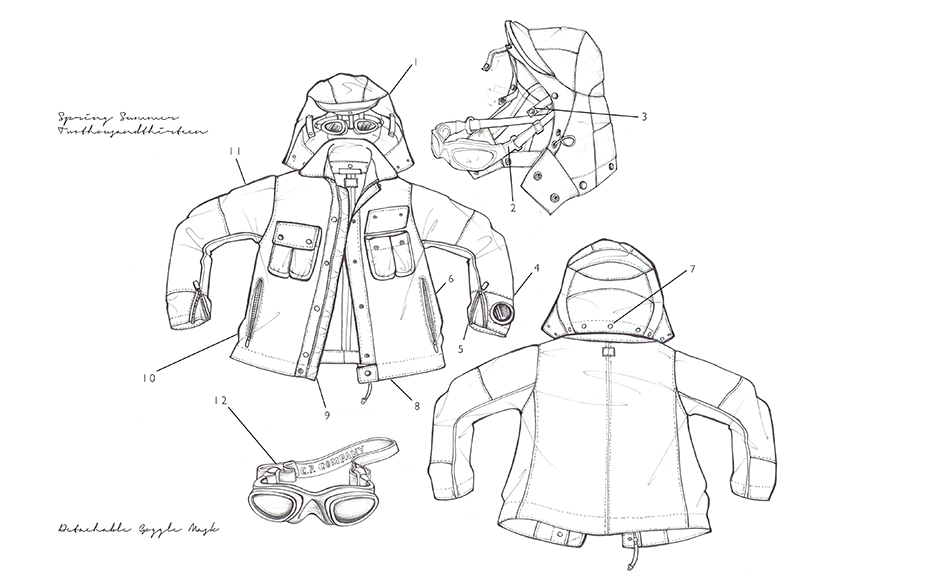 Massimo Osti, the graphic designer cum fashion designer who started CP Company and Stone Island in the late 70s and early 80s, is not only an Italian hero but a worldwide icon and deservedly mentioned in the same sentence as the other great Italian high-end fashion designers. Osti passed away in 2005 and CP was run by Stone Island's Carlo Rivetti for a few years before Enzo Fusco took over the reins in 2010. Last year, Fusco reunited old colleagues Alessandro Pungetti and British designer Paul Harvey, who previously designed for Stone Island, as creative directors for AW13.
Together the three of them will take the heritage and traditions that Osti cemented three decades ago and make CP Company a 21st century brand. "Paul Harvey and Alessandro Pungetti have created collections for both CP and Stone Island in the past so their brand knowledge is impeccable. For the current season, they've added their own innovation and taste whilst maintaining the true style of CP. I was keen to get Paul and Alessandro back on the team because, in my opinion, no-one else can retain the magic the brand has always been able to create around its garments," Fusco explains.
One of the aspects of that 'magic' is the fabric dying process that CP made famous. "The process starts with a scrupulously meticulous selection of the materials and the fibres that go into them, dyed all together in a unique bath that creates natural colour differences due to the absorption capabilities of the various fibres that, when made up into the garments, produce a correspondingly unique mix. The CP Company collection is 90% garment-dyed which is a big undertaking from all aspects, but the results are unique."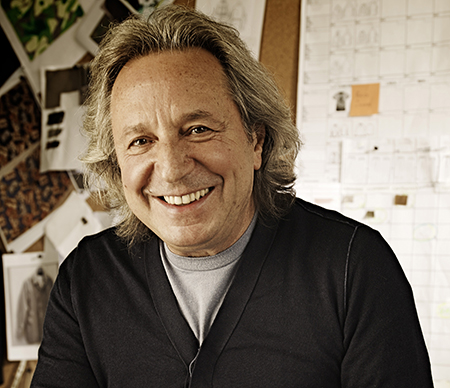 And when you combine that unique technique with an iconic shape, that's when you've created fashion history. In the case of CP Company, it's the goggle jacket that ticks all the boxes. Invented in 1989, the three quarter length coat is equipped with lenses in the hood and took its inspiration from a Japanese military jacket with a collar that could be zipped up as a mask. "The goggle jacket was created for the historically important Italian vintage cars race, Mille Miglia," says Fusco. "Today, it's a very important symbol of the brand. Significantly, this is still a best seller for us and we have now other products that incorporate the lens, such as sweaters and caps." CP Company manufacture two versions; the 'Explorer' is similar to the original Japanese coat and the 'Mille Miglia' style, which comes with a mask in the hood and a round glass disc on the left sleeve, enabling you to see the time. It's difficult to get the balance right between style and substance, but when you do the result is timeless pieces that just keep coming back, better and better.