Très Bien brothers Hannes and Simon Hogeman launch Sun Buddies, their new premium eyewear brand
In Persona, Swedish film director Ingemar Bergman's 1966 movie about the blending of characters, actress Bibi Andersson rocks a pair of fly sunglasses. This cinematic moment was the starting point for Très Bien's latest design project, a pair of mean and lean sunglasses inspired by the sartorial atmosphere created by Andersson's outfit and Bergman's colour palette. A series of well-made sunglasses called Sun Buddies is launching this week with Type 01, a pair of hand-made sleek frames in premium Acetate. Available in black, clear and tortoise, all optics are provided by Carl Zeiss Vision. That means the frames are of high quality, which is exactly what we've come to expect from Hannes and Simon Hogeman, the brothers behind Très Bien.
The choice of inspiration, though, is less obvious; even though pop cultural influneces – film, music and art – has always been integral to the company and its WELCOME project, the choice of Bergman's monochrome master piece as reference point is an inspired one. Shot on Fårö, the Swedish island where Bergman lived, in the summer time, amazing cinematogographer Sven Nykvist managed to perfectly capture the beautiful light. Aesthically, the film is superb because the light really shows off the black clothes worn by Bibi Andersson and her co-actress, Liv Ullman. "It's a film we grew up watching, like so many other Bergman movies," says Jakob Törnberg, co-founder of Très Bien. Sun Buddies is also a quite casual and humourous name, which nicely contrasts the seriousness of Ingemar Bergman's work. "But the name refers to the idea of connecting and collaborating with artists, designers and other creatives, to create new products and make the brand interesting. We call them our 'Sun Buddies'," says Hannes Hogeman. So there's a certain amount of quirkiness to the name, it's not meant to be too serious: "It's a funny name, backed up by quirky campaigns but with high quality products," Hogeman continues.
The concept of high quality is of course not to be taken lightly. Over the years, whether it's a line produced by the Swedish company or clothes and shoes bought from Japan, America or England, Très Bien always strive for original quality. Hannes Hogeman: "It's a brand and product sprung from Très Bien and the way we always have taken on the world of fashion. For Sun Buddies, we worked with premium hand-cut acetate; it's a high quality product all the way through."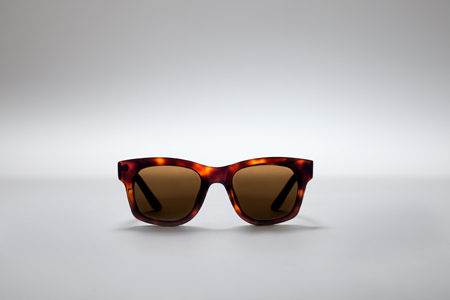 Also the visual language for the Sun Buddies campaign bear the Très Bien hallmarks. Shot and art directed by curator and Libraryman publisher Tony Cederteg, the images – a few of them premiered here – are in line with Trés Bien's fundamental aesthtic. What future styles will look like is unkown, so far only images of Type 01 has been released. But it's a good launch, the style is simple yet powerful. The design is minimal, just like Bergman's Persona film. "With the first model we aimed to create a classic shape with a round, smooth top but with sharp edges at bottom for a little bit more aggressive look. Sporty yet smart. They're also made slightly thicker for a more bulky look." Few things are certain in life but if you only remember one thing, then know this: Très Bien's Sun Buddies are here to stay.
Words David Hellqvist
Photo and Art Direction Tony Cederteg