Thea Hawlin uncovers the intimate connection between fashion and football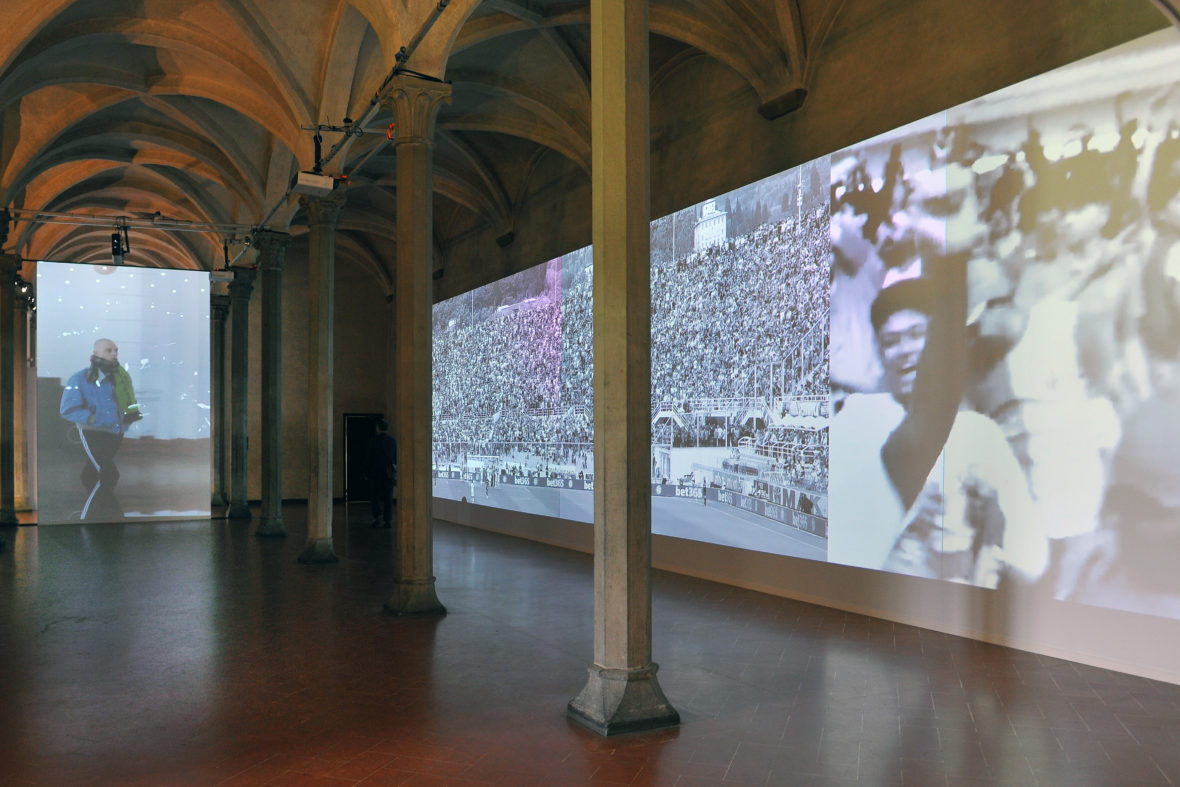 Oscar Wilde famously declared that football was the sport of gentlemen played by barbarians. Barbarians or not, players and supporters have always had a keen sense of style, influencing trends on and off the pitch. In Florence earlier this year, Pitti Uomo saw the opening of an exhibition, curated by critic Francesco Bonami and Markus Ebner, the founding editor of German magazines Achtung Mode and Sepp, that explores the links between the beautiful game and the clothing that makes it possible.
Under ancient vaulted ceilings, Fanatic Feelings greets its audience with the triumphant roar of stadium crowds, blasted from speakers to ricochet off the cool stone walls. Colours dance in projected super-sized video footage around the main hall – deep red, bright white, vivid blue, neon yellow. It's a captivating spectacle, the strange movements of the crowds: the swaying arms, coordinated clapping, open chanting mouths, each team demarcated by their own signs, colours and traditions.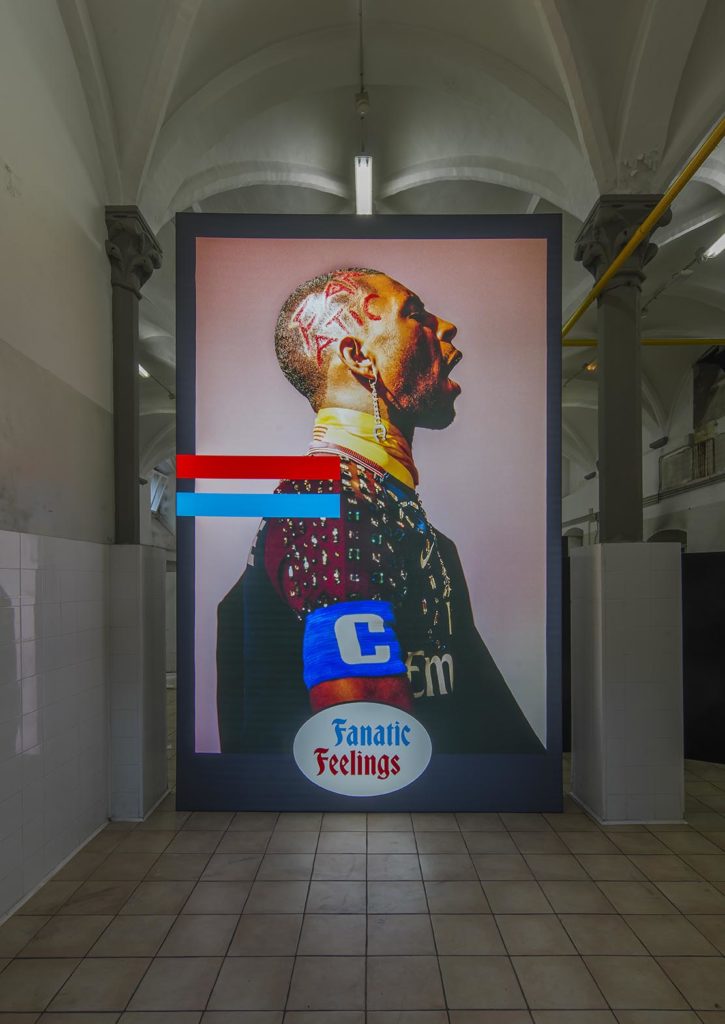 There is a sense of unity in these scenes, not merely in the teams but among the crowds that support them. To watch these fans move so seamlessly together is to see the power of fashion in action. We witness the symbolism of colour in all its fragmented forms: hats, jerseys, scarves and shoes coalesce in a vortex of cheers and cries; a literal tie, binding players and supporters.
"Playing with no fans is like dancing without music," said Eduardo Galeano, football's 'pre-eminent man of letters'; it matters how this music plays itself out, how it presents itself. The football jersey has a history of great cultural significance and a beautiful subsection of the exhibition, entitled Azzurra and curated by the Italian magazine Undici, looks at the changing design of the national Italian team's iconic blue jersey. In a country where one of the most popular newspapers is the Gazzetta dello Sport (which in Italy is practically shorthand for Football), the fact that a magazine such as Undici can survive (along with Tuttosport, Corriere dello Sport, to name a few) at a time when print media is famously struggling, speaks volumes for the significance of the game in Italy.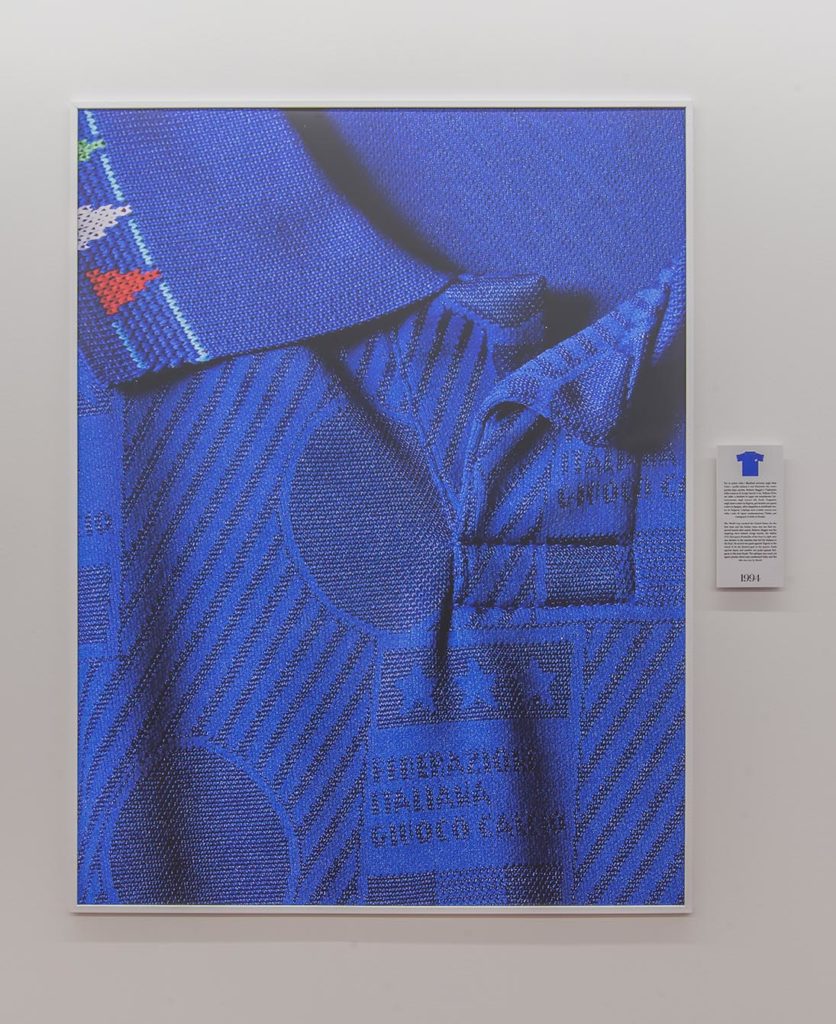 Azzurra reveals there's power in the smallest of details. Take the way that in 1936, when Italy won the Olympic Football Tournament in Berlin, the team wore jerseys emblazoned with the Fascist logo, alongside the Savoy coat of arms. After the defeat of Fascism and the end of WWII, the jersey instead bore a tricolour badge – the country's identity stripped back and renewed, representing much more than simple unstitching of fabric.
Emilia Cavanna, the mother of legendary striker Silvio Piola, embroidered her son's jersey to commemorate Italy's match against Austria in 1935, which saw Piola score both goals against Italy's rivals in Vienna. Thanks to his mother, Piola carried that memory from his debut match as part of the national team with him throughout his career, clothing himself not merely in a piece of apparel, but in his own history.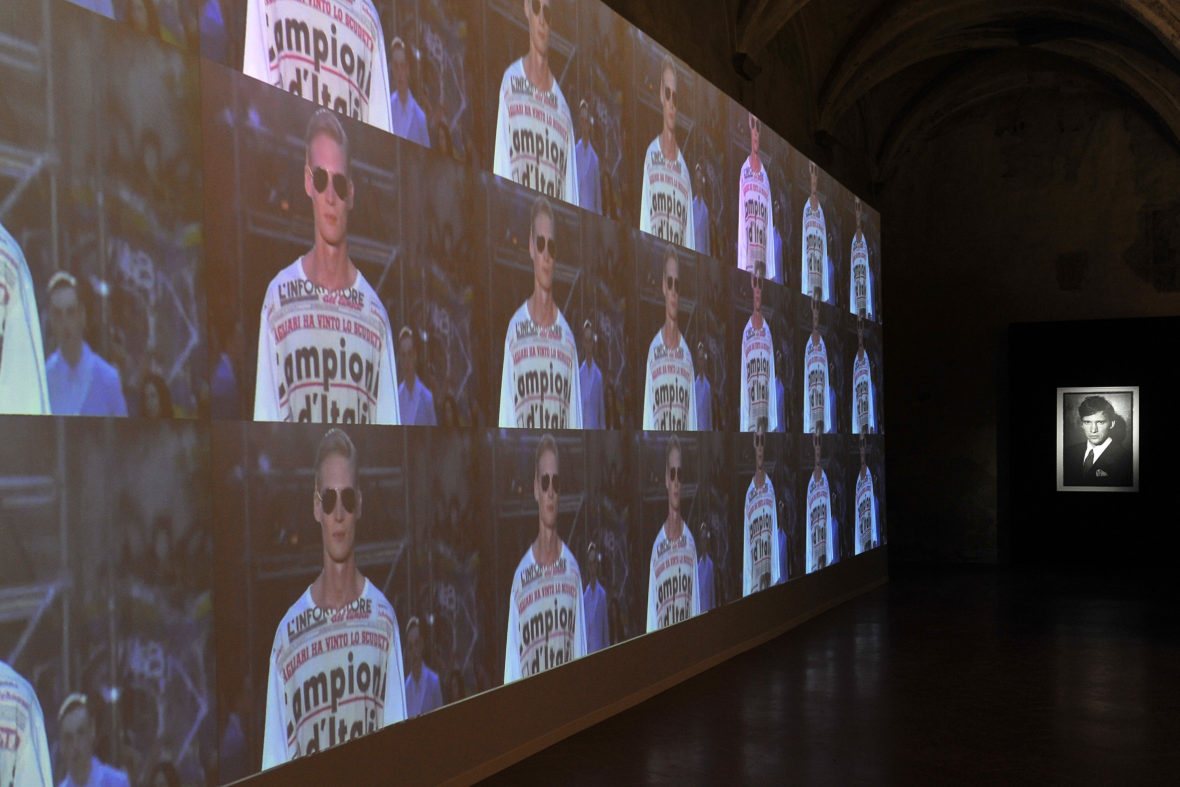 Details like this make clear how fashion and football share an "immediacy" and an "emotional element", as Bonami says, that deserves rigorous interrogation. One only has to think of Annibale Frossi, a player made famous not only for his skill on the pitch, but for his penchant for wearing glasses while playing – an aesthetic decision, that, though charged with necessity, also provided him with a sartorial identity.
In the age of athleisure, with sportswear a prominent part of how we dress, and athletes heralded as style icons, it's little wonder that designers now create team uniforms and present collections inspired by the game. Today footballers habitually take front row seats at fashion shows and star as models in advertising campaigns.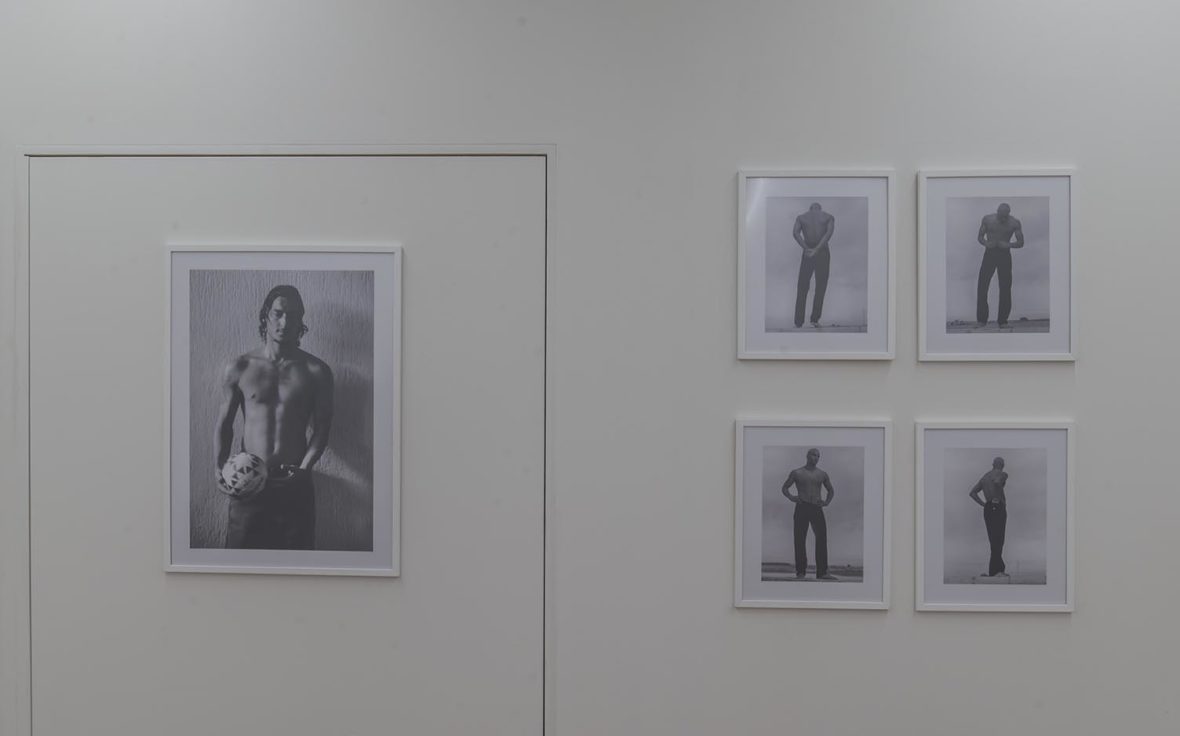 The exhibition traces these icons, from George Best in his striped shirt to Beckham in a burgundy beanie. Paparazzi snapshots sit next to editorials and advertisements – an embellished Neymar at a Balmain show in Paris next to Keisuke Honda in Tokyo, decked out in a yellow blazer, floral trousers and tasseled moccasins (a uniform that presents a marked distance from the simplicity of shorts and jersey) – exemplifying, again and again, how fashion attempts, successfully and unsuccessfully, to harness football's energy from all corners: sport, players, fandom.  
"The deeper affinity between football and fashion is this," declares Luke Leitch, the fashion writer, his words loudly printed in bold red type on the wall: "Both are entirely artificial constructs: games into which their respective supporters pour their emotional and financial investment every season, before that season ends and we start all over again."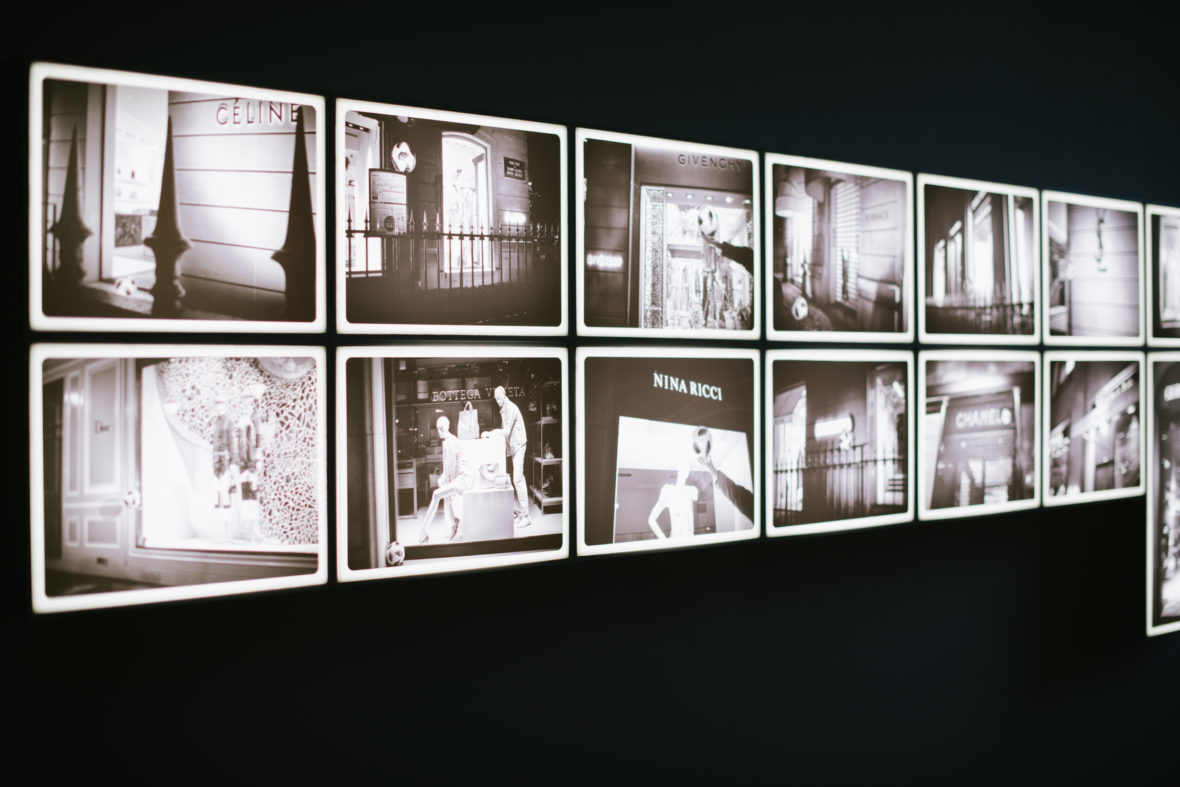 These cycles reveal the enduring appeal that such spectacles and rituals share. It's hard to forget the impact of a great game, just as it's hard to forget the impact of great fashion; despite the impermanence and disposability of each season's designs, the legacy endures. Fanatic feelings, as this exhibition demonstrates, are not easily forgotten. 
FANATIC FEELINGS – Fashion Plays Football was held at Complesso di Santa Maria Novella, Florence from 13th June to 22nd July 2018.