An intimate visit to Tom Arena's tailoring atelier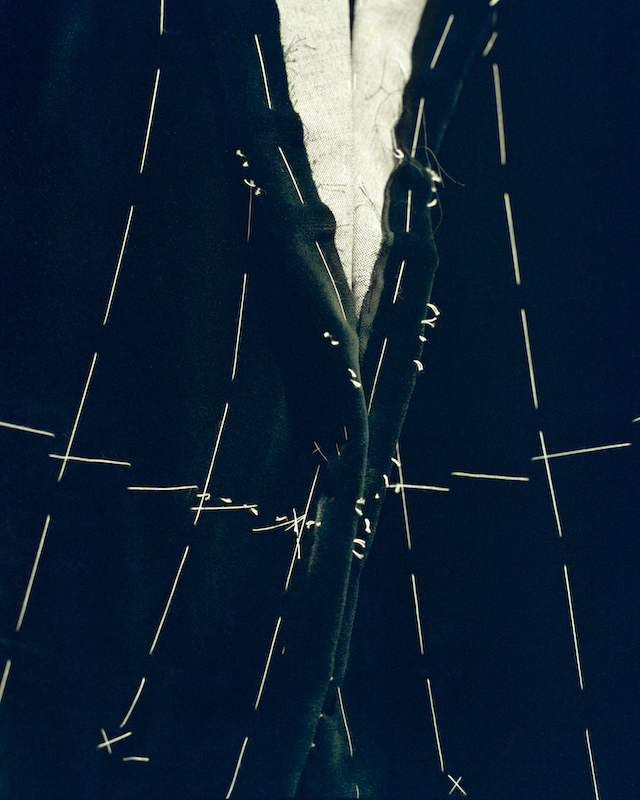 What kind of image do the words 'bespoke tailor' bring to mind? In London at least, traditional tailoring conjures up a little old man in a fusty suit, shuffling about a mahogany-lined workshop with a tape measure around his shoulders and a prickly 'suits you, Sir' attitude.
To 45-year-old self-employed tailor, Tom Arena, who's been cutting and making suits by hand since he was 18, tailoring means something quite different. Pay a visit to his atelier in a quiet corner of London's St James's, and you'll be greeted with rails of sweeping, floor-length suede coats, sharp looking suits in emerald green and burgundy, and a wall above his cutting table plastered with vintage photographs of everyone from Charlotte Rampling to Serge Gainsbourg. It's an antithetical experience for most of Arena's customers, who are used to having suits made at Savile Row's oldest and most traditional tailors – and that's the point.
"I want to give clients a relaxed, enjoyable experience," he says, as we sit together in the front room of his studio. "The atmosphere in tailors' shops can sometimes be quite stuffy. That's not what I'm about."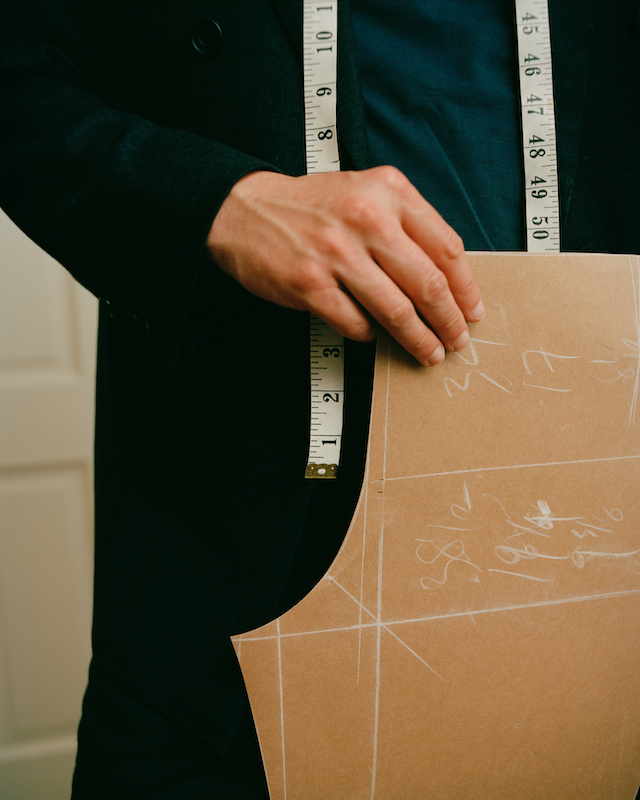 Not that Arena hasn't done his time working in the hallowed halls of 'the Row'. He got into tailoring by chance, when he responded to a newspaper advert for a position at Huntsman, one of Savile Row's most famous (and expensive) bespoke tailors, just as he was gearing up to leave school. "I was just looking at the Evening Standard, clocked an advert for an apprentice cutter and I'd always loved clothes. I thought 'this could be interesting' and I went for it."
Arena got the job, and as a working-class boy from southeast London who was into "football and indie music," it was a shock to the system. "It was completely alien to me, that kind of atmosphere," Arena says. "Back then, it wasn't like a tailor's shop is now. You weren't allowed to talk – it was totally silent. All you could hear was the clock ticking. You could only address the customers as 'Sir', and only when they spoke to you."
At Huntsman, Arena learned how to measure customers, draft their unique paper patterns and cut suits from their chosen fabrics under Brian Hall, one of the legends of the trade. In the 1970s, he and another renowned tailor, Colin Hammick, were at the very peak of their profession, and between them they'd forged an international reputation for quality.
While Huntsman was far from Arena's dream place to work, starting on Savile Row accelerated his learning and taught him to cut a suit using 'The Thornton System', the pattern-making methodology that he still uses today. It also gave him his first taste of dealing with VIP clients; Gregory Peck and Gianni Agnelli were both Huntsman customers at the time. "I look back and laugh at some of it. But a lot of it, you do remember – the etiquette and lessons like that. It was a great grounding," Arena says, with a nostalgic grin.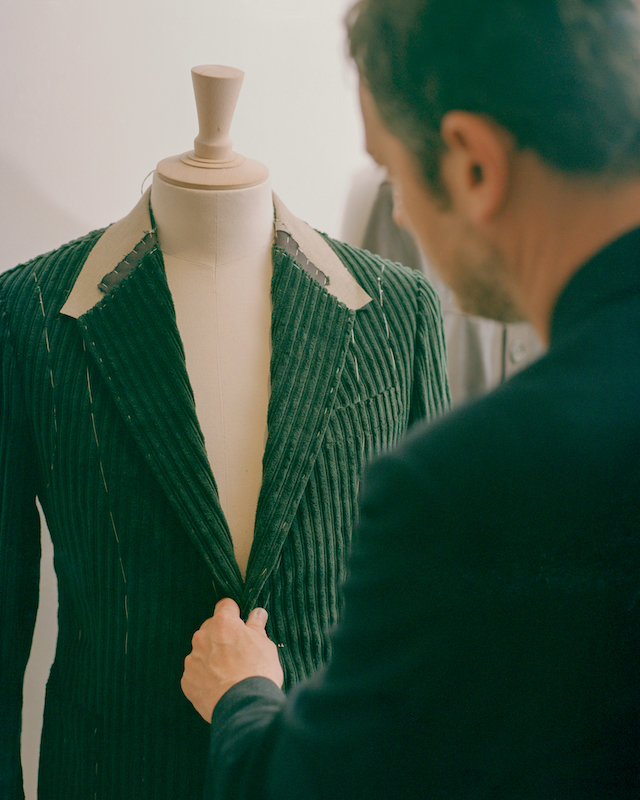 In need of a change, after five years Arena was headhunted to be the new cutter for Paul Smith's bespoke tailoring service, which was based out of Smith's legendary Westbourne House store in Notting Hill. It's those 18 years at Paul Smith, he says, that turned him into the tailor he is today. "It was far more creative there, and I had much more freedom. Paul didn't get involved too much and just left us to it. They were fun times."
Cutting at Paul Smith introduced Arena to a different kind of clientele, who were more to his liking – "younger guys and creatives in their 20s, 30s and 40s" – and it also helped him to build out his celebrity client list. He cut suits for Paul Weller, Chris Hemsworth and Liam Neeson, and remembers Gary Oldman and Daniel Day-Lewis with particular fondness.
"I made the evening suit for Day-Lewis when he won both the BAFTA and the Academy Award for There Will Be Blood. I also made the evening suit for Gary Oldman's BAFTA and Academy Award nominations for Tinker Tailor Soldier Spy. Then, I was lucky enough to make the suit for his BAFTA win for Darkest Hour. All those projects were extremely special to me. Both are from the same part of London as me and people I admired greatly." Day-Lewis even spent a week working alongside Arena in his cutting room, before stepping into the role of couturier Reynolds Woodcock in Paul Thomas Anderson's Phantom Thread.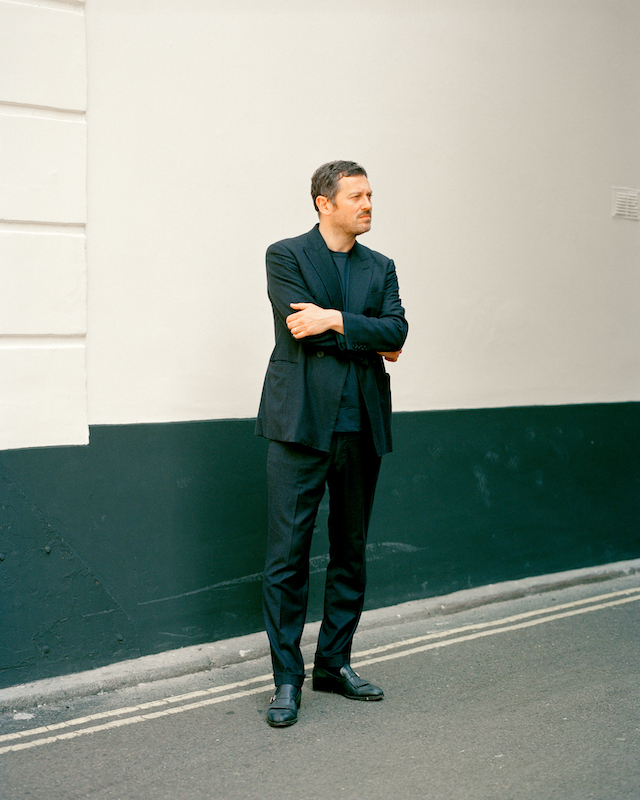 This expertise in celebrity dressing has stood Arena in good stead to do his own thing. He decided to establish himself as Atelier Arena in September 2021, and found his St James's studio. "I felt like I was the right age, and I wanted the freedom to create the kind of clothes that mirrored me and my own personality," he explains.
So, what can you expect if you pay him a visit? Quite apart from a warm welcome and some beautiful mid-century furniture, music is a huge passion for Arena, and the stereo is always on. "The '60s and '70s are always a source of inspiration. The music and the attitude of the Stones, The Seeds, Bowie and Scott Walker are very important to me too, as well as bands like The Smiths, Joy Division and Wire, which were a big part of my life growing up."
This perspective feeds into Arena's creations, which range from handsome grey flannel suits to rock-star-worthy black-and-gold check jackets cut in vintage cloth. His preferred approach to cutting, as well as his passion for hunting out unusual fabrics, sets him apart. "I learned to cut The Thornton System as an apprentice. It was first published in 1885, and it derives from the old English hacking coat," Arena says. "It's all about cutting a jacket with long, clean lines, high armholes and an accentuated waist."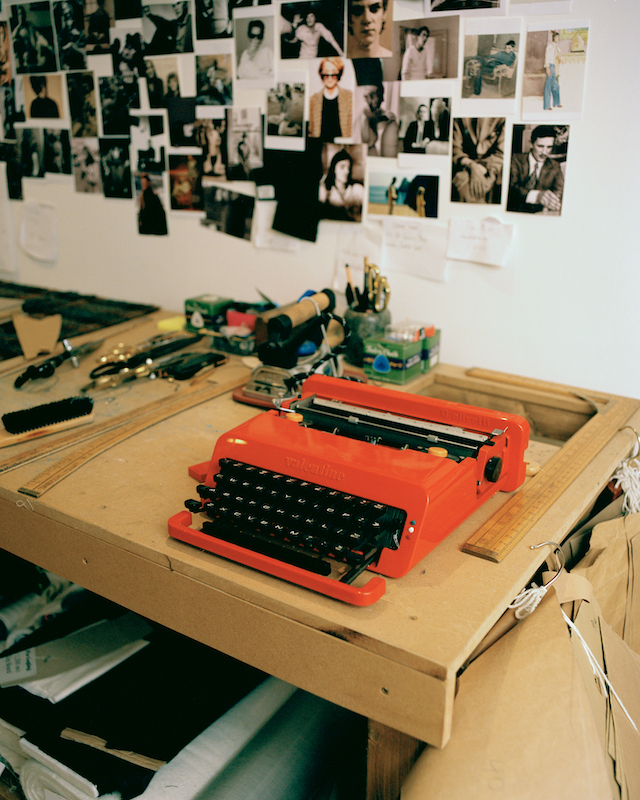 These principles make for simple, svelte jackets and trousers, but Arena's deft use of colour and cloth ensures that his clothes stand out. "I like clients to think 'wow, where did you get that from?'" he explains. "It's about choosing something that's not garish and not ostentatious, but just a little bit different." Beyond suiting, Arena also makes casual suede overcoats, bombers and blousons, and his studio is filled with chic pieces in tobacco and aubergine.
"I always wanted to introduce something else," Arena says, thumbing an off-cut of suede, "I love suiting and blazers, but there's only so much you can do with them, whereas you can have a lot of fun with a suede trench or leather bomber." Clearly, his clientele agrees. He's only been in business for a year, but already he's dressed Jack Lowden, Stephen Graham and issue 31 cover star, Gary Oldman. He's achieved a lot in a short space of time, which begs the question, where does he plan to take Atelier Arena?
"I want to be known for beautifully made clothes," he says, as our conversation draws to a close. "It's all about doing interesting things for me – collaborating with people that I admire, whether that's artists, actors or musicians. I want my clients to feel elegant, and sometimes to help broaden their horizons a bit. Tailoring should be about creativity. As Georgia O'Keeffe said: 'I found I could say things with colour and shapes that I couldn't say any other way – things that I had no words for.'"
Photography Sabine Hess