For Geza Schoen, founder of the cult fragrance label Escentric Molecules, blurring the boundaries between art and chemistry is key to innovation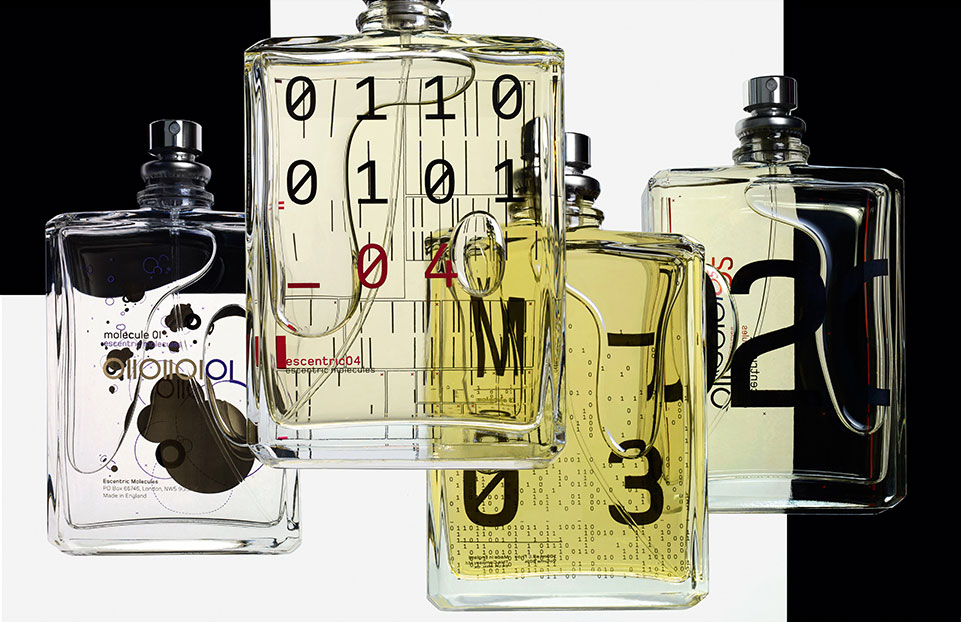 Geza Schoen, the 48-year-old German founder of the cult fragrance label Escentric Molecules, does not talk much like a traditional perfumer. He dispenses with the airy, time-worn Proustian associations when describing scents, preferring to talk about the molecular components instead, and sounding more like a chemist in the process. One in particular, an aroma chemical called Iso E Super – which was developed in a laboratory in 1973 and appears in the background of many great perfumes – would become the genesis of the minimalist Escentric 01 and Molecule 01: fragrances launched by Schoen in 2006. "When I smelled Iso E Super for the first time I noticed why I had preferences for certain fragrances: they all contained a big chunk of it," exclaims Schoen, who recalls giving the scent to a friend to wear in the 1990s that resulted in women chasing him down the street. "That's when I realised it had a super power."
Schoen's idea was to propose two fragrances in homage: one with an unprecedented 65 per cent of the molecule blended with a handful of other notes, and the second even more radical interpretation to contain only the molecule in its purest form. Though his unique proposition was initially met with resistance, it soon became a word-of-mouth phenomenon on account of its animalic, woody, velvety and sensual qualities. "Molecule 01 is to perfume what Bauhaus is to Baroque," says Schoen of his decision to challenge the traditional scent paradigm of combining synthetics with natural products, by simplifying the process to just one ingredient. "I wanted something cleaner."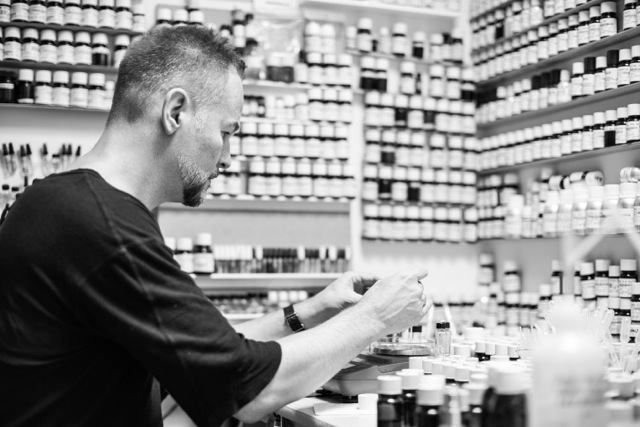 Schoen has made a habit of always thinking outside the box, saying, "For me it's natural to do things differently." Born and raised in Kassel to parents who were both teachers, Schoen's fascination with smell began when he was a teenager; he would get samples of perfume in the post, writing to fragrance companies asking them to send him their wares. By the age of 16, he could identify hundreds of different perfumes. "The sense of smell is still the most important sense we have, and the most fascinating." Starting out training and working at the international fragrance manufacturers Haarmann & Reimer (now Symrise) for 12 years, he left after becoming disillusioned with how corporate the industry had become. He moved to London in 2001 to create a scent, Wode, for the London design duo, Boudicca.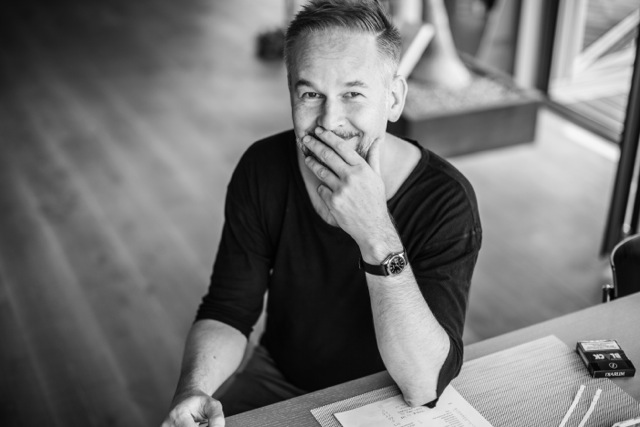 The fragrance came in two versions: Scent and Paint, with the latter packaged in a silver spray-paint can that doused the wearer in a deep blue pigment similar to that which the ancient British queen, Boudicca, wore into battle. This was the start of a number of esoteric projects Schoen has worked on that push the boundaries of what can be achieved with fragrance, like Paper Passion – a scent that smells like a Steidl book and comes packaged in one. He has also conceived a series of fragrances made in tribute to smart women called 'The Beautiful Mind', and worked with artists such as Wolfgang Georgsdorf, for whom he made 64 odours for Smeller – an 'olfactory organ' that spectators can play like a piano to make aromascapes. 
But it's with Escentric Molecules that the fullest expression of his scent philosophy remains, that of stripping things back "so that it's very plain and very linear but it still smells great". With its minimal packaging and unisex fragrances, Escentric Molecules is a modern concept that resonates with the times. "I think gendered fragrances are outdated," he declares. "These days, people are changing their fragrances as often as they would change their jeans or their sneakers." While scent 02 starred ambroxan (a key ingredient of ambergris), and for 03 the centrepiece was vetiver, Schoen recently launched series 04 with the sheer sandalwood molecule Javanol at its heart. He speaks of its "psychedelic freshness, as if liquid metal grapefruit peel was poured over a bed of velvety cream-coloured roses." He amplified the fizzy grapefruit top notes in Escentric 04 with pink pepper and juniper, for an extra shot of freshness with a rose core, and base notes of balsamic ingredients. According to Schoen, using Javanol was challenging because "more than any other chemical I've used before, it gave direction to where the fragrance had to develop into."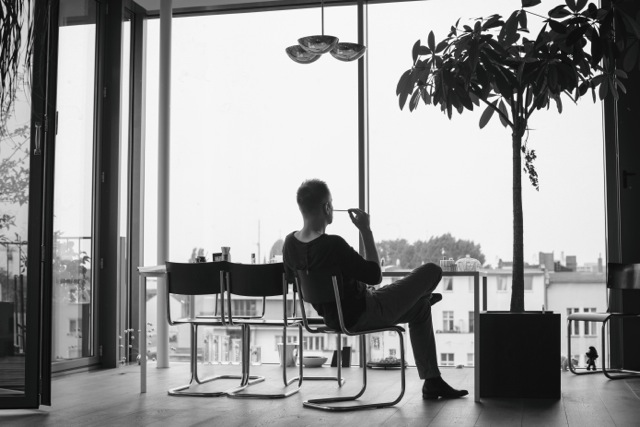 More than 10 years since launching his brand, Schoen is still enjoying playing at the boundaries between art and chemistry. "It wasn't really my goal to change the perfume world," he says. "I just wanted to make a fragrance for myself and my friends to wear."
The Escentric Molecules 04 collection launches 25 April 2017
This article is taken from Port issue 20. To subscribe, click here.
Lead photography by Giles Revell