EXCLUSIVE IMAGES: Outerwear brand Descente and Japanese designer Yono collaborate on a line of Kevlar-enforced jackets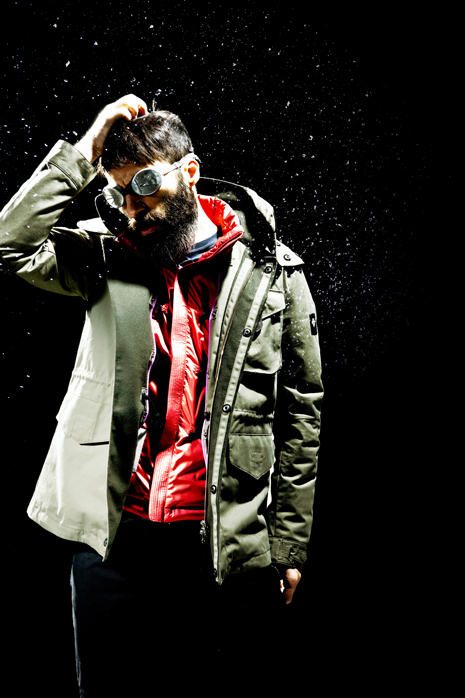 Today, quite a few brands make a big deal out of just using natural
and organic materials. The idea is that these are environmentally friendly and better suited for the body, itself a natural product. On the other hand, at the opposite end of the fashion spectrum – the one obsessed with innovative technology – brands swear by man-made excellence, fabrics that are so artificial that there isn't a single trace of mother nature in them.
Then we have the sensible middle ground, the brands that realise customers gain from garments that subscribe to both schools of thought. Japanese brand Dual-Ism, a two year old design project launched by Descente and Yono, has found the right balance between these opposites in their line of jackets. "Dual-Ism is built around the ancient oriental thought that all things have two different parts – a ying and a yang – which become one," Yono explains from the Tokyo HQ.
The USP of Dual-Ism is the ability to pick out natural fabrics that sit nicely on the skin, and combine them with a high-tech coating. The result is a material that interacts with the skin on the inside and protects the body on the outside. The brand's motto, "from street to extreme", means adding high functionality to urban style. "It's a concept in which it should be possible to use for gym or in the city as well as having the urban look when climbing mountains", says Yono.
There are plenty of brands out there who're chasing the same sartorial chalice, the ultimate outerwear… stylish yet functional. According to Yono, "a surprising effect and unpredictability" are the two words that best describes the brand: "Our unique combinations keep our brand at the forefront of design." Yono is referring to the use of Kevlar in the AW13 collection.
Few other material has such a mythological reputation. Thanks to its light robustness and military use, many brands aspire to incorporate Kevlar into RTW collections, but – as Dual-Ism proves, it's in a functional outerwear range that the material has its natural home. "This season we are using natural fabrics such as cotton and wool, and combining them with more futuristic fabrics such as nylon and Kevlar. This fits in with our ying and yang philosophy. We have been using Kevlar since the project started two years ago. The idea behind this is that the fabric is very much in line with Descente philosophy: strength, toughness and protection."
www.dual-ism.com/