Reflecting on the grotesque and absurd in the world of fashion, as well as the uninhibited brilliance of Leigh Bowery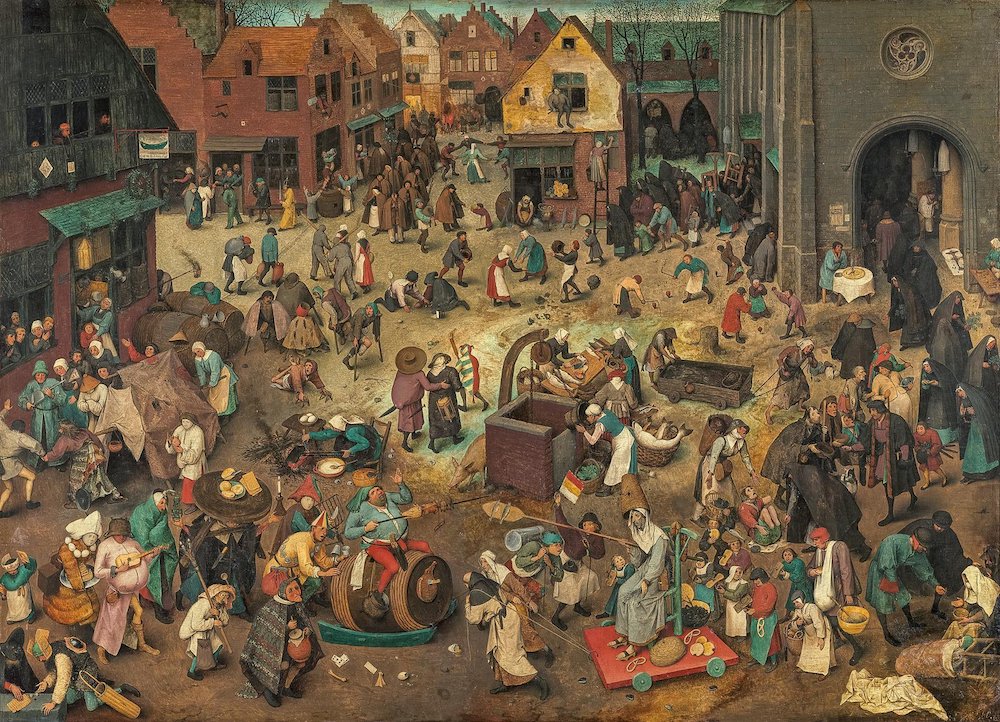 Down to clown, a few weeks ago I attended the opening of Horse Hospital's exhibition DRÔLE — a trippy collection of artefacts from the world of clownery. Big shoes aplenty. Lurid silky jumpsuits, very high hats. Glorious. As always when surrounded by clothing and accessories that border or fully inhabit 'costume' rather than 'fashion' my mind immediately became preoccupied with Leigh Bowery. Compulsive liar. Compulsively best dressed. Luxuriously corrupt. Making no attempt to hide the total immersion in the sensuality of being alive. Clowns are scary — so was Bowery. Monsters. Capricious, never knowing if they'll smooch or smack. According to Sue Tilley, the dress code for Taboo (the club night Bowery ran in Leicester Square — tacky, mirror balls, sticky) was "dress as though your life depends on it, or don't bother." Doorman Marc Vaultier would present a mirror to the victims/punters trying to enter and say, "would you let yourself in?"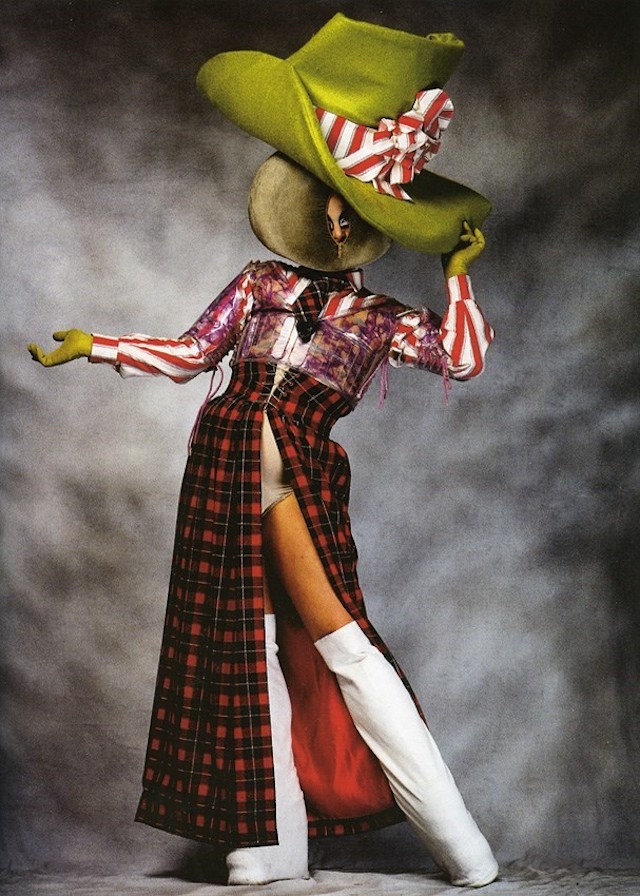 Now, I'm not going give a lesson on Leigh Bowery, if you need to find out who he is, look him up. Two things he teaches us: one – the Dionysian way of life is no walk in the park. Two – in life, costumes are vital. Clowns and Bowery take costumes to another level. But we should wear costumes more. (By costume, I don't mean Halloween Dracula, I mean wearing something that attracts attention — nice or nasty — something that makes an exhibition of yourself, something not necessarily you). As Charlie Fox puts it in his book This Young Monster: "Costumes can have the same electrifying effect on normal behaviour as bumps of cocaine and hits of whiskey, providing a way, in the words of Parliament-Funkadelic, 'to dance out of your constrictions'."
Later, on Albert Bridge, I realise the structure I'm walking on is camp. High camp. It looks like a candy-coloured funfair ferris wheel. Like if a bridge were to star in Sofia Coppola's Marie Antoinette. Crossing this most absurd bridge, I think of the most absurd Bowery and the carnivalesque. Bowery is the star of the grotesque and carnivalesque when related to fashion. Insides coming out, no bodily limits. Subverting the norm through humour and chaos. Seems like a perfect attitude to adopt for dressing right now. If not dress like Bowery, dress like Albert Bridge? According to Russian theorist Mikhail Bakhtin the carnival sense of the world "is opposed to that one-sided and gloomy official seriousness which is dogmatic and hostile to evolution and change, which seeks to absolutise a given condition of existence or a given social order." For 2023, a shift from nihilism to joyfulness is in order. More smiling, less smirking. Dressing-up, not simply just getting dressed.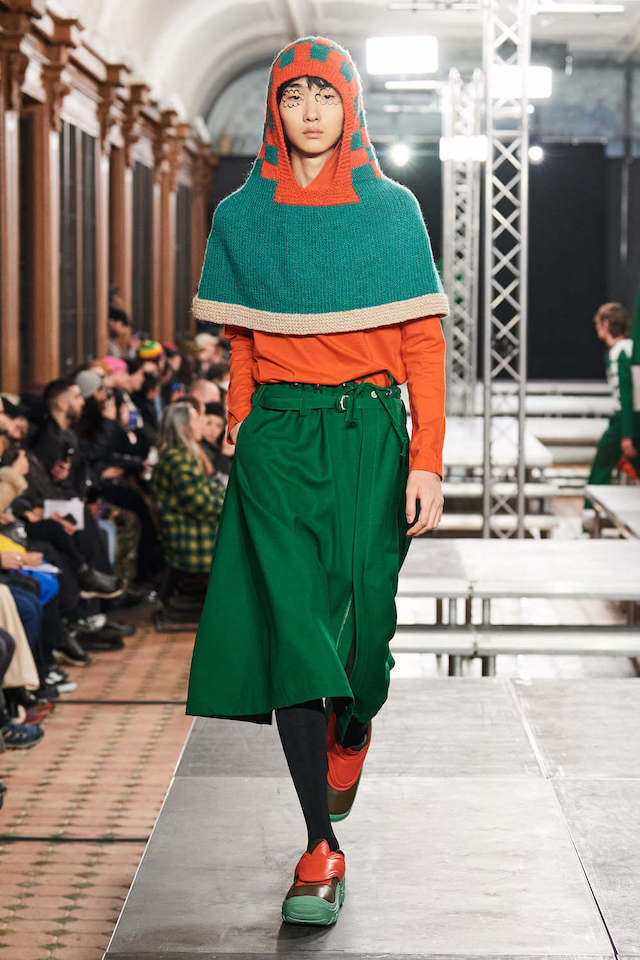 The spirit of the carnivalesque grows out of a "culture of laughter" — a place from which I find Kiko Kostadinov's Autumn/Winter '23 menswear collection also grew. Look 9 genuinely felt like something a (chic) clown could wear and it would fit just fine in DRÔLE, the bright orange and green hooded poncho felt medieval — literally a chaperon — you could be drunk and disorderly in a Pieter Bruegel the Elder painting in this look. The tights used throughout the show coupled with the cropped trousers and cropped jackets was incredibly doublet and hose reminiscent. The brown and cream version of the chaperon in look 23, combined with the purple plus-four shorts — ballooning at the thighs, tight at the knee — and knee-high orange and brown leather boots would be my ideal carnivalesque outfit. A sexy jester, up for anything. Elsewhere I spy carnivalesque silhouettes in Marc Jacob's recent collection, an ode to Vivienne Westwood ("The human race lies in its freaks, if you didn't have freaks, then nothing would happen, nothing would develop"). Jacob's model's had distorted bodies, moving glacially in hysterically high platform boots, disgruntled arms crossed. The shapes created in this collection were broken, twisted and bulging — snapped backs and bones, lighting-struck hair, hunched backs or even pregnant (a favourite silhouette of Bowery's) — but humorous and sexy, just like Westwood's collections, just like Bowery, grotesque but yummy. Bowery had high standards, but I think he would approve at least a little of Kostadinov's and Jacob's collections — maybe daywear for him, nightwear for us.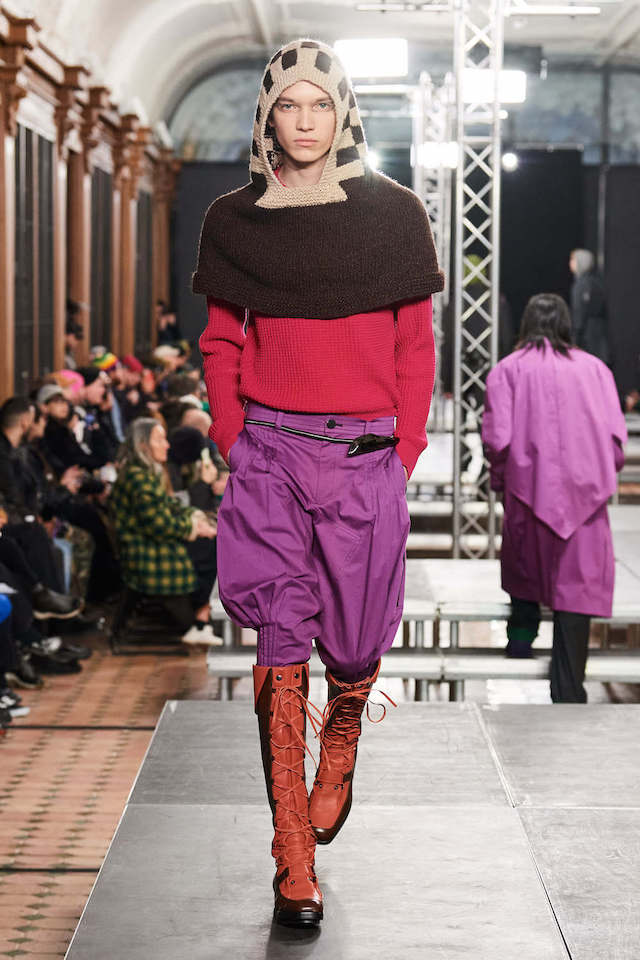 Rather than just immersing in the spirit of the carnival through our ensembles, maybe we should actually dress as clowns, quite literally. Rachel Tashjian, in her Opulent Tips newsletter, recommends such a thing — an antique French Pierrot de la Lune silk clown costume, and pairing it with some faux-fur-trimmed leather ballet flats. A chaotic, woozy outfit that I would shriek with joy if I saw in the street. Bordering kinky. Instinct tells me this would suit perverse boys better than conventional girls. Paramount to such an outfit is its eschewing of anything remotely expected. Dressing shouldn't always be easy — titillation is the point really — clothes should say come hither, whether with a simpering pout or a manic toothy grin. Wear such an outfit with an exaggeratedly drawn sharp cupid's bow and you're the scary, sickly clown of the Master of Ceremonies in Cabaret.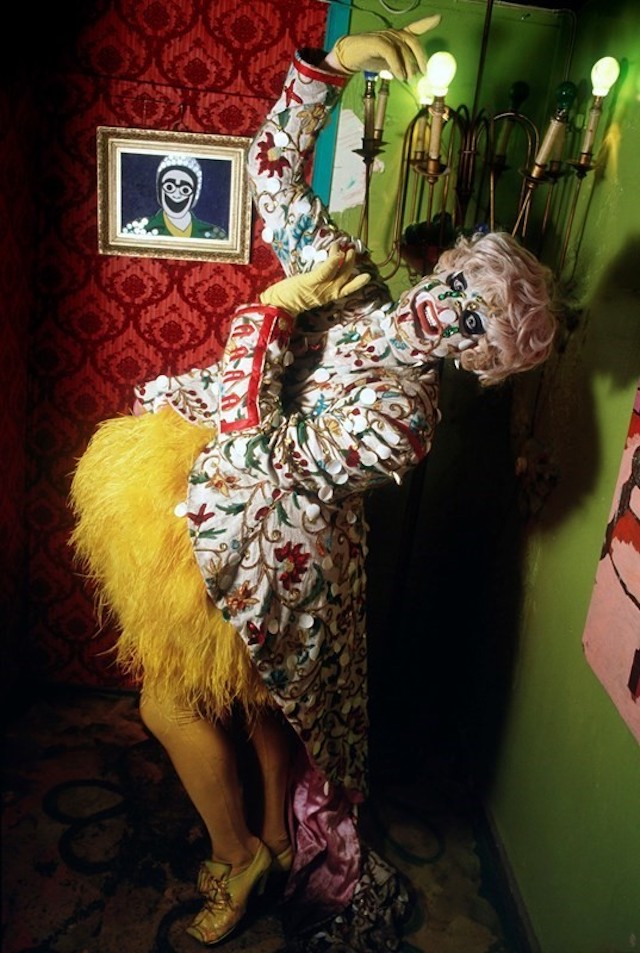 Something to take from Bowery's life — if you're going to draw focus to yourself, at least make it interesting. Bowery not only told lies, he made his body one too. Striking narcissistic poses, exhibiting himself (his body, in several outfits, behind a one-way mirror for members of the public to gawk at for a week) at the Anthony d'Offay Gallery in 1988, Bowery achieved his zenith. "It was a bit like going to the zoo and watching Guy the Gorilla in drag", said Cerith Wyn Evans. As in life, here Bowery performed for his own reflection, reactions of onlookers just a side salad. Life as a look, now a life, a look, as art. Using his enormous physique as soft sculpture, clothes as sculpture too, Bowery manipulated his fat into impossible, excruciating shapes. Outfits alluring and threatening. In a piece for the New Yorker, Hilton Als writes of "one instance when Bowery saw himself naked on film: "He was really, really horrified at what he looked like, but that was the point, that's why he did it, because he was horrified. He wanted to push it, you know. He wanted to tell the joke – he didn't want to be the joke." Dress like a joke, dress for fun — when you look in the mirror, before you leave the house, make yourself laugh. Is it possible to have a truly horrific day if every time you look in the mirror a clown is staring back at you? Is it possible for anyone that looks at you to have a truly horrific day, by extension? In a 1985 interview, Bowery described his role as "a sort of local cabaret act, I suppose – the original vaudeville drunkard." He went on, "If people see me behaving in such an outrageous manner, they won't feel inhibited themselves."