Port talks with two of the most influential men in luxury fashion, Domenico Dolce and Stefano Gabbana, about their recent entry into the horology market
Why launch the DG7+ watch now?
Stefano Gabbana: It took us a long time… not deciding to make our own watch collection, but to study, to do the research necessary to create a product that was exactly the way we wanted, both from an aesthetic point of view and, most importantly, from the point of view of performance. It had to be not just a pretty object, but a high-quality one. It all began last year when we launched our first collection of watches for men.
Domenico Dolce: We knew at the beginning that entering a difficult market had to be a very carefully planned move. We wanted to be ready. We wanted to offer our customers the best of the best – the best movement, the best materials, the best of everything.
What was the inspiration behind the DG7+? Were you hands on?
SG: The inspiration was the same as the rest of the collection: the simple, timeless lines of the 50s – classic, but at the same time, contemporary. In this case, we wanted to add to the collection a watch with a sporty, but elegant attitude.
DD: …and of course we are involved in everything. We are involved in everything that's related to Dolce & Gabbana: not only the design of the collections, but also of all the other products, such as the watch collection.
What are the key design factors in designing watches for Dolce & Gabbana?
SG: The product had to be visually appealing, and it had to blend together the best performances with the Dolce & Gabbana aesthetic.
DD: All of our watches are Swiss Made, but engineered and assembled internally, as we wanted to control the whole process and be sure of the quality of the final product.
How did you find the best people to work with?
DD: It's a secret! Jokes a part, we always try and look for the best, therefore even the recruiting process was guided by that concept. It was not easy, as Dolce & Gabbana was not born a watchmaking company, so we wanted to make sure that anyone who was part of this project shared our vision, our strive for perfection and our willingness to work hard to achieve our goal.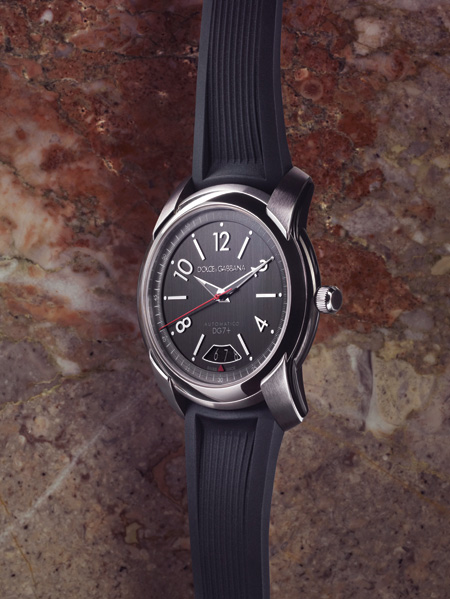 Uniquely, you're selling online as well as in your stores. Why have you decided to sell the timepiece like this?
SG: First of all, we believe in online shopping and it made sense to have a watch that could be sold online. Of course, this idea can't be applied to the whole collection but, for the very DNA of the DG7+, it's perfect.
DD: Moreover, we wanted to have the opportunity to reach those customers who live in countries where we still don't have our own boutique and allow them to experience our watches.
Is the watch market important for your business growth?
SG: This business is relatively new for us, but I am sure it will be very important soon. For the moment, it's an investment and as per all investments, it pays off in the middle to long term.
Are you planning more watches next year?
SG: Absolutely! Our idea is to add new colour combinations every now and then, possibly seasonally, to the core collection.
Is it essential for you to have Swiss movements? If so, why?
DD: To be 'Swiss Made' represents, for watchmaking, utmost quality – as with 'Made in Italy' for clothes and leather goods. Therefore we wanted the engineering, construction, assembly and movements to be made in Switzerland, guaranteeing high levels of performance and exceptional finishing.
In the beginning was it difficult to shift focus from clothes and couture to horology and watch design?
SG: It was a new challenge. We love challenges. At first we had to study a lot, but then it was really fun to work on something completely different from clothes…
DD: … and at the same time watches are so important for any man's style.
Specifications:
Case diameter 40 mm in 316L stainless steel (high quality alloy also used in the medical field for its excellent corrosion resistance)
The grey satinised dial has appliqué hour markers and Arabic numerals in a metal that is protected from oxidation by a galvanic treatment
The sword-shaped hands have the application of an innovative luminescent non-radioactive Super-Luminova pigment
Swiss made self-winding mechanical movement with 21 Rubies built in, used as bearings to reduce wear and tear and friction amongst the mechanical parts
Caliber ETA 2892-A2, Ø 11½, H 25.60 mm, 28.800 beat per hour frequency (4 Hz) – 42 hour power reserve
The crown is provided with a double gasket in order to prevent oxidation
Domed sapphire crystal, scratch-resistant – 7 times stronger than steel, damageable only by diamonds – set with nylon gasket to guarantee tightness
Water-resistant till 3 BAR/3 ATM
Photography Thomas Brown