When it was conceived in London in the middle of the 19th century, nobody could have guessed the Bowler hat would one day end up 6,200 miles away in La Paz. The product of a rich man's request, it became a symbol for a different class of Bolivian women looking to define their identity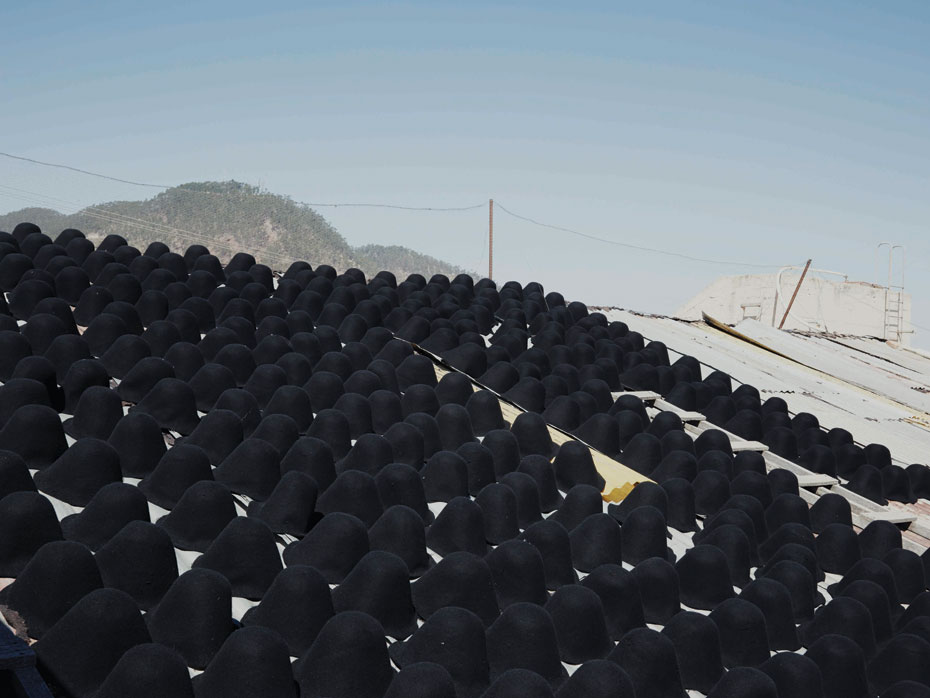 Words Amaru Villanueve Rance
Photography Nick Ballon
In 1849, the second Earl of Leicester's younger brother Edward had a problem. The top hats worn by his gamekeepers kept falling off when they were on horseback. So he commissioned Lock & Co, the world's oldest hat shop, to deal with it, and they promptly enlisted Thomas and William Bowler to help. And thus their close-fitting hat, with its rounded crown and narrow, curved brim, became an icon of British headwear.
Initially popular with the working classes, it was later a staple with the wealthy, and has boasted fans as diverse as Laurel and Hardy, Charlie Chaplin, and the droogs in Kubrick's A Clockwork Orange. In Latin America, it was called the bombín, worn mainly by fine gentlemen of European extraction. Yet its journey from the northern hemisphere to the southern had only just begun.
Legend has it that in the early 1920s, a large order of bowler hats arrived in Bolivia aimed at railway workers. Due to a clerical error, the hats that arrived were brown instead of black, which was the fashionable colour for gentlemen at the time. Left with a huge order of unsellable hats, an entrepreneur called Don Domingo Soligno had a stroke of marketing genius and marketed them to women instead. With some quick adornments, notably a pair of cord tassels attached to the hatband and delicately dangled off the brim, the hat was transformed overnight into a garment fit for females.
Yet it wasn't upper-class ladies of European descent who took Soligno's bait. The bowler found its home atop the heads of Aymara and Quechua women who had recently migrated to the cities. Here was a group no longer rural yet not quite urban, neither fully indigenous nor white, but mestizo. It was a group in search of an aesthetic and cultural identity.
These women came to be known as cholas, after chula, which means "pretty lady" but is used to refer to women from the pueblos living in the city. Cholas in Bolivia found the hat complemented their multilayered skirts and ornamented shawls, all of which remain part of their staple wardrobe to this day. The chola's hat, or sombrero de la chola paceña, has become the proud emblem of traditional dress.
Since its arrival in Bolivia, the chola has endured multiple transformations, yet has retained its family resemblance with the bowler, for which tourists often understandably mistake it. But several particularities set it apart from its cousin: for a start, it's no longer a close-fitting hat designed for horse-riding but instead sits curiously balanced on the top of the head. It is customary to wear it straight if the woman is married, or cocked to one side if the cholita is still single. Standing in Mercado Rodriguez, one of the largest markets in La Paz, cholas and cholitas of all ages trundle down the cobbled streets carrying heavy bags on either side; everything moves apart from the hat, which sits with seeming indifference on their heads. Learning how to balance this hat is a rite of passage like learning to walk in high heels.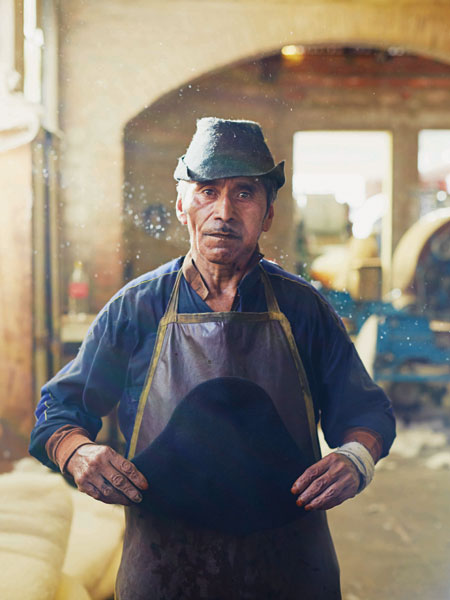 Julian has been working at the factory for 22 years, and is one of the longest-serving employees. He monitors a machine in which steamrollers flatten the felt so it's ready for assembly. I touch one of the pieces he's working on and it burns. He doesn't have this problem, as years of service have turned his hands to leather.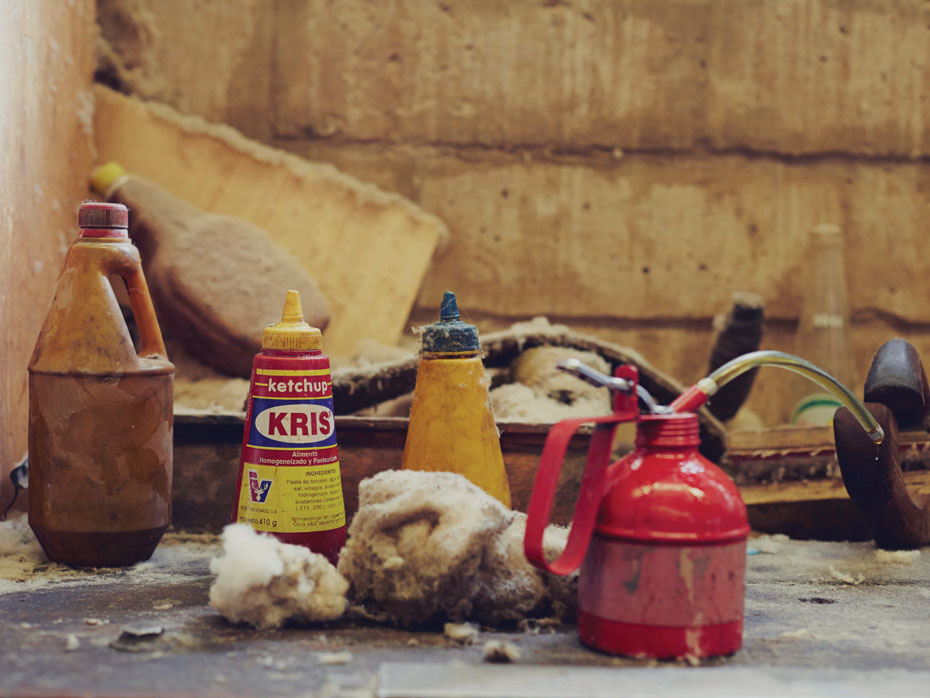 Above: Lubricants for the machinery in the factory
Esmeralda, a local celebrity cholita, claims that it's only real cholas who pull off this balancing act: "Transformer cholitas need hairclips for the hats not to fall off." Esme wears a size-six hat, which is smaller than an XXS adult hat. But it needn't fit around her head, merely bob on top of it.
The chola hat looks different in different parts of the country. In Oruro, to the south of La Paz, cholas sport similar hats known as Gardeles. In the hot and dry climate of Tarija in the southern part of the country, where local traditional women wear much shorter skirts, the hats are correspondingly short, with crowns of around 5 or 6cm. These can barely be called cholita hats, and are best seen as distant relatives. In Sucre, Bolivia's constitutional capital, Sombreros Sucre is one of the largest hat factories in the country. It is prehistoric (read: Victorian) but thriving. The metal lettering behind the grease and rust on a machine reads 1897, but it's well oiled and in full working order. The factory floor looks Instagrammed: an anachronistic collection of people, sweat and machines in sepia, amber and oak. Steam engines hiss in the background every so often, and the whirring of the machines is constant. A woman sighs "¡Qué calor!" ("What heat!") as she wipes her forehead with the back of her wrist. The process is a long-winded one: the wool passes through at least 20 hands before it becomes felt, and then a hat ready for sale.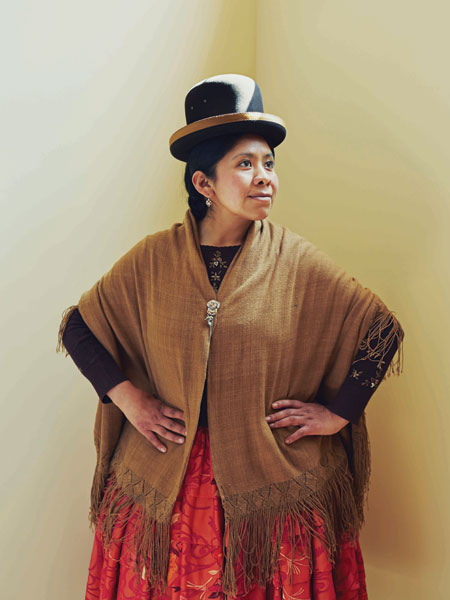 Norma is a journalist who's been working at Radio San Gabriel for the past five years. Soon after gaining a social science degree from the Universidad Mayor de San Andrés (UMSA), the largest and most prestigious state university in Bolivia, she decided she wanted to be a 'communicator'. With help from the Lola Almudévar Foundation and the Bolivian Journalism Foundation, last year Norma spent a month working in BBC Mundo's offices in London. When we arrived at the radio station where she works today, Norma was broadcasting her daily show and cheerfully beckoned us into the studio, proceeding to interview photographer Nick Ballon in English, me in Spanish, and continuing the rest of her show in Aymara.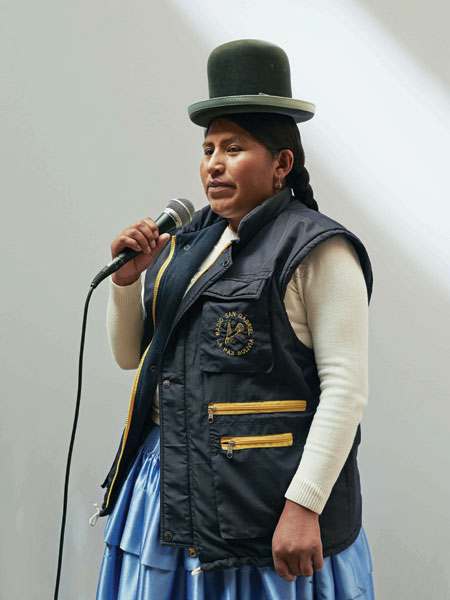 Celia works at Radio San Gabriel, a Catholic organisation founded in 1955. As well as broadcasting TV and radio shows, the organisation runs training programmes for Aymara journalists and an education initiative for the population at large.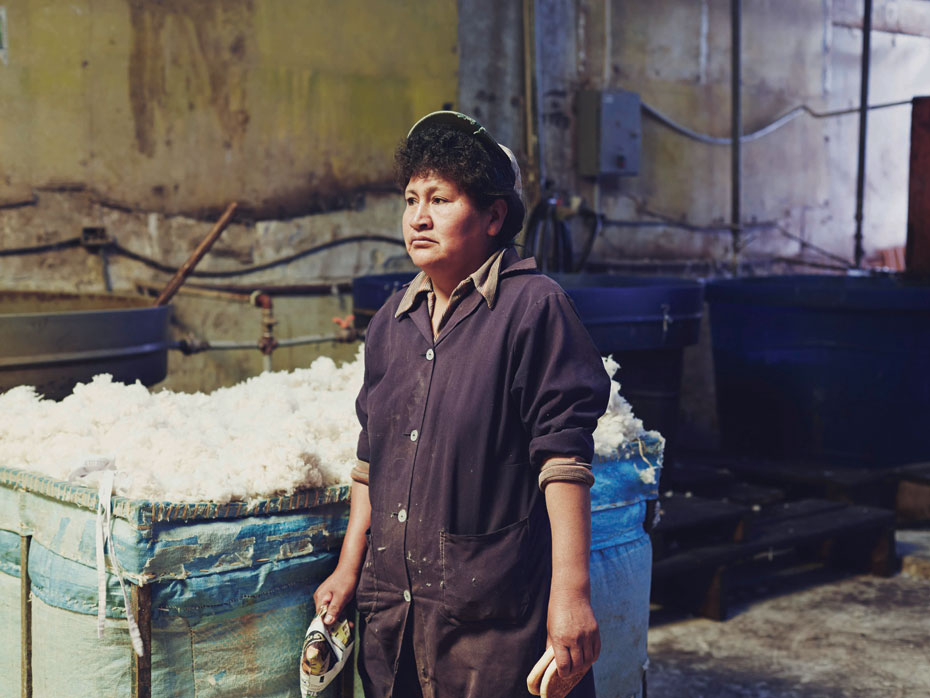 Above: Factory Worker
The finest hats cost in the region of 4,000 to 5,000 Bolivianos, or as much as £460 – a low-income chola would have to save for up to a year to afford one. Chola fashion expert Limbert Kussi explains that you can tell the quality of a hat by looking at the stitching around the fabric covering the brim's edge. "You know it's a superior hat when it has a never-ending stitch, when you can't tell where it begins or ends."
Borsalino hats from Italy have remained the benchmark for quality in local fashion. Ivan Cusi has been making hats for 41 years at Sombreros Illimani and is one of the most established hatters in town. "Hats used to come from Italy; the Borsalino hat was made from beaver hair," he said. "It was highly valued in Bolivia, and could only be afforded by the wealthy, while poorer people used sheep's wool hats. Real Borsalino hats stopped arriving around 1975 and the ones on sale now are imitations, possibly Colombian." Esmeralda says: "Borsalino hats are expensive and we only wear them on very special occasions, like weddings. For day-to-day use we use something simpler and cheaper. Thieves can take them off our heads in one second, which is why we don't wear hats to La Ceja . They recognise Borsalinos because the colour is crisper; they even have a certain shine in the sun."
The nuances of the chola hat question the role the chola plays in Bolivian society – dressing as one is far from cheap. In Bolivia and abroad, cholas and cholitas used to be associated with impoverished indigenous women, likely to be found selling fruit at the market or working as domestic servants.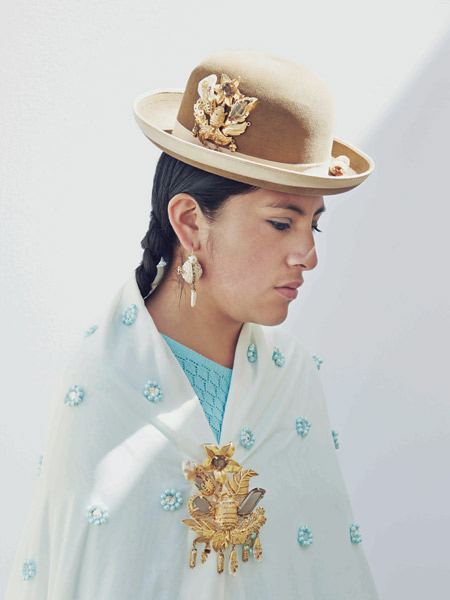 MISS DECEMBER: ROCIO GABRIELA MATIAS SEGALES
A first-year student on an auditing course, 21-year-old Rocio is also the Cholita 2013 calendar's Miss December, and her elegance shines through when she moves. When she sits, she does so majestically, and when she poses, her head looks like it's in slow motion. At the time I spoke to her, she was eagerly awaiting the arrival of the latest imported cholita hat.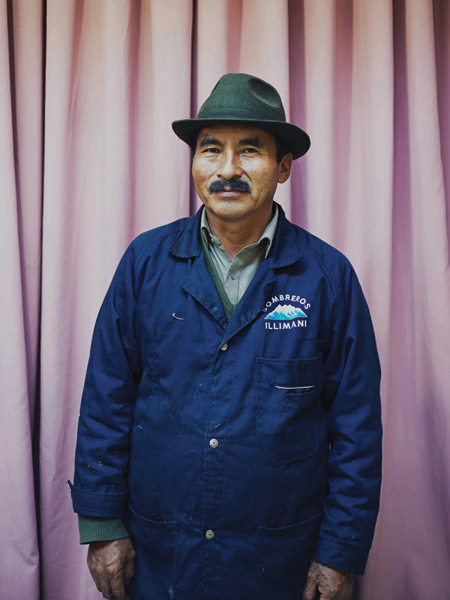 Don Ivan is said to be the oldest hatter in town, and is certainly one of the most distinguished. He has been making hats for 41 years, when he started off as an apprentice at Sombrereria Illimani, which he now runs. He works with his wife, four daughters and son-in-law in a large shop near the General Cemetery in La Paz. "I've been thinking that with time, if God wills it, I will have my own hat-shaped house. As I'm a hatter, my house must also look like a hat."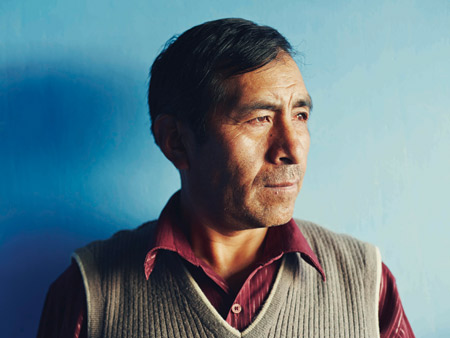 DON MIGUEL TICONA CASTILLO
Don Miguel has been making hats for the past 20 years. He works from a small kiosk hidden among a row of fruit shops in Cancha Tejar, a commercial district in north La Paz. The ladies who work alongside him tease him and cackle as soon as we start taking photographs. "I make hats from scratch using sheep's wool – they're my own creation. I wash the wool in the river, and then make a blend using at least five different sheep (using just one wool is no good and neither is using wool from an old sheep).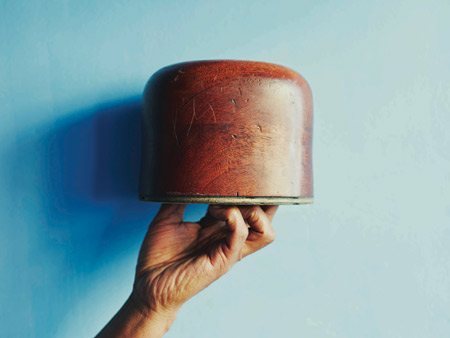 "After that, by steam and by hand, the felt starts taking shape." Don Miguel specialises in making miniature hats for Alasitas, a traditional miniature fair that takes place in January. He explains the complexity of making a miniature hat, and how the seam of an inexperienced hatter seam will usually be visible along the side of it. "No one has seen me do it, otherwise they're going to copy me. Every artisan has their secret."
Even though Bolivia remains a highly unequal society, where race is the painfully equivalent to social class, things are rapidly changing and cholas can be found across every corner of society. Silvia Lazarte, a chola of Quechua extraction, presided over the Constituent Assembly of 2006. Yearly pageants take place in which cholitas display their grace, beauty and style. Reigning queens are exemplars of a very particular aesthetic: they are reasonably full-bodied, display impassioned civic pride, and present strong characters. Bolivia is, after all, a matriarchal society where women are often both breadwinners and heads of the household. Cholas, and their crowns, are experiencing a revival.
This feature appears in Port issue 10, on sale now. Click to read our interview with photographer Nick Ballon about his ongoing fascination with Bolivia, and new LAB Project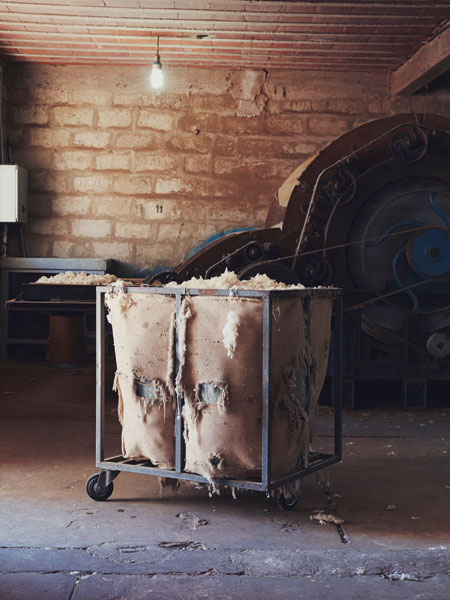 Right: Tired old wool cart