David Hellqvist travelled to the Caribbean island to document the making of Timberland's iconic yellow boot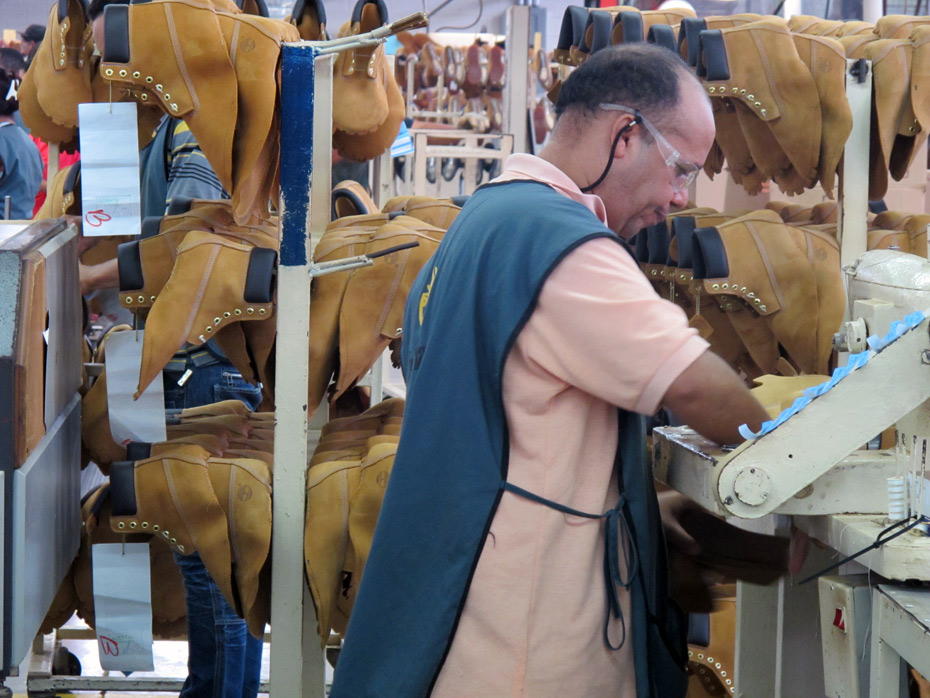 Words and photography
David Hellqvist
Outside Santiago, one of the Dominican Republic's largest cities, lies the Timberland factory. Here, spread out over eight plantations, the footwear and apparel brand produce its famous eight-hole wheat buck boots and sturdy boat shoes. With well over 2,000 employees, the factory – under the supervision of Alejandro Ordoñana, head of Timberland's Caribbean operations – churns out 1 million boots and half a million shoes every year, a lot of it with the help of highly skilled craftsmanship. The factory location works well for Timberland as it's close to where they get leather from, but still nearby to the US, which is naturally one of its biggest markets.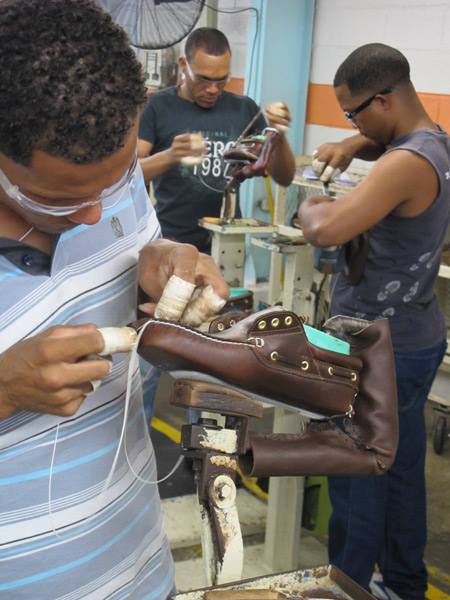 The Dominican Republic spot also goes hand in hand with Timberland's CSR (Corporate Social Responsibility) programmes, in which Timberland staff plant trees in order to replenish the earth. Each year over 15,000 trees are planted in the DR and China as part of the company's compulsory community service. Timberland's commitment to its green index is also evident in the Earthkeepers line where at least 50% of the materials used can be recycled. But it's still the waterproof yellow boot, which gave the company its name in 1973, that it's famous for. Celebrating its 40th anniversary, the boot has not only served US workmen but also a fleet of hip-hip artists who love the boot for its street cred, just as much as the midsole injection of thermo-plastic rubber, the secret behind the boot's waterproof design.
According to Alejandro Ordoñana, the man-made element will never be completely erased from the manufacturing: "I think that there are just some things you cannot change from being a manual process. You could mechanise the cutting but you'd still need someone to spot the defects. We are investing in automation but not to remove or replace the workforce – simply to improve quality and consistency. For me the most important thing is the people. You could have the best machine but if you don't have the right person to run the machine there's nothing you can do! It's all about the people."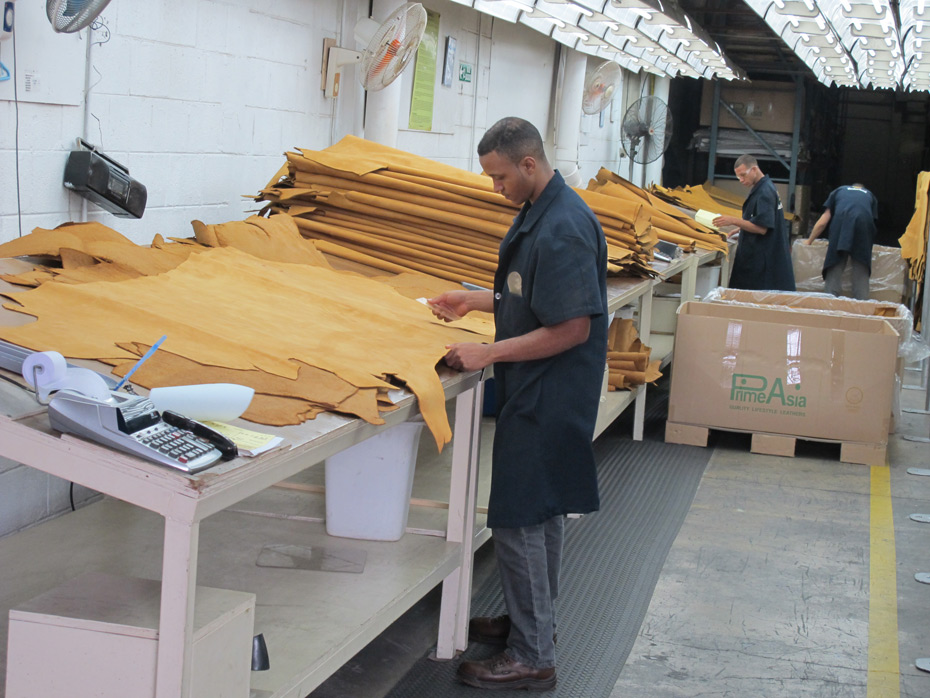 The sorting section at the Timberland factory (image, above) is where the hides are gathered and inspected. Specially trained staff look for defects and miss-coloured patches that are then removed before the leather is passed on. A grading system, running up to 100%, is used to communicate the quality of the leather. Most of the leather – with exception of the wheat buck – comes from the Dominican Republic and Mexico. Timberland also have two tanneries in Santiago and one in Mexico.
David Hellqvist: How did the boot come about, what was the inspiration behind it?

Chris Pawlus, Senior Global Creative Director: I wasn't here at the time, of course, but it all began in the early 70s, when Sidney Swartz noticed that the American 'working man' had a genuine need for a durable leather work boot that prevented his feet from getting wet while outdoors. So he made one, with the wheat coloured waterproof leather… and it caught on pretty fast. At Timberland our inspiration comes from our rich New England heritage. It has, and always will, inspire the way we make our products and run our business. We make boots, shoes, clothes and gear with great craftsmanship, comfortable enough to wear all day and rugged enough for all year. And we don't rest on our accomplishments – if we did, we'd only have ever made one waterproof leather boot.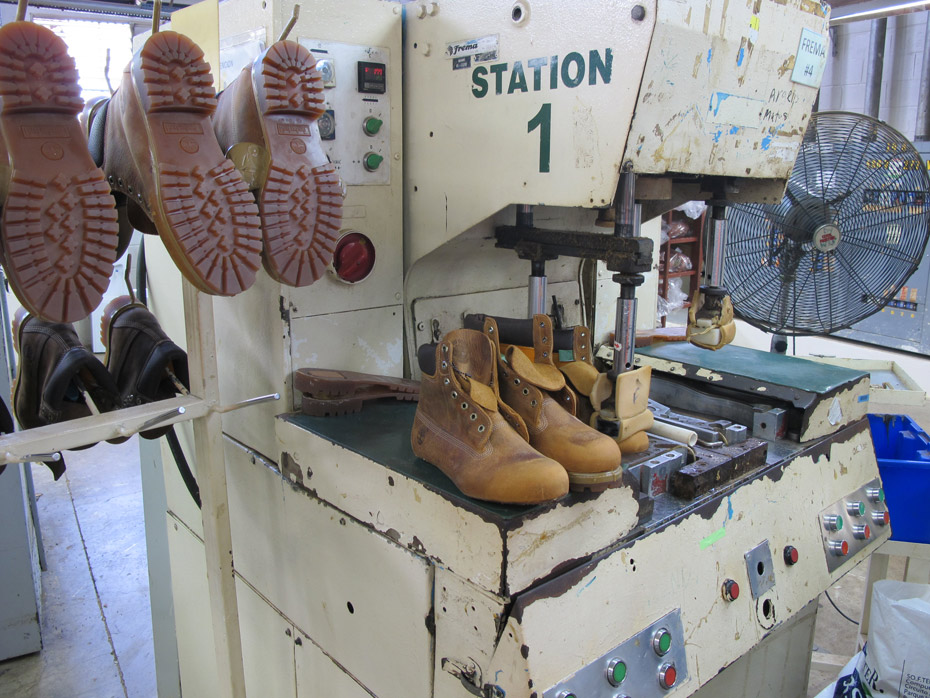 David: From a design perspective, what is the boot's USP?

Chris: It's rugged, durable and waterproof… and it's a style icon that has survived the test of time. What makes our boot so special is the combination of performance, style, durability and that it looks great no matter how you style it. It also happens to appeals to men, women and even kids. While we don't want to mess too much with something that works we do find ways to refresh things from time to time. We've recently made changes to the inside of the boot to make it more comfortable, and managed to do it without changing the look at all. And of course, we have different colours.


David: How does the leather get processed?
Anabel Drese, European CSR Manager: Of all the things that make up the environmental footprint of a footwear company, the biggest contributor is not transport of product or the manufacturing process, but the materials we use. And, when your iconic product is a durable, built-to-last leather boot, you're hard pressed to make substitutions. That's why we work hard to establish relationships with partners who are dedicated not only to producing premium leathers but also to holding themselves accountable to strict environmental standards. When you see the Leather Working Group (LWG) Silver-rated tannery icon associated with a Timberland product, that means that one or more major component uses at least 50% leather tanned in a facility rated Silver or higher by a third-party environmental audit.
David: Why did Timberland choose the Dominican Republic for its factory?
Anabel: We chose the Dominican Republic for our factory in 1981 as it's well located geographically – it's established in a free trading zone and it's close to the U.S. market. We also knew that due to high unemployment figures, our factory would actually help the community and make a real different to the lives of our future employees. In turn, it would of course also benefit us to have great employees. 

www.timberland.com/