David Hellqvist visited the German-born designer's studio space ahead of his Paris catwalk show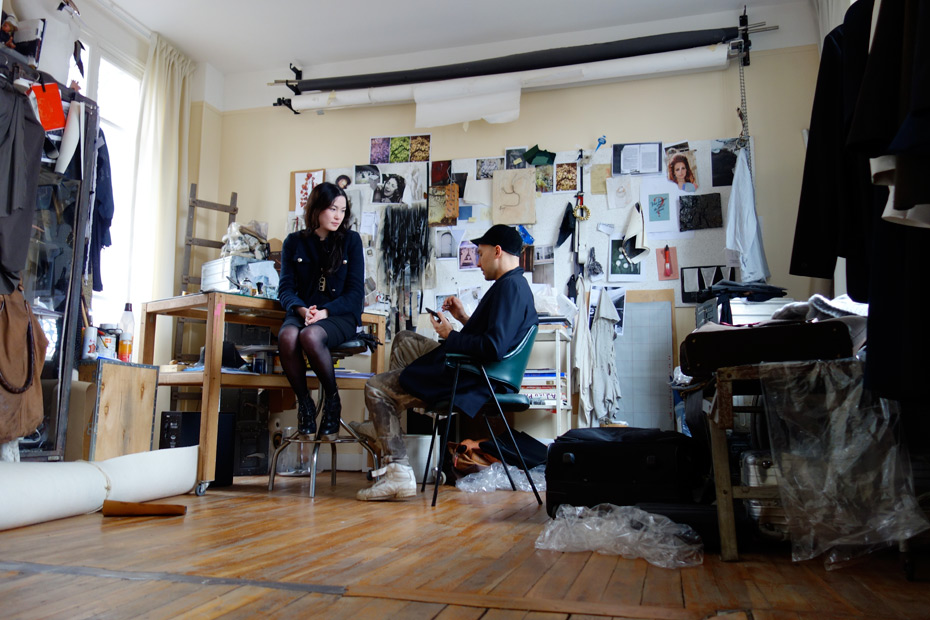 Words David Hellqvist
Photography Claude-Olivier Four
In Buttes Chaumont, a leafy suburban corner of Paris in the 19th arrondissement, Tillmann Lauterbach is busy preparing his comeback collection. Although he showed a smaller capsule collection last season, Autumn Winter 2013 is the German-born designer's proper return to the Parisian menswear schedule. With his scaled back aesthetic, sombre colour palette and keen eye for details, his Joy Division collection is a master class in subtle luxury, defined not only by the qualitative fabrics but also Lauterbach's personal investment and time dedicated to developing an aesthetic in line with his own view of life.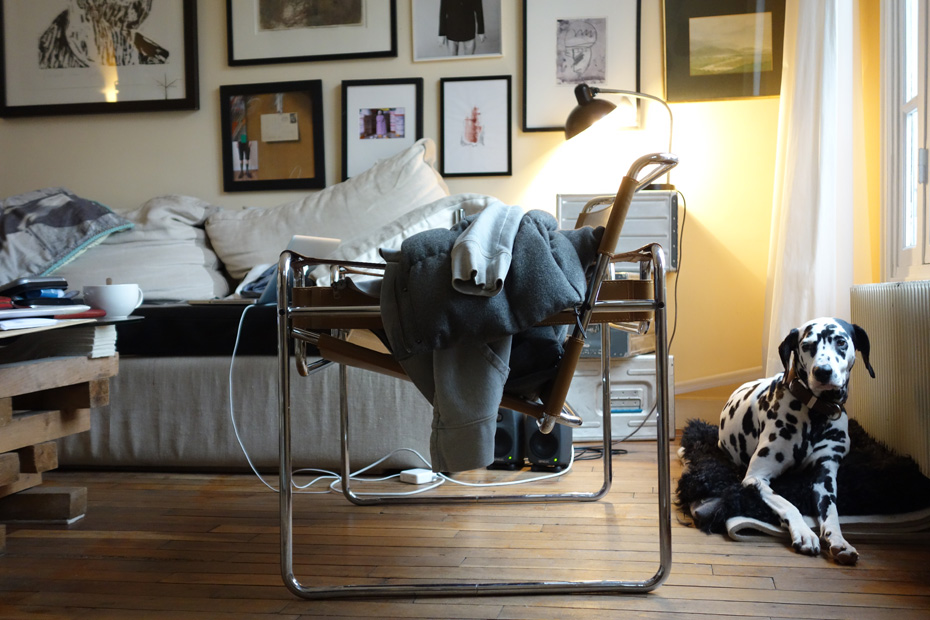 Anyone visiting Lauterbach's house will get a unique insight to his universe, almost as detailed as when viewing in the Rue de Commines catwalk show. It's clear that Lauterbach is not satisfied with separating the day job from the rest of his life, they are inter-linked and feeding off each other. On the walls and shelves of his three storey house, art pieces and objects share the space with sewing machines and fabric swatches. Venture down the basement and you'll come across a bonafide, albeit small, industrial factory. Two days before the show, when Port visited, the energy levels were sky high; samples sewn, details refined, trainers modified and looks put together in conjunction with stylist Hannes Hetta. All this with Polka, a beautiful Dalmatian, running around, curious why there's so many people around the house. The ground floor living room functions as a board room, but there's nothing strict and formal about Tillmann Lauterbach and his crew. On the contrary, spend time with him and his associates and you get the sense of a creative collective at ease with work, life and fashion.
Upstairs, in Tillmann's own private studio space, the view of Paris is stunning. Mood boards and art fills the room. Adjunct is a small bedroom. Actually, all mod cons like bedroom, kitchen and bathroom are cramped. This is a house dedicated to the craftsmanship of Tillmann Lauterbach the brand, not individual needs. As such you get the feeling the brand is about a creating a lifestyle, not a fashion fad. The collection fuses sartorial highlights such as neoprene detailed shearling jackets and kimono style tailored coats with cashmere cable knits and raincoats with a woven shirt collar and exposed zippers.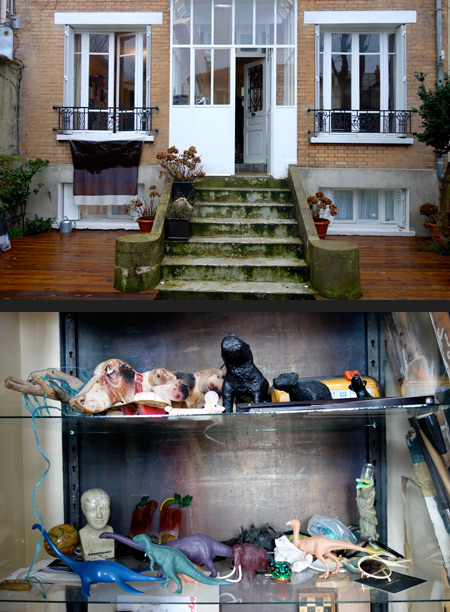 Talk to Tillmann about the process and stories behind his fabrics and you're in for a treat. It's quickly obvious that he invests a lot of time and energy in finding not only the right material but also the right people to help him realise the ideas. He points towards a pair of  raspberry red trousers: "I worked with an Italian family run mill on these. It's a perfect washed finished which makes the super twisted cotton heavy and stiff. Another favourite is this washed wool which has a 3D jacquard-like texture – we used the inside of the fabric to make it look it more rough. Mostly I use Japanese and Italian fabrics. I hate overlocking so my garments are often better finished on the inside compared to the outside, and the Japanse's love of detail and very complicated fabrics make them a good fit for me."
Individual highlights from the collection, as picked by Tillmann, include a laser cut wool mac coat in either grey and navy blue. "It's made by an old Austrian felt producer called Lorden Steiner. It's a family-run company making honest products. But it's a very classic look so I wanted to make it more modern. I went to one of Europe's most modern laser cutting companies in Italy. We did the laser cutting in the same check pattern we use on other garments and to make it appear older we erased some of the burn holes – it looks like erased laser cut patterns."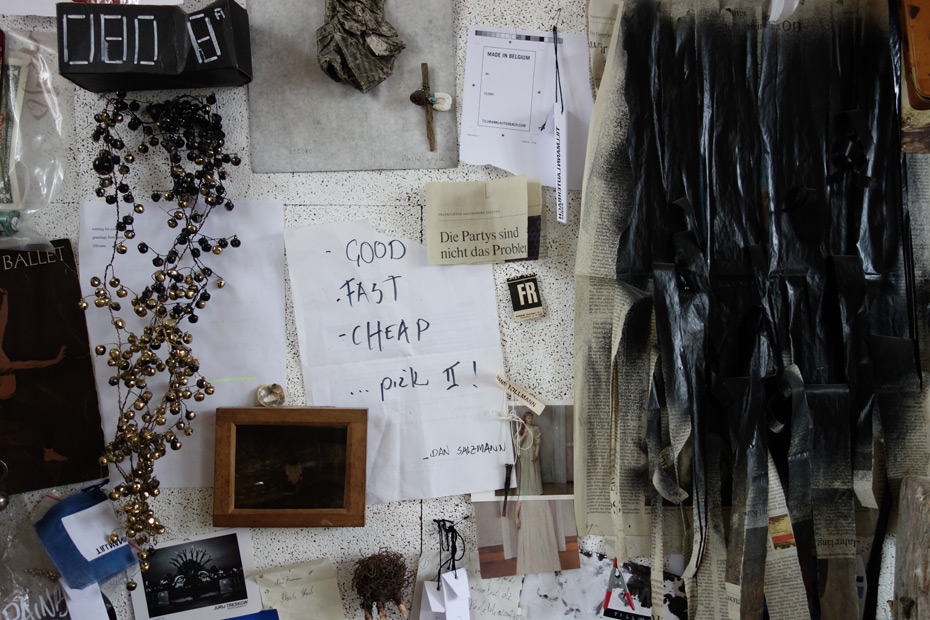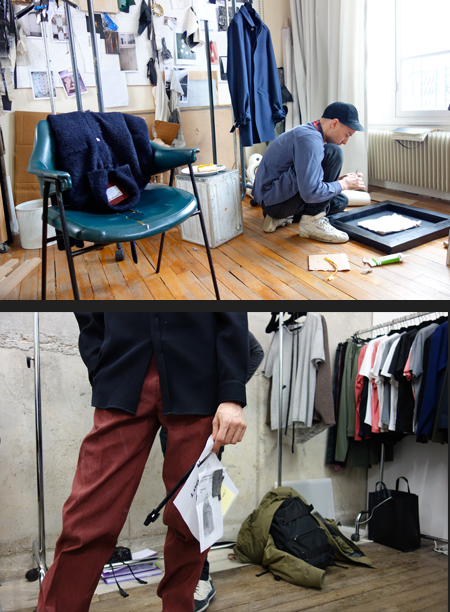 A second coat, shown in green and maroon red on the catwalk, comes belted and with multiple pockets. Looking closer at it in Tillmann's studio, you are struck by the gentle softness of the fabric: "Yes, it's an alpaca jacket with the big curl on the outside and cut with a raw edge detail on the seams. It's like a very comfortable morning gown that you can wear underneath a big coat, or on its own in the spring. It's very soft and warm. For me, alpaca is more precious than cashmere; it's used less often and the abilities of the fabric is more attuned to urban life; cashmere is very warm but alpaca has a certain air conditioning element to it, it gets less warm due to the fibres."
Thirdly, Tillmann points out a key knitwear piece from the collection. The grey oversized jumper was the fourth piece to hit the catwalk: "It's a cashmere cable knit, but with added a sportswear detail through the frontal V on the collar. Around the cable curve we've printed an X so you can see an anarchy A from a distance. I like the idea of having a super soft cashmere but making it a little bit coarse with the colour. The starting point for the collection was the concept of anarchy and how you perceive your life, it's about questioning how things are done and what fabrics are normally used. The Joy Division collection is built to last, it's a non-seasonal idea."