Little Wing Lee reflects on the inaugural exhibition from Black Folks in Design at the Ace Hotel Brooklyn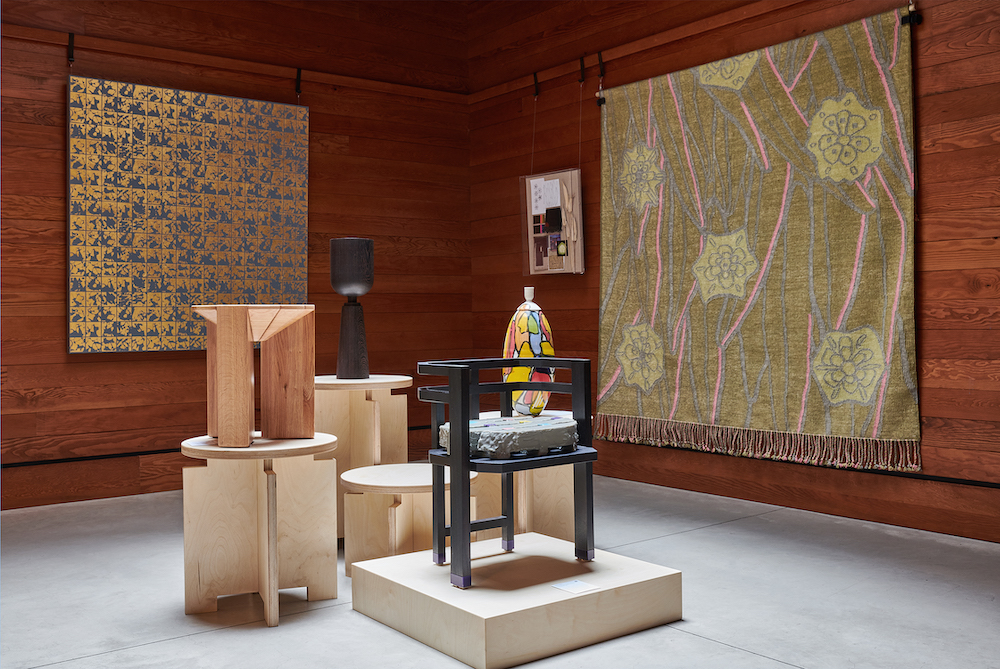 A hand turned vessel is finished in hardy wenge wood; the bruised-lilac of the okra plant is woven into wool; an ideally proportioned chair nods to early 20th century Viennese architecture. These collected items are a glimpse of the works currently showing within the Spotlight One show at Ace Hotel Brooklyn, New York. The inaugural exhibition from Black Folks in Design – a collective of Black designers from an array of disciplines – showcases deftly created furniture, sculpture and textiles from the likes of Garth Roberts, Kyle Scott Lee, Lisa Hunt, Luam Maleke, Studio ANANSI and Studio & Projects. Interior, architectural and environmental designer Little Wing Lee founded the art and design network in 2017 to create economic opportunities for Black creatives and help forge a world that "recognises their cultural contributions, excellence and importance". With a keen eye, she has curated a show that does exactly that, celebrating the nuances of material, craft and form.
Here, she reflects on the exhibition, discussing how to create welcoming spaces, the Black designers who inspire her, and the strength of a collective.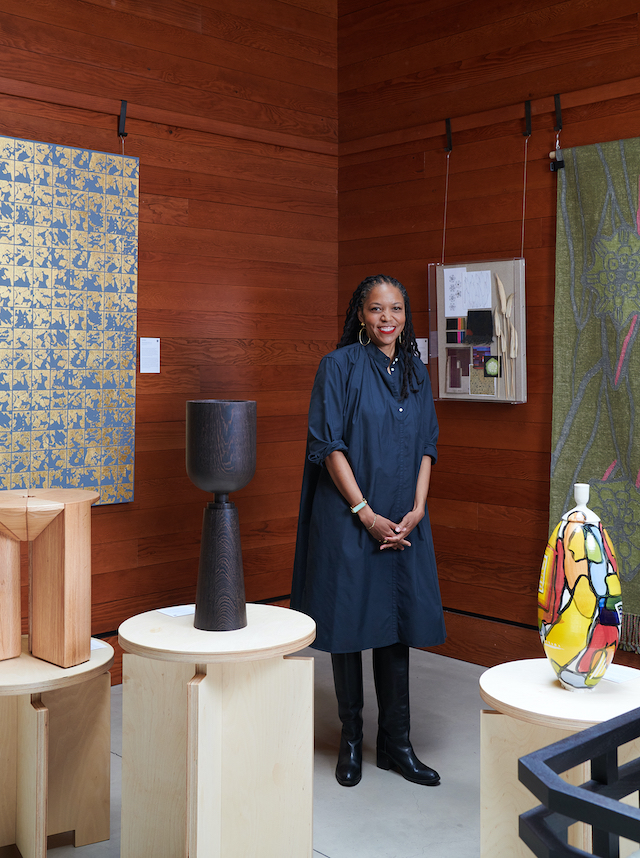 How does your practice – as an interior, architectural and environmental designer – inform your worldview? 
Actually, I would say that my worldview informs my practice. 
Spaces that are designed and considered should be for everyone. Design can be in service to all people and I believe that beautiful and functional spaces impact people's lives. A space can make you feel at ease, energised or focused. A well designed space amplifies its function, whether it's feeling welcomed and relaxed in a hotel, or a school that inspires you or a museum to educate you.
And a follow up, how does it shape your approach to creating spaces, whether that's physical exhibitions or digital networks? 
My work takes a narrative approach to design. I always think about the story and connection behind the design decisions I make.
As an interior designer, I am not only concerned with the interior space of a project. The experience as you approach a space can be an important part of your experience of an interior. It can work to set the tone and mood. Similarly, a view within the space will affect how you experience a room – think of a view into a garden or cityscape in the background and/or foreground of the interior. 
It's important to me for people to feel comfortable in a space – to feel that all of the components were considered for them.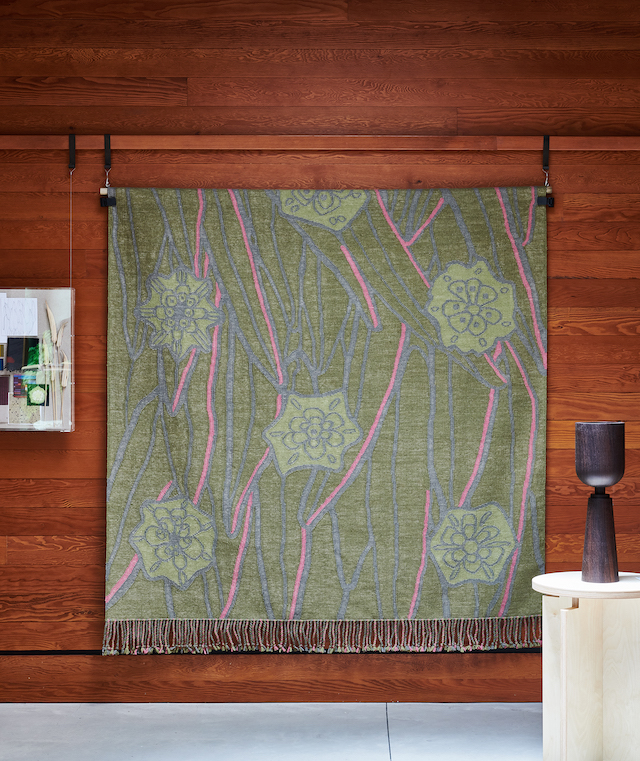 Why did you establish Black Folks in Design, and what are the strengths of a collective such as this?
I was an exhibition designer for the National Museum of African American History and Culture in Washington DC. The exhibition and design team was primarily made up of Black designers. Having worked in other design offices, I was often the only Black designer. The experience of being in a room with other Black architects, interior, graphic and interactive designers working together on the concept of this museum was incredible. After the NMAAHC was completed, I thought, "When will I have the opportunity to work alongside so many talented Black designers?" I looked for an organisation where Black designers could meet one another, share opportunities or ways to collaborate. Since that space didn't exist, I decided to create it myself. In 2017 I launched Black Folks in Design (BFiD) as a network that connects Black designers within and across disciplines to support each other and share professional opportunities. We help people understand the excellence, contributions and importance of Black designers and we create economic and portfolio-building opportunities for Black designers.
What was the curation process for Spotlight One? Why were you drawn to these particular designers? 
For the inaugural exhibition for BFiD I wanted to exhibit a variety of aesthetics and mediums, to show the range of approaches and visions of Black designers. The exhibit space itself was modestly sized, so I wanted to be sure each piece carried its own weight. In pulling together the show and meeting the exhibitors it was wonderful to discover the connections between so many of us – past and current collaborations, mutual friends, and colleagues.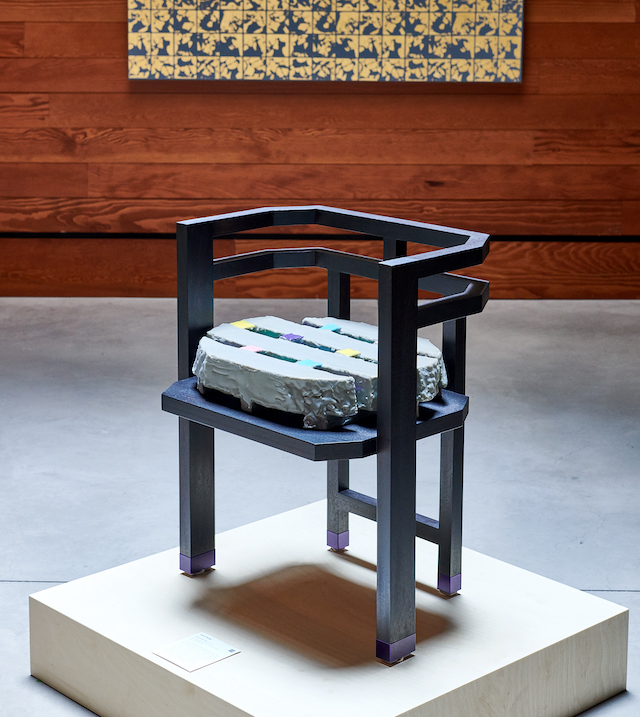 There are nods to Europe (Luam Melake's chair) and plenty to Africa (Wenge Wood used in Studio ANANSI's Ode vessel, the okra plant represented on Studio & Projects x Odabashian's rug), how does Spotlight One interpret and play with these geographies through material and aesthetics, what is their relationship to them? 
We are all influenced by the context in which we live and work and by our own personal histories. But of course, we're all global citizens and our lens extends globally. I can say in the case of the rug Studio & Projects created for the show, the construction of the rug is rooted in Asian traditions, while the pattern is grounded in African American culture with connections to West Africa. 
I know you're not meant to have favourites, but what work would you take home and keep?   
Oh, that's a really tough question! I really couldn't pick just one. Each piece would work in my home and I would be honoured to own it. If I were to place them, I would hang Lisa Hunt's wall piece in the dining room, Studio ANANSI and Kyle Lee's objects on my mantle or nestled on my book cases and use Garth Roberts' stool and Luam Melake's chair in my living room to compliment the Studio & Projects rug. I love the true aesthetic variety they represent.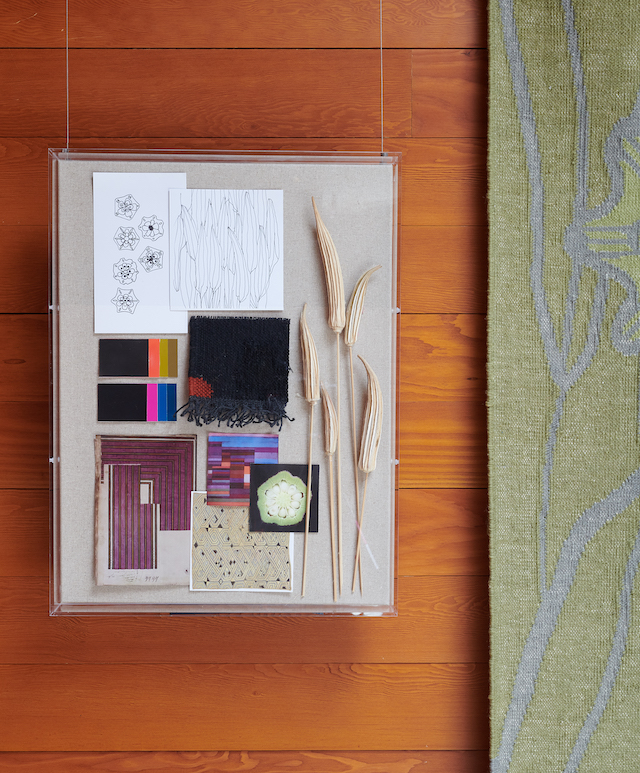 Who are some of the Black designers (past or present) that inspire you?
As a part of Spotlight One we have a digital slideshow of Black designers from the past and present. It was important for me to try and give the context of the long legacy of designers and current designers working today. I've always been inspired by the work of Philip Simmons from Charleston, SC. I recently bought a book about his life and work and love seeing his process of hand sketches for the design of his ironwork. Another would be the work of Walter Hood. I started my path to design through my love of landscape architecture. I appreciate his sculptural and historic approach to landscape design. There is meaning and beauty in all of his projects.
Given that Spotlight One is Black Folks in Design's inaugural exhibition (congratulations), what have been some of your learnings? And, are you excitedly thinking about the next one?
Spotlight One is the first exhibition for BFiD and my first time curating a show. I've learned so much in the process and am excited by the possibility of doing another one. The reception to the first show was more than I could have hoped for and we've been approached from galleries in the US and abroad for future exhibits. I'm also excited by the idea of having other designers in the network curate shows and to have the excellence of Black designers shown around the world.
Spotlight One exhibits at Ace Hotel Brooklyn until June 29th, 2022
Photography Kelly Marshall