From copulation to gun control, the New York designer is challenging the sensibilities of interior design, one strip at a time…
Wallpaper designer Ryan Cox of Filthy Home also has a filthy laugh. I'm talking to him in his Brooklyn studio-home from Port's new studio in London, via Skype. We haven't finished unpacking yet, and boxes of magazines, furniture and bric-a-brac crowd the background as I talk to him over a slightly crackly video-connection that continues to freeze intermittently over the course of the next hour. When the video finally comes to life, before any formalities are exchanged, he bursts into laughter: "Is that a Dolly Parton mug?"
Indeed it is: I slowly sip my tea as though each mouthful is really a hit of whisky. It's evening, and dark outside, and it feels like a very long day, until Ryan tells me he's been up since 5am, and working from home since 7am. He's energetic, animated, and in no way looks like he's heading for a mid-afternoon crash. I take a hit.
Ryan's dizzying wallpapers first came to my attention in 2011. I was writing on 'innovative interior design' and wallpapers were basking in a resurgence of popularity. His 'Shoot Your Load' design – a geometric affair featuring chevrons of hunting rifles and a background palette the colour of sour lemons – blew my mind, if you'll excuse the pun. In fact, his entire Phobia range completely enchanted me. At that point, Filthy Home was a matter of months old, launched in 2011, though its origins stretch back further.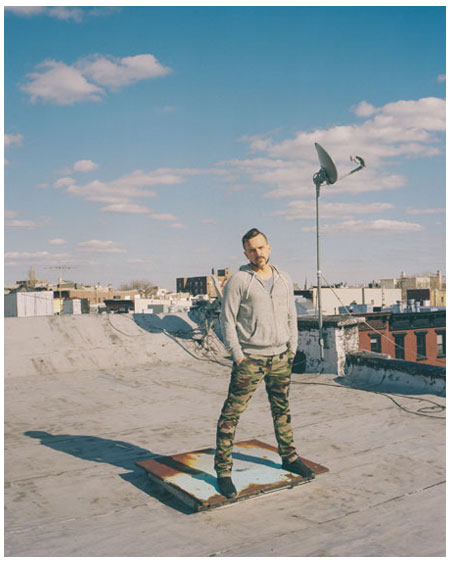 "I like that it's something that I make that I don't have to compromise on, or negotiate
on the designs; people like them, or they don't."
Ryan had been working for Playboy in men's apparel and sporting goods, "doing a lot of co-branding projects for the likes of Burton snowboards and surf companies. I got really good at doing patterns for fabrics and textiles". When the recession hit in 2008, Playboy closed their New York office and relocated staff to Chicago: "Nothing against Chicago, but I really love New York and I didn't want to leave". So he didn't, choosing instead to set up his own business utilising his skills in pattern and textile design.
He chooses his next words very carefully: "I have a bit of a dirty mind," he tells me, before bursting into a fit of laughter, "and that's the direction I decided to take Filthy Home". Raised Mormon in Salt Lake City, Ryan explains, "Being a gay man, I don't necessarily fit the mould of that city, and a lot of my work – in fact a lot of my personality – likes to poke at people a bit." This 'poking' emerges in patterns that have a duality to them, a playfulness that flits between beauty and humour, sex and, well, sex. "I love the fact that a lot of people's first reaction to my designs are like: 'That's amazing; it's so beautiful!'
"And then they hear the name or the story that goes along with it, and they have this internal struggle within themselves as to whether they think it's appropriate." Ryan smiles. "I really enjoy that it makes people think – I mean, I'm just talking about sex! And with the Phobias collection – they're things we all have or do, I'm just making light of it, making something beautiful out of it."
"I'm really just posing a question to people", Ryan adds, "If they're upset, why are they upset? Why is it challenging to them? If they don't like the name, they can go ahead and name it something else – that's just my story, the one I've put with the design. The patterns themselves can stand on their own, it's just my interpretation of what I'm doing."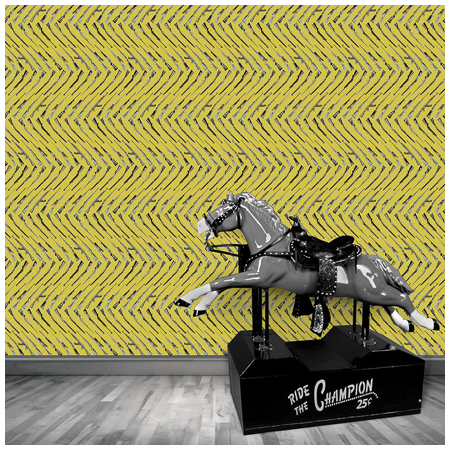 "I'm really just posing a question to them. Why are they upset? Why is it challenging them?"
Whether you appreciate their saucy back-story or not, the wallpapers are things of beauty. Though digitally printed in Ryan's studio, they feature that bespoke quality you only get when a product is laboured over. "Yes, it's time consuming to produce in terms of quality of the paper and quality of the designs, but it's also a labour of love, because I like to imagine people really live their lives around it. It's not just the shirt you wear on the occasional Friday".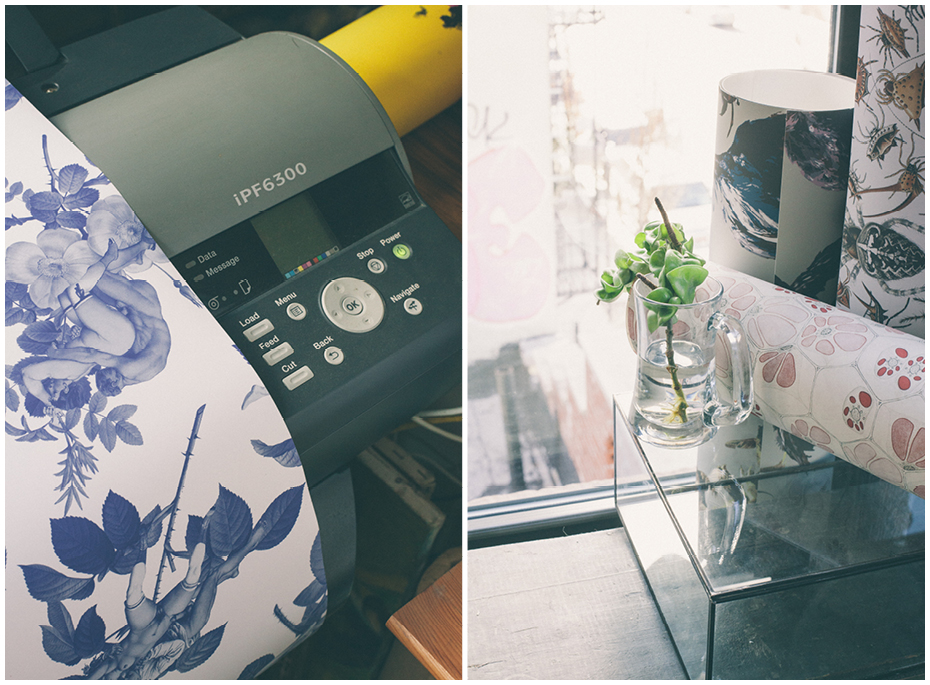 Each roll is printed to order on a huge, museum quality printer. "I'm there touching almost every inch of it to make sure it comes out perfectly and doesn't kink. I don't have a giant workspace" he says of his apartment, "but I've adapted!"
Being his own boss has other benefits too: "I like that it's something that I make that I don't have to compromise on, or negotiate on the designs; people like them, or they don't." Ryan's personal favourite is his first design, 'Me So Thorny' which features the motif of a couple having sex in cut roses. It's just been hung in a bar in DC, "People keep tagging me in it, on Instagram". It's reminiscent of the blue and white porcelain designs favoured from the 9th century onwards, albeit a very provocative 21st century version.
Words Betty Wood
Photography Jasper Fry
"In addition to his wallpaper range, he's working on new collections: "I'm working on fabrics, throw pillows, and accessories. I'm also working on a new collection of papers about geometry and mathematics, which I'm in the process of finalising". Patterns might not be seasonal in the same sense fashion collections are, but every other year he puts together a new range for his store.
By the time I hit the call end button on my Macbook, I'm pretty much ready to move to Brooklyn so I can be Ryan Cox's new best friend. He's funny and charming to talk to, and it's this sense of humour, and beauty, he's translated to what is still, in essence, a very traditional medium. May everybody have a Filthy Home.
To see more of Ryan's work, visit FilthyHome.com and see a gallery of images on Facebook. Like this story? Leave us a comment below or read our feature on British wallpaper company Cole & Sons