Ahead of its launch next week, we talk to editor Danielle Pender about "celebrating women for more than what they look like"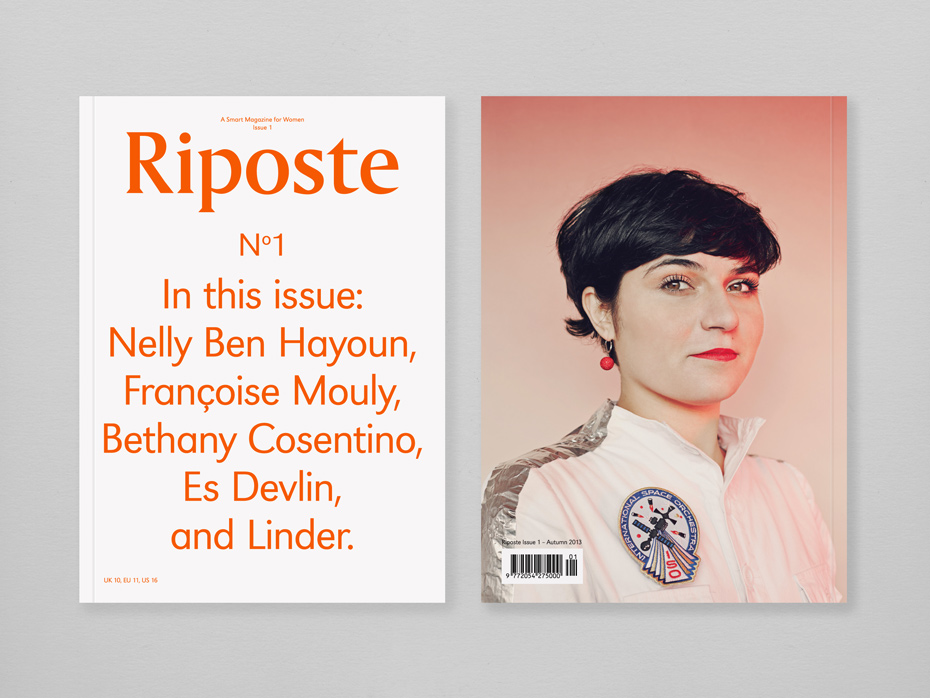 As chief curator of East London gallery, KK Outlet, Danielle Pender has built her reputation by championing innovative and earnest projects. This time, she's turned her attentions to the publishing world, launching new bi-annual title Riposte on 27 November.
Riposte is Pender's reply to the current mag culture. Following a simple format of numbers – five ideas, four meetings, three features, two essays and one icon – Riposte explores the idea of the modern woman through long form editorial (alongside a spattering of short, punchy pieces), and features in its first issue NYC photographer Shaniqwa Jarvis, Portland street-food entrepreneur Nong Poonsikwattana, The New Yorker's art editor Françoise Mouly and designer Nelly Ben Hayoun. With art direction by Shaz Madani (Elephant) the magazine is as beautiful as it is engaging.
We spoke to Danielle and Shaz ahead of its official launch next week to get the low-down on what we can expect from issue one…
Riposte is a self styled 'smart' magazine for women – why launch a new women's magazine now? And why print?
Danielle: We call ourselves a 'smart magazine' but to us, smart means more besides intellect or academia. We feature women who are street
smart and business savvy such as Nong Poonsukwattana,who has singlehandedly built up her Portland based street-food empire, through hard work and a keen business mind.
It felt like there was a need for a women's magazine that covered a broader range of topics than those currently explored, and that celebrated women for more than what they look like.
There is a certain way women are portrayed in the media and it felt like there was space for a new magazine to explore a new, more positive approach. We're not saying we have all the answers, we just believe in having a choice when it comes to what you read, because as is always the case with choice, therein lies the power.
There has been a resurgence in longer read articles and print publications with high production qualities. Mobile and online platforms are obviously great for news and short read pieces, but we wanted to create a beautiful print product which showcases longer read features and a range of fascinating women. A more integrated online/offline model is something to think about in the future, but I don't think anyone has found the right answer yet.
"This tenacity, willingness to take risks and challenge accepted norms,
that absolutely embodies the aims and ethos of Riposte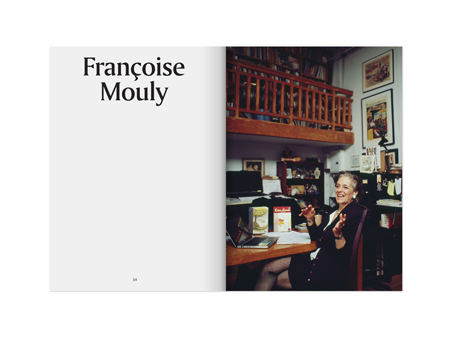 Issue one features Nelly Ben Hayoun as cover star: how does Nelly embody the mission statement of Riposte?

Danielle: Nelly is so brilliant. Her mixture of ambition, imagination and intellect is something quite rare. But it's her drive and sense of fun that really come across in the interview. If something is difficult, this challenge drives her determination to achieve it. She said of her 'International Space Orchestra' project that getting into NASA was the hardest part but that she relished the challenge. It is this tenacity, her willingness to take risks and challenge accepted norms, that absolutely embodies the aims and ethos of Riposte.
How will the design and art direction of Riposte reflect its editorial concerns?
Shaz: The writers and the women we feature speak openly and honestly about their experiences and opinions, and in the same way these qualities are reflected in the design direction. We've kept stylistic interventions and type tricks to a minimum, instead focused on creating beautiful and simple spreads that don't overshadow the content and allow the images and words to breath. We wanted to create something elegant that had reason and meaning. But it was important that these attributes didn't make the magazine feel too stiff or exclusive.
What influences have gone into the design and tone of the magazine, both in terms of contemporary magazines you're competing with and rebelling against?
Shaz: During my research I came across an old issue of the National Geographic magazine from the 1950s, I was really struck by the beauty in the confidence and ease in which the magazine was laid out. Some of the articles ran for 30 or 40 pages. You really got to immerse yourself in their world and appreciate the subject being discussed. Nothing was overworked or over styled, the images were beautiful and sat effortlessly amongst the words. Yet it kept you engaged. This really set a tone for our approach.
When it comes to contemporary titles, there are so many beautifully designed publications out there, and it is important to be aware of them. But we wanted to create something a little different – there would be no point in repeating what is already on offer.
Danielle, you're chief curator at London's KK Outlet gallery in London; what input have they had into the publication, and the direction it's taken?
Danielle: KK Outlet has supported me with advice and created space for me to work on Riposte next to my role at the gallery. Their expertise in publishing and reputation with photographers, editors and press was a tremendous help to make Riposte happen. There is a natural overlap between the two and one can inspire and inform the other.
Riposte launches 27 November and is available for pre-order now