Newly launched, Paris-based brand MASAM is applying paper folding techniques to a host of different materials
The line to Paris may be crackly and their English disjointed but the enthusiasm of Marianne Guély and Said Njeim easily cuts through the cross-channel noise. A paper artist of some standing in the French capital and an architect respectively, the pair has joined forces to form MASAM. Together they will be applying Guély's paper folding techniques (her skills have previously been called upon by big brands such as Louis Vuitton, Toyota and Cartier) to various materials including leather and alabaster. Their debut collection includes stationery, lights and jewellery and will be shown for the first time at 100% Design in London this week.
"We complement each other," says the Lebanon-born Njeim who's worked on several large-scale hotel and retail developments, mainly in France. "I'm interested in volume of scale, but for Marianne it's more about design, detail and graphics. We like noble materials and we like to work with people who feel the same, particularly French artisans. That's how you make something exceptional."
They won't be drawn on who those artisans are currently for fear the large luxury groups may poach them, but they already have ambitious plans for MASAM going forward. "What we're doing now is just a small part of what we can do. We want to work with interior designers, architects, and stenographers," continues Njeim.
Travel is their main source of inspiration and Marianne loves to scour the globe for beautiful paper – she still creates paper mock-ups for all her products: "Japan, South Korea, England… it's very important for my creativity to open my mind each day, to discover new materials, people and processes," she says.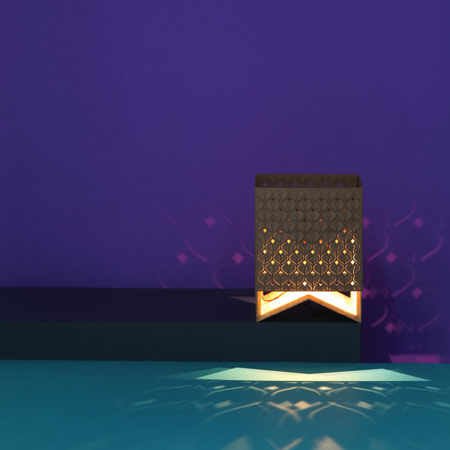 "We both like to travel so much," says Njeim, "and we discovered that we were so imaginative with our creativity whilst we were away, naturally we wanted to confront our sketches and ideas. The relationship comes very naturally."
They've chosen to show for the first time a little bit closer to home, so why London? "We like the energy; it's a beautiful city," enthuses Njeim. "It's as international as Berlin or Shanghai, probably more so than Paris at the moment."
Who are we to argue with this globetrotting creative pair?