In an excerpt from Assouline's new book, Jean-Michel Frank by Laure Verchère, Jared Goss reflects on the life and work of the French interior designer
ensemblier; he drew inspiration from the past as a way to be modern; and he was a connoisseur.
French Art Deco flourished between the first and second world wars (the very period of Frank's career). It was a movement as much backward-looking as forward, blending historicism, exoticism, and modernism, with a wide range of expressions. Three characteristics place Frank squarely in its mainstream: He was an
The ensemblier was an interior decorator of the most complete kind, able to design and produce in-house virtually every aspect of an interior, from the architectural framework to the smallest detail (while not a furniture maker himself, Frank's partnership with Adolphe Chanaux provided essential workshops). The profession had roots in French history (among the most famous ensembliers were Charles Percier and Pierre Fontaine, architectdecorators to Napoléon I), and enjoyed a renaissance during the interwar years. Rooms by French Art Deco ensembliers (including Émile-Jacques Ruhlmann and Süe et Mare, among others) achieved an unequaled degree of unity and harmony, a completeness of vision, since everything was of a piece. Frank's were no exception.
For centuries Paris had been considered the world's leader in the luxury trades and the arts de vivre of couture, perfumes, wines, cuisine, furniture, and such. Beginning in the early 1900s, many in the French design community encouraged the establishment of links with the past—rather than, say, iconoclasm—as a means to reinforce and reinvigorate this traditional (and profitable) reputation. To this end, many ensembliers looked specifically to the golden age of the eighteenth-century ancien régime for inspiration, Frank included. But like that of his best contemporaries, Frank's completely original work never fell into pastiche or historicism. It is undeniably of the twentieth century, albeit tempered by the simplification and abstraction favored in the modern era.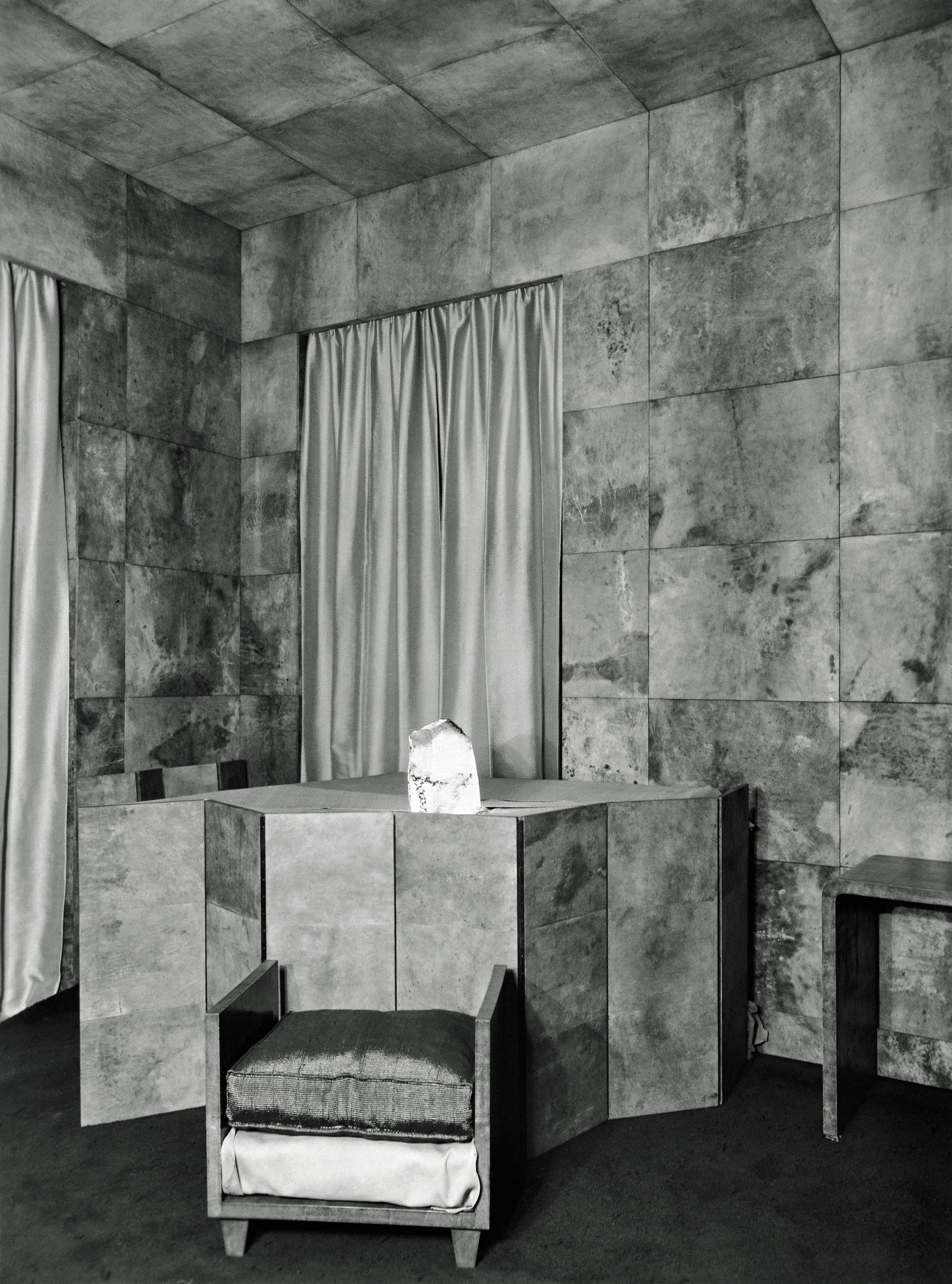 Although connoisseurship is not much in fashion today, it must be recognised as the foundation of Frank's work, since he thoroughly understood every aspect of his métier (the term "connoisseur" derives from the French verb connaître, meaning "to know" and "to understand"). From old objects he learned the principles of good design: graceful lines, correct proportions, sound construction, and suitable materials, all combined in the service of utility. He knew how to never sacrifice any one of these qualities for the others, but rather to incorporate them all in balance. And like other ensembliers, Frank worked for clients who were connoisseurs themselves. They not only understood and appreciated what he created for them, but also demanded the exceptional and the distinctive. Frank met their imperative to invent, rather than copy or imitate, and his success resulted from the obvious depth of his knowledge.
That said, Frank's career existed outside the conventional parameters for French designers of his time. He was not formally trained in his field. He always worked independently, never joining any of the established French professional organisations, such as the Société des Artistes Décorateurs or the Union des Artistes Modernes, that showed their members' work at annual exhibitions. He advertised rarely: Aggressive self-promotion clearly was not his thing; personal relationships and word-of-mouth seem to have been his preferred methods of attracting a clientele. Even so, his patrons included some of the most fashionable people in Paris and around the world, many of whom he counted as friends. During his lifetime his work was recognised widely enough to be published internationally in books and fashionable magazines. And a number of his designs came to be used by—and some even reproduced by—fellow decorators, particularly in the United States and England (Elsie de Wolfe, Frances Elkins, and Syrie Maugham come to mind).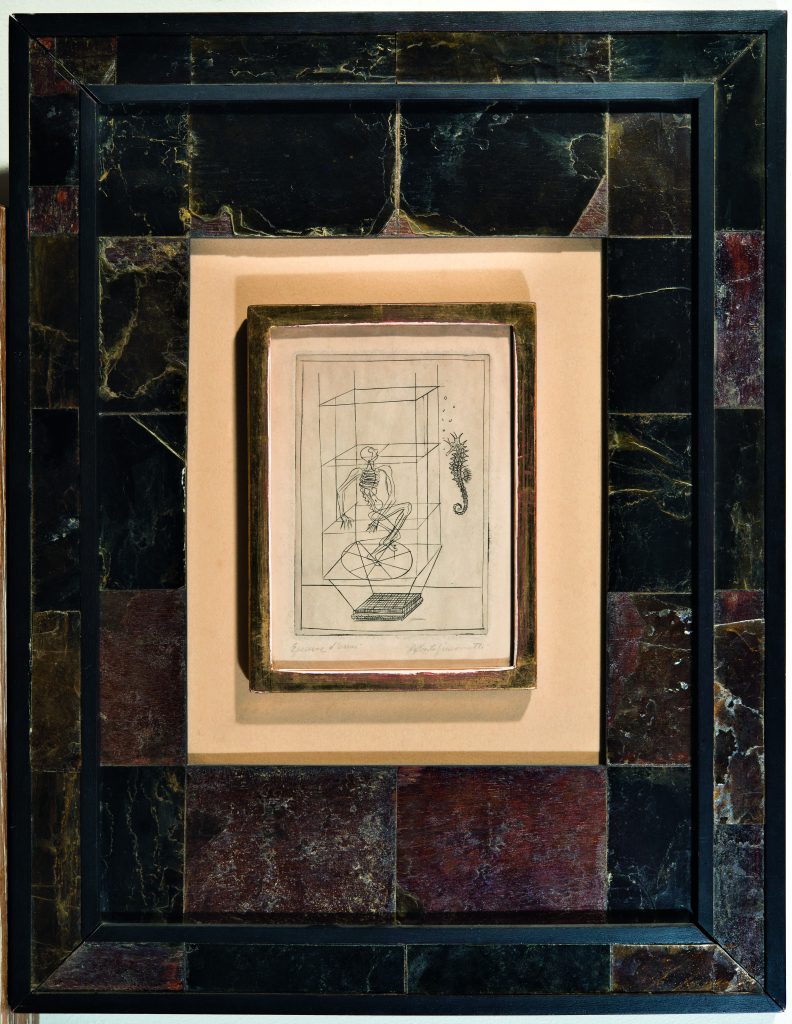 Frank is often labeled a minimalist, but in my mind reductivist may be more accurate. While there is rarely anything superfluous in a Frank room, everything essential is present (as with his furniture, where no detail is overlooked, even if the ultimate effect is one of simplicity). Frank never sacrificed convenience or practicality: There are enough tables, chairs, and lamps to meet needs; his bookshelves are always filled with books; cigarette boxes and ashtrays inevitably are at hand. And what kind of minimalist veneers furniture with gleaming straw marquetry, laboriously hand-glued in place strand by strand? Or conceives a table lamp hewn from a rough chunk of internally lit rock crystal, or shaded with a delicate cage of overlapping sheets of ivory—neither an effective source of illumination but both atmospheric, glowing light sculptures? Or devises painterly trompe-l'oeil wall paneling from irregularly cut strips of multi-colored silk grosgrain ribbon tacked on a yellow velvet ground? Contrary to his image as the master of monochrome minimalism, Frank in fact delighted in introducing to his rooms bursts of vivid color and pattern, particularly in collaborations with Christian Bérard; extravagant Napoléon III–style tassels, tufts, and braids, placing him at the forefront of the avant-garde Victorian revival of the 1920s; and exquisite antiques of all eras and nationalities. Reality is always more nuanced than myth, and here reveals the catholicism of Frank's erudite eye.
It is these things that made Frank's work relevant in his own era, and continue to give it relevance today. Now as then, his work presents an eloquent and convincing argument for embracing the lessons of history, showing how the past offers direction for the future, and how tradition can—with knowledge and creativity—evolve into something entirely new and original, something genuinely timeless and unique. Frank was perhaps the first French designer of his generation to be rediscovered in postwar years, in an article by Josette Devin published in L'Oeil magazine in 1963. Since then, interest in him has only grown. The images in this book—which must stand in for Frank's objects themselves—illustrate just exactly why that is. We can all learn from it. 
Jean-Michel Frank, Text by Laure Verchère with an introduction by Jared Goss is available from Assouline ($250.00)