Chanel's watchmakers have downed tools and upped glowsticks, teleporting back to 1990s club culture and rocking some luridly fabulous wristwear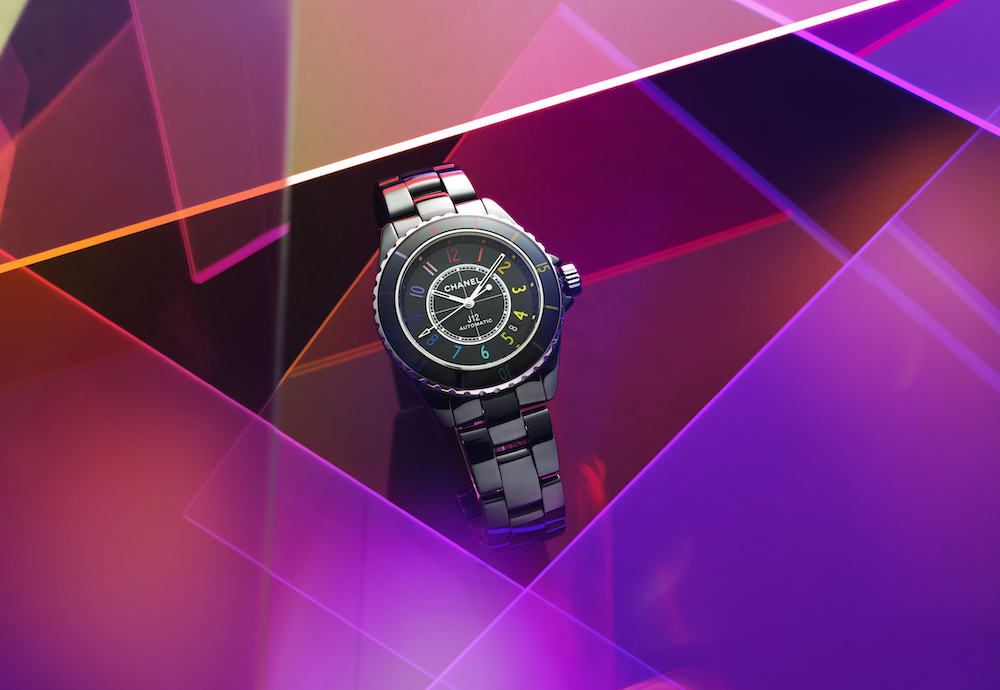 Unless they are on the wrist of superstar DJs, luxury watches aren't really seen on the pages of EDM.com, the US-based website on a mission to spread the word about 125–150bpm dance music.
When it comes to Chanel, however, we're not talking just any luxury watch brand; it's a name that has gone from being derided by watch snobs to being embraced as one of the most exciting and innovative brands, one that melds fine Swiss watchmaking with fashion pedigree to create timepieces that hide horological clout in couture clothing. And it's now being featured on EDM.com because Chanel has taken inspiration from the French music scene, which brought disco glitz to house, for its latest collection – ELECTRO.
"In the '90s, this movement imposed a radical, eccentric visual universe, reflecting the nightlife and the atmosphere in which it evolved," explains Arnaud Chastaingt, a quiet, self-effacing figure who has headed up the Watchmaking Creation Studio for eight years, and is behind such standout hits as the Monsieur, which contained Chanel's first in-house movement, the Boy.Friend, and last year's reimagined J12: the late Jacques Helleu's all-ceramic, unisex icon of 2000. "Electro music went beyond the musical field alone; it is global, sensorial, graphic, and goes beyond just the sounds… It is quite fascinating and very inspiring!"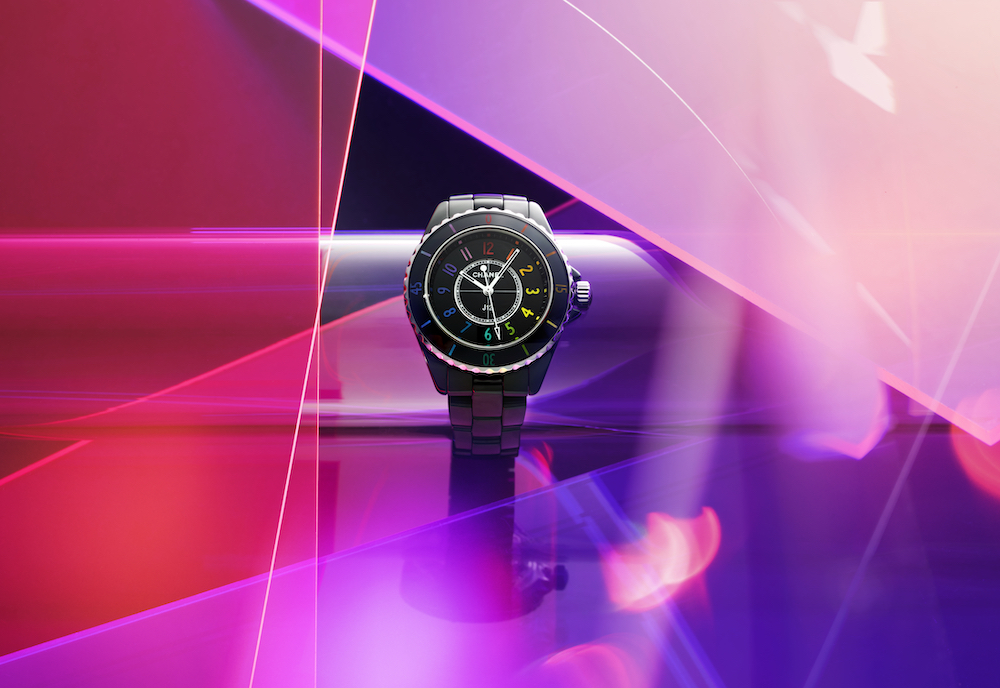 Electro also seems to have inspired former Chanel creative director Karl Lagerfeld when it was at its peak. While his early '90s collections embraced a more traditional colour palette – the house's signature black and white, interspersed with reds, golds, and pastels – his ready-to-wear spring/summer 1995 line popped with colour. Lagerfeld would and could never have totally abandoned monochrome, but alongside it, there were acid green bikinis, neon pink jackets and handbags, even a fishnet bodycon leotard that wouldn't have looked out of place on the dance floor at Soho's Velvet Rooms.
With Chastaingt's ELECTRO timepieces, each of the house's Swiss-made superstars has been given the fluoro treatment. "I imagined this capsule collection like a DJ line-up," he explained. "We are inviting our classics to take turns on the stage, while borrowing the codes of this universe. The confrontation between black and colour sits at the heart of this story. Colour illuminates black. The depth of the black underlines colour; the union is radical, and the contrast is graphic."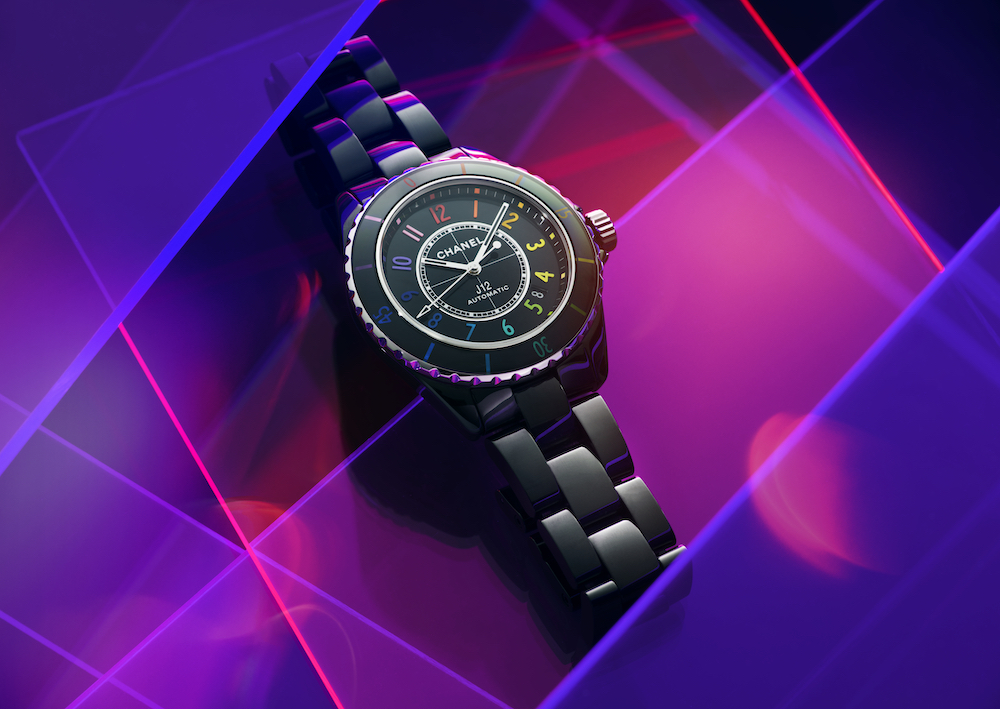 The J12 is in LBD-slinky black ceramic popping with rainbow numerals; the Boy.Friend, with diamond-set rectangular bezel seems sedate until you notice its quilted strap's riotous pink neon lining and a robot picked out in diamonds on the dial. The Code Coco and the Premiere meanwhile get more happy-making than a Carl Cox remix. The former is full-on neon pink, while the iconic chain-link strap of the Premiere is interlaced with multicoloured leather. This collection also has some seriously luxurious riffs on the J12. The Electro Star is an extravagant full-pavé model coated in a total of 267 baguette-cut stones, 13 carats of which are gradated rainbow sapphires set down the flanks of the case and links. There are also black and white ceramic versions – with bezels and indices set with a rainbow of sapphires – both of which are powered by the Calibre 12.1 created by Kenissi, Tudor's movement manufacturer, in which Chanel has a stake. Last year's amazing all-sapphire-crystal version of the J12, the X-Ray, has also been electro-fied, with a similarly rainbow-hued, sapphire-set bezel and coloured hour markers. And if you have a spare $1m saved, then the J12 Electro Box is all yours. Described as vibrating "to the rhythm of a 12-beat gradation of colour", this polyptych features twelve J12s, each one set with a different mono-shade of baguette sapphires in a rainbow gradient of colour, from pink to red.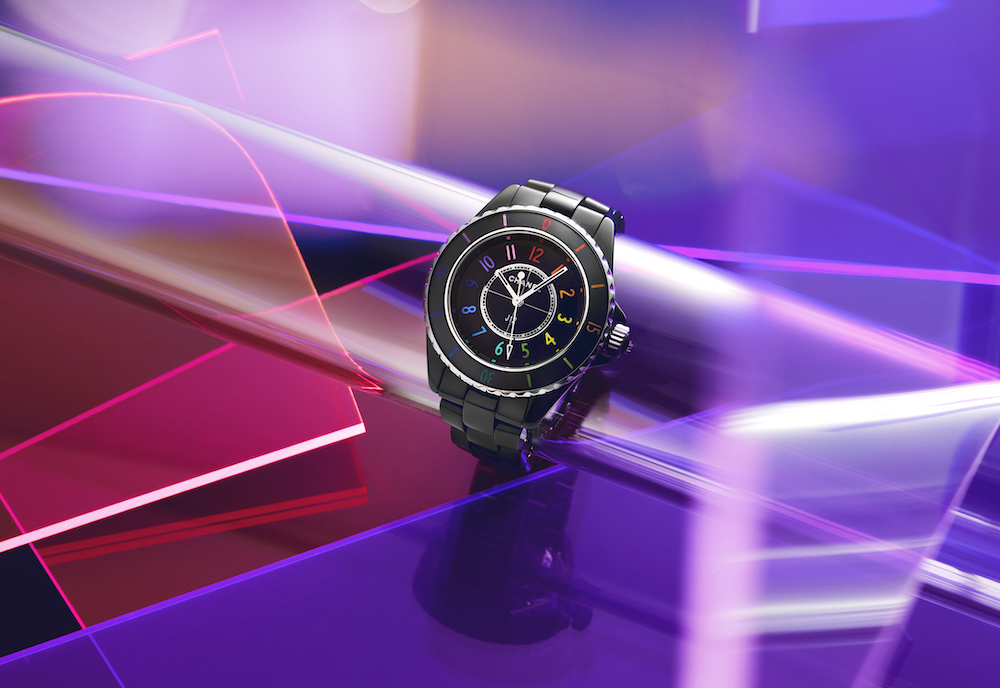 Chastaingt has created the perfect collection for 2021. It may have been inspired by the '90s, a decade when the club ruled supreme and god was a DJ, but it speaks to the now, to our need to feel kaleidoscopic joy – whether that's through finding new ways to exist in the world, or throwing ourselves into it, hands in the air, strangers close, just waiting for the euphoria that comes when the beat finally drops.
Photography Mitch Payne