Betty Wood talks with designer Dara Huang about her recent project at AnalogFolk, and why for her, it's all about the details…
Launched in November 2012, Design Haus Liberty is the studio of architect and designer Dara Huang. A Harvard graduate, and daughter of a NASA scientist, Huang has received numerous awards for her work, which tentatively blurs to lines between art, science, fashion and architecture, mirroring the complexity of modern living. She has worked on projects including New York's Tribeca skyscraper and the Tate Modern, as well as global projects and residencies in Japan and Switzerland.
What's the first thing you do when approaching a new project?
I meet with the client, think about if the job is feasible for us to take on, and how well I get along with the client.  There should always be good chemistry with your clients: it's very important for us as a studio on the same page both ethically and stylistically with the client. Then, my team and I will spend time getting to know the client, their history, the site and where zeitgeist plays into all of it.
I definitely believe in a collaborative approach – our team members are all very strong designers in their own right, which we look for when considering who to add to our studio
What's the hardest aspect of your job?
Balance.  Not just work/life balance, but also how I balance time I spend on design versus acquisitions for office. By this, I mean bringing in future business for the studio. Before, bringing in business or hearing about new acquisitions didn't have a personal affect on me, . But it was hard to feel excited because we were never really credited for the work, nor did I have any personal client interaction… Now, I make it a point to , to make everyone feel important in decision-making meetings and be transparent about how new acquisitions means growth for us as a whole. Getting work is the pipeline of our existence, and our team members make it possible to complete it.
What do you enjoy about having your own studio?
Even though everyone says they don't want the stress of running their own business, the overall gratitude I feel to be able to do what I love autonomously outweighs any hardship. There's never a moment I am not excited about work.  I love everything about running a studio, from the most mundane things to traveling abroad for international projects.
What do you think is key to creating an innovative object or space?
Trying to always think outside of the box. Some architect friends say things like, "I don't want to start an office where I have to do boring things such as detailing bathrooms". Actually, we love what others consider 'boring spaces', because we always find a way to make it special.  We're doing a building right now just off the river Thames, and instead of just having a long hallway, we are faceting the wall and adding a strip light above it with a cut out alcove lined in white oak.  The white oak then folds into a bench where you can put on your shoes.
Budget constraints push us to be more creative.  For example with AnalogFolk, I really wanted a two story bookcase, but joinery is pricey, so we used recycled scaffolding bars and reclaimed scaffolding boards to create this mega library wall that enclosed three phone booths. The feature walls were made of reclaimed doors, which I had the company's logo water jet cut into them.
"Some architect friends say things like, 'I don't want to start an office where I have to do boring things such as detailing bathrooms'. Actually, we love what others consider 'boring spaces', because we always find a way to make it special"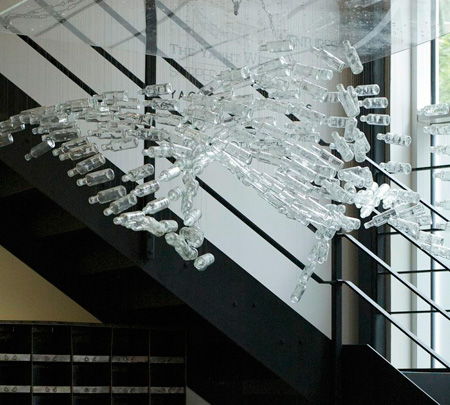 Which of your designs are you most proud of? What's the story behind it?
Having immersed myself in AnalogFolk's brand and business culture, the design came flooding as soon as I saw the office space. I instantly knew I wanted up-lit domes of light for meeting rooms, a double height library wall with telephone booths peeking through them, barn doors, hanging bulbs, and a giant sculpture designed with recycled bottles… Thankfully, AnalogFolk were supportive of my ideas.  Other details such as the metal wall, blackboard paint and swings came later (thanks to my creative team who all contribute to our projects.)  We have amazing teamwork.  AnalogFolk was an inspiring company to work for and the space was a perfect backdrop for us to create fun ideas and implement them.
What elements of the project are you particularly proud?
Definitely the items we made in-house, such as the sculptural chandelier made from recycled bottles, which we scripted and hung ourselves.  Remo de Angelis, one of our team members, is incredible at computer scripting.  We wanted the bottles to look like they were 'flying' – similar to a school of fish, which point in one swarming direction.  We tested several computer-scripting methods and built the entire thing in a 3D computer program, then scripted a way to spit out all of the string lengths and grid points, which we hand cut and hung.  I love that we physically make things.  We're able to be more creative and make bespoke pieces this way.
The furniture was quite funky and creative too.  Our conference table was a 500-year-old door from France and our meeting room table was unrolled from a water tank, we kept the original tap and mounted it on the side.