Betty Wood meets the man who's putting colour back into the cheeks of East Dulwich with his bespoke paint range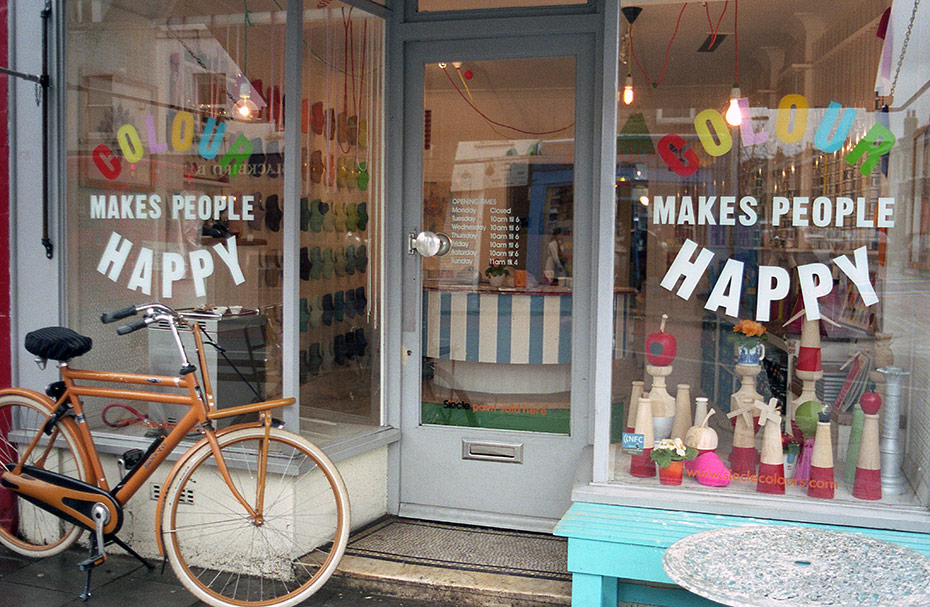 Words Betty Wood
Photography Liz Seabrook
Paint – it's all around us, and often taken for granted. Yet on the basest of levels, it's the biggest artificial source of colour in our lives (especially for those of us chained to our desks, squirreled away in offices in cities across the world). Names like Dulux, Farrow and Ball, Zoffany and Sanderson roll off the tongue, but unless you're redecorating the spare bedroom or are a painter and decorator by trade, it's a commodity we give little thought to.
In East Dulwich we met Simon March, a man who's given a lot of thought to paint, and the impact colour makes on our lives – and he's carved out his own (colourful) little corner of London to sell it.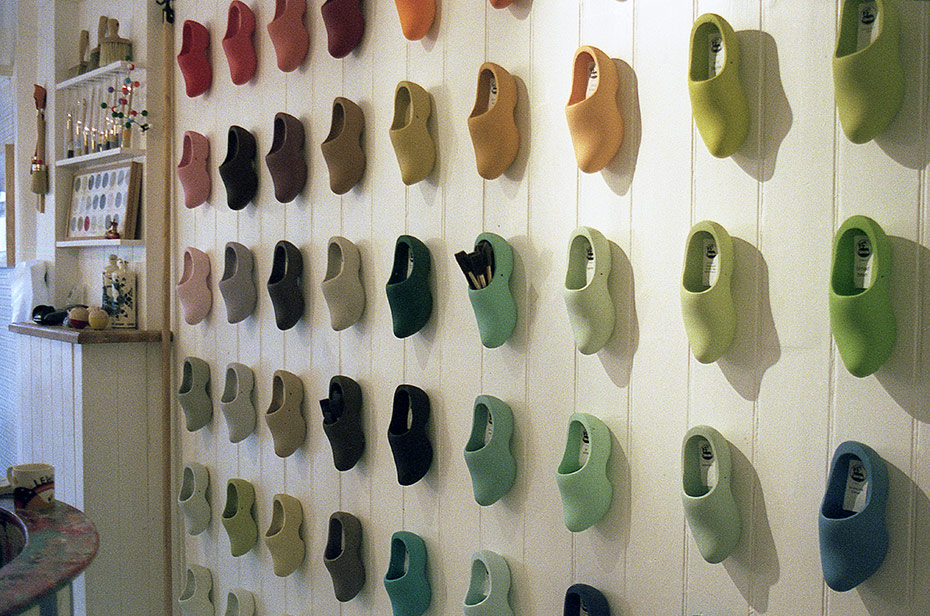 Betty Wood: How and when did you decide to set up your own paint shop?
Simon March: Really? Out of having no real talent: I can't paint, I like the arts, and I like shops and those things are vaguely connected. Paint is a good egalitarian product that everyone has to have, it's a commodity. It's nice; it's working class; it's for everyone and you can make it nice because it's full of potential (perhaps more than anything), so I figured I'd open up a shop and start making paint.
Betty: Just like that?
Simon: Well, no… Firstly, I looked at where good paint comes from. Holland is the home of paint making, and has been for some 300 years, and it still accounts for much of the world's paint and surface coverings.
There are obviously colossal companies, but they still have a lot of independent paint companies in Holland, so I went to there and looked for an old company that made paint, rather than a "brand". Some of the big companies are basically brands and not paint-making companies as such –  many are made in one big factory in Manchester, it's just a different label on the pot. It's just a crappy marketing ploy and I hate all that stuff – I wanted it to be pure and honest, so I went to Holland and found a nice paint brand. I go there once every every two months and I make it in batches, like in a big Kenwood Chef mixer. I throw in all my resin, chalk and my water and I make my own products and ship it over to London. My paint company is called Siècle.
Betty: How did you learn to make paint?
Simon: It's no more difficult than making bread. It's made of three basic ingredients. If you want your paint for outside use, you put more resin in it: if you want it interior use, very often people want it to appear "flatter" so you take resin out and put more chalk into it. It's quite a simple thing to do. I also have chemists working with me on pigments, who tell me what I can and can't do. We make 96 shades now,  mainly because people are enamoured with the colour names so I keep making up new ones!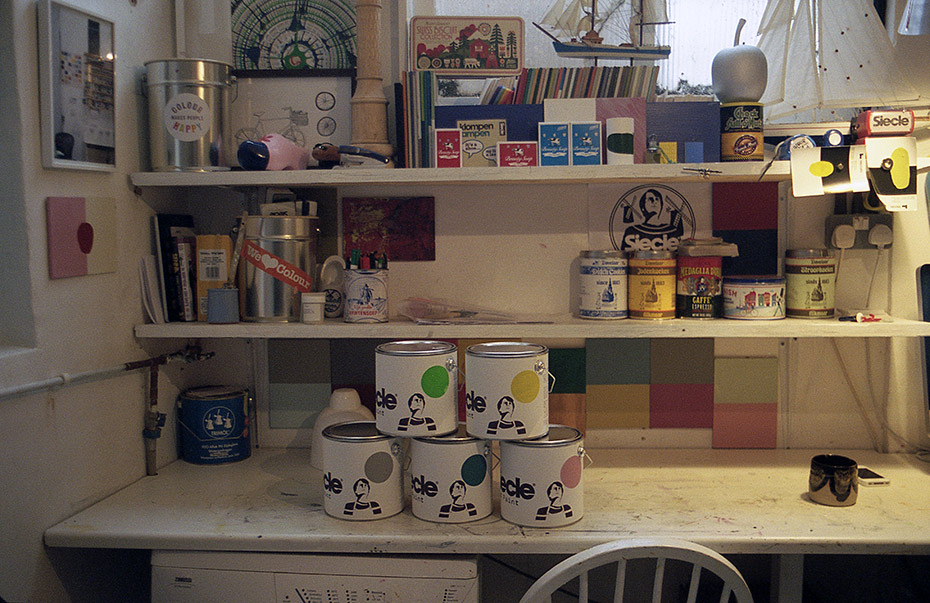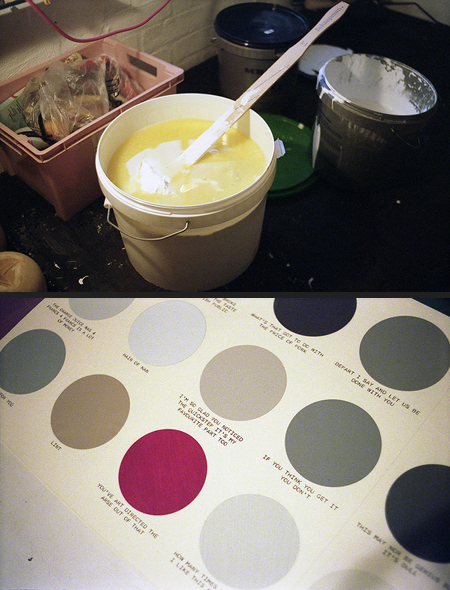 Top: "Baking a cake"
Bottom: A selection of Siècle colours
Betty: Where did the shop's name "Colour Makes People Happy" come from?
Simon: (Laughs) Well, it comes from a pancake shop in New York called "Pancakes Make People Happy". To me, colour makes people happy. It's friendly and fun and its not too pretentious. Many of my competitors use the word "exclusive" in their PR, you know – "it's an exclusive paint", or its "special", you know? That's total tosh. I want it to accessible to everyone, I mean, it's paint! It's pretty basic stuff, and yet its very often segregated.
It's also one of those real oddities: there's an infinite number of colours that we can recognise we only have about ten words for those millions of colour. Linguistically it's very difficult; it's so peculiarly subjective. When someone tells me "I'm looking for a colour between white and off white" I want to push them into the road! What an idiot.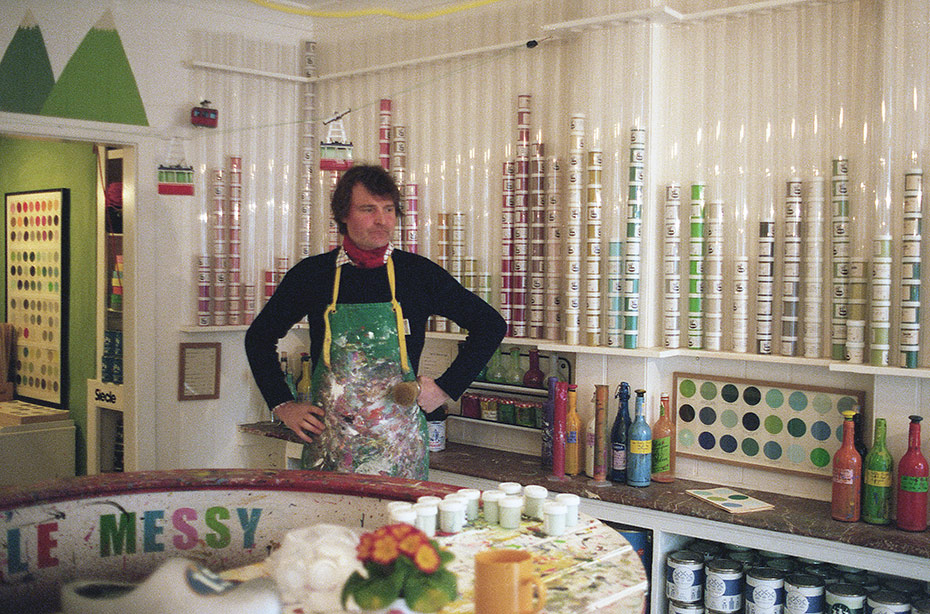 Betty: You use ths shop space for more than selling paint though: how does colour translate into across the store's gallery and cinema space?
Simon: Colour is unavoidable: it's central philosophically to the way we think about stuff. I play films in the back room that could all be based on colour and someone might say "well colour is everywhere". In actual fact you can put it genres, you can talk about it aesthetically, West Side Story, The Umbrellas of Cherbourg – films with saturated colour or Cinemascope films. Or you can do it narratively – The Red Shoes, The Hunt for Red October. I thought it woud be a whimsical and funny way to present them.
Betty: What's your most popular colour?
Simon: I though I told you to wait in the car or Nobody ever went broke underestimating the taste of the British public. You see it shift with the zeitgeist. I'm loving the chocolate brown – brown is out of fashion, its so out of fashion then it just about to come back in on the curve.
Betty: And the hardest colour to make?
Simon: Oranges and yellows are a nightmare! People are drawn to them – they like to use them in small areas but they don't cover large areas very well… Strong colours are easy to mix as they have a lot of titanium dioxide in them, which is a blocker; it obliterates the background. You only have to put a little bit of sienna in it, or ochre and that makes it brown or grey. If you want a yellow, you have take all of the titanium dioxide out and just put in pigment; pigment doesn't cover.
Ignore tag-lines like "ours is made with very sophisticated and high quality pigment". It's total bullshit – by virtue of its name "universal stainer", it's universal. Everyone uses the same stuff. I have bright fluorescent colours like oranges, yellows and greens which use lots of pigment and will take three or four coats, so it's not that they're difficult to make, they just doesn't cover as well!
The Colour Makes People Happy store, 53 Grove Vale, London SE22 8EQ