The German motor giant and Swiss watch brand IWC showcased a Grand Prix-winning racing legend over the weekend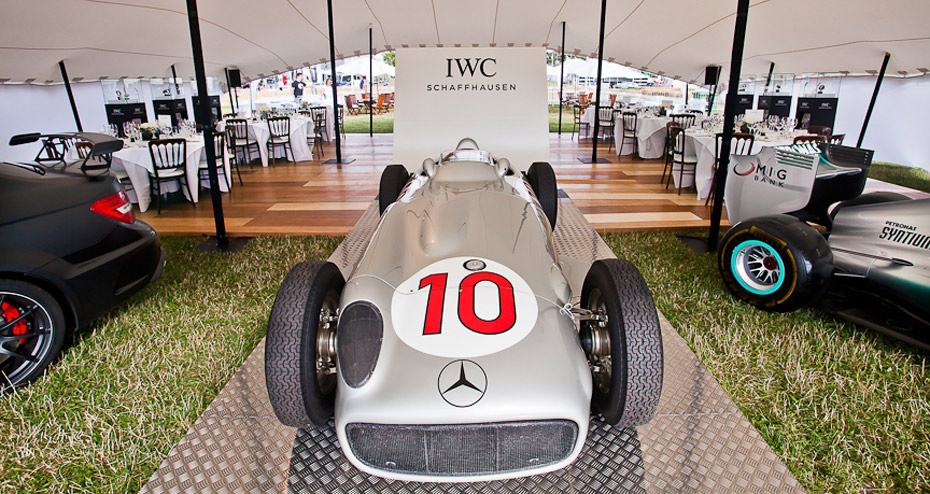 With a top speed of over 300km/h, the Mercedes-Benz Silver Arrow W 196 R was a rocket on four wheels in its heydays. Introduced for the 1954 racing season, the German sports car won eight pole positions across twelve Grand Prix races and holds a legendary record of nine victories and fastest laps. Juan Manuel Fangio, an Argentine driver who's nicknames ranged from 'The Bowlegged One' to 'The Master', drove the Silver Arrow to two GP victories in '54 and '55, making sure that Mercedes-Benz dominated the sport halfway through the 20th century.
One of few surving Silver Arrows turned up at the annual motor event, CarFest South, over the weekend. Teaming up with Swiss watch manufacturers IWC, the car was on display at The Drivers Lounge, offering visitors a rare chance to take in the Silver Arrow's curves. IWC, equally interested in qualitative design and advanced  as Mercedes-Benz, has even dedicated their new IngenieurChronograph Silberpfeil to the car, drawing inspiration from its "extraordinary design, heritage and mechanics." The car on display was a Monoposto open-wheel version, Chassis-Number 008/54, which participated in the 1954 Spanish Grand Prix, 1955 Buenos Aires Grand Prix and won the 1955 Belgium Grand Prix with Fangio behind the wheel.
At the time of construction, Fritz Nallinger was in charge of the project, assisted by Rudolf Uhlenhaut, an engineer attached to MB's racing department since 1936. Nallinger and Uhlenhaut oversaw the construction of 14 cars, including the prototype, and managed to find an, evidently, successful balance between style and substance: except for winning several races, the Silver Arrow boasted an eye catching streamlined chassis in a glimmering colour.
More info on IWC's Ingenieur Chronograph Silberpfeil HERE