The British artist on how the open-road has provided a source of inspiration for his artwork as well as the opportunity for adventure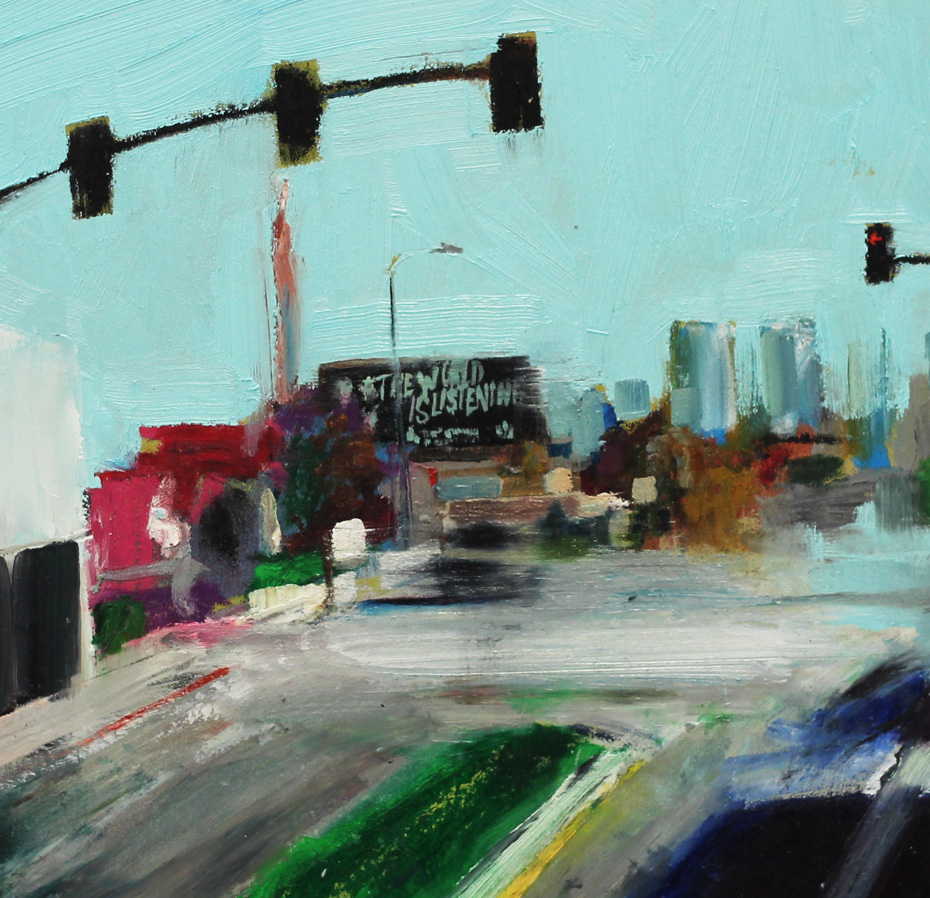 In 1998, riddled with emotion from a recent breakup – you only know what you've got when it's gone and all that –  I was craving something new, a fresh abandonment to compensate for my first love blues. I'd never been on a plane before, and figured this was as good a time as ever to do it. So with £600 and little else, I flew to Australia, arriving in Perth with the start of a grand plan in mind; I wanted to see the whole country in a year. I met a good friend who was flying back to the UK who kindly donated his car to me, a Ford Falcon. And that's basically, how it started. That was how I would do it, in a car, my first road trip (though I must point out here that I didn't have a driving license…) That car opened up a year of complete wanderlust and growth for me.
Upon my return to England I started taking painting seriously. I had always painted, but it was then that it really became my life. It wasn't until last year when I finally had the money and the time to relive the daydream of the road again: 18 years after my last road trip, I took off again, picking a place which would let me direct and star in my own movie – 'the Golden State' of California.This time, the trip would become both a muse and a catalyst for my next works, from the coffees and cameras of L.A. to the cinema of the deserts and the salt water in between. In the three-month road trip, my first consideration was the physical surroundings of the landscape and this is how my documentation started, a travelogue in paint. However, it soon became clear that this was not telling the whole story: paint is a great tool to spread open the physical and because of this, it can in some way clash with the emotive, so the motion of travel soon gave way to the concept of the story.
What I found in both trips was a complete love affair – affair being a good word as the landscape and nature of a road trip opens up the opportunity to dip your toes in then leave – with 'the city by the sea'; the contrast between the isolation of deserts and beaches and the neon skyline of the city. Both in mind, both a battle to win me over, a fire for company in a room full of 5-minute friends. With days rambling through canyons or surfing the waves, the city becomes a ghost at night haunting you to come out and play, and vice versa.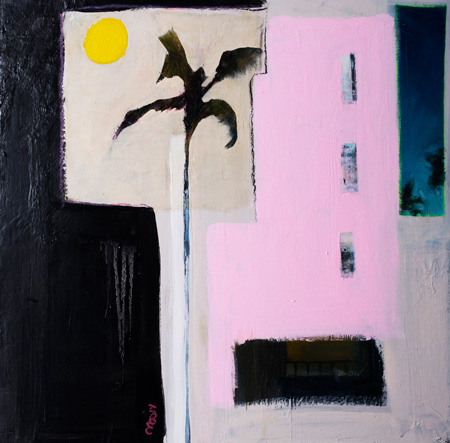 The city by the sea becomes a tale of two energies. I hate the word, but it kind of fits when my surroundings change and I find myself changing with them. Some days I could be a beach bum sharing stories with a nomad RV crew from San Diego, other days I would switch to the social debauchery of the Hollywood Hills. It's this grey area that I discuss in this new show, this switch – the ghosts in the battle between concrete, sand and water, the isolation of the open road and the seduction of neon.
There's always an escape and there's always a distraction, a great way to live, be it for a short amount of time for a seasoned loner and full time painter – the road trip is a splendid isolation.​
Chris Moon, A Splendid Isolation runs until 6 April at  Forge & Co, 154-158 Shoreditch High Street, London E1 6HU