Port travels to Berlin to preview the latest in Saraceno's hybrid web series, a complex, social, interconnected dance between humans and spiders
"Life is not just about matter and how it immediately interacts with itself but also how that matter interacts in interconnected systems that include organisms in their separately perceiving worlds – worlds that are necessarily incomplete, even for scientists and philosophers who, like their objects of study, form only a tiny part of the giant perhaps infinite universe they observe" 
(Dorian Sagan, A Foray into the Worlds of Animals and Humans, with a Theory of Meaning, 1934)
In the East of Berlin, a short stroll from where the historic wall still stands, the spirit of the Bauhaus is alive and well. Two former industrial factories built in 1916 for the colour film firm AGFA are now occupied by artists, philosophers, designers, anthropologists, architects, biologists, art historians, glassblowers, astrophysicists – the list goes on – who make up the innovative Studio Tomás Saraceno.
"Tomás works best in exchange with others" notes artist counsellor Martin Heller. Like the varied people the Argentinian artist surrounds himself with, Tomás actively resists categorisation and fervently embraces inter-disciplinary creativity and problem solving. Over a bitter coffee, he exclaims that when he goes to an art gallery he often wants to ask for a student ticket as he's a constant learner, a perpetual student. Principally concerned with sustainability and how humans inhabit their environment, he has collaborated with the Massachusetts Institute of Technology (MIT), Max Planck Institute and had his sculptures presented during the United Nations Climate Change Conference COP21, having broken world records by achieving the longest and most sustainable certified flight ever registered.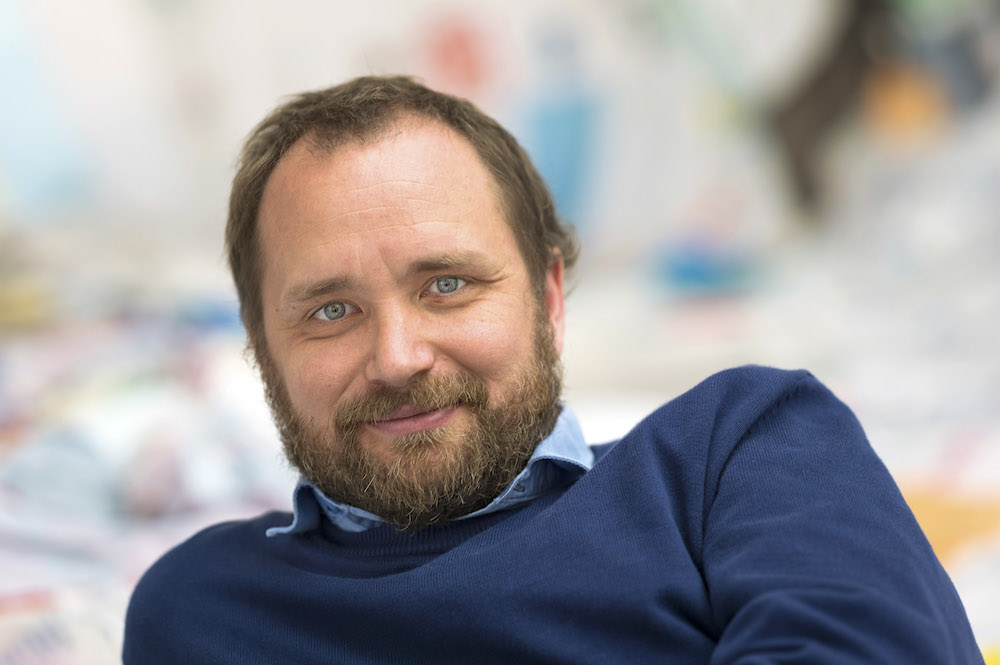 Port was recently given a tour of the sprawling, graffiti covered studio thanks to the Rolls-Royce Art Programme, who will be shortly previewing a work by Tomás titled 'Hybrid Dark solitary semi-social Cluster BD–15 3966 built by: a duet of Nephila edulis – six weeks, a quintet of Cyrtophora citricola – eight weeks, rotated 180°;'. The artwork does exactly what it says on the tin, or rather, within the carbon fibre frame. Forming part of his 'Hybrid webs' series, the intricate, suspended galaxy on show is the result of semi-social spiders weaving their webs in a hung cube, building on each other's work to create an incredibly complex and delicate structure. The preview furthers Rolls-Royce's recent collaboration with the artist, which saw them act as benefactor for his recent solo exhibition, On Air, at Palais de Tokyo in 2018. It also marks a continued commitment to new work from the Art Programme, who have in recent years supported a number of high-profile artists, such as Isaac Julien, Asad Raza and Yang Fudong.
Wandering through the working spiders room on the second floor of the studio, Tomás refers to them individually in hushed, reverent tones, admiring the golden, sometimes iridescent threads that resemble cosmic constellations and half-deployed parachutes. A web, he explains, is so much more than a home or a trap to a spider. With most web-building arachnids being deaf and blind, their proteinaceous silk can be more accurately thought of as a cognitive extension of themselves, an organic means to experience life and judge space through vibration and tension. Out of roughly 32,000 species, only 24 types of spiders exhibit social behavior. The tiny artists embellishing and bridging each other's work explores not only interdependency and harmony between animals, but also how humans can better co-exist with them. In 2014, 'arachnid concerts' or 'spider jam sessions' were created together with the head of music and theatre arts at MIT, Evan Ziporyn, who had his bass clarinet played out in spider-friendly vibrations and vice-versa with a participating spider hooked up to a laser vibrometer. The unusual interaction was a way to relearn and rethink interspecies communication, and for Tomás, an important demonstration of how an artistic process can often be more porous and enriching then straight scientific tools and data.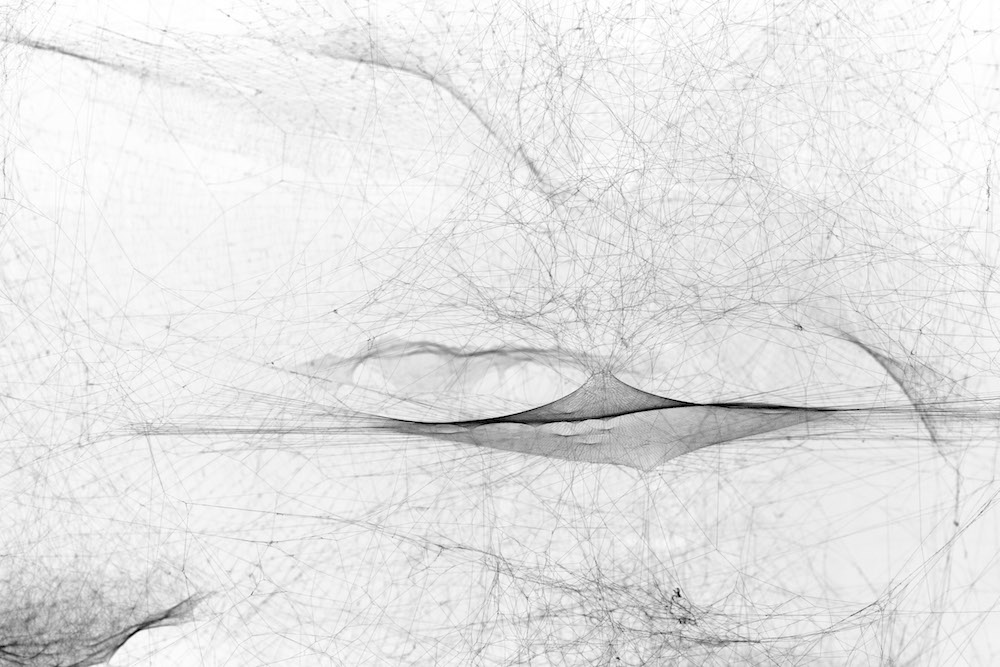 This fascination first began from when Tomás, as a child, lived in Italy. Occupying a centuries-old house filled with cobwebs and their inhabitants, he would often find himself musing whether "the spiders were living in my house, or was I living in the spiders' house?". Years later, he went a step further and started to explore the parallels between spider webs and the structure of space time, since the Earth itself is set within a web-like structural dimension. The Studio eventually ended up creating a machine that could scan, digitise, and measure a three-dimensional spider web. A historic first-time scan of a Black Widow spider's web was first presented at the Bonniers Konsthall in Sweden in 2010, together with a physical installation that presented the web on a 1.17 scale spanning 400 cubic meters and composed of 8000 black strings with 23,000 individually tied knots. Visitors were encouraged to view themselves actively becoming a community in a shared habitat, immersed in an interconnected, woven tangle.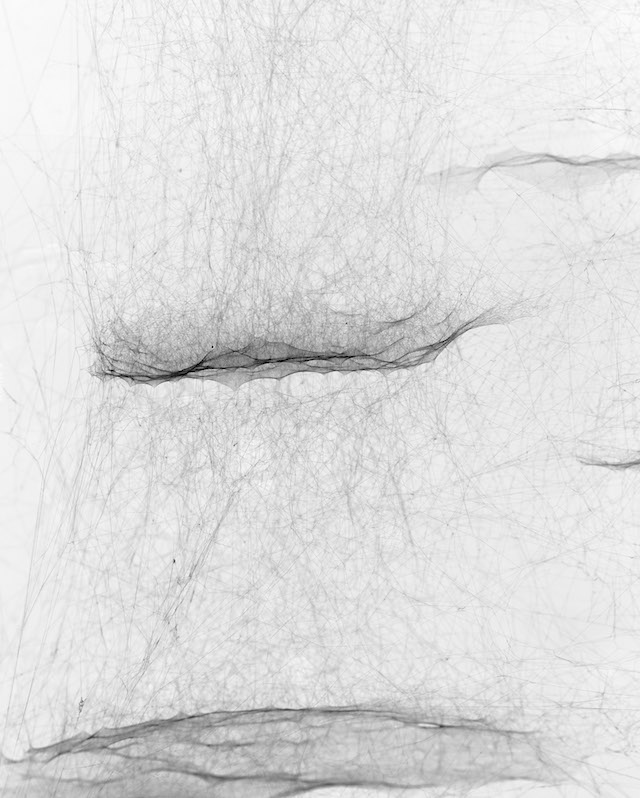 The Studio recently stated that "In an era of ecological upheaval, there is a perceived imperative for anthropocentric worlds to re-attune to other species and more-than-human ways of inhabiting our shared planet. These artistic and scientific enquiries can enable new hybrid encounters and relationships, involving multiple entities: from spiders to humans, from gravitational waves to particles of dust." This call to action, to create a "more-than-human way" of sharing our limited space, has never seemed more pressing at a time when temperatures, sea levels and divisive walls are rising. Despite the accelerated upheaval of our natural world Tomás says he remains an optimist, believing that if we can learn from the spider's in his stunning 'Hybrid webs' series, we can achieve a whole greater than the sum of its parts.
The House of Rolls-Royce will preview new work by Tomás Saraceno at the 89th Geneva International Motor Show, March 2019