Opening the doors to his studio, the Cuban-American artist discusses identity, underground culture and art as politics
Artists' studios are always personal spaces. Hidden in plain sight in warehouse lofts or behind pull-down steel grates, they don't reflect their residents' personalities and practices until you get inside and see what's on the walls.
The studio of the Cuban-American artist José Parlá is no different. A single-storey industrial building in the southerly Gowanus neighbourhood of Brooklyn that's surrounded by mechanics and manufacturers, the facade is completely nondescript. But once you're in the door, everything changes.
Parlá, who bought the building in 2014, works in the centre of the space, a wide sky-lit arena hung with the artist's vibrant, gestural paintings in progress, which recall urban walls as much as art historical reference points like Cy Twombly and Ed Ruscha. The paintings have been shown in galleries and museums from New York to Tokyo; a mural of Parlá's can now be seen in the new One World Trade Center.
Above the studio arena off to one side of the space is what Parlá calls the 'nest': a lofted aerie that holds an office with a wide desk; a circle of sleek chairs; a couch for meetings; and a DJ setup currently spinning Marley Marl, an artefact of the energetic New York culture that first brought the artist to the city. Records spill on to the floor: Celia Cruz, the Last Poets, the Warning. 'In terms of the quality of rhythm in my work, a lot of it is informed by music,' Parlá tells me.
Below the 'nest' is a neat box composed of a library, bathroom, and full kitchen. Light is plentiful, even on a dull day, and the walls and fixtures are painted a warm industrial grey. Altogether, the studio forms a perfect machine for art, life and anything in between.
'I don't live here, but I pretty much feel like I do,' the artist says (his apartment is in nearby Fort Greene). In his paint-spattered black jacket and jeans, Parlá looks as comfortable as he would holding court at home.
The studio's design was the result of a collaboration with Snøhetta, the buzzed-about Norwegian architecture firm responsible for such structures as the San Francisco Museum of Modern Art's recent iceberg-like expansion, and the Oslo Opera House, which won the 2009 Mies van der Rohe award.
Parlá met the firm's co-founder, Craig Dykers, at a Pecha Kucha slide-presentation event in 2010. The two appreciated each other's talks and Dykers invited the artist to his office to see if they might collaborate. The first result of the partnership was a piece installed at North Carolina State University's Hunt Library. The intention is to team up for spaces like a public library in Queens and the Obama Presidential Center in Chicago. But Parlá's studio is the biggest collaboration so far.
'When I bought the property, I was having a beer with Craig and he started drawing right away,' the artist says. The space's openness, both in terms of scale and the presence of other cultural forms, is perfect for Parlá's practice, which draws on influences as diverse as graffiti and the French situationists.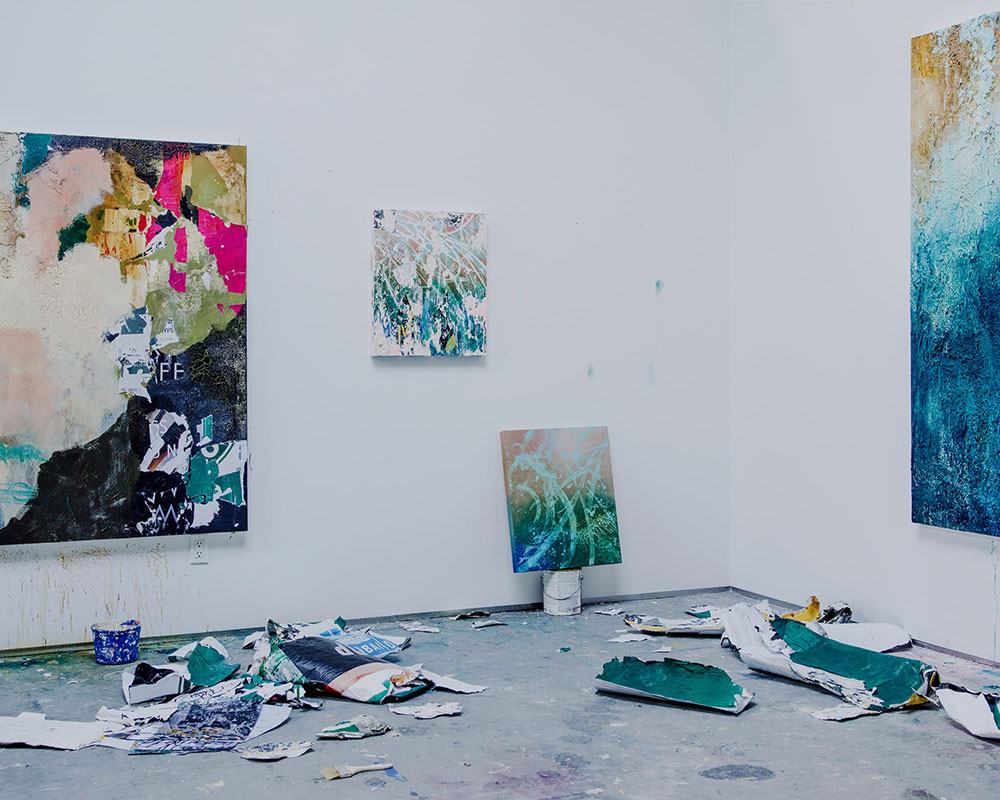 Joaquin, Parlá's studio assistant, brings two Cuban coffees, the kind that you can only get outside of Miami if you know someone who can make it for you. He serves them in espresso cups emblazoned with Cuban flags. 'As a kid we weren't allowed to go to Cuba,' the artist says.  'I was born in Miami and grew up in Puerto Rico, so I understand the culture from the perspective of being a Latin American and of being from Cuban parents.' The country itself was still off limits, however.
After President Obama opened Cuba to United States citizens in 2014, change came in earnest. The country's cultural landscape is changing, too. Parlá is now becoming a public creative force in the homeland he didn't know until later in life. He participated in the 2012 Havanna Biennial in a collaboration with his friend, the French photo-based street artist, JR. Parlá had just returned from Havana to work on new projects two weeks prior to our meeting.
During this gradual transformation, the Cuban identity has persisted. 'Cuba's still Cuba culturally,' Parlá says. Not everything has changed, certainly not like the overhaul Brooklyn has seen since the artist moved here decades ago. 'You see one or two hotels refurbished, some young people opening up their own restaurants. It's not at the scale you see in the first world.'
However, Cuba is not the easiest political environment for artists. 'There's still a lot of tension. It depends on how far you take your message with the art, how much you can get away with,' Parlá says. Making art there is an opportunity, however, 'to go back and have a dialogue with my soul country.'
In 1980s Miami, Parlá was exposed to the nascent movement of street art and graffiti that was growing in New York and Philadelphia. Friends and family passing between the two cities would bring back photos and art books. He started painting walls when he was 10 years old, learning from older writers on the scene. 'It was really important to be original,' Parlá says. 'We used to say, this guy "bit" somebody; somebody's a "biter". That was a big no-no, to copy somebody. If you didn't have a respectful attitude, you might get beat up.'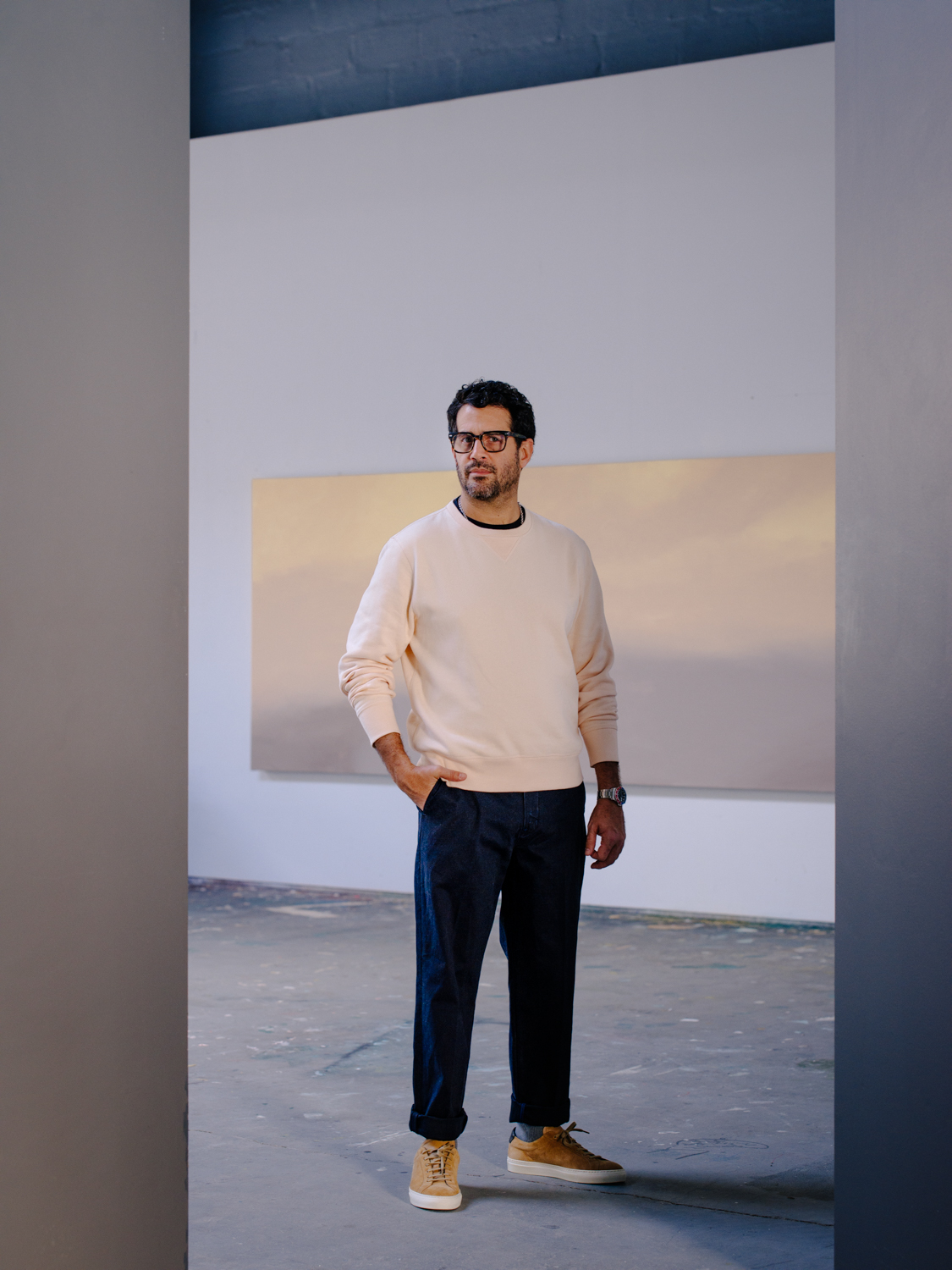 Parlá followed the trail of hip-hop and wall-painting to the Bronx in 1995, then moved to an empty loft in downtown Brooklyn in 1997, all the while writing under the name Ease. The energy had shifted downtown with DIY exhibitions. The scene, as Parlá describes it, became an international export. 'I started out showing in galleries and doing bigger projects in Japan, Hong Kong and London,' he says. 'There was an appreciation for New York underground culture there. Here, the museums weren't really trying to look at what we were all doing.'
Parlá doesn't appreciate the label of "street art". To him, the work is all part of an art historical continuum. The abstract expressionists were urban artists, after all, responding to the street. Parlá is as likely to reference artists like Joan Mitchell or Antoni Tàpies, as the graffiti legend Kase 2. As for the Banksy-style boom, 'We got grouped in with artists who were painting a bunny rabbit hopping over a dragon. That was not the same,' he says.
Today, the artist shows in estimable galleries like those of Mary Boone and Bryce Wolkowitz – the latter being the New York gallerist who walks into the studio during my visit to check on work for upcoming art fairs. Exhibitions are coming up in Italy and London, as well as a project at the University of Texas, Austin. Parlá is entrenched in the art world, reinforcing a now well-established path from graffiti to museums, just as Keith Haring, Jean-Michel Basquiat and KAWS have before him.
Yet Parlá is still focused on reaching a wider audience, particularly through his murals and other "public art". 'You're having a connection with the public that's different, than with someone who's searching for art,' he says. 'They might discover that they really love art.' One can easily imagine the next generation of painters arriving in New York inspired by Parlá's work, just as the city once drew him in.
For its SS17 collection, Levi's® Made & Crafted® has channelled the rich colour palette and flamboyance of Havana, with guaybera shirts, tropical prints and camouflage details all harking back to the nation's enduring revolutionary spirit.
See more from Levi's® Made & Crafted® here.
Photography by Mark Mahaney
Styling by Yety Akinola