Demetria Glace compiles over 50 recipes from history's largest email leak scandal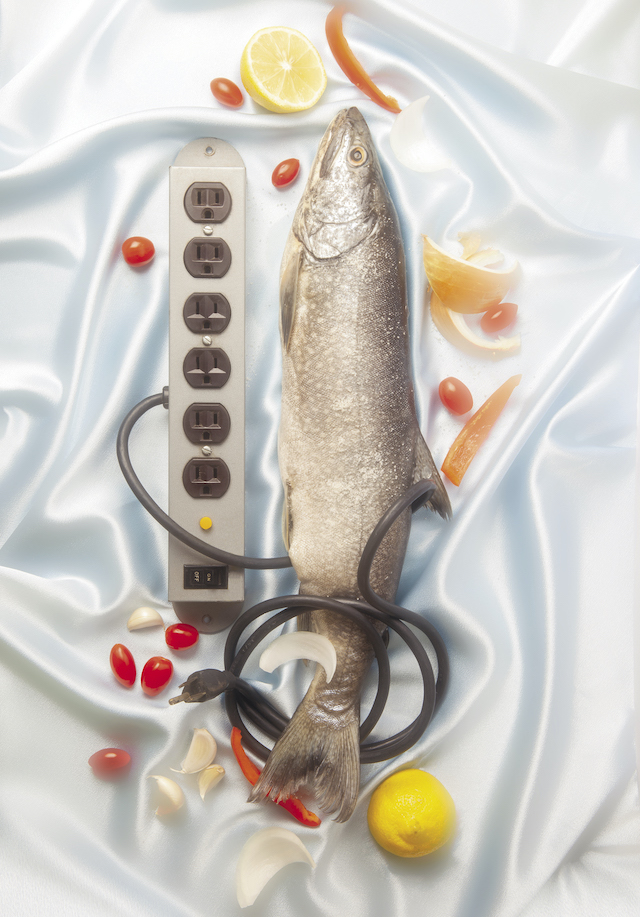 In the early 2000s, the Federal Energy Regulatory Commission released emails from Enron Corporation – one of America's largest companies – into the public domain as evidence of its crimes. The first of its kind, this led artists Tega Brain and Sam Lavigne to create The Good Life, a resource that lets its users sign up and receive thousands of leaked emails from this scandal; the emails that were confiscated from Enron and sent between 156 members of the senior management team.
Demetria Glace, a UK-born and Germany-based researcher focusing on human rights and technology, first heard about this artwork in the year of 2017. "The idea behind the project was to deliver Enron emails directly into your personal inbox each day, so that after a few years you could read all of the 600,000+ emails released by the US government in 2001 as part of their investigation into the company," she says. "I think I had it set that I would receive 100 emails a day so that in several years time, I would have read all the emails." Somewhat of a live-feed into her inbox – mixed in with her own personal correspondence – it meant that if someone from the scandal took a day to reply, she'd also have to wait 24 hours to receive that email.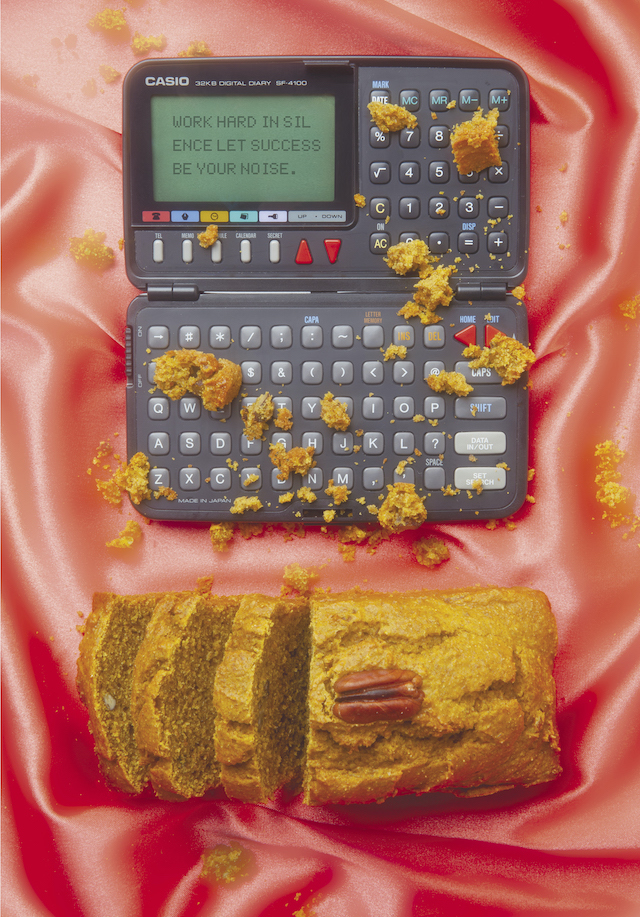 Five years on from signing up to The Good Life project and Demetria received something slightly off kilter to the typical conversation. It was an email between two colleagues detailing a recipe for a desert called Banana's Foster. "They were emailing back and forth having a polite discussion as to the best way to make it for a party they were going to," she adds, recalling how she'd felt spellbound by this discovery, "waiting to hear back on which version they decided to go for." Catapulting her into further inquisition, Demetria was curious to find out whether there were any other emails like this. Thus, Demetria delved through the archive of 20 years and resultantly found numerous recipes shared between colleagues, family members and friends. "I hosted interactive dinners, lunches and brunches, where I invited people to come and eat the foot from these leaks and used it as a jumping off point to talk about privacy, ethics and, of course, food."
Around two years after this discovery and during one of her interactive dinners, Demetria had met Emilie Baltz – a food technologist, photographer and artist who shared the same space at the IDFA DocLab Festival, an event that showcases new interactive documentary art. Half filled with a large dining table replete with people eating food crafted from the leaked emails, the other side saw Emilie and her collaborator Klasien van de Zandschulp invite people to come and interact with an AI bot-chef. The two had met serendipitously, along with her publisher JBE Books, and later decided to form an apt partnership of tech, research and food. That which later became the premise for The Leaked Recipes Cookbook – a publication that's miles away from your typical cookbook.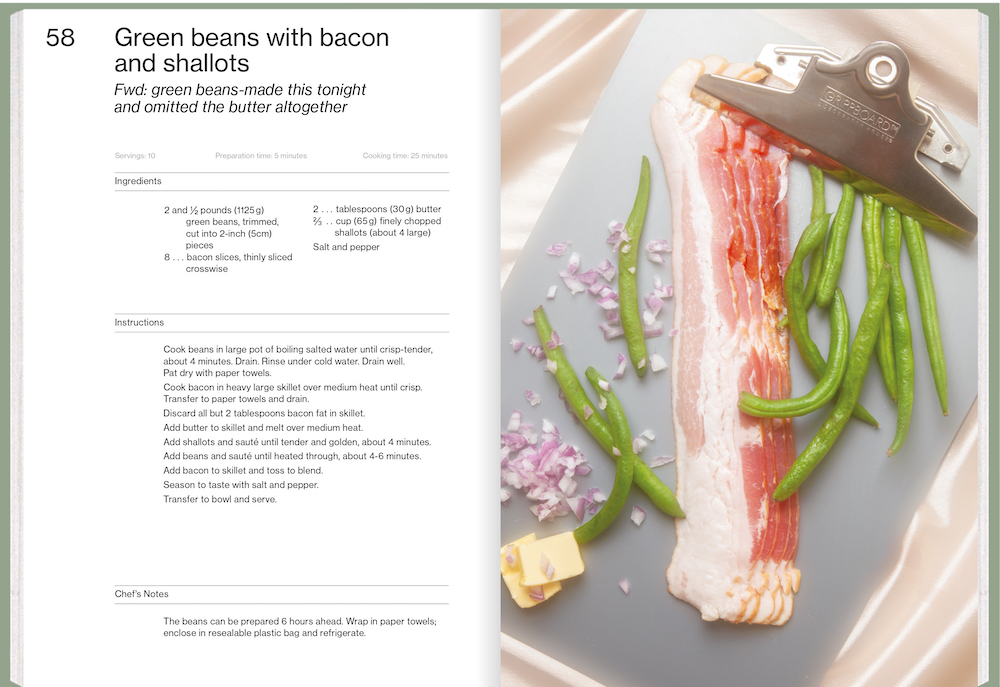 Of how the project came together, Demetria states how it was a lengthy and manual process involving a list of around 40-50 relevant keywords. Pasta, chocolate, garlic, boil and recipe were felicitously used to navigate through the database, mining through emails sent from Enron Corporation, plus companies such as HBGay Federal and Sony Pictures. Not to mention public figures including Emmanuel Macron, Hillary Clinton and John Podesta. "I tried to search through as many leaks as possible but I found that some workplaces were more 'foodie' than others," notes Demetria. "For instance, Enron was such a food workplace they talked about creating a company cookbook. Whereas email leaks such as the Climate Research Unit and the Italian security company Hacking Team had zero recipes."
Reaching completion, she'd amassed 52 of the "best" recipes to include in the book. The best, in her definition, are those that tell a story in light of her own personal connection to the recipe, as well as those that she knew would be crowd-pleasers. "I've cooked these recipes many times, along with some family members," she says, also collaborating with chef Matthias Van Der Nagel during the IDFA DocLab festival and events. This helped to gain better understanding about the food at hand, and to decipher as much as possible about the person through their chosen recipes.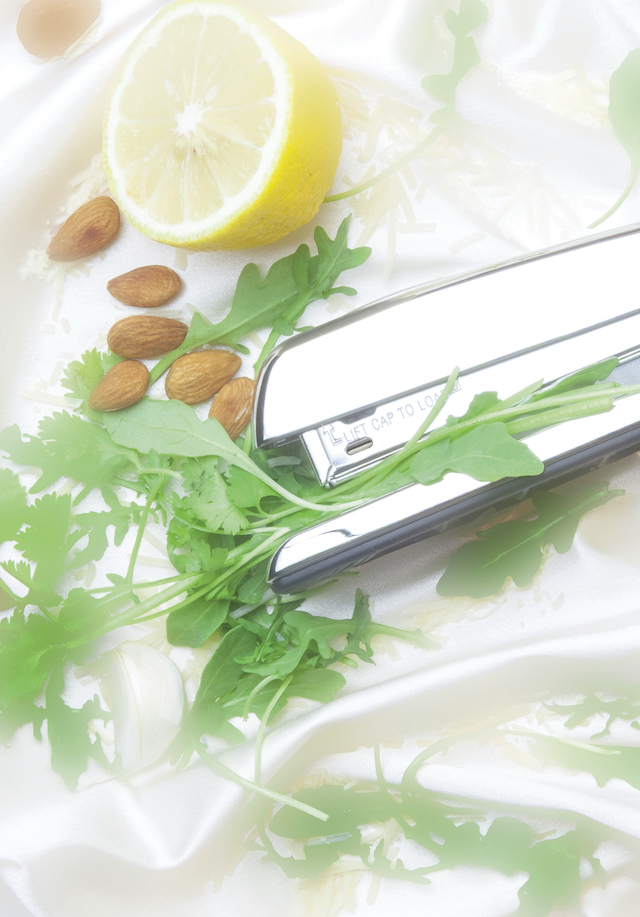 It's a fascinating project but one that also raises grave concern about the world's relationship with data and privacy. So much so that a "more accurate" title for the publication would have been Leaked, Breached, Hacked and Released Recipes, yet The Leaked Recipes Cookbook was chosen for its sharp and catchy manner. And let's not ignore the fact that a leaked recipe is probably the last of anyone's worries, as within these emails were phone numbers, home addresses, detailed instructions on how to enter homes and invitations to dinner parties. This was also during a time in the early 2000's where the impact of released data had yet to come into the fore.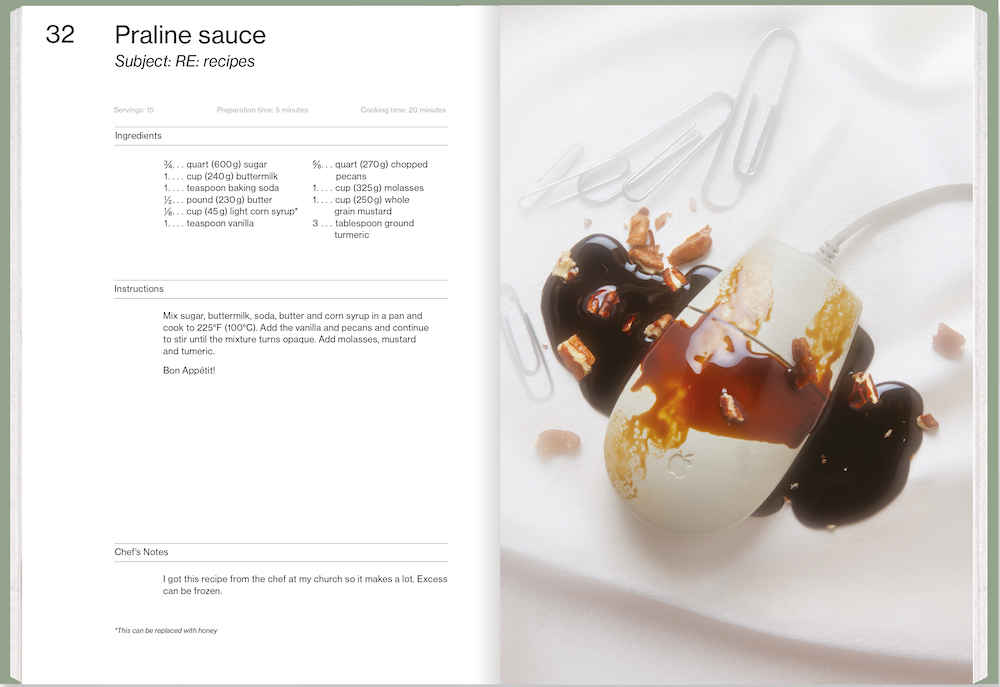 Many strange occurrences and coincidences arose out of the workings of this project, including one of the recipe writers actually eating the leaked recipe while simultaneously finding out her company had been hacked. Demetria made sure to email all of her chosen recipe writers to confirm permission for using their leak in the publication, which undoubtedly would have been a strange email to receive. While some were hesitant or off-put, other times profound conversations opened up on the topic. And, for it then to be turned into a bizarre yet classically styled cookbook, was only going to add to the person's intrigue. 
"My publishers and I really wanted the book to be used in the same way that a more traditional cookbook might be used. We imagined it would be kept in the kitchen, to be pulled out when someone was looking for inspiration and the book would be soon covered in smears, drops and crumbs. Through cooking and eating these recipes, this might lead people to want to investigate where the recipes come from, the leaks and releases they were a part of and imagining what this experience might be like for the person who wrote the recipe."
"For those who say they have nothing to hide, these leaks show that it's not only your information that is now public, but the emails between family and friends, your social security number, all your human resources files and also your favourite recipe," Demetria concludes, rather hauntingly. "These recipes are not top secret, but show that everyone has private information, no matter how banal you might imagine it to be."