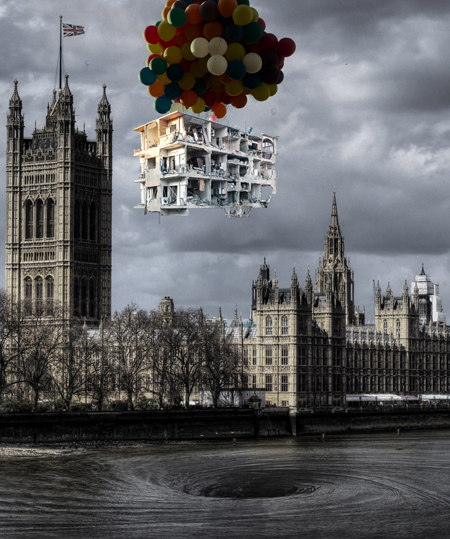 The Syrian artist explores hope in a hopeless situation with his powerful digital images
In the superb 2009 Pixar animation Up, a lonely widower ties thousands of brightly coloured balloons to his home and floats off to the mythical Paradise Falls to fulfill a promise he made to his late wife. It's an incredibly poignant story about hope often being the only thing that's left to cling on to in the face of overwhelming tragedy. For Syrian artist Tammam Azzam, now living and working in Dubai, it's a theme that resonates: the film has even inspired his latest work, a series of six digital collages entitled Bon Voyage (2013).
"The Syrian situation – I want to have hope but I know it's not allowed," he says. "For myself, friends and other artists, art is our way to resist or to fight. It's the only thing we have. I'm an artist not a soldier."
Each collage depicts a shell-ravaged building attached to a bouquet of balloons, hovering over various landmarks and political headquarters – The Houses of Parliament, the United Nations office in Geneva, Beirut's Pigeon Rocks – "involved in the Syrian decision," each teetering on the edge of destruction via whirl pools, sink holes, etc. The intention is to highlight the 'fragility of political structures in the wake of revolution'; in a way he's simply saying 'look, this could happen to you too, this could happen in your cities.'
"The Internet only arrived in Syria in 2003, and it felt like a revolution"
Azzam was forced to leave Damascus two years ago with his family to avoid conscription into the army. He not only lost his home but also his studio and materials – he was a prolific painter. As a result, he now uses largely digital media to create his work, something he hadn't tried before, despite being a graphic designer for ten years. He was to have early success when 'Freedom Graffiti' (2011), his transposing of Gustav Klimt's 'The Kiss' (1908-1909) onto a bullet-ridden Damascus building, went viral on social media. It was a bittersweet experience for Azzam.
"I can't say I'm happy for that because how can you be happy in such a miserable situation? But yes, after one year of working every day on the computer, then you have something more effective for your career. I want to make something about my country that's popular, not in a political way – not political posters – but in an artistic way."
The images in Bon Voyage are simple and almost crudely powerful. Similarities can be drawn in this sense then with street art, a medium in which Azzam has recently taken a vivid interest; one which you'd expect to be prevalent on the streets of Syria's ancient capital at this politically charged and violent time. Not so, he says: "There is no street art in Syria. When you close a country you do not get art from the world scene. The Internet only arrived in Syria in 2003, and it felt like a revolution."
The art scene was, as a whole, pretty conventional and uninspiring prior to the civil war, according to Azzam. But now it's stronger and as an artist he feels more inspired than ever – both perverse after-effects of the turmoil still unfolding in this shattered country: "It was a normal art scene – nothing new. Now, after the revolution, it's totally different. Everything is changing day to day. I left everything behind me: my studio, my materials, tools. It was a risk, but why not? We're living in a time of revolution, of change. I'm another person. I'm born again."
Bon Voyage can be seen as part of I, The Syrian, Tammam Azzam's first UK solo exhibition, at Ayyam Gallery London until January 30, 2014