Lemma Shehadi reports from the inaugural Riga Biennial, highlighting the practice of a photography collective that examines the USSR's legacy in Central and Eastern Europe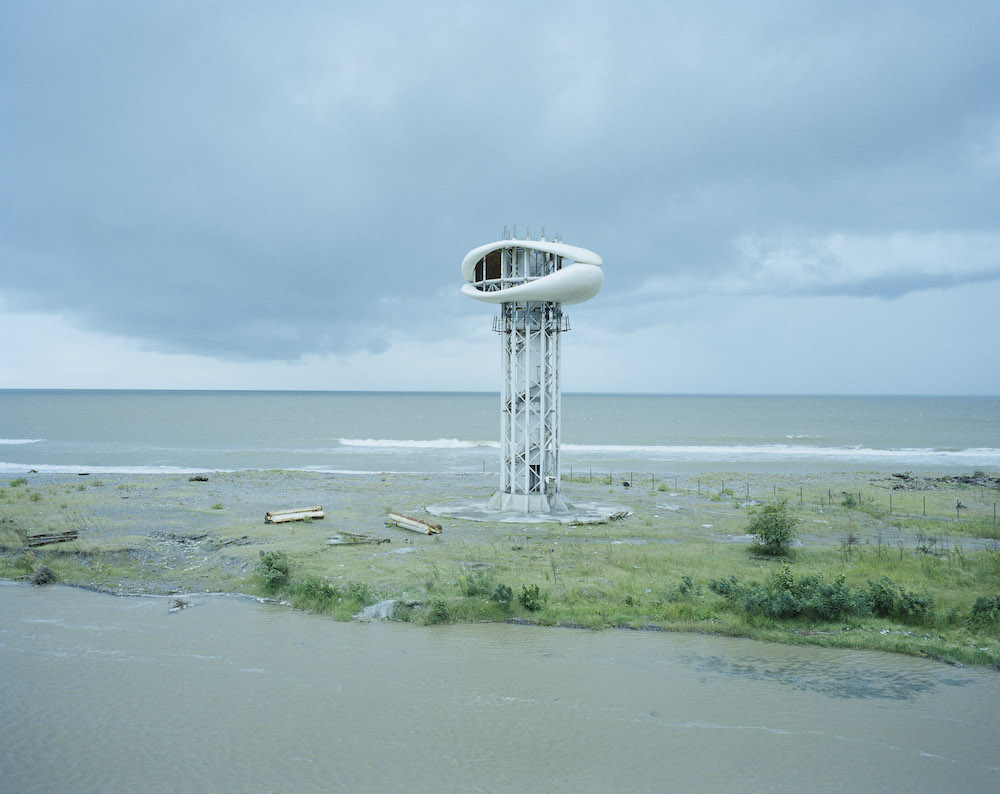 On the southern shores of the Issyk-Kul lake in Kyrgyzstan, a derelict Soviet-era uranium mine looms over the tranquil town of Kadji Say, contaminating the water. A recent photograph of the area, taken by a member of the Warsaw-based photography collective Sputnik Photos, reveals nothing more than still water wedged in a crater of purple earth. In another image from the same series, an oval-shaped tower stands on an isolated strip of coast – part of an unfinished luxury resort project initiated by Georgian President Saakashvili – in the seaside town of Anaklia along the Black Sea, which came to a halt after his departure from office, and the country, in 2013.
The stillness in both images gesture towards a failed utopian vision, at once futuristic and obsolete, frozen in time, and yet spelling crisis. They are part of Sputnik Photos' Lost Territories Archive (LTA), a pool of thousands of photographs taken in former Soviet countries between 2008 and 2016 by seven photographers from Poland, Slovakia and Belarus. A selection of images from the archive was presented as site-specific installations for a new commission for the inaugural Riga Biennial of Contemporary Art, in Latvia. Curated by Katerina Gregos, and commissioned by founder Agnya Mirgordskaya, the international biennial aims to serve as a platform for contemporary art in the Baltic and Nordic regions.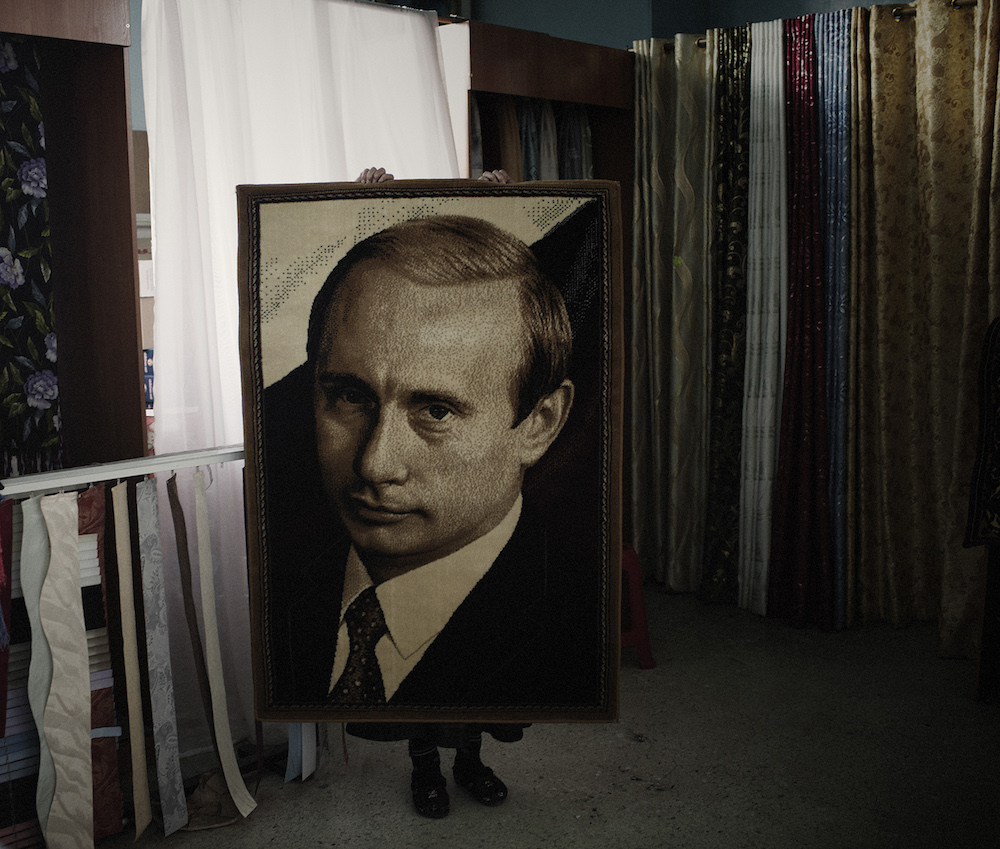 "We're documenting unfinished transitions in the former Soviet Union," explains Warsaw-based photographer Adam Panczuk, "These are visible everywhere, in the urban planning, in the political institutions, in daily life." "We also want to avoid the cliché of Soviet architecture porn that is so dominant in photographs of the region," says Rafal Milach, the collective's founder. The slow, drawn out existence captured in these images is a stark contrast to the driving theme of the biennial, which "reflects on the phenomenon of change […] at this time of accelerated transitions," as Gregos writes in her curatorial statement. Yet change, however slow, is integral to the archive project.
I meet Milach and Panczuk at the former Bolchevicka textile factory, a disused complex of brick buildings in the outskirts of Riga. A hangar behind the crumbling factory now serves as an artist's studio, and is one of the the biennial's eight venues. In Riga's historic centre, the facades of medieval, neo-classical and art deco buildings are immaculately preserved by a rigorously controlled conservation programme. Yet ruins and decay are everywhere in this sparsely populated city, which has suffered from both the Eurozone crisis and a recent bank scandal connected to former USSR countries. Milach, whose exhibition Refusal was a finalist for the Deutsche Börse Photography Prize earlier this year, points enthusiastically to the mounds of rubble, scrap metal and discarded timber around us.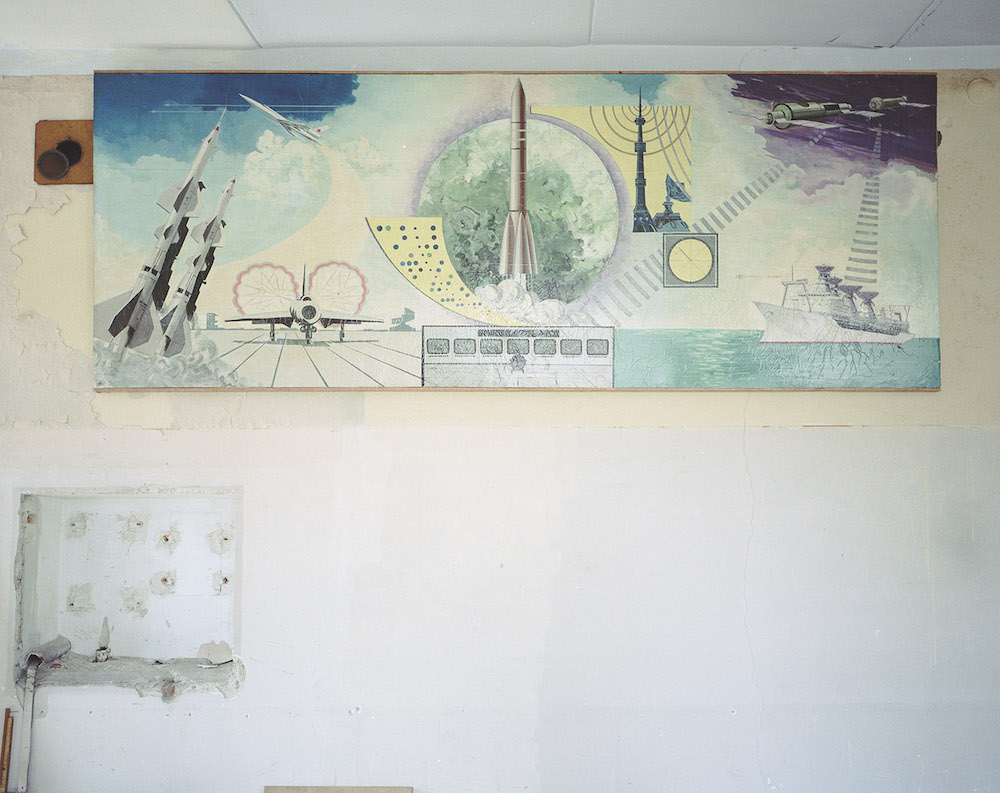 The images from the LTA are author-less, and for each public presentation, a selection is made to fit the local context. "Every photographer in the collective pursues their own project. We then deconstruct all these individual stories and build a meta-narrative specifically for each venue," explains Milach. The photographs of Issyk-Kul and Anaklia appeared on large poster paper, pasted then partially stripped from the walls of an abandoned town house in central Riga. In a second installation, images of an ossified anatomy museum in Baku were exhibited inside the University of Riga's former Faculty of Biology, a fin de siècle neo-renaissance building where some of the flasks and measuring tools date back to the 19th century.
"The faculty was once a prototype institution. All the scientists in the Soviet Union came to study here," explains curator Gregos, "I chose venues and buildings that bore these traces of change." Earlier presentations of the LTA also include photobooks. "Working as a collective makes it easier to get funding for projects which wouldn't normally get commercial support," explains Panczuk, whose contributions to the LTA took him to Latvia, Belarus, Ukraine and Central Asia.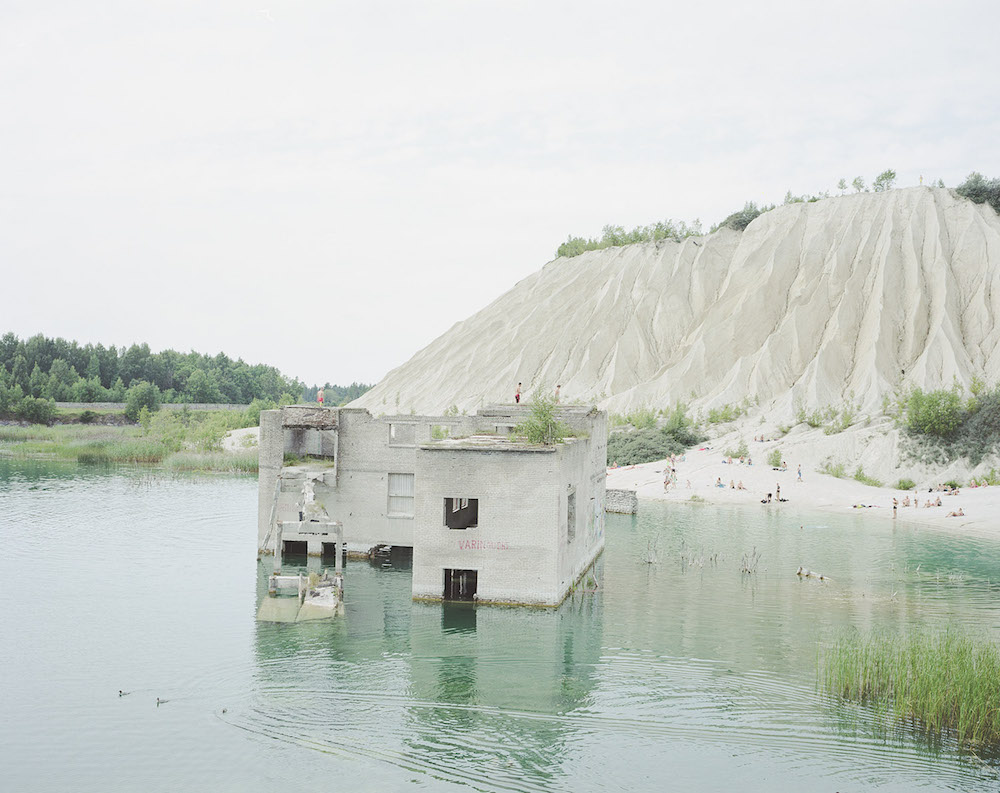 Yet today, the question of what it means to be European appears more urgent than what it means to be post-Soviet. The rise in right-wing governments in Poland and Hungary, the effects of the 2008 financial crash, and a shortage in affordable housing, requires a new interpretive framework. How should we understand 'transitions' within this context? These questions resonate elsewhere in the biennial, which brings together the work of over 104 artists and collectives. The GDR-born artist Henrike Naumann presented a new commission Eurotique (2018), based on the refurbishment of Latvian homes in the 1990s, where cheap materials like linoleum flooring and gypsum walls created a pastiche of Western European styles.
Latvia experienced a dramatic population drop and brain drain after it joined the EU in 2004, which was accelerated by the financial crash. The Belgium and Estonia-based Latvian artist Diana Tamane presented photographs of her different homes in Gent, Berlin, Riga and Porto, highlighting the conditions of the contemporary nomadic 'global citizen'. While the exhibition is rooted in Riga's position as a Baltic, Nordic and post-Soviet city, Gregos insists on its international dimensions, "there are artists from Brazil, South Africa and Venezuela commenting on a wider global crisis."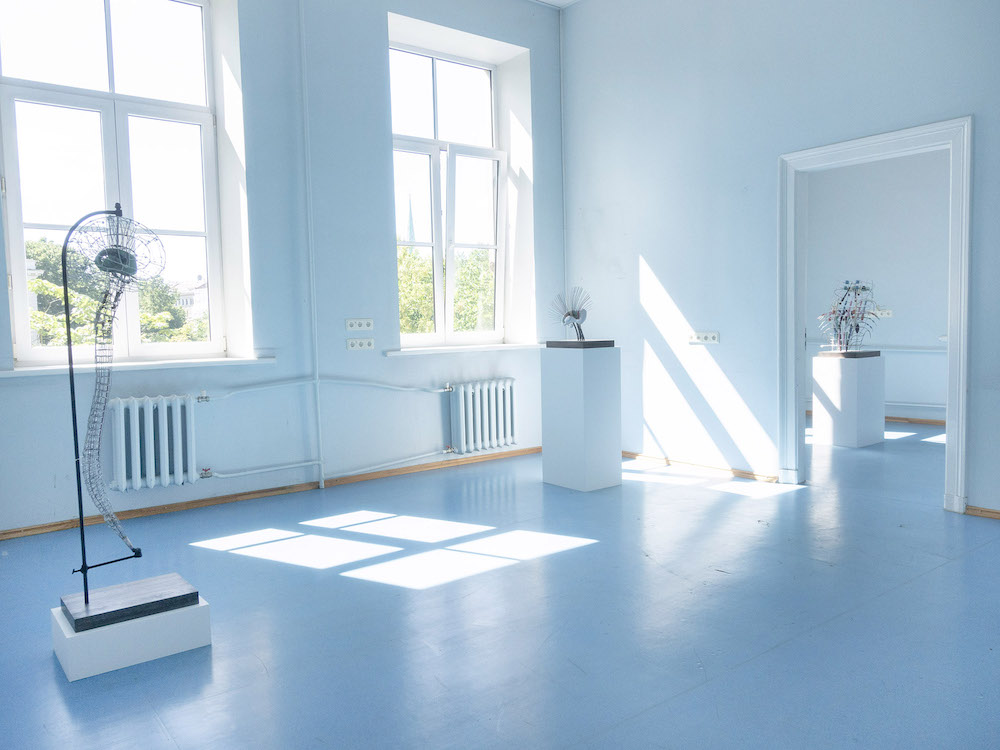 This rapidly shifting climate is well served by photojournalism, but photographers like Milach and Panczuk invest time in long-term documentary projects, which encapsulate slow changes over decades. How will they respond to the present context? "What's happening in Poland is extremely disturbing and I can't imagine not doing anything about it," says Milach, "we've recently commissioned writers and artists in Poland to comment on post-truth, migration and right-wing populism, which we have published in zines and public billboards."
RIBOCA1: 'Everything Was Forever, Until It Was No More' runs until 28 October 2018 in Riga, Latvia.