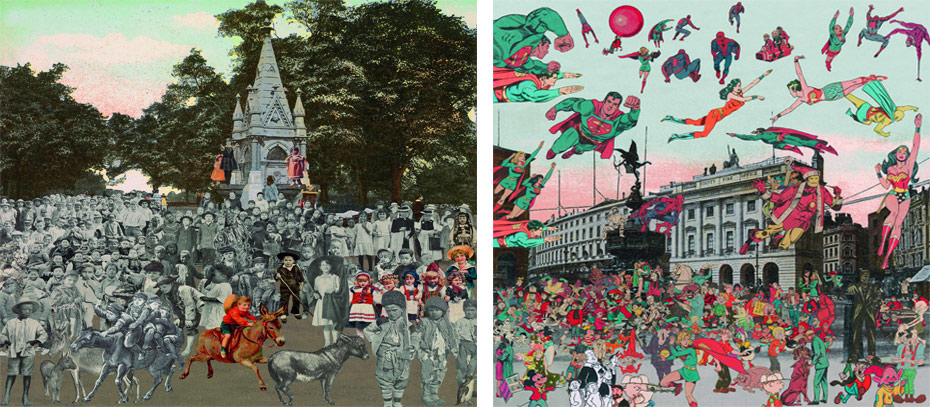 William Kherbek visits Waddington Custot Galleries for the artist's retrospective closing day
In this bleak midwinter, there could be few more welcome sights than the Peter Blake retrospective, Rock, Paper, Scissors, at Waddington-Custot. The great thing about Blake though is that despite his status as National Treasure, his work remains not only utterly restless on a conceptual level, but it is also distinctly badly behaved.
The show is expansive, covering work from the 1940s up to the present, and indeed, the implied future in several works-in-progress. The title alludes to the different formal approaches taken in the show, watercolours on paper, collages no doubt produced with the aid of scissors, and found objects as stand-ins–for the most part–for rocks.
I spoke of Blake the conceptualist above and its an aspect of his work that still doesn't get enough attention. Blake doesn't need further praise from me for his accomplished painterly style, but, as Rock, Paper, Scissors demonstrates, it is often his assemblages that make him more than a Great Living Artist but something that is almost impossible for GLAs, a determinedly contemporary artist.
For example, looking at Fort: Siege it is hard not to be reminded of the work of the Chapman Brothers. The fort in question is a dinky little toy fort besieged in all directions by knights, cowboys, Indians (both American and, well, Indian) Mongols, superheroes, and I think Zorro and some of the Seven Dwarfs were involved too if memory serves. It's deranged and irreducible, some of the besiegers are firing upward, some down, some at each other, some randomly at nothing in particular, if that doesn't sum up human history, I'd like to know what does.
This will, no doubt put many in mind of the Chapmans' various toy Nazi tableaux, but there's something in Blake's lightness of touch that makes this cartoon siege more than just an oldster trying to catch up to past-it trends, in a way, Blake seems to be a few steps ahead.
"You could start from any of the reference points Blake teasingly assembles
to construct a narrative about London's past and present"
Having just come from the Cindy Sherman exhibition at Spruth Magers, the contrast could not be clearer. Where Sherman makes the banal repellent with dismemberments and weird substances dripping from doll orifices, the determination of Blake to leave the figurines as they are, poised in their private acts of cuteness or violence yet all participating in the same orgiastic siege, theoretically wedded to a common purpose, teases open much deeper narratives about the contemporary world.
I'm not saying Blake has become a radical political artist, but in the world of i-thises and i-thats, aren't we all kind of floating along in our own little spaces, laying our own private sieges to life?
There's much to love in the paper collages as well. London: River Thames–Regatta was another exercise in non-Euclidean conceptuality. You could start from any of the reference points Blake teasingly assembles to construct a narrative about London's past and present.
Considering the work was made in the Jubilee Year, when Britain is most keen to sell its own heritage to itself and the world–among the extravaganzas, let it not be forgotten, was a massive flotilla on the Thames–again speaks of a sharpness and capacity for critical assessment few Knights of the British Empire would be willing to countenance. But, as with Fort: Siege, all this is done without malice, indeed, there's a painting of the Queen on show as well.
This capacity to balance penetrating insight into the sometimes unedifying business of modernity with a genuine openness makes Blake something like the equivalent of the great American experimental poet, John Ashbery, another artist who blends aesthetic defiance with equanimity, a figure who is never quite acceptable, but who can't be ignored.
Peter Blake: Rock Paper Scissors is at Waddington-Custot 11 Cork Street, W1S 3LT until 21 December