William Kherbek reviews Sprüth Magers' punchy and adventurous exhibition of the artist's work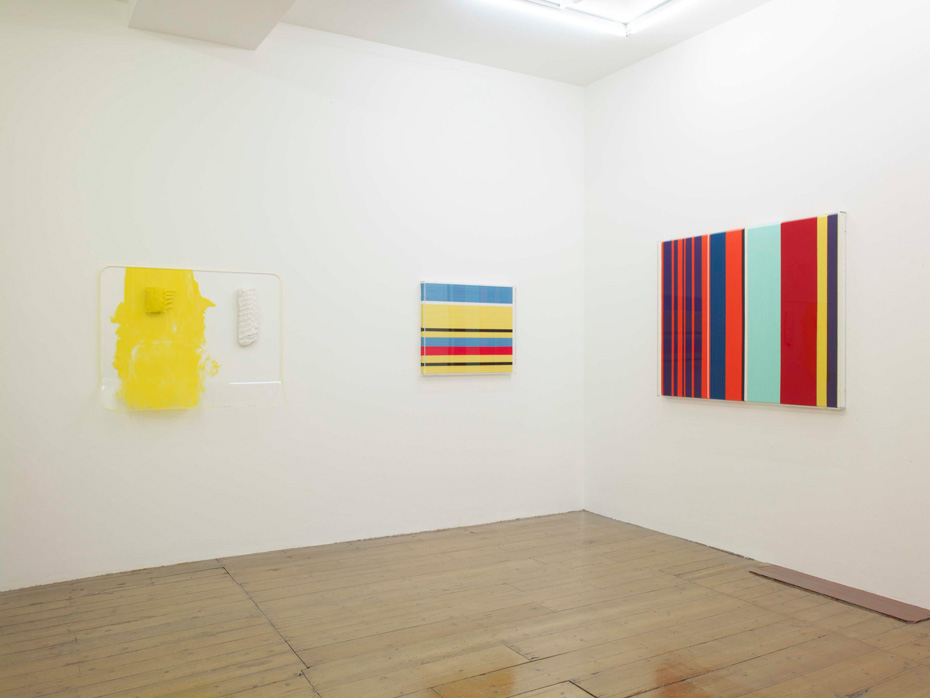 It's not one of the loudest shows of the year, but there's an insistent power to the Rosemarie Trockel show currently running at Sprüth Magers. In what promises to be an obstreperous art season, it's good to be reminded that artists don't need to shout to be heard. Trockel's works may be a bit low-key but it doesn't mean that they lack potency, punch or a sense of adventure.
I mentioned in a recent review that, for better and/or for worse, Abstract Expressionism seems to be set to make a "comeback" (if it ever went away), and, in a certain sense, it's hard not to feel the meaty palm of Ab/Ex hovering over the shoulder of Trockel in a number of the pieces from the show. Where Trockel escapes the sweatiness and self-regard of the worst of the era of Pollock, Newman, Rothko, and company is in her use of materials. In many works, Trockel applies a different form of acrylic to her painterly explorations, using fabric to create the kind of chromatic dialogues that evoke works by Newman, Cy Twombly, Morris Louis, and to a degree, Frank Stella, among other giants of abstraction, without the works being reducible to their influences.In a work like 'Day Release' the immanence of Twombly's paintings of the seasons seems to radiate in the background without ever fully cohering into reference. Trockel brings the kind of irresolution that animates a good deal of Richter's finest works to the piece and is thus able to keep the almost Cartesian insistence on the assertion of artistic vision of the pioneers of 20th Century abstraction at bay. It's not often that you see works which elicit references so many famous names but which never becomes reducible to their legacy. There are also some beautiful and eerie works on perspex consisting of casts of meat, paint, and, in the case of 'Clock Owner', the hands of a clock. Listen closely and you'll hear the ticking. Perhaps that's the show's most important argument.
Rosemarie Trockel runs until 5 October at Sprüth Magers, 7A Grafton Street, London W1S4EJ