Ahead of Frieze, Jo Lawson-Tancred unpicks new art by Eva Jospin, made for champagne house Ruinart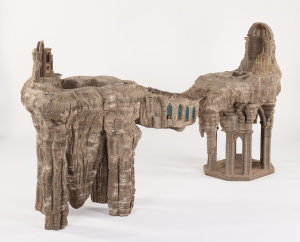 Anyone longing for a well-earned break after strolling through the sweeping maze of gallery booths at next week's Frieze London will be relieved to spot Ruinart's trusty champagne bar out of the corner of their eye. They may also relish the chance to take in even more art, only this time with a glass in hand. Each year, the champagne house gives one contemporary artist Carte Blanche to make an artistic tribute to its legacy. The resulting pieces are toured around some of the most prominent art fairs globally and, after recent stops in Milan, New York and Seoul, they are finally travelling to London.
The mesmerising Arcadian ruins overrun by wild vines and other foliage that fill 'PROMENADE(S)', the exhibition by French artist Eva Jospin, have a gentle majesty. It may surprise those who venture closer to explore these intricate topographies that the large scale sculptures were made from humble cardboard. It is hard to imagine how such an easily disposable, low grade material can metamorphose into classical edifices, follies, grottoes and dense ancient forests, but these feats are achieved by slowly layering many strips of material until it accrues into something sublime.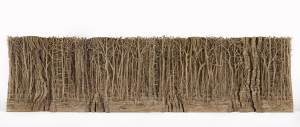 "There is this idea of the monumental, of the detail and of the refined," said Jospin. "I find it fascinating to introduce into a large scale this notion of detail, of fragility, of meticulousness."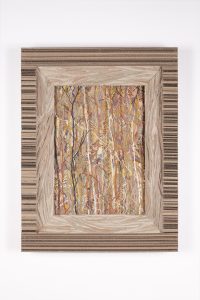 The works were also reinterpretations of the champagne's terrior near Reims, some 80 miles northeast of Paris, as observed by Jospin over the course of several trips to Maison Ruinart. She made a point of visiting at various points across the changing seasons, from the wintry month of February right through to the late summer harvest. What Jospin discovered there was that, much like her own artistic endeavours, champagne production is all about mastering a precise and subtle process that relies on patience and repetition of gesture.
"Nature never produces the same results, neither does the wine," said Jospin. "It takes expertise to balance it so that we can reach a continuity in the flavour."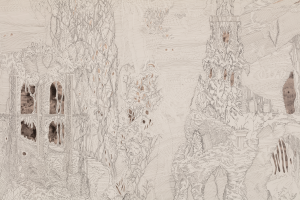 The show's centrepiece is Carmontelle, a title that refers to a traditional French device that once used unfurling scrolls of paper stretched between two cylinders to present artistic imagery. Jospin's richly detailed drawing of otherworldly rustic scenes instantly evokes the 18th century, harking back to the time when Maison Ruinart, which was founded in 1729, became the world's very first champagne house.
The Carte Blanche commission is part of a major artistic programme as the house prepares to celebrate its 300th anniversary in 2029. This is not the first time that Jospin, the daughter of France's former prime minister Lionel Jospin, has worked with a brand owned by the luxury conglomerate LVMH. Last year, her sculptures appeared on the Dior runway at Paris Fashion Week.