Jenny Cusack marvels at how the photographer manages to find beauty even amongst the vast rubbish piles outside Hebron on the West Bank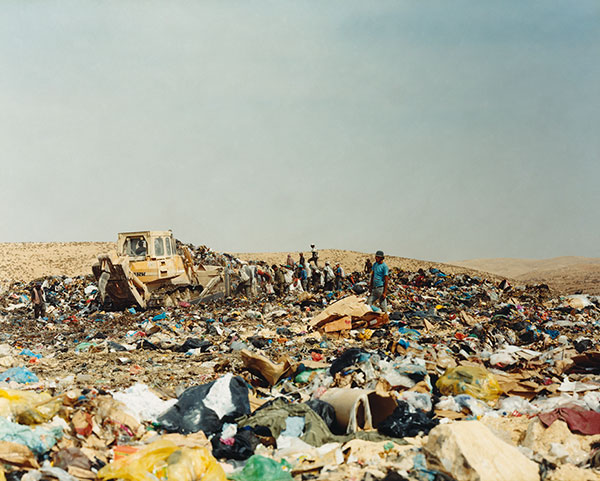 If you close your eyes and imagine a setting fit for a study in beauty, children scavenging through a landfill site aren't the obvious recall – but that's exactly why photographer and artist Nick Waplington's latest book, Patriarch's Wardrobe, is so special, serving as a reminder for us to seek out beauty in the most hopeless of places.
The book showcases a small series of works, a mixture of photographs and juxtaposing paintings produced in 2010 of a landfill site just south of Hebron in what used to be called Palestine, discovered by Waplington through a local peace activist he became friendly with during his four-year stint in Jerusalem.
The works are introduced by two quotes. The first un-credited, sets the scene in a chameleon-like mountainous landscape of scorched colours and metallic hues: "Every inch of land is known, recorded, and potentially a source of conflict." The other, by Kafka, states that "Anyone who keeps the ability to see beauty never grows old."
The hopeful protagonists of Waplington's photographs are the Palestinian children who scavenge through the constant stream of rubbish dumped at the site from the Jewish settlements of the West Bank; a telling reality of the two community's discordant and seemingly interminable relationship. "The primary goal is to find metal to recycle but of course anything of value is collected," Waplington explains. He decided to start buying metal from the children at a higher price with the intention to use it in his smaller sculptural works. "After a while I realised this was upsetting the natural economic order and structure of the society there, so I stopped."
The metal never made it into his sculptures. "Like everything in art the pre-vision and the result are something quite different. So I decided to paint the landscape and incorporate what metal I did have into the paintings."
The end result is a series of paintings that mimic the colours of the site – bright speckles of blue, red, yellow, white, and those metallic hues, peep out of comfortably indiscernible depths.
"My aim, if any, was to create a duality between the beauty and the pain I saw there," explains Waplington. Which is what he's done, with ripples of optimism that surpass Kafka's words – an association with Zionism that's been consciously employed. "I'm sure he would be horrified if he was able to see what is happening in the name of Zionism now," says Waplington.
Released earlier this year, Waplington's book Working Progress has already fixed its place in the canon of modern fashion, documenting behind the scenes at Lee Alexander McQueen's 15th anniversary collection, fatefully his last.
A host of Waplington's works are currently in the pipeline, including his contribution to the Tate Modern's First World War centenary show next year and a series of books, one a collection inspired by his grandfather who worked as a doctor treating SS officers after the battle of Monte Casino. He's also searching for couples to take place in a photography project on people in love, what he hopes will be "a counterpoint to pornography."
Patriarch's Wardrobe is available now through Donlon Books