As a new exhibition of his beach photography opens in London, Massimo Vitali talks to PORT about the divide between documentary and art in contemporary photography
Standing three metres high on a purpose-built scaffold, Italian photographer Massimo Vitali scans the scene in front of him. Families, couples and groups of friends have arranged themselves on the beach below, sitting on towels or standing in the sea, indifferent to the quietly industrious artist and his assistants, who are busy setting up the large, cumbersome 11×14 camera. They hoist it into place, fixing it to the scaffold and sliding in the film, and leave Vitali to do his work. Without framing his shot, he opens the shutter.
It's a "dance", as Vitali calls it, that he has performed all over the world during the past 20 years, from his native Italy to Turkey and Brazil, invisibly recording those seeking the sun and an escape from the responsibilities of their daily lives. It is, as he tells me when I meet him in London, a form of social research – an artistic recording of place and people at leisure.
As his new exhibition of beach photographs opens at the Ronchini Gallery in London, Vitali speaks to PORT about why he swapped the drama and action of photojournalism for "non-events", how his photographs function as a document of our times, and how using antiquated technology means he can hide in plain sight.
You worked for some time as a photojournalist. How does that experience inform your work as a fine art photographer?
I don't really believe in photojournalism; I think that contemporary photography has a better way to look at reality. I don't want to concentrate on a little bit of drama when 10 feet away there is something else going on, which contrasts with the drama that the photojournalist may be focusing on. My idea is just to move back, to try to see everything in a much wider setting.
What interests you about normal life over the subjects you were capturing as a photojournalist?
In my pictures I look for non-events, because non-events are part of our daily lives. If you wanted to show what was life is like now to someone in 50 years' time, it doesn't really help to tell them what the Prime Minister once said, for example – it's an event for that moment.
It doesn't explain how we are and what we think. If you go to a place where you have a group of people who are enjoying their lives and nothing really happens, you have so many more clues as to what people are thinking, and what we are made of.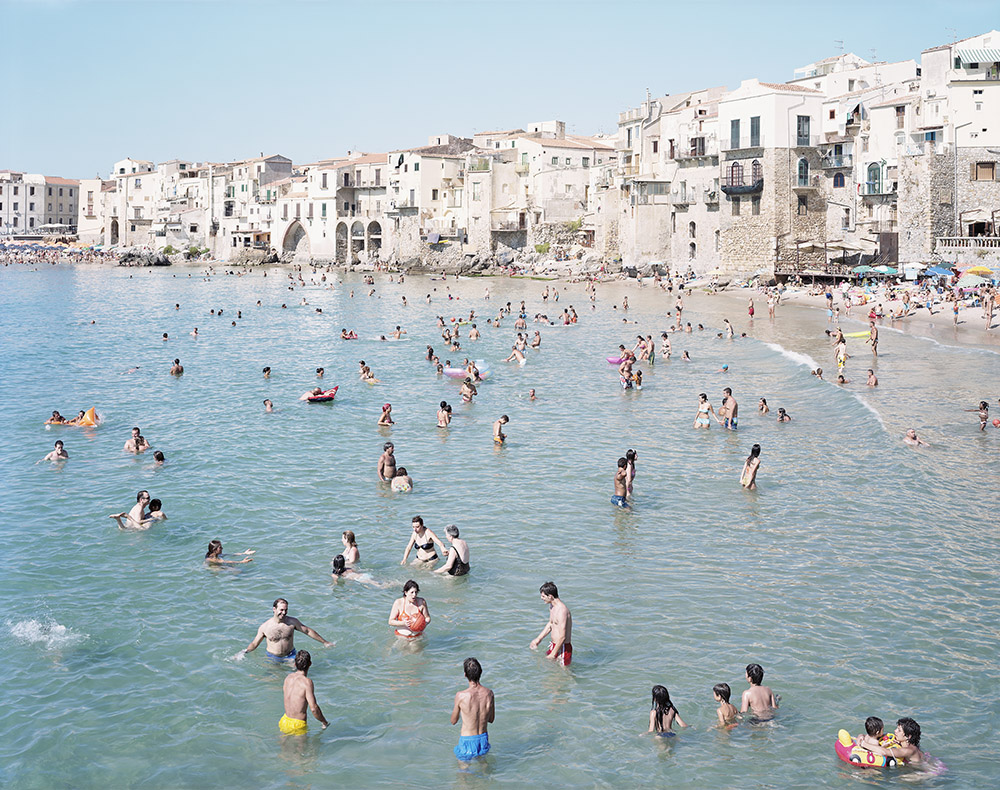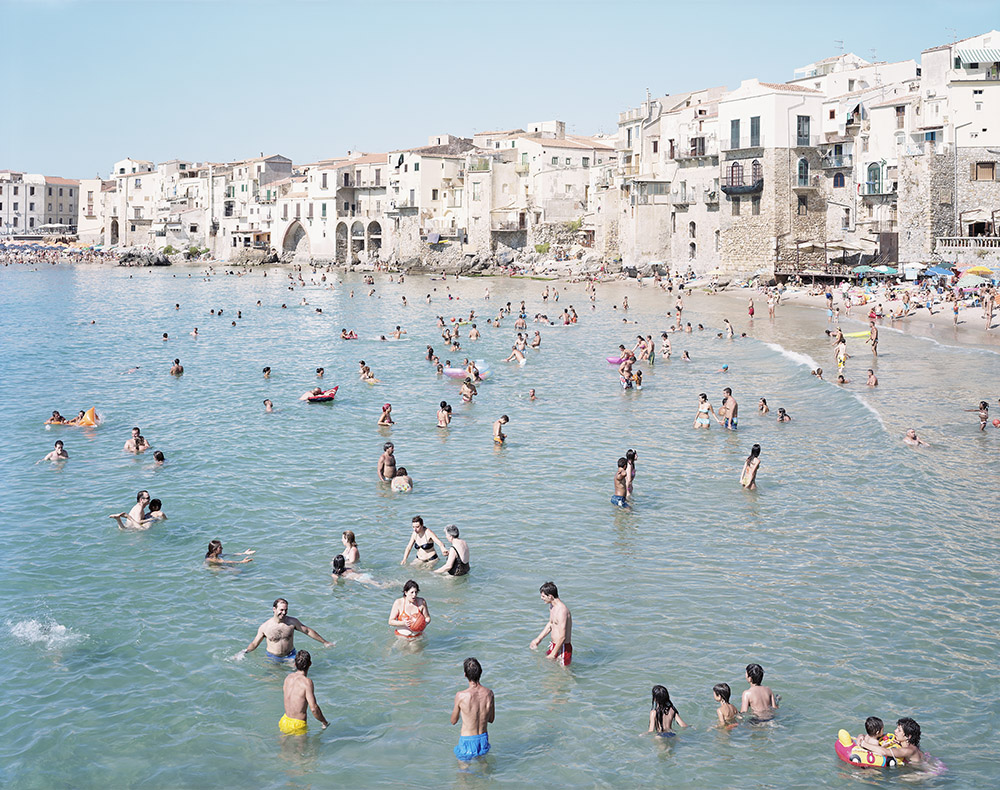 What clues do you look for in particular?
The clothes people are wearing, for one, but you also have the way people move, the way they divide the space and the other objects they bring to the beach. There's also the grouping of people – I think that people group together in different ways from one year to the next. I find it very interesting. It's not my job to explain these things, but I hope one day there will be people who take my pictures out and use them as a way to understand what was happening at that time.
How much do you let the scene play out in front of you and how do you attempt to frame it?
I'm really loose about the framing because I want to point out that reality runs on the right and the left of the frame. I frame it because my lens ends there. Reality doesn't stop at the end of the picture, it goes on.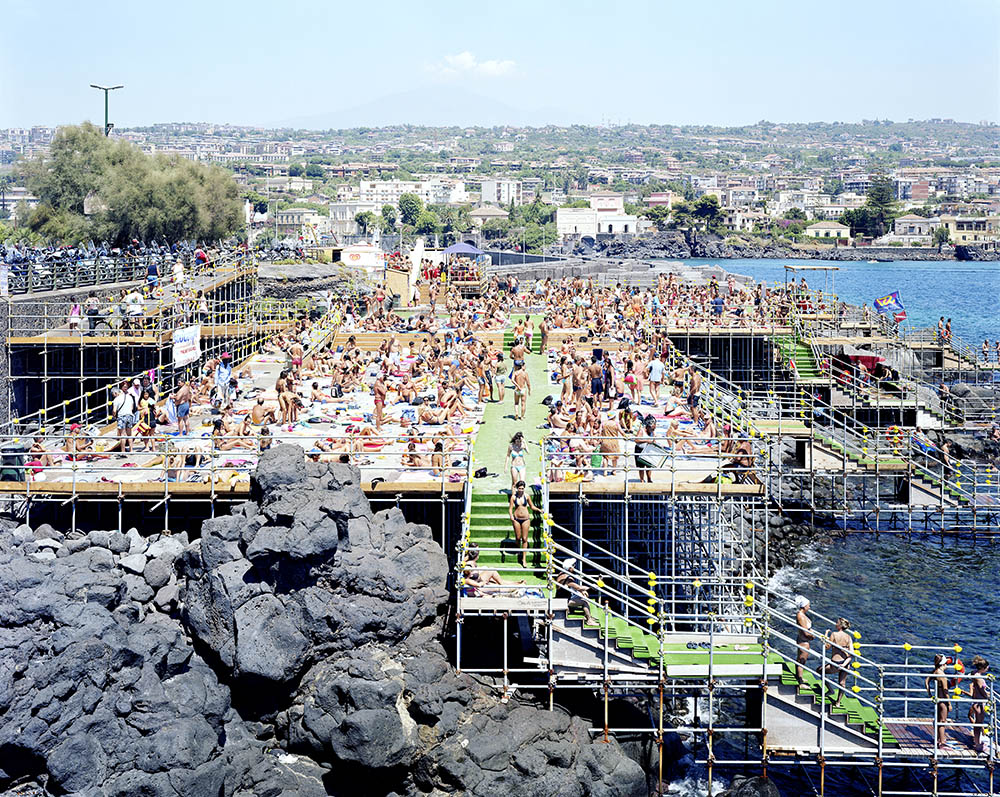 How do people react to being photographed by you?
At the beginning, 20 years ago, people would sometimes ask when I was putting the scaffolding up and they were mostly worried about whether it was television. When they found out it wasn't television they didn't care. Today the problem is non-existent because they don't know what I'm doing…they don't understand, even if you explain it to them. It's so far from their world and their reality of taking a photograph on their phones that they don't care.
Once I had been on a beach shooting all day, with nobody paying any attention. Then, for some stupid reason, I took a little camera from my assistant and walked around the beach, taking pictures close up. People really resented me taking their picture. They were aggressive when I was on the beach but they don't care if you're up on the scaffold.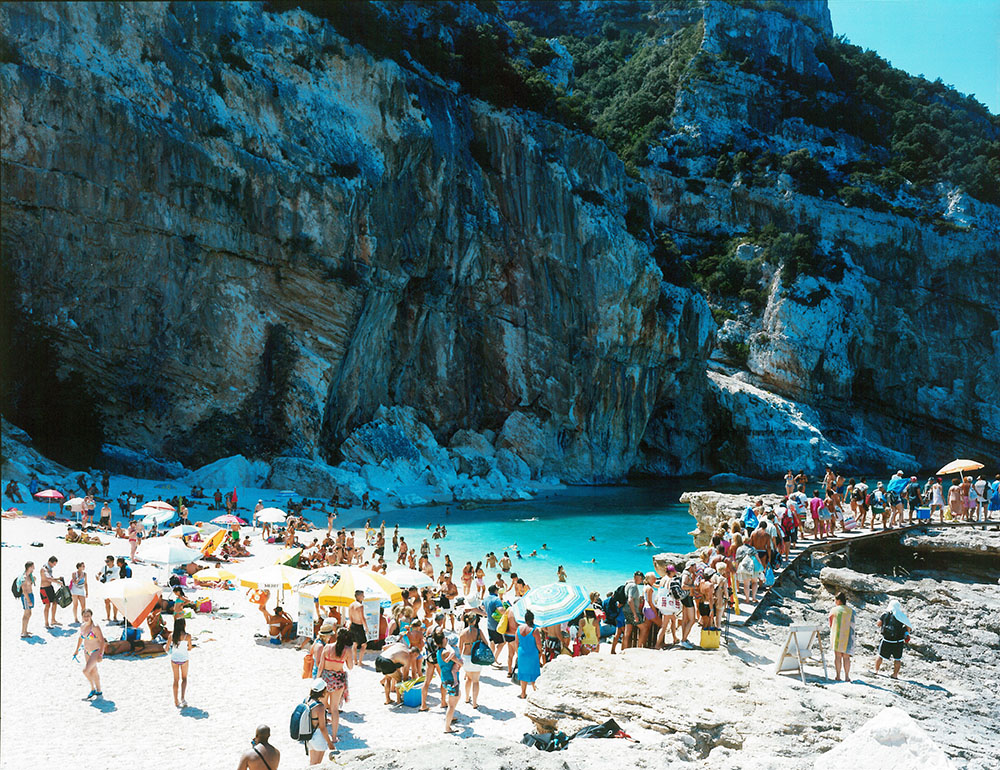 What's the significance of you using a complicated analogue setup instead of a more convenient, modern one?
The difference between my picture and somebody else's pictures is in their making. It is documentary photography, but it is also art and my real artistic contribution is the performative act of making the picture. I make a little dance and afterwards I get a picture that I sell, but the selling is secondary.
The real moment of creativity is when I take the picture. That is the important moment…it's the key moment, because before that you need a van, the equipment, the assistants, the food the night before, etc. You have to coordinate, you have to put people together, you have to talk with everybody, you have to listen to what one says to the other. This little crew becomes like a small community and the pictures come out because all this works together.
You've been shooting these pictures for over two decades now. What conclusions have you drawn from your social research?
I notice many things, but it shouldn't be me who analyses the images. I do my work and somebody else should interpret these pictures. I give some solid, big chunks of rocks and I put them on top of one another, but I don't know where this wall is going – somebody else has to direct it.
Massimo Vitali runs at the Ronchini Gallery, 22 Dering Street, London until 18th June 2016