William Kherbek reviews the UK's first comprehensive large-scale exhibition of the Master's work at the RA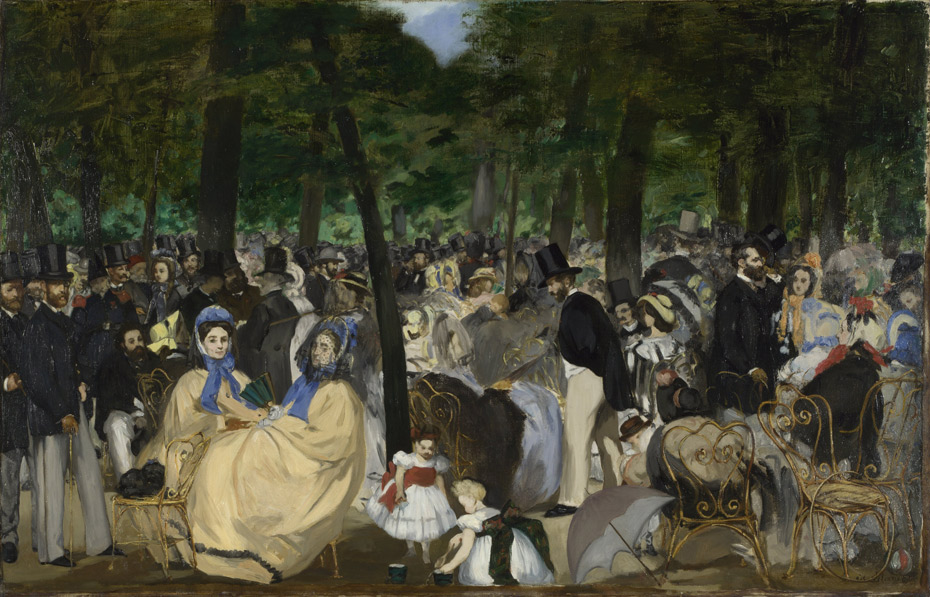 Sometimes the title says it all. And sometimes, a title comes so close to saying it all, that it obscures what's really important. Edouard Manet's portraits, the subject of the Royal Academy's exhibition – the first large scale show if Manet's portraits in the UK if you can comprehend that – provide enough fidelity to realism to make "portraying life" seem like their mission, but in the thing about life is there's so much of it that's invisible, it's hard to imagine how realistic painting could possibly portray it.
The true mastery of Manet is that he does a better job of rendering the invisible qualities of life visible than just about anyone. It struck me most powerfully standing more or less in front of Manet's 1862 work Music at the Tuileries Gardens. I say more or less because of the bustling little scrum of people pouring over their guides to the famous faces included in Manet's scene of the cultured classes of late 19th century Paris. It wasn't an easy painting to see and, somehow, I was seeing it reproduced in front of me in modern dress. I moved so that I was standing next to the painting and it was almost unmistakable –though, granted, faces were a little more florid in the 2013 version – but Manet's work had managed to thematically reassemble itself 150 years on. You get the feeling Charles Baudelaire, depicted in the middle of the painting in a top hat, would have enjoyed Manet's impressive ability to transplant the mimetic character of painting into its audience. A reversal of Baudelaire, and later, Walter Pater's idea that music is the highest form of art because it doesn't rely on representation. Manet, himself in the work, first on your left, would be smiling beneath his neatly sculpted beard.
But nothing Manet does should be a surprise. Manet's endless facility with and clear fascination with paint as medium has an alarmingly contemporary feel. For Manet, painting has a representational component, but it's never reducible to its capacity to represent. Manet never seems to want you to forget you're looking at paint: if it's a blob of smooth brown that disrupts a bit of hair, or the pink slashes that make up the dress of his wife, Suzanne Leenhoff, paint creates the world but resolutely insists on remaining paint at the same time.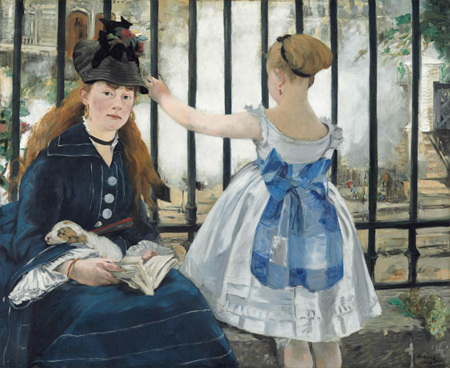 This eerie conceptual instability runs through the lesser known works as well. There's a painting of Claude Monet and family on a farm which offers the viewer the sight of a translucent chicken. The chicken is imbricated with the grass beneath and behind, you see it but you don't see it, somehow it's conceptually as true to experience as anything of the hyperrealities cyberspace can offer.
The show doesn't want for masterpieces. The incomparably uncooperative The Railway is one of the finest anti-portraits ever to drip from a brush. Dejeuner sur l'herbe is also included being its strange quasi-allegorical, perspective shredding self, fine portraits of Berthe Morisot and Victorine Meurent as well. Of course it's great to see them, but for me it's more about that deliquescing chicken, it sort of pulls open the question of seeing. It's a rural image, in some ways timeless, but it feels like a symptom of contemporary life: you look right at something but you find you're only looking through it. What could be more modern than that?
Manet: Portraying Life runs until 14 April at Royal Academy of Arts, Burlington House, Piccadilly, London W1J OBD