Curator Susan Bright achieves a tour de force as she tackles the cultural romanticism of motherhood with this group exhibition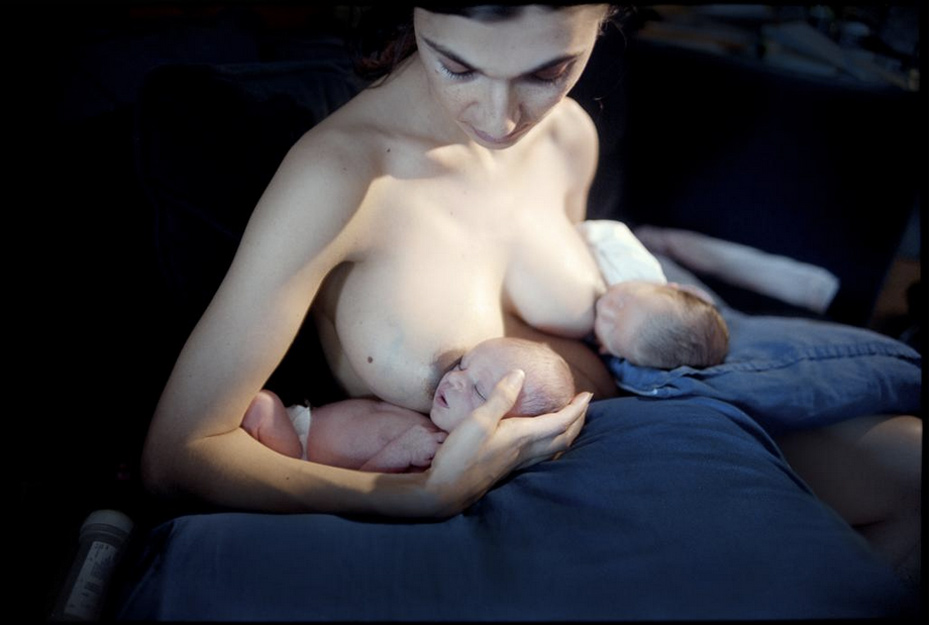 "A home truth can be simply understood as a fact that is somehow discomforting to acknowledge or may cause embarrassment", reads the opening statement of Home Truths: Photography, Motherhood and Identity, at the Photographer's Gallery London. A sombre and at times raw affair, the exhibition, curated by writer Susan Bright, serves to invert the romantic mythology surrounding motherhood and look at it instead with a sober sense of realism. From miscarriage and the painful process of fertility treatment through to a sexually charged look at pseudo-sexual, Oeidipal bonds between mother and child in the work of Leigh Ledare, the exhibition shakes our notion of motherhood an end, instead looking at it as an ongoing journey of myriad routes.
Assembled for the task are Janine Antoni, Elina Brotherus, Elinor Carucci, Ana Casas Broda, Fred Hüning, Leigh Ledare, Katie Murray and Hanna Putz. It's a formidable line-up, and at times the sheer scope of work on display means that it can feel like a check-list of issues is being worked through. But that's not to say that their inclusion in the exhibition is superfluous, nor the works themselves transparent, as each artist deals with their microscopic take on motherhood with meatiness. First up, Elinor Carucci's biographical portraits of her body going through pregnancy with twins arebeautifully shot, framing stretch-marks, swollen breasts (and the puckered peachy flesh of an empty stomach following delivery) with a matter-of-factness that undermines the romanticism of pregnancy and replaces it with a rawer sense of awe. A later picture of Carucci on the toilet, holding her child on her lap addresses the second home truth of the exhibition: parenthood is the permanent surrender of privacy and individual needs.
If you get there of course: herein lies the third home truth of motherhood – it is not a gift always given fairly. 'The Annociations Series' by Elina Brotherus records her harrowing journey through IVF as she and her partner try for a child. A particularly poignant shot shows the bloodied pan of the toilet following another unsuccessful round of treatment. Fertility, arguable the foremost societal expectation placed on womankind, is exposed as a cruel truth – 75% of fertility treatment is unsuccessful, a fact oft forgotten in an age of endless Soap stories and weekly magazines with 'miracle baby' tag-lines. Brotherus's work adds a degree of pathos that lingers long after the elevator doors have shut, taking you out of the exhibition. It also underscores the value of a child, and the debt that void can leave behind.
"Parenthood is the permanent surrender of privacy and individual needs"
Perhaps the most discussed exhibiting artist is American Leigh Ledare, whose pornographic images of his mother engaging in sexual intercourse featured heavily in the press in the run up to the show's opening, prodding at blurred moral boundaries. Is Tina Peterson deplorable because she is flaunting her sexuality in front of her son? Is he deplorable for photographing her? The reality is neither, (or both, or somewhere in between), but Ledare's work – which jars in relation to the work of the other exhibiting artists – reiterates the meaning behind the show's title. Discomfort and embarrassment are the immediate response to his images, and the illuminating fractions of text he has included, conjures. Similarly, it shows the changing relationship between mother and child: Ledare comforts a sobbing Tina in his arms in a video that accompanies his portraits, showing that in adulthood, motherhood, like the photographs Ledare has taken, is more about reciprocation than we would like to think. The image Ledare paints is both perversely engaging, and ultimately powerful.
Upstairs, the words of Ana Casas Broda, Katie Murray – who's mesmerising film 'Gazelle' depicts the balancing act mothers play in meeting social pressures and the demands of parenting – Fred Hüning and Hanna Putz continue the discourse. Putz's candid images of her friend with her baby son are a particular highlight, a window into snatched moments of domestic happiness, and a sensitive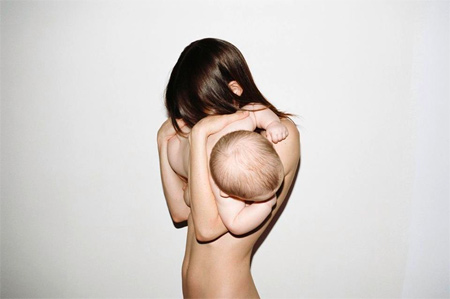 emotional lift in contrast to the heaviness of the works on the floor below. Through Putz's work in particular, Bright draws attention to the cultural need to 'photograph everything, however seemingly inappropriate'. Putz's photographs deal with this concept head on as she seeks to photograph mother and child without intruding onto the privateness of those moments. Ultimately, like the exhibition itself, Putz succeeds in her goal.
Home Truths: Photography, Motherhood and Identity runs until 5 January 2014 at The Photographer's Gallery, 16-18 Ramilles Street, London W1F 7LW