Jim Goldberg publishes unseen polaroids from his seminal body of work, Raised by Wolves – a documentation of marginalised youths in LA and San Fransisco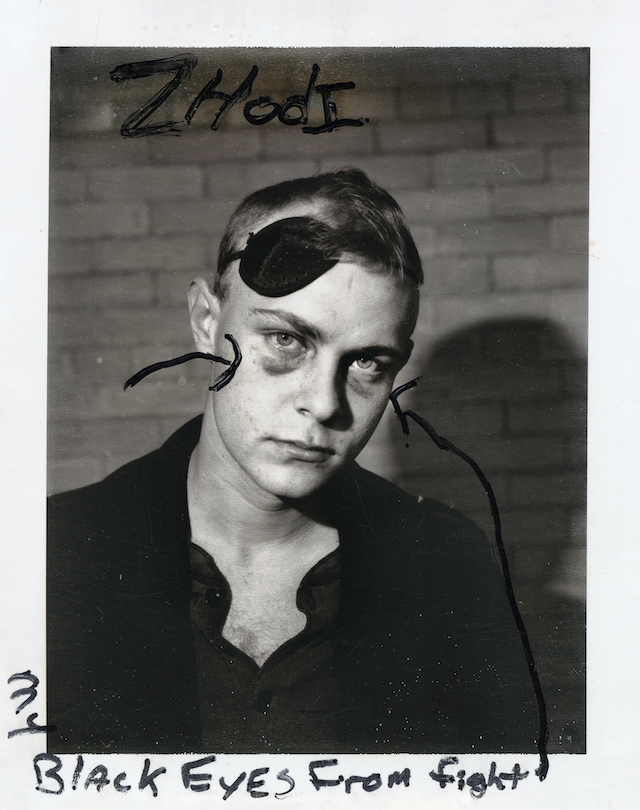 Many will be familiar with the work of Jim Goldberg. An American artist, photographer and member of Magnum photos, Jim has spent a healthy career documenting class and power – lensing those neglected from mainstream society. He's a storyteller of truth and fiction, and his pictures have long been cemented in the photography canon for his collaging of narratives, experiences and histories. Shown through a characteristic mix of text and image, this distinctive output has now been extended into a new publication titled Fingerprint, published by Stanley/Barker and depicting a series of unseen polaroids taken throughout the 80s and 90s.
Jim's photographic voyage first began with Rich and Poor (1985), a juxtaposition of San Francisco's wealthy and impecunious. Capturing the class divide in the West Coast and shot between 1977 and 1985, the work instantly gained notability in the art world. Jim's second book, Raised by Wolves (1985), reached similar acclaim – if not more so – for its frank documentation of marginalised youth in California. Shortly followed was Nursing Home (1986), a portrait of the harsh realities with growing old; Coming and Going (1996-Present), capturing birth and death in the USA; Open See (2003-2009), a project addressing the experiences of migration, immigration and trafficking; plus The Last Son (2016), the more reflective and biographical; then Ruby Every Fall (2016), Candy (2013-2017), Darrell & Patricia (2018) and Gene (2018).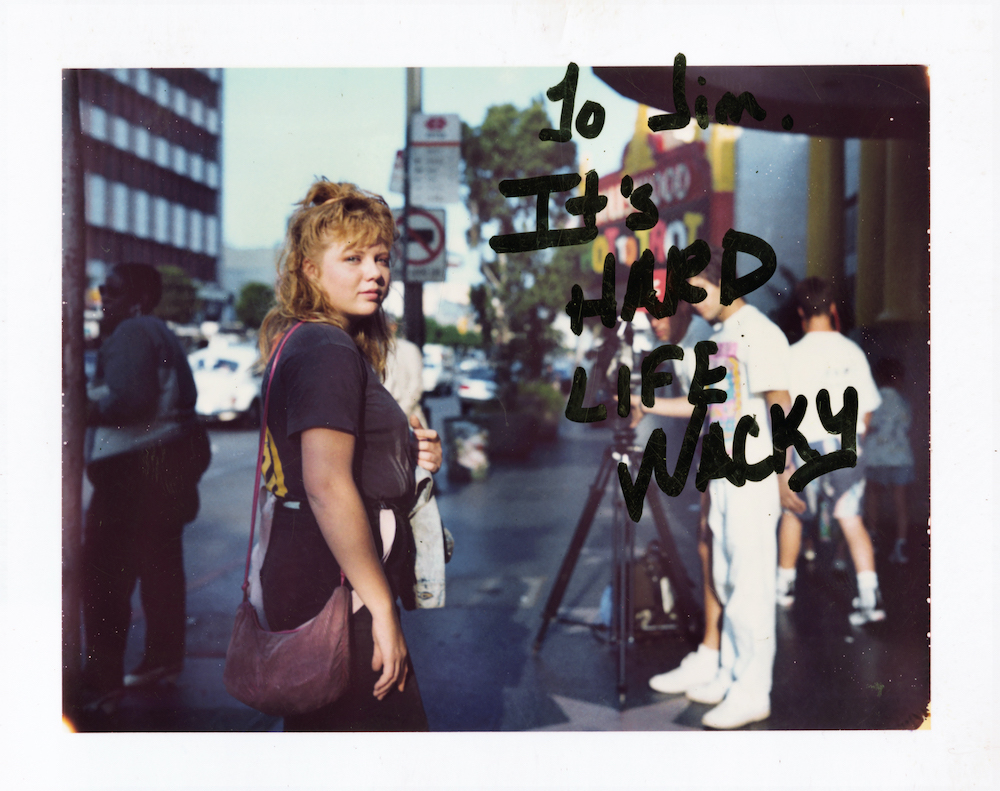 Raised by Wolves, however, is considered to be his most seminal; a mixed-media composite of photography, texts, films and objects narrating the lives of runaway street kids as they navigate addiction, abuse and violence. Shot over a 10-year period between LA and San Fransisco, the pictures occupy the precarious and fragile space between documentary and fiction, highlighted through Jim's ardent camera sensibility and the inclusion of his subjects' written word. In an interview with Magnum, for example, Jim wrote that it's a "work of fiction that's completely true". An apt and contradictory phrasing, the work sees honest storytelling about real-life people merge with the subjects' very own sagas – like Dave, who refers to his mother as a 'junkie slut', and father a 'biker from Hell'. "His parents lived in Texas. They were devout Christians. They weren't junkie sluts," continues Jim in the interview.
Comparatively, the captions allude to the more realistic side of this feathery dance, striking the audience with the harsh realities of those in front of the lens. "Runaway from Florida who stole her Daddy's credit card. 14 year-old girl who says she is pregnant with triplets," writes one of his pictures, a monochromatic portrait of a girl picking at a box of Cheerios, shot in Hollywood in 1991. "Napoleon plays chicken, hanging over the wire guardrail of the Hollywood freeway," writes another for the image Hollywood Freeway #1, depicting a disorientating photo of a man leaning over the wires, cars out of site, and taken in 1989. The latter is accompanied by text stating how the subject doesn't remember why he ran away in the first place, "walking around for hours and hours and not being able to stop. Freezing all the time – exhausted, dazed."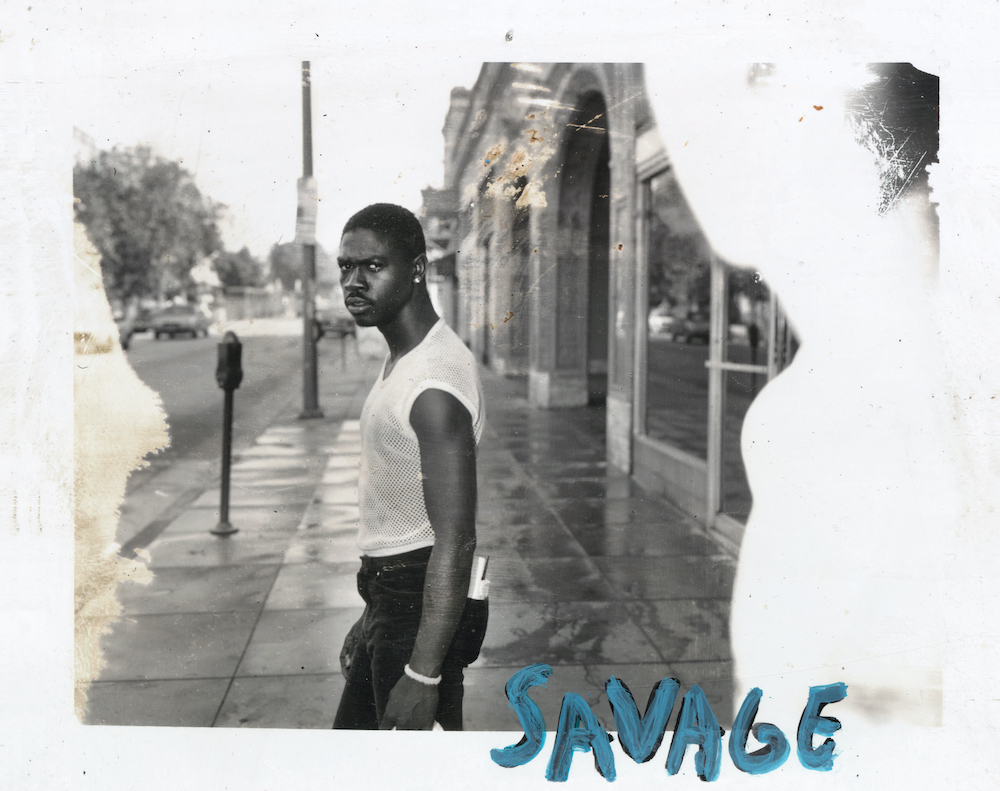 Fingerprint, in this case, is an offshoot of such. An anthology of previously unseen polaroids, the images were taken during the making of Raised by Wolves. "Since the 80s, polaroids have been an integral part of my work," Jim tells me. "They have been a way to give back images immediately to my subjects, as small gifts of our interactions." As well as offering an instant, physical snippet of that particular moment, the polaroids also serve a more methodological purpose. They're Jim's drafts; his tool for mapping out what would later become the images seen Raised by Wolves.
In signature scribbling fashion, Jim's polaroids present the scriptures of his subjects, decoding information about their identities, challenges and resilience. One image writes, "Fucked a movie star today for $100", while another says, "Going to Texas to save my life. Change my ways. Too bad I have to leave S. F. to do it. You all just wish you looked this good!" Jim adds:"The whole point is that everything is written is by the kids themselves." Coupled with chromatic depictions of the teens, most, if not all, have a certain strength in their demeanour as they pose for the camera; arms placed to the head and one to the hip; a rose held to the face; or a defiant stare into the lens. It's a personal expulsion of their lives.
Having spent 10 years getting to know his subjects, naturally he was going to build up a stack of personal stories. Which begs the question; without the texts, would the images alone have such pertinence on what's undeniably a politically charged and important subject matter? In short, the pictures – and polaroids – are both forthright in their documentation of poverty and youth, but the straight and oftentimes explicit words add an extra layer to the image's impact. The combination of both succeeds in telling a story of class division, and even though these pictures were taken decades back, the struggles and suffering can still be felt today. As Jim conclusively states: "It makes me wonder if we have learned anything about supporting at risk youth."
Jim Goldberg's Fingerprint is available to purchase at Stanley/Barker
Photography by Jim Goldberg