The award-winning photographer talks Betty Wood through his new project focusing on colour, using the traditional bouquet as his starting point
This image is taken from a series of four (so far), and each contains a sequence of 15  images exploring and documenting the evolution of a colour pallet. They're made using inks in water, distributed in various ways by currents. The series is a progression from a very clean, precise graphic work documenting pallet I made immediately before this. I'm still developing the work. For me, heading down to Covent Garden for the early shift to pick flowers, to the bacon butty in the cafe all adds to the experience of creating the image.
I was inspired by a visit to the National Portrait Gallery. I really love William Turner's paintings Sunrise With Sea Monsters and Sun Setting over a Lake – they possess a dissolving depth, which is very difficult to achieve photographically.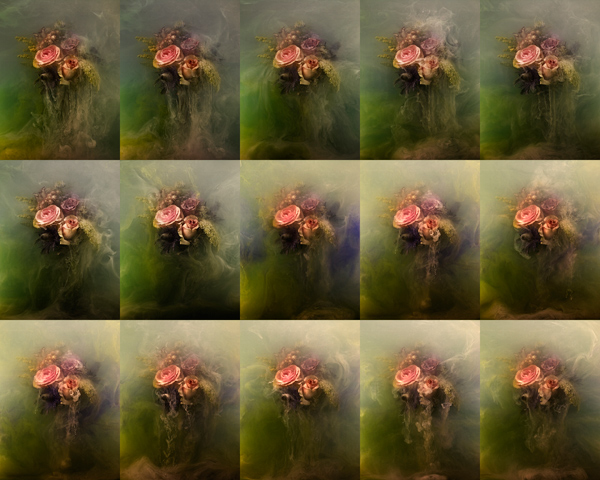 .Turner used colour in an abstract way, just "suggesting" the presence of objects in a scene – really, these paintings are all about pallet rather than subject matter, which resonates with me. My images steadily shift from green at one end of the series, to a purplish-yellow at the other. Certain areas of the images emerge and then disappear again: they all look the same on first glance, but when you look at them closely there are subtle differences.
I didn't set out to produce photographs that look ethereal, or even old, but it was a way oftaking a subject matter that's been "done" more than any other. Flowers, nudes – they're subjects that nobody ever gets bored of painting or shooting. My way of working doesn't involve setting up a scene with foreground, mid-ground and background; the whole thing is enveloped and it changes. Little introductions of colour really inject a different feeling to the shot. You can't rush it. At the moment, we're into really fast imagery, things that you cant see with the naked eye; images that are shot at 1/7000th of a second… This series a complete reaction to that way of working.