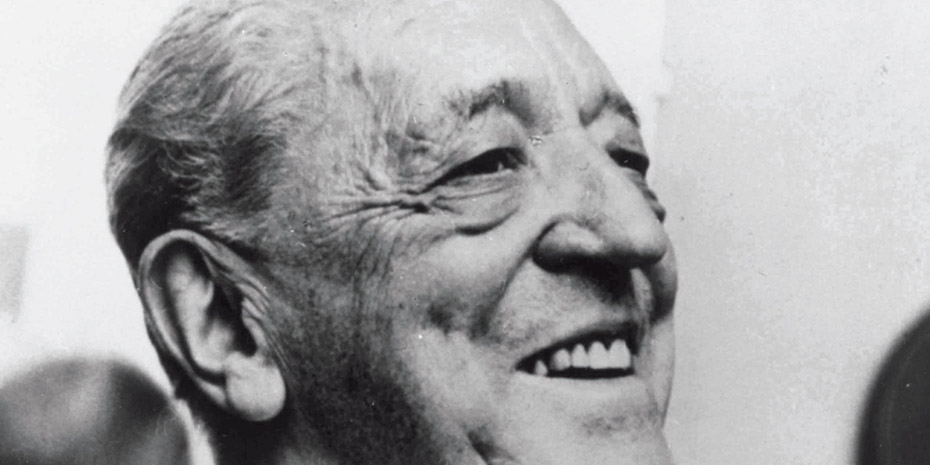 Brett Steele explores the legacy of architecture's "living God", Mies van der Rohe
"A chair is a very difficult object. A skyscraper is almost easier. That is why Chippendale is famous" – Mies van der Rohe
Chairs, skyscrapers and fame. Far more than the ingredients of a modern architectural aphorism, the
above observation by the twentieth century's greatest, most famous architect captures fully the counter-intuitive, openly contrary and deliberately provocative instinct of Mies van der Rohe. Inventor of "skin and bones" glass and steel architecture whose early examples were delivered to the world by the architect as if alien objects dropped from the sky into the heart of the dark, historical European city, Mies was the discoverer of the twentieth century's most memorable, world-changing building type (the all-glass high rise skyscraper) and prognosticator, promoter and educator made most famous by declaring modern architecture's greatest lines ("less is more" and "god is in the details").
Mies van der Rohe, during his lifetime, became something nearly impossible for architects to imagine today: a true, living architectural God. Today, well-known architects are designer celebrities or minor public intellectuals; they are "starchitects" with some degree of fame, signature style, or name recognition amongst other architects and the readership of lifestyle magazines. Mies on the other hand had something else entirely: recognition, influence and impact on not only modern architectural culture, but as well the very look, the appearance and lifestyle expectations of the modern, twentieth century city. Mies was The Man: he was the designer not of buildings or chairs, but rather, of modernism itself.
And his great realisation was that a chair, like a photograph or a good cut of cloth, was no less vital to this project than was an iconic skyscraper. For Mies's task was bigger than that of most mere mortals: his job was the delivery of modern architecture to a world clearly not really ready for it, unable to appreciate it, and – generally speaking – absolutely unable to live in it. How he got around these obstacles of course is what makes the career of Mies van der Rohe far more towering than his imposing personality, or his many tall buildings.
That his buildings and furnishings became the most famous and influential examples of modern architecture amongst the increasingly professionalised world of twentieth century architects is one kind of accomplishment. But what really distinguishes Mies is his broader impact: the breadth and depth of recognition and awareness amongst a modern audience of business, development, commerce and culture.
Always followed and frequently emulated, constantly criticised and eventually relentlessly copied, Miesian architecture was the means by which image and reproduction – like public discussion, criticism and debate – became as essential to modern architecture as were the materials, like glass and steel, the public more quickly associated with the style.
Early on, Mies grasped the role that image-making, the reproduction and circulation of modern images, would play in the delivery of modern architecture to a wider public. His early, influential use of photo-collage as a means representing his projects, and his rejection of traditional architectural renderings, drawings and representation demonstrate this unequivocably . For Mies, the design of a pavilion or modern chair was crucial, as these were Trojan horses: weapons capable of delivering, in stealth, qualities essential to modern life in ways that could prepare people for the eventual arrival of modern architecture itself.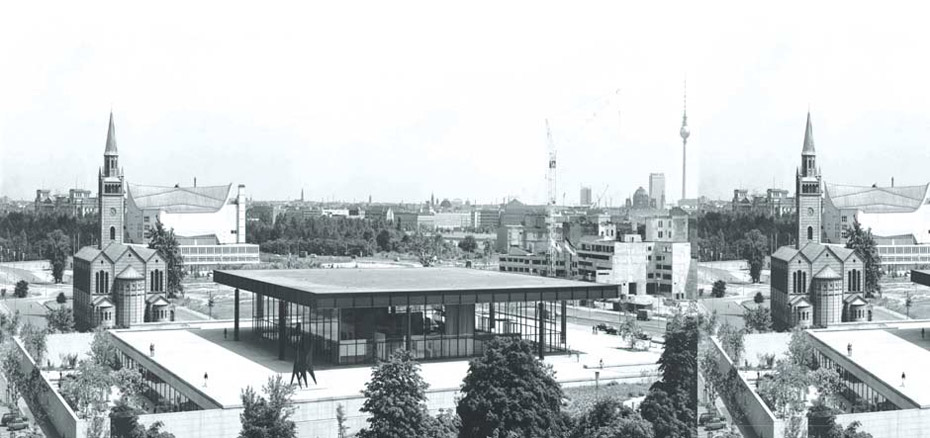 Of all the architects and other designers involved in the early twentieth century Werkbund exhibitions in Germany (which brought together Europe's leading designers of modern furnishings and industrial objects), it was Mies who sought to copyright, patent and legally protect the design of his chairs and other objects, so certain was he of the importance these objects would eventually play in establishing his own identity and reputation. Decades before the design world grasped the importance of "intellectual property", it was Mies who saw where the real value lies in a modern world – in design ideas, not expensive materials (of which marble, stainless steel, expensive leather and the like figured prominently in his output).
To assess Mies today, however, is to measure his relevance in ways other than just the iconoclastic designs or expensive materials we associate with his achievement. To sit in a Barcelona Chair, to stand upon the elevated plinth that sets the Neue Staatsgallerie back and apart from its chaotic, urban context in Berlin is to experience modern architecture in its purest form: in ways that even today remain humane, uplifting and dignified.
The lessons offered by Mies today, however, lies in his historicity. In 2011, Mies is for us something he never could be to himself – a part of history; an architect whose final building is now nearly half a century old, of another time, another era. Mies, almost unexpectedly, has become a part of history. His ideas and beliefs quickly swept aside in the hoo-ha of postmodernism and so many other 'contemporary' interests and preoccupations of the past 40 years, Mies, like his buildings are now, almost jarringly, historical artefacts. What might they communicate to us in this state now, which they couldn't convey when originally conceived, experienced, imposed upon the world? This is the question to return to Mies today.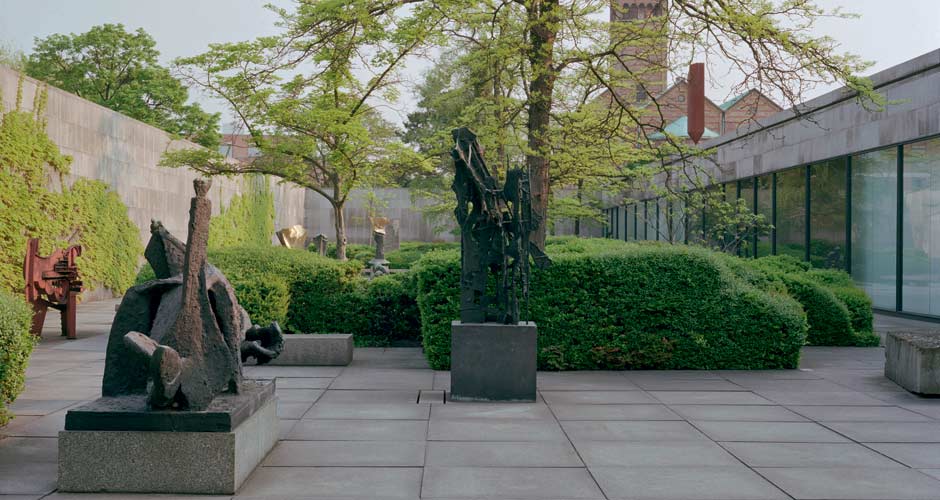 In the late 1960s and nearing the end of his life, ageing and with failing eyesight and little physical mobility, Mies travelled from Chicago to Berlin one final time, in order to visit his last great masterpiece, his Neues Staatsgallerie under construction in the final year of the architects life. During the visit, Mies was too
physically incapacitated to even get out of the car that had delivered him to the building site, and in a poignant photograph snapped during the visit, we see Mies looking out from the window of a Mercedes that had brought him there. In the picture the old architect, sitting on his own, stares absently out towards the construction site, looking on while –almost fantastically – the entire steel plane of the museum's space frame is lifted in a single, heroic act up on to the steel columns that define the building, an all-glass museum.
Mies ended his career witnessing the erection of a museum without walls. Looking back now, we realise this was an offering made as if an open question regarding where and how a museum should place its art works for a public, if denied the walls art normally needs, and expects, in order to be displayed in ways it is used to. This, I suspect, is Mies's real genius: his ability to to create buildings and realise spaces of not only lasting beauty, but to do so in the form of questions posed to all who encounter them. A modern form of the rarest, most enduring, kind.
Brett Steele is Director of the AA School
Photography Noshe