With his first solo London exhibition opening, the Belgian photographer tells Alex Jackson about the aura of forgotten monuments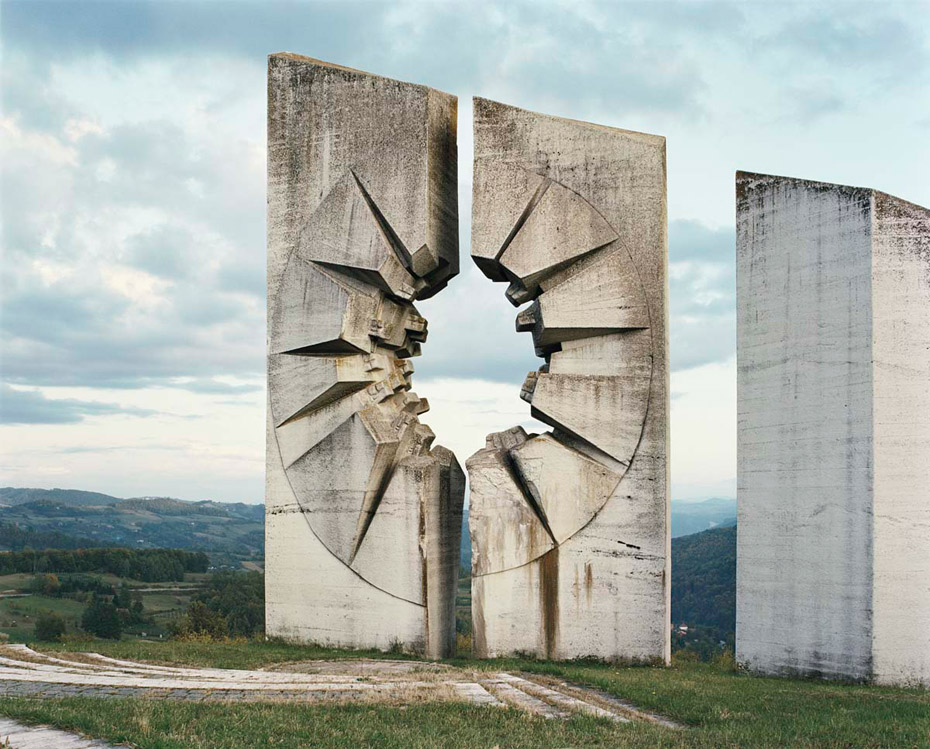 Giant fists of concrete rise, clenched, against the sky; winged obelisks, bullet-shattered slabs, all manner of abstract shapes stand against the elements, some winning, others losing. These arresting alien-like structures are Spomeniks, WWII monuments from the 1960s and 70s, scattered across the former Yugoslavia, and the focus of Belgian photographer Jan Kempenaers' first solo London exhibition at Breese Little gallery.
Certainly unknown to many of us, the Spomeniks (Serbo-Croat for monument) have been all but forgotten by the modern generation of Balkan citizens, weary, perhaps, of aging displays of partisanship. "They were all very difficult to find," recalls Jan, "because they were in these old battlegrounds, very remote." But once located (utilising a 1970s map and local knowledge), Jan was faced not just with dominating structures but also pervading auras.
"It's hard to describe but you could immediately feel that something had happened in these places. It was all about creating a singular, ultimate image capturing the atmosphere of those places and these subjects. However, I never set out to work like a documentary photographer," he admits, "otherwise I should've photographed all the hundreds of monuments, even if, individually some were not interesting to me. But I'm not into that kind of work."
Indeed, his method was more interpretive. "I'd decide what my shot was going be as I approached the monuments, in that moment. I'd then take some photographs and sometimes I'd think, no, that's not what I intended, and I'd wait a bit longer for the sun to go down a bit more or I'd return the next morning."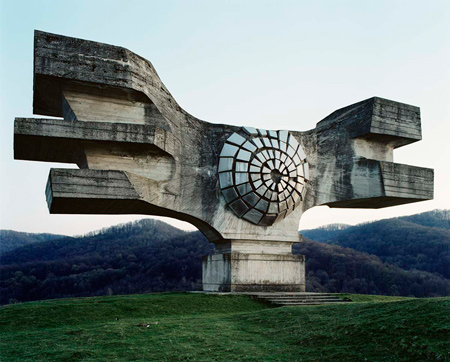 The project itself, though, had scholarly roots growing from Jan's recent PhD into the contemporary picturesque, but the subject had inadvertently been uncovered years earlier: "I'd been photographing in Sarajevo, just after the war and on rainy days I'd visit the library. I could not read the Serbo-Croat so I just looked through books – especially on the art of the former Yugoslavia – and it was there that I saw some images of these monuments, which I photocopied and kept. Later, looking back through my archive, I saw them again and thought, 'there's something interesting here…'"
"There's something interesting here" neatly sums up the pervading sense within Jan's images, underlining his ability to find present things and places that while forgotten, unknown or lost are amazing. "It's not so easy in your daily life to notice the landscape, really," adds Jan. "I can only truly note it and have a clear view of it when I am in a foreign country. If you're passing by it daily, then places become almost invisible. When it's unfamiliar, when it's not the thing you are passing on a daily basis, then you can really look and ask questions of it."
Jan Kempenaers' exhibition is showing at Breese Little until 13th July, 30d Great Sutton Street, London, EC1V 0DU